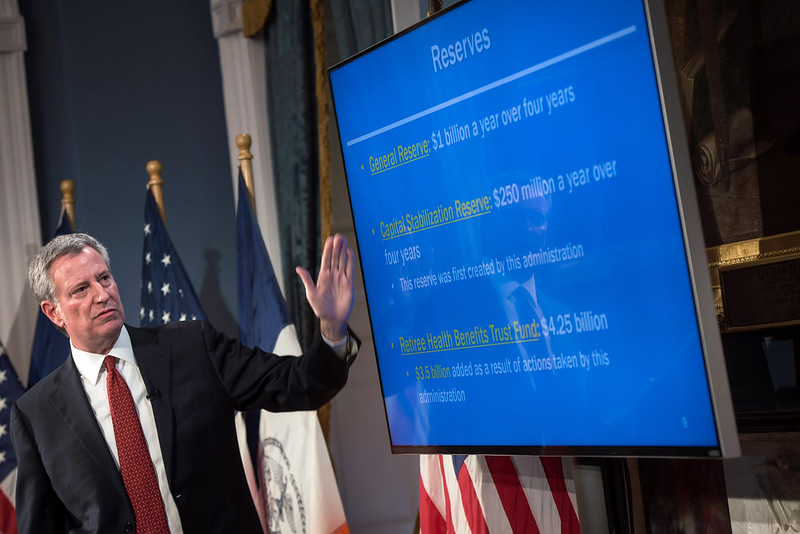 Mayor de Blasio at a budget presentation (photo: Ed Reed/Mayoral Photography Office)
---
Mayor Bill de Blasio finds himself in a tricky fiscal situation as the city needs to find $1 billion by the end of the month to balance its budget. Federal aid is nowhere in sight, Albany has so far refused to allow the city to borrow the funds, and state budget cuts are also on the horizon. At the end of his rope, the mayor says he may have to lay off 22,000 municipal workers. But that nuclear option may not be necessary, and there are ways de Blasio could achieve the $1 billion goal that was baked into the city's new budget without firing thousands of employees during a pandemic-caused recession.
[Read: Where De Blasio's Push to Borrow Billions Stands]
The $88.2 billion fiscal year 2021 New York City budget, passed July 1, was meant to be balanced on a guarantee that the administration could negotiate with labor unions to find $1 billion in recurring savings or resort to layoffs. One-time cuts will not be sufficient as that budget hole is expected to carry forward into the next fiscal year, when the total budget gap will grow to about $4.2 billion. Without those savings, the city will have to implement layoffs, preparations for which have already been made.
The mayor announced on August 31 that layoff notices would be delayed, and that he and union leaders were working to convince the state Legislature and Governor Cuomo to approve legislation allowing the city the ability to borrow $5 billion to balance the current year's and next year's budgets. City Comptroller Scott Stringer and Council Speaker Corey Johnson have also come around to the idea of borrowing, but only with controls on spending, lending important voices to de Blasio's push. Without that borrowing authority, the layoff process will resume, de Blasio said.
However, a variety of fiscal watchdogs say the mayor has alternative paths he could take to get to $1 billion, without risking people's livelihoods or adding to the city's already significant debt obligations by borrowing against the future.
Citizens Budget Commission, a nonprofit group, released a report on September 2 that identified more than a dozen viable measures that could substitute for layoffs and borrowing and altogether save more than $1 billion. "The Mayor presents New Yorkers with a false choice: either borrow to fund operations or lay off 22,000 municipal employees," said CBC President Andrew Rein in a statement. "Neither currently is necessary and both have far reaching negative impacts."
As CBC also noted, the adopted budget eliminates funds set aside in the city's labor reserves for future wage increases. "Eliminating the funds essentially means the City's starting position for negotiations will be a two-year wage freeze," the CBC report reads, adding that a wage freeze is an "appropriate" step to take, though de Blasio has thus far downplayed the idea.
Among CBC's recommendations is a reduction of the city's headcount – which stands at more than 325,000 full-time and full time-equivalent employees – through attrition. CBC estimated that about 23,000 employees, roughly 7.1%, retire or resign to take other jobs every year. Those employees are also paid more than the most junior workers who would be the first to be let go if layoffs are executed. However, attrition does give the administration less control over which workers leave city employment. CBC also notes that the city could provide early retirement incentives (ERI), though the savings from those are not as high as attrition or layoffs. In 2010, the report points out,14,371 state and local employees agreed to an ERI program, resulting in a net benefit of $681 million over two years.
The best method for finding new and recurring savings would be to make changes to health insurance costs, CBC recommends, particularly by requiring municipal workers to contribute to health care premiums, which could save between $531 million and $1.1 billion annually depending on the level of contribution required. Employees currently pay nothing into those premiums. "The generosity of this benefit also exceeds that of other state and local governments," the report notes. It also calls for premium sharing for pre-Medicare retirees, and eliminating a reimbursement for certain Medicare benefits which could save $400 million each year, among other reforms.
CBC recommends several changes to union work rules to create more productivity savings, including extending a civilian overtime cap to skilled trades and uniformed workers and standardizing work hours.
The Independent Budget Office, a nonpartisan city agency, does not make judgements on the administration's proposed plans but it has recently highlighted a series of its prior reports from December 2018 that cover a myriad of savings options the city could employ. Though, many of those numbers are estimates based on the costs of specific programs that are likely affected by the larger budget crisis.
IBO makes many of the same recommendations as CBC on cutting wage and benefits costs, particularly for health care. It estimated that the city could save $590 million from requiring health insurance contributions by current employees and retirees.
Among other steps, the city could cut down on subsidies, including by diverting paratransit trips to taxis, eliminating $70 million in annual city funding for nonpublic schools, and by ending the Department of Education's role as a sponsor for the Fashion Institute of Technology, a SUNY community college, which costs $58 million each year.
Certain programs could be eliminated or amended, such as assessing only half of school buildings every year rather than all of them, which would save $7 million and still meet state requirements, saving $29 million each year by using open source software instead of licensed software, and raising $17 million annually by requiring landlords to get operating permits for rental buildings similar to restaurant permits.
IBO also offers that the city could also change staffing and work rules. Consolidating building, fire, environmental protection, and housing inspections would save $25 million each year. Eliminating paid union release time (where the city pays union workers for their time spent on union activity) would save $30 million in the first year. The administration could also increase the workweek for about 76,200 nonmanagerial, nonschool based, full-time civilian employees from 35 or 37.5 hours to 40 hours a week, and thereby reduce the city's overall headcount since it would need 12.5% fewer workers to cover the same number of hours. That change could lead to $234 million in savings in the first year, growing to $767 million over three years, though it would require collective bargaining.
There are reimbursements the city could demand from the state for temporarily housing technical parole violators in city jails and for holding pretrial detainees in local jails for more than one year.
James Parrott, an economist at The New School's Center for New York City Affairs, said in a phone interview that an early retirement package may be the "single most essential thing" that the mayor could provide to avoid layoffs or loans, though it may not bring in the entire $1 billion. "The mayor and the unions really need to double down on that," Parrott said.
Parrott did propose a few other ideas, though the mayor does not have unilateral power to implement them. Chiefly, he said the city and state should reconsider large property tax exemptions that have been provided to developments like Hudson Yards. The Hudson Yards exemptions, in particular, he said, are "really hard to defend" given the city's fiscal crunch and the fact that it serves the types of industries that have been relatively unscathed during the pandemic compared to the larger economy.
"Those were not necessary when it was developed. They're certainly not necessary now," he said of the tax exemptions. "There's nothing to prevent the city from trying to get the Hudson Yards developers to agree to that. They can't dictate it. They'd have to get their acceptance of that. But I think they need to start turning up the pressure on that.
Parrott questioned whether long-standing properties like Madison Square Garden, Yankee Stadium, and Citi Field should continue to get similar property tax breaks. "All of those entities are owned by billionaire owners who should be contributing to the city's plight at this time," he said.
He did defend the mayor when it came to the city's massively increased budget and headcount, which he said have not grown beyond what should be expected or necessary when the economy grew at such a substantial pace at the same time. "More economic activity in New York City means greater need for public services," he said.
Nicole Gelinas, senior fellow at the think tank the Manhattan Institute, has said the city needs to both institute a wage freeze as well as cancel $1.5 billion in back pay for teachers which it is expected to pay out in October.
"No public sector employee should expect a private sector tax base that has now lost more than 900,000 jobs in New York City to support wage increases for the public sector workforce," she said at a virtual discussion hosted by the Manhattan Institute in May. At the time, she called on the administration to enact furloughs to preempt more harmful layoffs come Fall. She also called for a pay cap, including for nonunion workers, such as top city agency staff who make well into the six figures. "Forcing public servants to live temporarily within a salary that is comfortable even for New York City — especially since many households have more than one earner — isn't just symbolic," she wrote in the New York Post on July 5. "It would save $200 million a year, ­according to an analysis of raw data provided by SeeThroughNY. That's a whole fifth of the $1 billion in draconian cuts the mayor warns he will have to make."
Some elected officials have also floated ideas that could cut city spending without terminating workers or affecting services. For instance, City Council Member Ben Kallos, who chairs the contracts committee, proposed in June that the city could save $15 billion by eliminating tax exemptions for real estate developers and by eliminating waste in city contracts, according to a Daily News report.
Prior to the passage of the new city budget, the City Council had called on the mayor to institute between 5-7% in cuts at all city agencies. To balance the budget, the administration found only about $2.8 billion in cuts through a Program to Eliminate the Gap (PEG) and citywide savings, which the Council found insufficient.
At the time, Council Speaker Corey Johnson and Council Members Daniel Dromm and Vanessa Gibson, chairs of the Committee on Finance and Subcommittee on Capital Budget, respectively, warned the mayor in a May 30 letter that without savings, the city would have to rely on incurring costly debt. "[W]e must search agency budgets for more savings to ensure that we have done everything we can to balance the budget without resorting to borrowing that will have significant long-term implications for New York City's future," they wrote.
Comptroller Scott Stringer similarly noted that most of those savings were one-time reductions instead of recurring savings that could help offset budget gaps in the future. In his May 21 testimony to the City Council on the mayor's executive budget, he had called for a 4% reduction in agency spending that would save almost $1 billion a year. "Not only do these one-time cuts leave our City's youth high and dry this summer – they also don't translate into longer-term savings," he said at the time. "In fact, recurring savings are only a small fraction of agency budgets — because the Mayor simply didn't ask most agencies for recurring savings at all. Too much agency spending is simply on auto-pilot. But it's no longer possible to do business as usual."
Stringer has also proposed cuts in other places, including spending on outside consultants, street homeless outreach, and the ThriveNYC mental health initiative, according to a City & State report.
Brooklyn Borough President Eric Adams, in June, proposed a recovery plan for the city that dealt with varying levels of budget deficits while also addressing a growing call for diverting funds from the NYPD's $6 billion annual operating budget. Among the proposals he put forward included civilianizing over-staffed NYPD units, cuts to overtime, and forensic audits of the department's notoriously opaque spending. Adams also recommended eliminating political appointees who serve in advisory or administrative roles, expanding the role of franchises that can build infrastructure and receive multi-year service contracts in exchange, among a series of other suggestions.
And in order to bring in new revenue, a discussion mostly happening at the state level around added taxes on the highest earners or certain financial transactions, Adams is working with State Senator Andrew Gounardes on a set of proposals for new data sales taxes on multi-billion-dollar tech companies that sell private data.