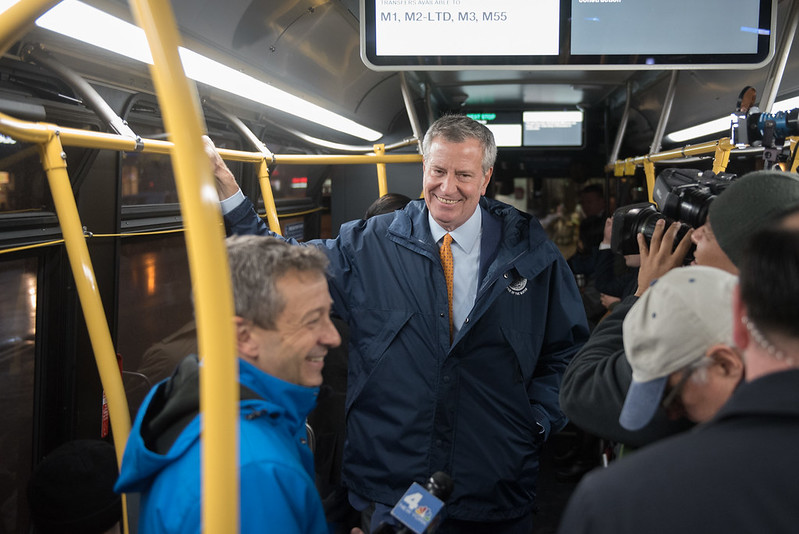 Mayor de Blasio on the bus (photo: Michael Appleton/Mayor's Office)
---
Early in June, when New York City was just entering phase one of its economic "reopening" and the city still had daily triple-digit coronavirus death counts, Mayor Bill de Blasio announced an ambitious plan, the Better Bus Restart Initiative, to add 20 more miles of bus lanes and five new busways by October, in addition to making the 14th Street busway permanent. While this plan, offered during a unique opportunity to rethink city street use, did not go as far as many public officials and advocates would have liked, it was a significant move by a mayor who has paid limited attention to the city's buses, ridden by about 388,000 people, mostly low-income people of color, each weekday before the pandemic hit.
Now, just over three months later, only four of the nine announced bus projects -- five busways and four extended bus lanes -- have been completed. The Jay Street busway opened behind schedule earlier this week in Downtown Brooklyn, and several others delayed, most notably the Main Street Flushing busway that de Blasio said launch in June. Busways offer city buses near-exclusive use of their routes, with limited additional vehicular traffic allowed, and thus faster mass transit speed for riders.
The Department of Transportation estimates that "more than 45,000 daily bus riders on seven routes" are benefiting from faster service as a result of the completed projects, and described the previous situation on Jay Street as "a bottleneck for buses."
A DOT spokesperson says it is "still planning to complete implementation this summer and fall" on the Better Buses program. The Jay Street busway was originally planned to start in August. We are working closely with community advisory boards on the remaining bus projects," said a DOT spokesperson.
The three other completed bus projects in the Better Buses program are bus lanes on East 14th Street, 149th Street, and Malcolm X Boulevard. DOT says that they've completed 4.4 miles of the planned 20 miles of new bus lanes under this initiative so far. On the horizon, a bus lane on the E.L. Grant Highway is currently under construction in the Bronx.
Along with Main Street Flushing, two of the other announced busways are also already behind schedule. Busways on Jamaica Avenue in Queens and 5th Avenue in Manhattan were expected to be operational by July, per de Blasio's initial announcement, which he said on June 8 was not getting sufficient press attention. The final remaining busway, on 181st Street in Manhattan, was announced to start in October.
On the Main Street busway specificially, DOT is taking more time to continue community outreach, according to a spokesperson, who noted the department recently gave a presentation to the project's Community Advisory Board. It has also scheduled two information sessions, via Zoom, for local residents, on September 10 in English and Chinese and September 14 in English, Korean, and Spanish.
The DOT spokesperson also noted the other infrastructural improvements the department has made in recent months, including activating Transit Signal Priority at 285 intersections, installing Real Time Passenger Information at Bus Time Signs at 40 stops, adding bus lane cameras to several new routes, and constructing bike lanes to accompany the Jay Street busway.
This hasn't satisfied many transportation advocates.
"It's become clear that we're headed towards a crisis," according to a spokesperson for Transportation Alternatives, a nonprofit advocacy group. The group has begun calling the looming crisis "Carmageddon." According to Transportation Alternative's recent report by that name, in August, bridge and tunnel car crossings were less than 20% off pre-pandemic levels, while bus ridership was still down 35% and subway and rail ridership down nearly 75% from pre-pandemic levels. Road traffic overall was only off 9% from 2019 levels, despite many New Yorkers continuing to work from home.
The report surmises, "As more commuters opt to drive, and little accommodation is made for the safety and efficiency of those who do not, New York could soon see a gridlocked, exhaust-choked, and crash-laden 'Carmageddon.'"
"The City must act quickly to avoid this impending catastrophe," a Transportation Alternatives spokesperson said. "The only way to stem car traffic and its repercussions is to invest in a citywide network of bus and bike lanes, and more forward quickly with congestion pricing. The future of our streets is at stake."
Earlier this month, Transportation Alternatives' executive director, Danny Harris, was one of 12 members of Mayor de Blasio's Surface Transportation Advisory Council, convened in June to advise the mayor on the city's transportation needs during its recovery from the pandemic shutdown, who criticized the mayor's handling of transit amid the city's reopening process and his failure to more fully consider and move on the advisory council's recommendations. They cited problems including rising traffic fatalities and rising car ownership rates that the mayor is not, in their opinion, properly addressing.
The open letter was signed by leaders from Transportation Alternatives, NYPIRG Straphangers Campaign, AAA of New York State, the Community Service Society of New York, Via, Riders Alliance, the Tri-State Transportation Campaign, the NYC BID Association, the Brown Bike Girl, and the Regional Plan Association, as well as Sam Schwartz, a former city traffic commissioner, and Quemel Arroyo, a disability transit advocate.
These members of the mayor's Surface Transportation Advisory Council simultaneously released its numerous suggestions, highlighting several in the 12 members' letter, with public transportation as top priority. The council members called for at least 40 miles of emergency bus lanes to be implemented this summer. They also want to see a connected bike network, expanded sidewalks, and repurposed street and parking spaces for restaurants, retails, cultural institutions, and open space.
Additionally, they declared these "improvements must prioritize communities of color, neighborhoods without adequate transportation and public space infrastructure, and streets most impacted by traffic crashes and pollution."
"It is not enough to tell New Yorkers not to buy a car. We need the City to actively promote and restore public confidence in alternative modes of transportation, including taxis, for-hire vehicles, and pooled rides," the letter reads.
If traffic congestion surges further, the group advocates a "contingency plan for vehicular restriction into the Manhattan Central Business District," including HOV2+ restriction during peak periods and continued work towards congestion pricing
According to the letter, "Recovering from COVID-19 requires us to reimagine our city, especially our streets, for the better. Without your decisive and immediate action, we may lose New York City's future to growing congestion, pollution, inequality, and traffic violence."
On September 2, when the open letter was publicized, de Blasio was asked if he had done enough on transportation and to respond to the critiques from his own appointees. He responded, "If folks are disgruntled and they don't want to acknowledge what's really happening, well, I can't do much about that. I can only tell you what's happening." He then cited the Open Streets initiative, the 14th Street busway, expanded bike lanes, the Citi Bike program, the NYC Ferry, and expanded Select Bus Service, saying "that sounds like a lot to me." He did not answer whether or not he would implement the group's call for 40 miles of emergency bus lanes or other suggestions.