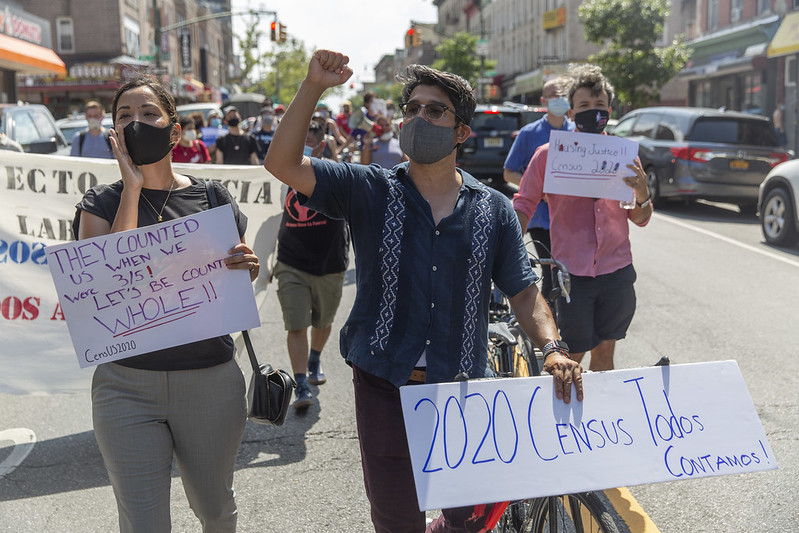 Census march in Sunset Park, Brooklyn (photo: John McCarten/City Council)
---
This story has also been published in Spanish - find that version here. Esta historia también ha sido publicada en español, encuéntrala aquí.
The once-a-decade Census count, nearing its scheduled conclusion, has had to contend with quite a lot in New York City. A once-in-a-century pandemic torched the carefully laid out outreach plans and unleashed cascading social and economic effects, threatening the accuracy of numbers that are used at every level of government and the private sector for planning, allocation of funds, and both state and federal government representation. The Trump administration has gone to great lengths to muddy the waters and depress participation in low-income and immigrant strongholds, having tried and failed to both add a citizenship question to the form and exclude undocumented immigrants from the Congressional apportionment count.
Throughout New York City, which as of September 21 had a 2020 Census self-response rate of 60.2 percent (four points under its ultimate 2010 self-response rate), these challenging conditions have been varyingly deterministic in areas with major Latino populations, which by-and-large were hit the hardest by the coronavirus and have deep-seated fear of a clearly hostile federal bureaucracy. According to the Census Bureau's own data, derived from its American Community Survey and other sources, the city's population of 8.34 million was, as of last year, 29 percent Hispanic or Latino, about 2.4 million individuals described as "a person of Cuban, Mexican, Puerto Rican, South or Central American, or other Spanish culture or origin."
An analysis prepared by SUNY's Rockefeller Institute of Government looking at areas with undercounts unsurprisingly found that being Hispanic, of limited English proficiency, a renter, foreign born, and with no internet, among other characteristics, were risk factors for being undercounted in the Census. The particularities of the Trump administration's unique focus on immigration only added to the likelihood that communities with a high number of foreign-born residents, as is the case with many of New York City's Latino populations, would not feel comfortable participating in the count.
As shown in mapping done by the CUNY Graduate Center's Urban Research Center, some areas, such the large Dominican and Puerto Rican communities in the upper Manhattan neighborhoods of Washington Heights and Inwood, have had strong response rates, with almost every single census tract in those neighborhoods outperforming the city average, and several see self-response rates above 70%. Others, like the Mexican and Ecuadorian enclaves in Sunset Park, Brooklyn have lagged, with only a couple tracts even reaching the city average, and most falling to percentages in the mid-to-low fifties or even forties. Overall, the lowest-participating predominantly Latino neighborhoods also include Corona and North Corona, Queens, and Cypress Hills and East New York, Brooklyn, while the highest-participation rates also include Jackson Heights, Queens, the Lower East Side and Alphabet City, Manhattan, and Morris Heights, in the Bronx.
As census enumerators fan out across the city in the final stage of the count to knock on doors and encourage participation, it's essential to examine what has gone right and wrong in these areas, how efforts by city government and local organizations to drive participation have fared, and what could shift in the final weeks. Mayor Bill de Blasio, who put significant city resources into the Census this year, has been stressing participation at his near-daily briefings and knocking on a few doors himself, while his team has targeted many communities with lackluster participation, including Corona, Jamaica, East New York, and Canarsie. The city's key goals, de Blasio has said, are to lift self-response percentages as high as possible, while matching the national response rate, which was 66.2 percent as of September 21. While the Trump administration tried to shorten the covid-extended 2020 Census timeline so it would conclude at the end of September, on September 24 a judge ruled that it must continue through October as previously announced.
According to data provided by the city's census office, of 398 neighborhoods estimated to be primarily (over 50 percent) Latino, the Census response rates as of September 15 were on average 58 percent, just under the city's total self-response rate of about 60 percent. Broken down by census tract, the numbers vary wildly, though, with notable differences even among tracts that, on the surface level, seem somewhat similar. In one stark example, there are census tracts with completion percentages in the low forties in parts of Corona, Queens, among the lowest in Latino-heavy areas. The adjacent neighborhood of Jackson Heights, however, has some tracts that are among the highest-performing, with rates in the mid-seventies.
Julie Menin, the director of the city's census office, said that the city was on a good track, particularly in light of its unfortunate place as the epicenter of a global pandemic. "In 2010, the city was 14 points behind the national self-response rate. Right now, we're six points behind the national response rate. And we keep closing the gap more and more every week," she said. Menin acknowledged that it had been difficult to reach some Latino communities, faulting the Trump administration for the various obstacles it has thrown in the way, but said that the city had been working creatively to address the issues by, for example, using absentee ballot data to hyper-target efforts at under-performing areas and hiring a dedicated outreach staff.
Conversations with community groups and officials around the city point to a few key factors that have played a role in self-response rates in the city's Latino communities, including the robustness and organization of local groups, socio-economic and cultural differences among neighborhoods, the prevalence of irregular housing situations, access to technology, and the effectiveness of the city's interventions.
For example, while the sort of complicated and informal living arrangements characteristic to dense urban areas and New York City in particular have often been discussed as a point of difficulty for Census Bureau officials planning their enumeration strategies, it can often also be an impediment to people responding once they've been reached.
"There were a lot of and still are a lot of questions about who fills it out, who do they include on the Census, will it flag something for the landlord or the management?" said Anna Dioguardi Mayano, director of community building at Queens Community House, which was a recipient of city funding through the Complete Count Fund. "Yes, there's a lot of fear about revealing immigration status. But sometimes even more so, there's fear about revealing these housing situations, that they fear could cause problems for them, or just confusion." If, for example, two families and a single person all share an apartment, are they all supposed to respond, or just one family in the household? How many people are in their "household"? (Every person in a household must be counted, one person can fill out the Census for the household.)
Others have remained uncertain about their eligibility and how the count intersects with their immigration status -- there are an estimated 520,000 undocumented immigrants residing in New York City, all of whom should be counted in the Census. Federal policy can often be filtered down to the city's Latino populations in an extensive game of telephone, with details getting lost or warped along the way. The specter of the citizenship question has been misshapen into the frustratingly persistent myth that only U.S. citizens are expected to participate in the count at all, in addition to the related concerns that the information given can be used for immigration enforcement purposes.
"I was just in a development right now, where I was speaking to mostly Latinos, a large Dominican community there, and a large Chinese speaking community, and many of them had not filled out the Census. We asked them why, and they said because they're not citizens," said City Council Member Carlina Rivera, who represents a section of Manhattan including the Lower East Side and the East Village and is co-chair of the Council's census task force.
Menin said that the city had responded to these issues with "super targeted ads. The great thing about a lot of our ads, particularly the digital ads, is we can switch them out really quickly. So we can see which ads are resonating." For example, an ad campaign dubbed "Doubled Up" attempted to assuage doubts about irregular housing situations by running messages like "Live in the basement? Yes, the census is for you," in languages including Spanish, Bangla, Nepali, Russian, and Urdu. These types of messages are optimally conveyed by trusted local messengers, requiring a confluence of city and community efforts for best outcomes.
Aside from the concern that individual information will be passed on to immigration enforcement, some are worried that the general neighborhood data could still be used for that purpose, particularly by an administration that hasn't been shy about threatening raids. Lorena Kourousias, the executive director of the Sunset Park-based Mixteca Organization, said she had spoken to several local residents who had said some version of "If I answer, if we all answer, then they are going to know that all the Mexicans live on this block." (The information by law cannot be shared with ICE, and the public data is not granular enough to be used for enforcement.)
Then there is the problem of isolation. The COVID-19 pandemic shut the city down in almost every respect, and while a lot of Latino communities were hit especially hard by the virus partly as a result of not being able to isolate and having to continue going to work in person, the more social type of community activity died down. All of the forums and door-knocking and days of action that had been planned were rendered impossible almost overnight. The organizing moved online, but this approach has had varying degrees of effectiveness, though it eventually resumed to a limited extent in person.
"We went really hard on social media. But we are aware that many of the community members that didn't respond [to the Census] are not even on social media, and those communities were left out," said Kourousias. It takes trusted community voices for people to accept that it is safe to fill out the Census, and people are more used to having those interactions in person.
Antonio Alarcón, census coordinator at the large immigration and social services organization Make the Road (another CCF recipient), recounted talking to a group of people waiting in line for food distribution. For some of those who said they hadn't filled out the Census, "it was because they had lost access to the internet during [the pandemic]. Others were like 'well, I don't have access to a computer at home,' or 'I don't know how to use a computer." The Census doesn't require the internet to complete (paper surveys and talking to enumerators are other options), but for someone who is not going anywhere but work (or anywhere at all) and who isn't using the web, the avenues for outreach are limited.
New York City government responded to the challenges of covid by modifying the structure of its grants program to allow for contracts to be extended and incorporate other ways to reach the isolated. "The grantees were not supposed to use money on advertisements. And one of the things that they did right after covid hit and we went to quarantine was allow the partners to switch dollars over to advertisements," said Juan Rosa, Northeast Director of Civic Engagement for the NALEO Education Fund. He pointed to the Casita María Center For Arts & Education in the Bronx, which was running some Census-related commercials on Univisión.
Yet not everyone feels that the city's census officials have responded creatively enough to changing data and circumstances on the ground. Haydée Zambrana, founder of the Corona-based Latin Women in Action, said her organization had sought but not received CCF funding in the initial application period, but officials should have reevaluated as it became clear that some areas, like Corona, were both hard hit by the pandemic and lagging in response rates.
"I'm still helping, I'm still working, I'm still talking to whoever I can. I'm calling out to my people, sending texts and whatnot, and I'm not getting paid," Zambrana said, and suggested that allocations directly targeting small outlets instead of flashy ad spends would have been more effective. "We have so many channels, so many little newspapers, and if they would have paid them four hundred bucks each... they would have gotten somewhere. The message would have gone home."
Menin said it was the right call to establish the grantees early on. "We had our contracts in December, so many of our organizations did work on the ground in January and February, and that work is now really paying off. Because if we would have waited to do the grants until the Census starts, then you're always behind the eight ball," she said, and pointed out that the city wasn't only working with CCF grantees. "We partner with hundreds and hundreds and hundreds of other groups that are not our grantees. We're partnering with thousands of houses of worship, we partner with labor unions, we partner with community boards, civic organizations, elected officials."
To an extent, every Latino community around the city deals with issues around irregular housing, immigration, lack of internet access, and the ravages of the pandemic. The level of coordination and reach by the existing ecosystem of community organizations, as well as differences among these communities, is key to how Census participation plays out.
In Washington Heights and Inwood, areas that also saw a robust response rate in the 2010 Census, community organizations of different stripes made sure to establish complementary processes, and integrate Census messaging into both their regular operations and programs specifically responsive to the health crisis. "It's just been a big partnership in the community, which helps us obviously reach more people, because if it's someone that we don't personally know as a client, then one of those [other] organizations might know them and we can tap them that way," said María Guzmán-Colón, special projects manager at the Northern Manhattan Improvement Corporation.
Rosa, of NALEO, took on the role of coordinating among the various groups in those neighborhoods. "We brought people together. We had joint email threads keeping each other abreast," he said. "Various parts and various constituencies in the community were being covered."
Existing community groups' strengths with particular constituencies were sometimes enough to overcome steep obstacles. On the Lower East Side, tracts along the East River with large NYCHA developments housing many older, lower-income Latino residents—exactly the sort of demographic the research shows is harder to reach and less likely to respond to the Census in large numbers—have been performing quite well, with some tracts reaching response rates in the mid-to-high 70s. The secret to success was that, according to Good Old Lower East Side (GOLES) senior manager Marielle Villar Martiney, the organization called every senior in its database, which it had spent years building.
"We will start with, 'are you facing eviction? Are you sick? Do you need help with food? Have you filled out your Census?' That has been really successful because, while the Census is incredibly important, when you're struggling to put food on your table, the Census can seem far away," she said. It was the same in northern Manhattan, where Guzmán-Colón said NMIC would assist community members with various pressing issues and then separately follow up about the Census, with trust already built.
The notion of an all-hands approach has worked on the Lower East Side, too. "The Lower East Side has always been like a really organized community and we have two district leaders that are super active," said Andrea Gordillo, the director of development for the Clemente Soto Vélez Center. The center did not receive any Census funding and wasn't running specific Census programs per se, but still got involved with the broader community push. "We all sort of work together in informal ways. We have different informal networks," Gordillo said.
It's a simple enough methodology, but it works. "We have really tried to figure out how to replicate that in some of the areas that don't have those natural tenants associations or civic associations that have been doing work to bring those numbers up," said Melva Miller, the chief executive of the business group Association for a Better New York, where she has run its 2020 Census efforts.
That's easier said than done, though, and the going was much easier for areas where a well-developed network already existed. Take the Jackson Heights/Corona dichotomy; whereas the discrepancy could seem puzzling on paper, most people Gotham Gazette spoke with seemed unsurprised. "Jackson Heights as a neighborhood is just organized, period, and organized in a different way than some of the surrounding neighborhoods that were also really hard hit [by covid]," said Queens Community House's Mayano. "There's always been kind of a coordinated network of organizations that have their niche, to reach the most marginalized in the community without overlapping."
While there's often a tendency to reduce Latino communities to a monolith, they clearly are not, and both socio-economic and cultural distinctions play a role. "The community in Corona or in Sunset Park, are more people that rent a room, they live in crowded apartments, and they don't want others to know that," said Kourousias. "If you want to live in Williamsburg or Park Slope, the rents are higher than in Sunset Park. So the community may also be Latino, but the access to their economic resources are lower."
Things may be shifting as the city continues its gradual process of opening back up and the sort of in-person organizing originally planned has resumed in some form. In early September, GOLES and other groups marched around the Lower East Side and the East Village with a drum line, handing out Census awareness flyers to passersby. Mixteca will be setting up tables outside of reopened Mexican and Latin food restaurants, and has hired some indigenous language speakers to walk people through filling out the Census survey. The Northern Manhattan Improvement Corporation held a day of action.
"I think there's really been an uptick in numbers in some of those lagging neighborhoods once we were able to start to do in-person events, mixing Census outreach with PPE distribution and food distribution, being able to bring activities outdoors, to provide information about school reopening, and other essential services," said ABNY's Miller.
After some delays, the state government also this year distributed millions of dollars in dedicated Census funding, which can be used to drive a big last-mile in-person outreach operation. At the Lower East Side Census march, Manhattan Borough President Gale Brewer said, "only recently, we took our money from the governor and we gave it out quickly to thirty groups in Manhattan," including some of those represented at the march.
The September 24 court ruling, which the Trump administration is likely to appeal, could give the city and the community organizations further runway to drive responses with an in-person strategy.
Menin said that New York, in the context of other large urban areas, has in recent weeks seen the greatest jumpthe greatest jump in self-response rates as a result of resuming in-person outreach. "That's what we needed, that we weren't able to do when the census began. And that's why we wish we had October, because we need it. You know, to cut the census sort by one month, it's unconscionable," she said. Somewhat ironically, large chunks of wealthier Manhattan neighborhoods along Central Park and downtown have had very poor response rates, presumably in part due to well-off inhabitants skipping town during the pandemic.
People like Zambrana, of the Corona group Latin Women in Action, have their work cut out. She's delivering a consistent message: "If you don't want your voice to be taken away, you have to fill out the Census. And it is not for me, it's for you and your family and the future of your children."
[This story has also been published in Spanish - find that version here. Esta historia también ha sido publicada en español, encuéntrala aquí.]
This article has been updated to reflect the 9/24/20 court ruling to re-extend the 2020 Census count through October.