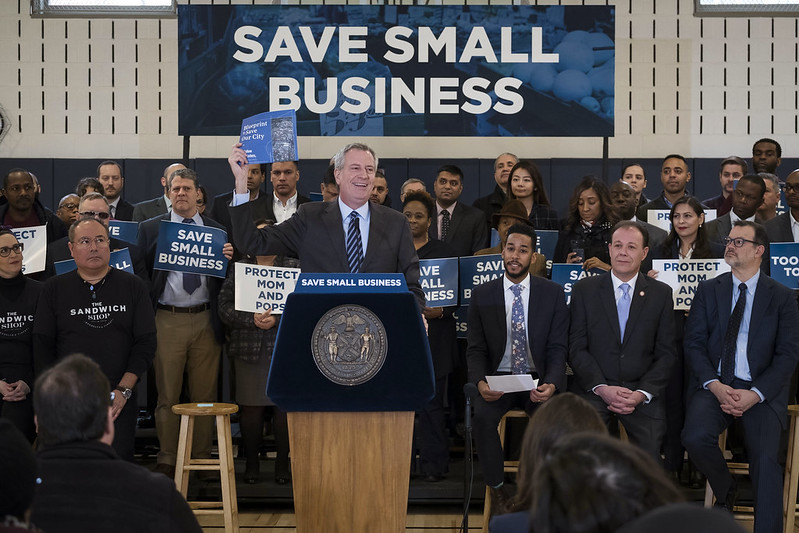 Mayor de Blasio at a press conference (photo: Ed Reed/Mayoral Photography Office)

---
Though New York City has begun a slow march towards economic recovery, many small businesses, including retailers deemed non-essential, are still struggling to stay afloat as sales have decreased and customers are reluctant to return. While a great deal of focus has been on the city's extensive restaurant industry, other small businesses are seeking a lifeline from city government. In a letter sent on Wednesday to Mayor Bill de Blasio and the City Council, the New York City Business Improvement District Association proposed a relatively simple solution to the problem that would give retailers access to public space mirroring the city's outdoor dining program.
The BID Association represents 76 BIDs, which are made up of commercial tenants and property owners who work to improve the business environment in designated neighborhoods across the city. According to the BID Association website, through member fees BIDs provide more than $120 million in services such as sanitation, maintenance, marketing, and beautification each year for more than 85,000 businesses.
Modelling its plan after the city's Open Restaurants program, the BID Association is calling on the city to allow storefront retailers to use sidewalk space to sell their goods and to participate in the Open Streets program under the same rules as restaurants that have been allowed to set up dining space on roadways near their establishments. The letter calls on the mayor to sign an emergency executive order that would suspend certain rules and fees, and allow stores to display signage and merchandise and sell items within three feet of the storefront, including on streets that currently allow no sidewalk displays.
"The launch of such a program will allow the City's countless struggling storefront retail and other businesses to reach customers using outdoor space in a safe way moving forward," the letter reads. "If the City does not act quickly, we risk additional permanent closures of small businesses, particularly in the outer boroughs, including significant percentages of MWBE and immigrant-owned businesses. We have only a few more weeks before winter hits to roll-out and ramp up this program in time for the holiday shopping season, so there is no time to spare."
After months of a painful economic lockdown, retail sales across the country have recovered somewhat and have seen increases in the last two months. According to Census data released September 16, advance monthly retail sales increased in August by $537.5 billion or 0.6% after increasing by 0.9% in July. Overall, sales from June through August were actually up 2.4% over the same period in 2019.
But in New York City, where the cost of doing business is already substantial in the best of times, the resumption of in-store retail after months of pick-up or online-only shopping hasn't been enough to stave off ruin. Jennifer Tausig, co-chair of the BID Association and executive director of the Jerome Gun Hill BID in the Bronx, said people still don't feel safe coming into stores despite the many restrictions that retailers have to abide by including social distancing and limited capacity.
An Open Stores program could help drive up foot traffic and increase sales, she said, particularly as retailers plan for the upcoming holiday season. Other cities like Boston and San Francisco have implemented similar programs. "We've seen the success of open dining. That's been a real lifeline for restaurants. It's not enough to keep them going long term, but it has been a lifeline for the summer for sure. We're really asking that our small businesses have the same opportunity," Tausig said.
Tausig said the BID Association has been pushing for this plan for months and while city agencies have been receptive, there has been no word from the mayor. She said the administration hasn't been paying enough attention to the plight of storefront retailers, even as the mayor has taken steps to limit enforcement on street vendors. "We're having a hard time drawing people into the store, and yet there's lots of other people outside selling goods, whether legally or illegally, and we're just feeling a little bit left out of the party," she said.
Mayor de Blasio's office did not respond to a request for comment on the BID Association's ask. A spokesperson for City Council Speaker Corey Johnson said in a statement to Gotham Gazette, "Open Streets and Open Restaurants have been major successes in terms of the city's response to the pandemic, and the Council is open to helping retail businesses in similar fashion where possible. We will review this proposal as part of our continued efforts to aid our city's economic recovery."
On Thursday, New York City Comptroller Scott Stringer and Queens State Senator Jessica Ramos wrote to de Blasio asking him to extend the city's Open Streets program "year-round for pedestrians, cyclists, and restaurants and expand the program to allow the City's small business and retail community to offer more goods and services outside."
What worries Tausig is that businesses are seeing their rent bills build up as their sales plummeted. Though Governor Andrew Cuomo has extended a commercial eviction moratorium, businesses will still eventually have to contend with months of back rent. "I think there is a real concern for a lot of small businesses that without some sort of plan, some sort of lifeline, that once that moratorium is lifted, that's going to be a wrap for them."
Note: this article has been updated with the response from the City Council, the lack of response from the de Blasio administration, and the letter by Stringer and Ramos.