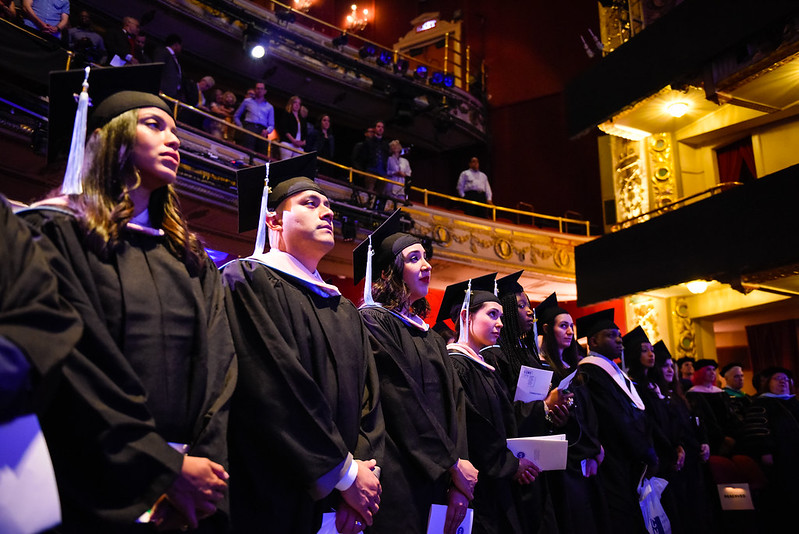 CUNY grads (photo: Edwin J. Torres/Mayoral Photography Office)
---
New York City Comptroller Scott Stringer proposed a plan Wednesday to revamp the city's workforce development strategy, including by making CUNY community colleges tuition-free and expanding job training opportunities for people at career crossroads.
The pandemic has decimated jobs in New York City -- with unemployment at roughly 16%, though some estimates say the "real" figure is much higher -- and shifted forecasts about the future of industries across the board. Advocates and policymakers are looking for ways to ensure available education and job training opportunities align with market changes. Stringer, a Democrat who is running for mayor in the 2021 election, says his proposal will help guarantee the city's fiscal recovery includes underserved communities, who have borne the brunt of the pandemic's economic fallout.
"My plan overhauls and modernizes our approach to job training, job placement, and education to reflect the evolution of work and aims to break down systemic barriers that have historically excluded women, people of color, immigrants and young people from higher-wage industries," Stringer said in a statement. "As we emerge from this economic crisis, we need to work with CUNY and other engines of economic mobility to build a pipeline of opportunity for the next generation and live up to a promise that anyone can make it in New York City."
On top of making community college tuition-free, Stringer's plan calls for enhancements to the city's disjointed and underfunded patchwork of job readiness, technical training, and skill-bridging programs. It proposes greater public investment and coordination among those programs, as well as private sector partnerships to encourage hiring practices that could promote diversity.
According to the comptroller's report, unlike past recessions where job losses were greatest among higher-wage office workers, the current crisis is falling largely on low-wage, in-person service jobs. Since the end of 2019, the private sector lost 479,000 jobs in New York City, according to the comptroller's office on Wednesday. Over the last six months, 29,000 "white-collar" workers lost their jobs, compared with 253,000 employees in personal service sectors, a 29 percent decrease since 2019, the report states.
"While these low-wage, shift work industries had added more than twice as many jobs (291,565) as had professional industries (135,955) in the first two decades of the century, in just five months, that trajectory has been profoundly—and perhaps permanently—upended," reads the report.
Ongoing racial, geographic, and age disparities in the workforce mean unemployment in the city has been felt disproportionately by non-white New Yorkers, youths, and people living outside Manhattan, according to the report. Workforce development organizations have been looking for ways to connect these underserved populations to new and better job opportunities as a key element of the city's recovery.
Stringer believes expanding access to public education at CUNY's seven community colleges would reduce some of these inequities, especially when coupled with other career services. While Governor Andrew Cuomo announced the state's Excelsior Scholarship to cover public higher education tuition for middle-class families, only 2 percent of CUNY senior college students and fewer than 1 percent of community college students received the scholarship in 2017-18, according to Stringer's report, largely due to obstacles for part-time students.
The report estimates that making tuition free at CUNY community colleges -- creating "a true, K-14 education model" for New York students -- would cost the state roughly $135 million. Doing so, it says, will increase opportunities for part-time, working, and adult students to get a degree beyond high school. Stringer is also proposing $2.4 million go toward hiring 50 "college navigators" to assist adult students with financial and academic challenges as they attempt to reenter the formal education system.
Stringer is also calling for other supportive programming, like an expansion of CUNY ASAP (Accelerated Study in Associates Programs), which provides additional academic advisory and assistance for books and transportation, as well as hiring more experienced, full-time faculty. Guaranteeing ASAP enrollment for all full-time CUNY associates-degree students would cost the city an estimated $100 million, according to the report. Expanding other programs, like early college and College NOW, which are two for-credit programs for pre-college-age students, could bolster career and technical education in the city's public high schools.
The dual requirement of a degree and work experience, especially in higher-pay industries, is a self-reenforcing barrier to employment and social mobility for many New Yorkers.
Individually tailored education and training projects, like bridge programing and "micro-credentialing," both included in Stringer's plan, are ways of closing the requisite gaps for people who have some level of work or educational experience or who may be looking to change or advance their careers.
While imploring corporate HR departments to "make a concerted effort" to review and adjust unnecessary job requirements, a leading contributor to workplace segregation, particularly in the growing tech sector, Stringer's report doesn't specify how the city should leverage that action.
The plan also includes a "universal paid internship" for CUNY community college students in their final year of study as they prepare to enter the workforce full-time. Doing so would require partnerships with private-sector employers, as would efforts to ensure private employers "play a more active role in retraining, upskilling, and diversifying their workforce and refrain from leaning on contingent labor."
Stringer additionally wants the city's Department of Small Business Services to partner with CUNY to create an "NYC Tech Corp" that would connect recent graduates and interns with digital or design majors with small businesses looking to upgrade their online presence.
To combat unemployment and mitigate the impact of the recession, Stringer says the state should rely more on its Shared Work program, which allows employees to receive partial unemployment benefits for working reduced hours and helps avoid layoffs. The city can help by expanding apprenticeship programs, especially in healthcare, finance, design, early education, cyber-security, and other industries. "These programs should be focused on diversifying those fields and increasing economic mobility for those without a college degree," the report states.
The city should also subsidize wages for so-called "transitional employment" for certain populations, like people exiting incarceration, people in homeless shelters, and out-of-school youth, according to the plan.
The unemployment rate among 16-24-year-olds in New York City is 24%, compared with roughly 16% unemployment overall, according to the report. Stringer wants the Mayor's Office and the Department of Education to work with community-based organizations and the chambers of commerce to bring unemployed young people who are not enrolled in school back into an education-to-career pipeline. The report notes, citing figures from the Migration Policy Institute, that "a significant portion" of these young people are recently-arrived immigrants.