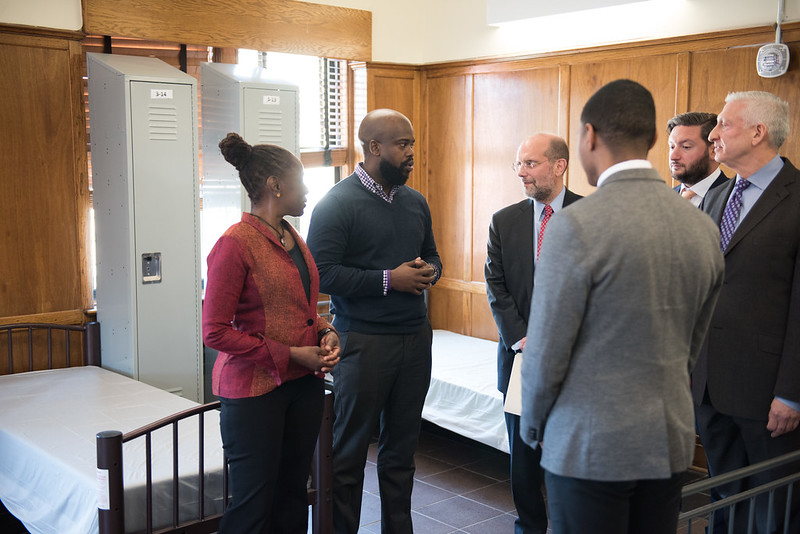 Human services providers struggle due to covid (photo: Michael Appleton/Mayor's Office)
---
Nonprofits that provide human services have played an additionally vital role during the coronavirus pandemic in feeding, sheltering, and caring for New Yorkers. But the sector, which was already facing dire financial straits in recent years, has been devastated as fundraising has ground to a halt, city funding has been cut, and state contract payments have been put on hold. The Human Services Council, an organization that represents more than 170 providers in the state, is convening a new task force on Tuesday as it hopes to examine the consequences of the pandemic and how the human service sector can rebuild as the economy recovers.
As the pandemic led to billions in lost tax revenue for the city and state, budget officials began to cut spending but the need for services provided by contracted nonprofits only increased. Organizations that sheltered homeless people or delivered meals to the elderly, for instance, adapted to the pandemic even as they too began to lose revenue and struggled to pay their bills. The Human Services Council estimates that as many as 1,800 nonprofits across the state could close down in the wake of this crisis, leading to almost 14,000 layoffs. Many have already shuttered their doors.
The Human Services Council's task force will take a closer look at those effects as it seeks to play a role in the city's decision-making on budgets, programs, and needed services through the recovery. HSC leadership also wants to ensure that the sector -- its organizations, workers, and clients -- is front and center as New York City's 2021 election cycle unfolds, particularly the race for mayor.
"Human services have been and will continue to be absolutely essential to New York's recovery from this crisis," said Michelle Jackson, HSC's executive director, in a statement. "The sector has stepped up for New Yorkers in a time of crisis, and we will be there to help turn things around. We look forward to putting forward a very clear agenda for our partners in City Hall and Albany so we can work together to craft a smart and effective strategy to stem the tide of this virus and keep New York strong."
The task force will be co-chaired by Jamie Rubin, CEO of Meridiam North America, and Fred Shack, CEO of Urban Pathways. Over the next months, the task force will collect data and survey the nonprofit sector, issuing preliminary recommendations in January. It's final recommendations will be released in March, before hosting a forum for New York City mayoral candidates on the central issues in April.
"We are ready to chart a new path for a sector that has been at the center of New York's COVID-19 response and will be essential to the city and state's recovery," Rubin said in a statement. "New York can only move forward with a robust human services sector working closely with their government partners to ensure that New Yorkers have the services they need in this new normal, and our goal is to provide the roadmap to get there."
Shack, in a statement, said, "Turning the corner on COVID-19 must be our city and state's first priority, and it will require a responsive and collaborative government willing to work with those of us who know firsthand what this virus has done and how we can overcome it, and this task force is ready to take on those major issues."
Even prior to the pandemic, many nonprofits worked on the edge of insolvency as contracts for human services were routinely underfunded by about 20%, according to an HSC report. In New York City, where human service providers contracted by the city employ about 200,000 workers, an analysis by Comptroller Scott Stringer last year found that nearly 90% of contracts to providers in the 2018 fiscal year were sent to his office for certification after the start date. Those delays in certification, owing to the city's complex procurement process, lead to delayed payments while nonprofits continue to provide their services. A study by Seachange Capital Partners, a nonprofit merchant bank, found that contract registration delays cost nonprofits $744 million in the 2018 fiscal year.
In November 2019, the City Council examined legislation sponsored by Council Member Farah Louis that would create an Office of Not-For-Profit Services to help nonprofits navigate the city's red tape. The legislation has not seen any movement since then.
[Read: City Council Considers New Office to Aid Non-Profits]