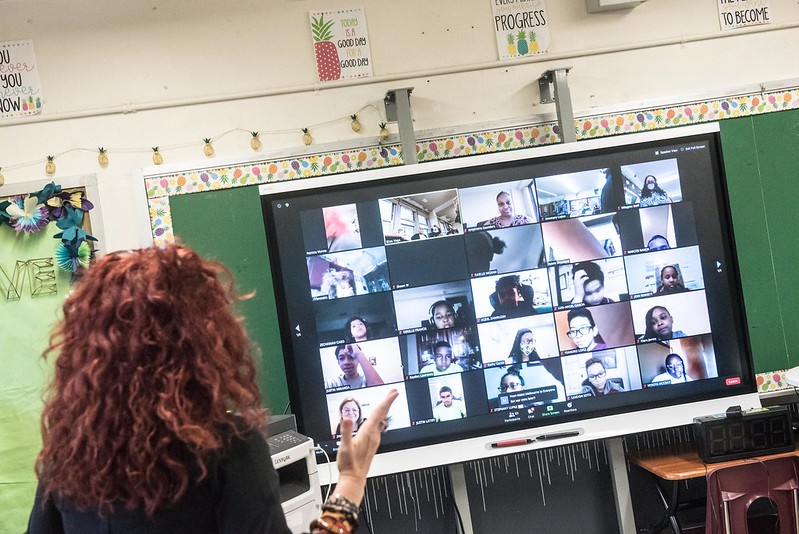 Remote learning in action (photo: Michael Appleton/Mayoral Photography Office)
---
Amid widespread criticism about a lack of internet access for students in homeless shelters who need to get online more than ever to complete their school work, Mayor Bill de Blasio announced that the city would equip every shelter with WiFi. But advocates are raising questions about execution of that pledge, especially as tens of thousands of students living in shelters need internet access now in order to engage in remote learning amid the COVID-19 pandemic.
Despite de Blasio's promise, issued Monday, to "ensure that every shelter gets WiFi," no concrete plan for implementation has been offered publicly, though the mayor said Tuesday that he has one that will be shared.
"The instruction I have given to the Law Department and to Social Services is to ensure that every shelter gets Wi-Fi," de Blasio said Monday. "We've got to stop this and make sure everyone has what they need. In terms of devices, I want to keep emphasizing, one, any parent, any kid with a problem should call 311 and let us know immediately."
"Children in our shelters desperately need assistance with remote learning and have never received the tools they need to succeed from Mayor Bill de Blasio or the NYC Department of Education," said Christine Quinn, the former City Council Speaker who is now the president and CEO of Win, New York City's largest provider of shelter and support services for homeless women and their children, in a statement reacting to de Blasio's pledge.
"We have worked tirelessly to make up the gap, hiring in-house technical support staff to navigate the Department of Education's (DOE) service and using grant dollars to privately fund iPads, laptops, and hot spots to our students," said Quinn.
Although the de Blasio administration did release its longtime-coming "Internet Master Plan" in January, and announced an acceleration of it in July amid the COVID-19 pandemic, promising to provide universal broadband access to city residents, the plan did not specifically mention homeless shelters, according to the New York City Bar Association, in an August press release.
The plan prioritized public housing developments, "which have suffered disproportionately during the Covid-19 pandemic," the mayor's July press release said. As well as investing "$157 million in ending digital redlining and providing high-speed internet," and using "$87 million redirected from the NYPD budget."
The Bar Association cited a recent report from its Justice Center's Legal Clinic for the Homeless that found that "75 percent of surveyed shelter residents agreed that internet access would help improve their circumstances." According to the report, "67 percent of homeless shelter residents wanted but had no regular access to the internet, and only 6 percent were able to access the internet through their shelters."
In that August statement, the Bar Association called on the de Blasio administration to "prioritize City residents most impacted by the pandemic and to provide reliable Wi-Fi connections to shelter residents, updated Internet-ready devices," and "Wireless or Bluetooth printers."
Although advocates and others have demanded de Blasio detail plans to help students in shelters access Wi-Fi since the start of the pandemic, the mayor has not focused on wiring up shelters, instead pointing to the hundreds of thousands of internet-enabled devices that the city has been giving out to students in and out of shelters upon request, though tens of thousands of students are still awaiting those devices as the new school year continues toward November. Then came his shelter promise on Monday, seemingly provoked by a Daily News report about lack of access and devices.
In a letter written to de Blasio and the Department of Education (DOE) by City Comptroller Scott Stringer at the start of the school year, Stringer urged the city to "provide direct support to the over 100,000 children who experience homelessness each year."
In his letter, Stringer called on the City to "designate an interagency Director of Students in Temporary Housing charged with addressing the educational needs of this vulnerable population."
The de Blasio administration launched the Learning Bridges program, which provides a free child care option for some children in 3-K through 8th grade who are in the blended learning model on days they are doing remote learning, with access pending application and a needs hierarchy the city established. However, "if these sites are not located near shelters, many students who most need these spaces may not be able to access them," Stringer wrote.
Meanwhile, "City policy prohibits any child under the age of 18 from remaining in a shelter unit without a parent," Stringer noted, especially relevant given that Learning Bridges is not available to high school-aged students.
"There's such a stigma for teenagers and youth for being homeless. That became a big benefit from having WiFi," said Ted Houghton, President of Gateway Housing, a non-profit that works with homeless shelters in the city, including through a technical assistance program to help providers bring Wi-Fi to shelters.
With a lack of stable internet access in homeless shelters and not every student equipped with an internet-enabled device from the city, some children are unable to log on for their remote classes, leading to questions about school administrators who may report the parents for the virtual truancy.
"That is not a situation of neglect," de Blasio said during his Monday press briefing, when asked about that possibility and pledging to rectify the internet access gap. "If a family is trying to solve a problem, we should be working with them and not giving them the impression that we are judging them negatively," the mayor added.
Gateway Housing, which has worked with BronxWorks, CAMBA, and Help USA to equip shelters with Wi-Fi, saw both "an increase in the number of families going online, and an increase in "the amount of participation in virtual learning," said Houghton.
Another concern, Houghton said, surrounds the monthly cost of Wi-Fi once it is installed in shelters with families.
"Each of these buildings is going to have what is essentially a corporate Wi-Fi account and that starts adding up," said Houghton. "We do not want to see an unfunded mandate to shelter providers, because there is a cost associated with internet service."
"You're talking about small shelters that might cost $10,000 to wire, very large shelters, some of which are spread out among many different buildings, that are going to cost more than $100,000," Houghton added.
Responding to de Blasio's initial announcement, attorneys representing homeless New Yorkers questioned the mayor's commitment.
"The devil is in the details, and while we welcome this announcement, too much time has passed with too little action for us to accept it at face value," said Susan Horwitz, Supervising Attorney of the Education Law Project at The Legal Aid Society, in a statement released Tuesday, wherein Legal Aid called on the de Blasio administration to quickly detail how it will get WiFi installed at all city shelters.
"City Hall should have addressed this issue several months ago," she said.
"There is a plan in place," de Blasio said Tuesday when asked at his daily press briefing about the criticism from Legal Aid and others. "We'll certainly go over it publicly. The idea here is to go through every shelter where there's kids. Obviously we have shelters that are adults only, that doesn't count, but shelters where there are kids get Wi-Fi in place. Some shelters that's going to be easier than others, depending on the physical reality. I want to make sure the kids have options immediately so they can study wherever they need to. So we'll lay out the plan and what it's going to take, what we're going to do short-term, what it's going to take to get every single shelter done. That's a commitment we make. Our IT department, DoITT, is leading the way, working with our Department of Social Services, and we will make sure every shelter has services. It's as simple as that."
Asked to provide the administration's plan, the mayor's press office did not respond to Gotham Gazette's inquiry.
[Read: De Blasio Administration Pledges to Finally Address City's Persistent 'Digital Divide' with Universal Internet Access]
Ben Max contributed to this story.