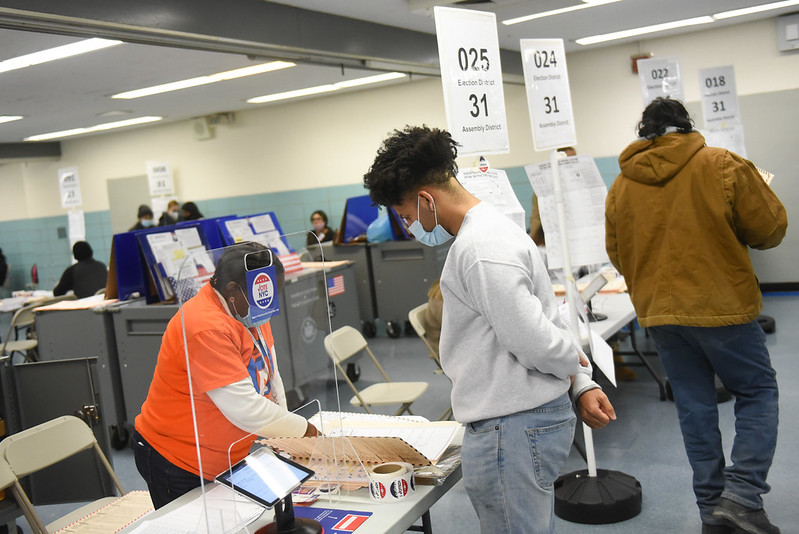 Voting in NYC in a pandemic (photo: Michael Appleton/Mayor's Office)
---
The first presidential election in New York City to have both early and universal mail-in voting showed a significant portion of the electorate taking advantage of each of the new voting methods.
Across the city, roughly 42% of those who voted cast ballots in-person on Election Day, while 37% voted at an early voting site, and 22% mailed in ballots, according to the New York City Campaign Finance Board. At over 3 million votes citywide, turnout rose by close to 300,000 votes from 2016 figures, although the turnout rate among registered voters was roughly the same (55% in 2020 vs. 56% in 2016), as more people joined the rolls in the intervening four years. Reformers who have been pushing these measures for years, and in some cases decades, say the broad spread vindicates their efforts.
Advocates have sought to make voting simpler and more accessible for years by expanding the number of options to cast a ballot, along with other reforms to streamline voter registration and shore up voter protections. High on the agenda was early voting, which passed the state Legislature and was signed into law in 2019, and universal or "no-excuse" absentee voting, which has not been fully codified but was enacted temporarily by executive order and subsequent legislation during the coronavirus pandemic.
"When we passed landmark voting reforms, including Early Voting, we had no idea how critical they would be to helping more New Yorkers vote during a pandemic," wrote State Senator Zellnor Myrie, a Brooklyn Democrat and chair of the Senate's election committee, in an email to Gotham Gazette. For years, election reforms had been blocked by a coalition of Senate Republicans and breakaway Democrats known as the Independent Democratic Conference, one of whom Myrie defeated in 2018 as mainline Democrats took control of the chamber and thus all of state government.
"We expanded access for voters because it was the right thing to do. Of course, this year has been unprecedented and it wound up being even more important for people to have multiple ways, on multiple days, to cast their votes safely and ensure they would be counted," Myrie wrote.
In the general election, over 3 million people voted in New York City, a significant uptick from four years ago, driven at least in part by the atmosphere of heightened political engagement during the Trump years. Only about three-quarters of that turnout was in-person -- either on Election Day or during the nine-day early voting period that preceded it -- the rest were mail-ins.
New York has never before had universal absentee voting, making comparisons to previous years difficult. In the spring of 2020, Governor Andrew Cuomo made it an option for all New Yorkers by making the risk of spreading COVID-19 an acceptable reason for requiring an absentee ballot. The executive order led that number to explode, from roughly 335,000 absentee ballots processed in the 2016 and 2018 general elections, combined, to over 660,000 in the 2020 general election. (The figures do not include the number of absentee ballots that were rejected, which happens to roughly a fifth every election cycle, usually on technical grounds. Some of the rules that led to frequent disqualification were changed by lawmakers in Albany between the primary and general elections this year.)
In 2019, the first year early voting was in effect, roughly 60,000 New Yorkers took advantage of the option in the general election, which saw low turnout typical of a so-called off-years with no high-profile races. In the 2020 primaries in June, there was a massive increase in absentee voting amid some of the worst days of the covid outbreak and few people cast early in-person ballots. That changed drastically in the general election, when the virus was under some control, and after voting advocates and elected leaders, like Rep. Alexandria Ocasio-Cortez, put significant effort into encouraging voters who were able to vote early.
Some boroughs had a more even spread among the three voting methods than others.
In Manhattan, the distribution across Election-Day voting, early voting, and absentee voting was virtually even, with roughly a third of voters casting ballots through each option. The rest of the boroughs saw far smaller participation by mail, with the Bronx and Staten Island showing the least affinity for voting by post.
Staten Island had the greatest enthusiasm for early voting with 48% of those who voted in the borough casting ballots that way. The lowest early voting participation rate was in Queens, where only 32% of those who voted did so early in person.
The Bronx, followed by Queens, had the highest participation rates for voting on Election Day, with 49% and 47% of those who voted, respectively, casting ballots in person on the last day before polls closed.
"We've witnessed that flexible voting options better protect our rights and our health, eliminating the need to choose among them, particularly during an emergency. Both 9/11 and Superstorm Sandy caused election disruptions in New York that should never be repeated," said Jarret Berg, co-founder of the nonprofit Vote Early New York. Berg warned the latest figures should be viewed with caution because it is impossible to gauge the impact of factors like the pandemic, "the triumph of 'work from home' technology and culture," and reaction to the Trump administration.
"While the capacity and design of both programs should be further optimized to meet local community needs, the inaugural rollout of early voting and mainstream vote from home was an unquestionable success," Berg told Gotham Gazette. "As the resourcing and infrastructure for these new programs improve and the public becomes accustomed to them, I anticipate the proportion of voters who are comfortable using them will continue to grow."
"More choices means more people voting," wrote State Senator Michael Gianaris, the deputy majority leader from Queens and a long-time advocate for election reform, in an email.
"This year we saw voters in record numbers avail themselves of the multitude of options given to them, which affirms Senate Democrats historic electoral reforms," he wrote. Gianaris is now setting his sights on one of the next election reform battles -- automatic voter registration. A bill that would require certain state agencies to register eligible voters when they provide the necessary personal information passed in July but has yet to be signed by Cuomo.