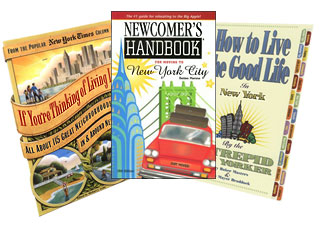 When Emily Arsenault moved to New York from Minneapolis in March to try to break into the theater, she knew that getting auditions and landing a part would be tough. What the 25-year-old didn't realize was that it would be almost as hard to find a job waiting tables so that she could support herself while pursuing her acting career.
"People actually advised me to lie on my resume or they said I'd never get a waitressing job, that's how competitive it is," said Arsenault, who was eventually hired by a Manhattan restaurant. "They told me that if you're going to wait tables in New York, you'd better know how to wait tables like a professional."
More than half a century ago, in his famous essay "Here Is New York," E.B. White wrote that New Yorkers born elsewhere who move here "in quest of something" are what give the city its passion – as well as its "high-strung disposition, its poetical deportment, its dedication to the arts, and its incomparable achievements." No matter what these newcomers are seeking, he said, "each embraces New York with the intense excitement of first love, each absorbs New York with the fresh eyes of an adventurer, each generates heat and light to dwarf the Consolidated Edison Company."
But what if each can no longer afford to pay the electricity bill?
The promise of the big city seems to have dimmed since September 11, 2001, with a slumping economy that has caused a surge in unemployment and an increase in costs. All this raises uncomfortable reminders of the problems that scared people away from New York in the 1970s – and are frightening even those people most intent on becoming New Yorkers.
"I stare at my walls worrying about the future," writes Maria Luisa Tucker in Gotham Gazette's new Newcomers Weblog. Now living in New Mexico, she is moving to New York City later this month. "The economy has soured and jobs are scarce. I have yet to figure out how I will make rent once my meager savings run out. I have only two acquaintances in the city, no job, and I'm beginning to freak out."
WORRIED
The mix of worry, confusion, hopefulness and excitement with which newcomers arrive in the city is a very old story that keeps on being retold. A new musical that is scheduled to open on Broadway this summer imagines a kind of "Sesame Street" for recent college graduates who have braved their way to the big city. It is entitled "Avenue Q," named after the (imaginary) street in the outer boroughs cheap enough for a young person to afford.
Characters from Avenue Q


(Photos courtesy Rick Lyon)
One puppet-character sings:
"I wish I could go back to college
Life was so simple back then…
I need an academic advisor to point the way."
Another sings:
"I can't pay the bills yet
'Cause I have no skills yet
The world is a big scary place.
But somehow I can't shake
The feeling I might make
A difference to the human race."
But newcomers do seem more worried than usual, and they are joined by other New Yorkers. Saskia Sassen understands why.
"There does hang over New York the horror of September 11 and a gloomy picture for the global economy, etc.," says Sassen, a University of Chicago sociologist who is the author of the book, The Global City. "People are constantly asking, have we really reached the point where this old magnet function of a city like New York is dying?"
Jobs that newcomers covet are in fact getting scarcer. "It's the industries on life support—music, publishing, the Internet, take your pick—that cloud much of the optimism for the young and unemployed in New York," Ethan Brown wrote in New York Magazine."These are the jobs that shape our sense of possibility, our sense that what we're doing can be done here and only here. And they're fast disappearing from the city's landscape."
"I've been discouraging inexperienced people from coming here," says Laurel Touby, the founder of Mediabistro, an online community for people in journalism and other media-related fields. "There are a lot of people who are coming here even if there is no work for them and they are just scraping by."
New York counts on an influx of newcomers because, as cities from Detroit to Philadelphia to St. Louis have learned firsthand, a stagnant or falling population destabilizes neighborhoods and school systems, drives away employers seeking large pools of labor, and leads to reductions in the tax base. It also means smaller allocations of federal dollars.
"The growth and development of great cities come from their ability to harness diversity and welcome newcomers' energy and wealth," the Pennsylvania Economy League says in a report that was in part the basis for a plan to attract people to Philadelphia.
In addition, the American Planning Association has noted, newcomers often bring with them an entrepreneurial spirit that lead to the establishment of thriving businesses and more jobs.
Over the years, New York has thrived thanks to its willingness to embrace wave after wave of newcomers, whether immigrants revitalizing neighborhoods from Brighton Beach to Belmont in the Bronx, or young people from elsewhere in the United States helping to create new industries and elevate the city's cultural life.
That seemed to change in the 1970s, when the fiscal crisis gripped New York, accelerating the flight of corporations and residents. From 1970 to 1980, the city lost 824,000 residents.
Today, the city has gained its population back. The 2000 Census counted about eight million residents, and, since then, according to Census Bureau estimates, foreign immigrants have continued to flock here -- net migration from abroad was 251,000 from April 1, 2000 to July 1, 2002 -- though among people moving within the United States, the city lost 319,000 more people than it gained.
But some sense a creep back to past troubles. As the New York City Partnership pointed out in a report (in pdf format) last fall on the anniversary of the World Trade Center attack, incomes in New York have been depressed by a total of $4.5 billion since 9/11 and the slump has destroyed as many as 32,000 jobs and $1.2 billion in income at hotels, airlines, restaurants, performing arts venues and sports organizations. In addition, there has been a dramatic reduction in the number of tourists visiting the city, especially big-spenders from abroad.
And despite some signs of economic recovery, the state Department of Labor says total private sector employment fell 1.7 percent in the city from March 2002 to March 2003. Looking at the sectors that tend to attract many newcomers, the picture is at best mixed. Jobs in the arts are actually up slightly, 0.7 percent, but media jobs are off eight percent and food service jobs have slipped as well.
For people such as Arsenault, that means there are obstacles wherever they turn. Reduced tourism and higher unemployment cut into support for arts and theater. Less support for the arts means fewer jobs and more people turning to stopgaps, such as waiting tables. Meanwhile, the demand for restaurant jobs has heated up just as the recession began cutting into business at bars and eateries, reducing the need for waiters and bartenders. The city's smoking ban, some contend, has made the situation worse.
"I'm finding that all these theaters and places that I could be auditioning are canceling shows," Arsenault noted. "People are needing to work more and they are enjoying theater and movies less because they're worried about their finances."
MEDIA SLUMP
Over the past decade media jobs enticed many young people to move to the city but lately, those positions have disappeared at a rapid clip.
Television and radio employment is actually up in the past 12 months but the number of jobs in print periodicals fell by about 6,000 in the past two years as magazines and newspapers slashed costs to cope with a severe advertising drought and some titles folded. The end of the dot-com bubble also meant the demise of several publications that covered Silicon Alley.
Touby, of Mediabistro, says the entry-level media jobs that still exist are being filled by experienced people who cannot find better opportunities.
"I have three interns coming in here to Mediabistro who have masters and other advanced degrees," says Touby, whose Web site brings together media professionals interested in improving their skills, socializing and finding out about job opportunities. "I've got a lawyer here interning for me."
Still, people keep coming, if only because the situation for media professionals in other cities, such as San Francisco, is even worse. "People are coming back to New York from other cities because they have no other options," Touby says. "They're coming here even if there is no work and scraping by."
EMPLOYERS' MARKET
Gerard Hammink, a 34-year-old television news producer from Minneapolis, came to New York last year and spent two or three months job-hunting before finally landing a gig with CNBC. He is happy with the job, but it is a temporary freelance position that doesn't include benefits. Permanent work that pays well is still scarce.
"I'm working but I feel like I'm still looking for a job in a way," says Hammink. "I'm not really financially secure or anything like that."
With so many New Yorkers and would-be New Yorkers competing for jobs in media-related fields, publishers are starting to look at the city as a good source of cheap labor.
Inc. magazine, which covers small business, moved to Manhattan from Boston in January, in part because of the talent pool, and the publication's owner, Gruner + Jahr USA Publishing, plans to move another of its titles, Fast Company, to New York later this year.
"It's not more expensive right now to operate an editorial staff out of New York than it is out of Chicago or Boston because there are so many talented people looking for work," John Koten, the editor of Inc., recently told Newsday.
RENTS DOWN AND UP
If there was any good news during the slump, it was word that Manhattan rents had begun to fall. Several recent studies indicated that since the housing market peaked in March 2001, rents have slipped 20 percent. Many new buildings are now offering incentives, such as a month or two rent-free and complimentary gym memberships.
Still, prices are high. In late April, the Daily News reported that the average one-bedroom Manhattan apartment below 100th Street was renting for $2,260 a month, down from $2,412 six months earlier.
"I found out that if you don't mind living in what would be considered a crack house anywhere else but Manhattan, finding an apartment in this horrible economy is easy," Patrick Richardson, a recent graduate of Louisiana State University in Baton Rouge, writes in his first entry in Gotham Gazette's Newcomers Weblog, before moving to New York last week. "It's finding a job to pay for it that's difficult."
In some areas, rents are rebounding even though the job market doesn't seem to be, according to the News, which obtained its figures from the brokerage CitiHabitats. On the upper West Side, the average one-bedroom rents for $2,229 a month, up from $2,197 in October. Areas such as Chelsea and Murray Hill have also seen rents increase.
Outside Manhattan, rents have either stabilized or continued to fall and apartments are remaining on the market longer before they are leased.
For someone on a tight budget, even reduced rents remain too high. Arsenault, for one, resorted to a solution that many new New Yorkers adopt: tripling up in a two-bedroom apartment, in her case, in Washington Heights.
NEW YORK, RESILIENT
Despite all the problems the city faces, Sassen the sociologist says the doom-and-gloom is misplaced, at least over the long term. New York has weathered crises in the past and shown a remarkable capacity to reinvent itself in ways that are virtually impossible to foresee.
In the 1970s, even as people declared the city dead and major corporations and insurance companies fled, seeds were being planted for new businesses, such as specialized financial companies and media concerns, that would help carry New York back to prosperity.
She notes that although the city's traditional magnets, the arts and financial services, are battered, they remain in place and the city is full of young, innovative companies such as software firms and other technology businesses that will thrive in the coming years.
"I'm an optimist," Sassen says. "It's far more difficult to kill a complex city like New York than it is to keep it going and reinventing itself."
Mitchell Moss agrees. "It's a place that people come to for all sorts of reasons," said Moss, who heads NYU's Taub Urban Research Center. "If you want to make a name for yourself in the arts, a fortune in finance or to make a difference in the non-profit world, you have to come to New York. And if you are poor from other parts of the world, New York is still the most open economy, the most accessible."
People, in other words, still feel compelled to become New Yorkers.
"I have wanted to move to the city since I wrote a short story about it in eighth grade that made my teacher nervous," Maria Luisa Tucker writes in her weblog. "I had never been to New York…More than a decade later, after traveling five of the seven continents [and] visiting NYC three times…I still crave a life in New York."