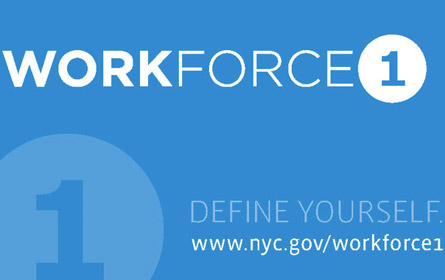 "Thank you for calling Workforce1," begins the recorded greeting. "Your success begins here."
If you called, you live in New York City and are one of an estimated 600,000 city residents who need a job.
Many lack an advanced education, a professional network and financial resources. With these handicaps, they must find work in the most competitive job market in decades, in one of America's most competitive cities. And so thousands of them -- 387,661 people in 2010 -- will try and find employment through work-related education, job training and employment services -- assistance known as workforce development. For them, the workforce development system is a lifeline to the job market and employment.
For many workers, the lifeline falls short. It simply cannot overcome the shortage of employment, or provide work paying a decent wage. Workforce development may offer a path to employment – but not to the middle class.
A Network of Programs
Workforce1
, as well as any single organization can, represents workforce development in New York. But it is only a small part of the city's diverse workforce development system, which technically is not really a system. It's more a collection of independent programs that operate, in a thousand different ways, with the shared intention of helping businesses fill their labor needs and New Yorkers get jobs. It is a collection of nonprofits, public and private colleges, local businesses, unions, and a number of city, state, and federal organizations that provide, fund, and oversee work related programs.
The Department of Small Business Services (which contracts Workforce1), the Human Resources Administration and the Department of Youth and Community Development contract out the majority of public services to providers. These providers -- and there are thousands of them -- operate in every borough as a bridge between workers without work and businesses with jobs.
Workforce1 has offices in all five boroughs, each managed by a nonprofit, for-profit or educational institution that won a competitive contract. These centers prepare and connect New Yorkers with job opportunities, but the priority is jobs placement, the connect part.
The first stop for job seekers is a two-hour introductory session delivered by a career advisor like Gwendolyn Gladden. It's like a class for the jobless. Standing in front of 30 jobseekers wearing a neatly ironed power suit, Gladden lectures with a mix of hope and realism. "Don't come with that old tired energy," she said. "Come with that enthusiasm. Today is the day I find employment."
She reminds the class it takes three months to find a job –- and only if they treat finding a job like a job. Yes, she said, $80,000 salaries exist, but not everyone can get one. And some of the students may have to change professions. After all, Gladden did.
After 20 years in the health care industry she lost her job. So she came to Workforce1 four years ago. Now a career advisor, she helps those who sit where she once sat.
A majority of the jobseekers receive general assistance on how to navigate the job market and ace an interview. They get help on resume building, interview prep, career assessment, counseling and access to job listings.
Those who qualify may receive more substantial and specific training at one of Workforce1's three sector-oriented centers.
The city's total workforce development expenditure is $1.36 billion, with $615 million coming from city revenues and the rest from a variety of sources including Congress under the Workforce Investment Act. Federal funding for Workorce1 has decreased from about $62 million in 2006 to just over $36 million this fiscal year.
Because of budget cuts, the Individual Training Grant voucher program, which provided funding for some specific skills training, has been temporarily suspended. This has affected the Transportation and Industrial Center in Queens, which provided Computer Numerical Control machinist training. The Long Island City Health Center'sparamedic and emergency medical technician programs also have been suspended due to the funding problem.
The Job Gap
Workforce development began seriously with the 1960s War on Poverty. The system trained entry-level workers and "more or less threw them over the wall and hoped they landed in a job," said Paul Osterman of MIT's Sloan School of Management. Now the city, like Workforce1, follows a demand driven strategy: work with businesses, learn what jobs are or will be available, and train people for those jobs.
The problem, though, is the available jobs. Some economists like to compare the American economy to the letter U -- some high-income jobs on the top, a lot of low-income jobs on the bottom, and a hole where middle-income jobs used to be. One System for One City, the city's state of the workforce development system report, found, "As a tentative recovery began in 2010, employment growth occurred both in high paying sectors like finance and insurance and professional services, and typically low paying sectors like health care, retail, and accommodation and food services."
The recession has obviously led to a jobs deficit. But even if thousands of new jobs are created, middle-paying manufacturing jobs are unlikely to return from the grave. The job market will likely continue to be "U" shaped, which means lots of low-wage jobs that help New Yorkers survive on the ragged edge of the economy with little chance of escape. There is a good jobs deficit.
Of course, many decent middle-paying jobs exist. But less educated workers, typically those in the workforce development system, are unlikely to get them. Where are all the Good Jobs Going? a recent book on job quality in America, stated, "Good jobs are not disappearing for everyone, but they are largely disappearing for less-educated workers." Only 9 percent of the people who used the city's public workforce system in 2010 had a college degree.
A Job, Not a Career
Businesses benefit from the workforce development system, says Matt White, assistant commissioner of policy and planning from Small Business Services, because it connects them to qualified job candidates in a quick and cost-effective way.
Some job seekers benefit by finding work. But the quality of that work concerns some experts.
The average job placement from the workforce development system pays $10 to $11 an hour, according to James Parrott, deputy director and chief economist of the Fiscal Policy Institute. That might be tolerable if placements led to promising careers. But Parrott says upward mobility is not likely. "My sense is that the majority of job placements don't have significant advancement opportunities," he said.
With so many people needing jobs, the focus has to be on placement as opposed to getting people on a career ladder, Ester Fuchs, a professor at Columbia University who helped create the city's workforce development strategy, said. The program, she added, had to concentrate on "short term training as opposed to the long-term career training."
"Demand is so high now," Fuchs said. "The general view is that we have to serve the large numbers of people who are looking for employment. And we have to work with the business who are offering jobs."
The situation, by some measures, has improved. Workforce1's median wage of job placements increased from $9 an hour in 2009 to $10 in 2010, and 75 percent of those jobs were full-time. "We developed an expertise there," said Andrew Campbell, Brooklyn's Workforce1 Deputy Director. Now there is a mission to place workers in jobs that pay an hourly wage of $15 or more.
The Money Crunch
Any gains, though, could be threatened by budget cuts. Parrott, White and Osterman agree that without more funding the workforce system is unlikely to help workers advance into middle paying jobs. Lack of money "hurts advancement opportunities for customers," said White. Osterman put the need for funding bluntly: "Peoples' lives and careers are at stake, and these programs are important."
Bloomberg wants to expand Workforce1, despite funding cuts, and hopes to achieve 40,000 new job placements in 2012. The city reported 24,701 Workforce1 job placements last fiscal year, up from 17,218 in 2007. Recently, however, those numbers were called into question.
Seedco, a nonprofit, runs both the Upper Manhattan and Bronx Workforce1 centers. "In at least 400 cases in three months, [staff members at a job center] had taken the history of jobless clients, changed dates and salaries, and claimed past employment as a job found, " Michael Powell of the Times wrote. In response, the city invalidated 44 percent of this year's Seedco job placements. The investigation is ongoing.
Fake jobs aside the question remains whether the proposed 30,000 or 40,000 jobs will be good jobs? Or will they be for part-time cashiers making little more than minimum wage at a new tourism center that thrives because the dollar is weak?
The lack of skills among many job seekers and the shortage of good jobs create a grim picture. But as Sydney Fuller-Jones of Boston, who has a job and still qualified for welfare services once said, "Any is plenty in the land of none."