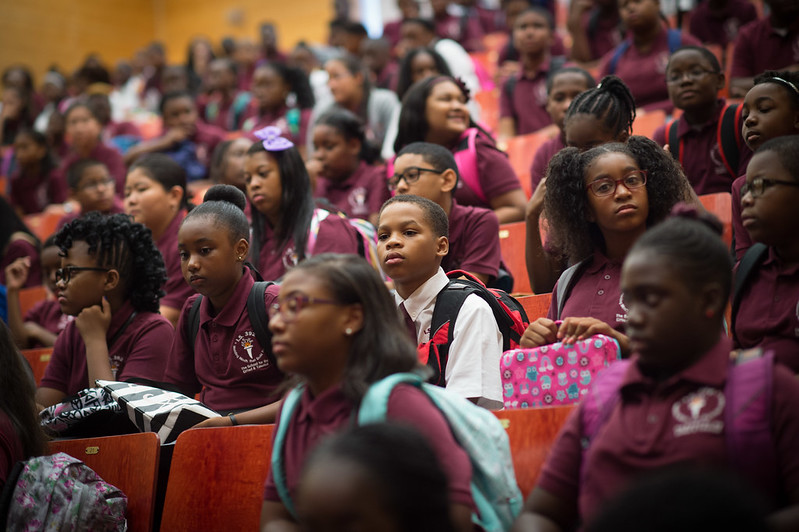 Students at school (photo: Michael Appleton/Mayoral Photography Office)
---
I was a kid from Harlem, a first generation immigrant, and the first in my family to graduate from college – the U.S. education system was not built for kids like me to succeed.
Thankfully, along the way, I got the support I needed to excel and live out the dreams that my parents had for me as well as the aspirations I had for myself. Sadly, that is not the reality for countless kids from underserved communities just like me. But it can be, if we start to reimagine the support systems around them.
My parents left Ecuador with the hope that they could create a better future for their children, and they believed an American education was key to this. My father dreamed of having one of his children attend an Ivy League school. It felt out of reach, but all of that changed when my mom saw an advertisement for a new school in our neighborhood, and slowly but surely, their dream started to come true.
In 2005, my parents enrolled me as one of the first 100 students at KIPP Infinity Middle School in Harlem, a decision that changed my life. I stayed with the KIPP network of public charter schools through high school and then even more doors of opportunity were opened. During my time at KIPP, I traveled throughout New England to visit potential colleges, including Yale and Harvard, embarked on a 10-day excursion to Utah to hike Arches, Bryce, and Zion National Park, and visited China.
The world I knew expanded and I was influenced by these new environments. I got to experience new things, meet new people from all different backgrounds, and, perhaps most importantly, I got to work with a support system that knew how to prepare me to advocate for myself.
My advisors gave me the opportunity to identify my goals and the tools I needed to meet them. I learned how to prepare for college and succeed at the top schools. Before I knew it, I was opening my University of Pennsylvania acceptance letter in the mail on the auspicious date of 12/12/12.
But while I was learning and growing and taking advantage of every opportunity I could, other kids in my neighborhood were falling behind.
While I had college counselors helping me every step of the way – from applications to financial aid forms – most students do not.
KIPP Forward, the alumni support program that sticks with KIPP students once they graduate high school, helped guide me in college and helped me find a job post-graduation through peer and employer networking events, such as the KIPP Alumni Summit. For my friends who did not attend KIPP, any guidance many of my friends were receiving stopped the day they graduated high school.
The sad truth is: their experience is closer to the norm for students who look like me. For students of color, post-secondary preparedness programs are few and far between. In fact, Black and Latino students are inadequately enrolled in math courses and under-enrolled in Advanced Placement (AP) classes as compared to white peers.
These disparities continue through college, where students of color are significantly more likely than our white peers to drop out of post-secondary programming and education programs – creating a reality where white students at public colleges are 250% more likely to graduate than Black students, and 60% more likely to graduate than Latino students.
We can – and must, end these disparities.
My experience shouldn't be the exception – it must become the norm. Our education system must develop postsecondary and career readiness programming, alumni support, and networking opportunities for all students so that low-income students of color across the country have the tools they need to chart their paths for success.
I keep in touch with my counselor to this day. In college, he visited me to help with my transition and helped me find the right internship opportunities. After graduation, I leaned on him for networking and guidance in my career. And now, I collaborate with him through our work at our alumni association.
At KIPP Forward, we are helping to change what alumni support can and should look like because the status quo has not been working for students of color. Our program is unique, but it is also scalable for schools across the country.
The support system we offer – which prepared me for college, helped get me to college, succeed in college, and supported my career after college – should be available for all students. If schools across New York and beyond do the same, we can reimagine what alumni support means, and finally provide all students with the keys to success.
*** 
Kevin Hidalgo is Senior Financial Analyst at American Express, and a KIPP NYC alumnus.
***
Have an op-ed idea or submission for Gotham Gazette? Email This email address is being protected from spambots. You need JavaScript enabled to view it.