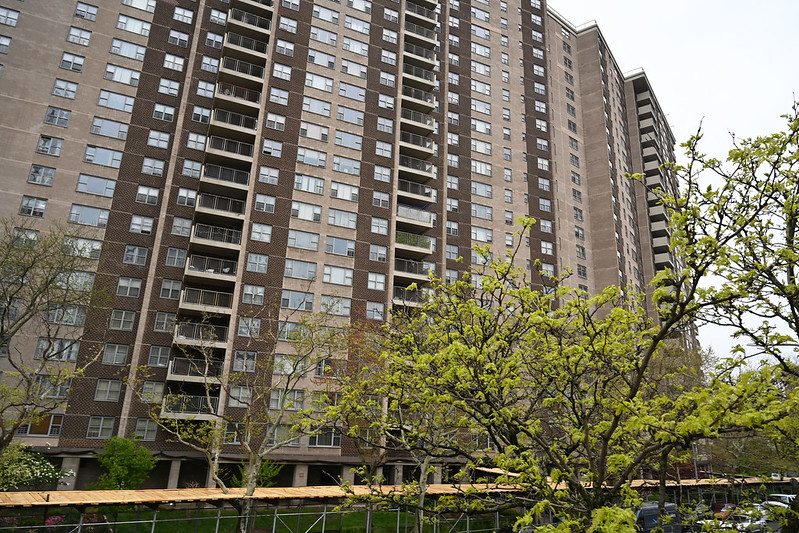 Housing (photo: Kevin P. Coughlin/Governor's Office)
---
Faced with an influx of migrants, the main shelter system bursting at the seams, and skyrocketing rents, New York City Mayor Eric Adams declared a state of emergency. The response to this perfect storm has since involved the opening of emergency shelters, building tent intake centers, and even negotiating with cruise line companies to possibly house those in need. 
What's clear is that both our insufficient temporary and permanent housing systems fail those most in need. If we are to turn back the tide on this growing crisis, the path to preventing and solving homelessness runs through creating a new paradigm for housing people.
My tenure leading RiseBoro Community Partnership has taught me that opening more shelters is not the right solution for New York City's homelessness crisis. Our city's right to shelter mandate has laid the groundwork for the expensive and inefficient shelter system, but despite billions of dollars in annual expenditures, we are no closer to solving the problem. Meanwhile many tens of thousands of New Yorkers continue to suffer in shelters and on the streets every night. If we are to solve this crisis permanently, we must shift our mindset from a right to shelter to a right to housing.
In a city and nation as wealthy as ours, there's no excuse to not provide permanent affordable housing to everyone who needs it. Affordable means rent is no more than 30% of a household's income, the federal standard. Everyone needs an affordable place to live, and when we dedicate such a large share of our resources to shelters over permanent housing, we miss the opportunity to end homelessness.
To be sure, creating a real right to housing in practice will not be easy. It will require a multi-pronged approach that catalyzes new housing production and expands rental assistance for those who need it. The resulting effort may have a large price tag but the city is already spending over $3 billion annually on homelessness. We can't keep trying to bail water out of this sinking boat with a leaky bucket. We have to plug the hole, and a shift to a right to housing would do that.
For this to be a reality, we need to start by making development in the city cheaper and easier; New York is a notoriously difficult and expensive place to build housing. While there were measures for positive developments proposed in Albany that ultimately failed to pass this year, such as the removal of caps on the size of residential housing development, more needs to be done if New York is to be a place where residents can find an affordable place to live and become thriving members of the community.
To achieve this vision, we should start by reforming New York's byzantine zoning and land use processes so that all neighborhoods share the responsibility of building additional housing. Next, we must address our outdated property tax system, which puts huge tax rates on large rental properties. Finally, we must invest more in the production of affordable housing, both in terms of capital dollars and in the city agencies that are charged with facilitating development. 
Affordable housing is needed throughout the city. Most of New York City's relatively meager housing growth has been concentrated in a small number of neighborhoods. Since 2010, 10 of the city's 59 community districts accounted for 47% of new housing permits, and one-third took place in five neighborhoods: the far west side of Manhattan, Downtown Brooklyn, Williamsburg/Greenpoint, Long Island City, and Astoria. We need more infrastructure in disinvested neighborhoods, like the West Farms section of the Bronx, one of the poorest districts in the city. Proposals like Senator Brad Holyman's — which would shut down racist local zoning laws — would help make this dream a reality.
We also need more creative solutions, like converting hotels and single-room occupancy buildings into affordable housing units, to become the norm. Last year, RiseBoro completed such a project on the Upper West Side for 135 homeless seniors. 
Finally, we need broader efforts through legislation to address the housing and homelessness crisis. Senator Brian Kavanagh's proposal to include $250 million in funding for the Housing Access Voucher Program (HAVP) in the state budget would have been a big step forward, and though it failed this year it should be taken up in 2023. The proposal would support many of the 92,000 New Yorkers across the state currently experiencing homelessness by providing funds to house over 40,000 people in just the first year of the program.
Mayor Adams' first city budget included $22 billion for housing over the next decade, but that still falls well short of candidate Adams' $4 billion-per-year pledge for housing.
Creating enough housing is no doubt an expensive proposition, but inaction will cost us far more. 
A supportive housing bed and wrap-around services cost $42,000 per year, well short of the $550,000 per year that a bed at Rikers is costing. The difference underscores a real cost-burden of not reducing homelessness, as the unsheltered are 10 times more likely to have contacts with police, nine times more likely to experience jail spells, and twice and three times more likely to require ER services or ambulance rides, respectively.
New York can't make this shift on its own. The federal Inflation Reduction Act (IRA) that passed, scaled back from the more ambitious Build Back Better plan (BBB), provided $1 billion to the Department of Housing and Urban Development (HUD) for grants supporting climate efforts in affordable housing projects. This is a long way off the $175 billion promised in BBB to build and support affordable housing. This loss of needed federal funding continues to hamstring local efforts to reverse the homelessness crisis and provide enough quality, affordable housing for everyone.
Working at RiseBoro, I see how affordable housing changes people's lives every day. And my vision of a vibrant and diverse community doesn't end with housing. Residents must have access to a full range of services that address their needs. Young people must have safety and opportunity to fulfill their potential. It must be a community with healthy food, healthy families, and healthy housing. Without affordable and stable housing, everything else is less effective. Temporary housing only dooms other services to be temporary. We must look beyond the right to shelter and collectively strive toward a right to housing.
***
Scott Short is CEO of RiseBoro Community Partnership. On Twitter @RiseboroNYC.
***
Have an op-ed idea or submission for Gotham Gazette? Email This email address is being protected from spambots. You need JavaScript enabled to view it.