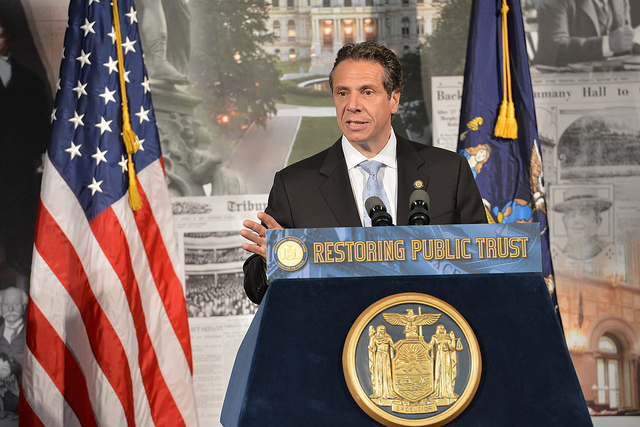 The New York Public Interest Research Group is calling for major reforms of Gov. Andrew Cuomo's state ethics panel in a 20-page report outlining their wishlist for the Moreland Commission to Investigate Public Corruption.
"Blueprint For Reform" offers up some of New York's good-government groups' greatest hits on campaign finance reform: eliminating loopholes that allow unlimited giving to housekeeping accounts; banning the personal use of campaign funds; and requiring more disclosure.
Unsurprisingly, NYPIRG also calls on Moreland to recommend replacing the oft-reviled state Board of Elections that was subject to a public shaming during the commission's last hearing.
NYPIRG provides the following recommendations to prevent the new enforcement board from being mired in partisan battles:
NYPIRG recommends five commissioners should be appointed by the governor and legislative leaders, with no more than two from any one party and one without party affiliation or governmental involvement. The new commission must have the power to enforce all aspects of the campaign finance law and issue regulations. The results of all votes should be made public.
The most daring section of the report involves ethics enforcement with the report detailing how Gov. Andrew Cuomo's Joint Commission on Public Ethics could be reformed to prevent a few appointees from stopping investigations. "The board is structured to allow legislative appointees to short-circuit investigations of lawmakers," reads the report, "even if a majority of the board votes for action. Moreover, the size of the board is unwieldy: the 14 member board should be reduced."
Legislative appointees loyal to Assembly Speaker Sheldon Silver have long been thought to have stopped an investigation into him and his handling of the Vito Lopez sexual harassment scandal.
The NYPIRG report also goes after Cuomo's tendency to appoint people he enjoys strong ties with to JCOPE.
"The public must feel confident that the state's ethics regulations are being enforced without fear or favor," reads the report. "Ensuring that staff have not been recent employees of those whose ethics they monitor is important to ensuring such confidence."
NYPIRG wants Moreland to recommend that JCOPE be subject to public meeting laws and Freedom of Information Law so that the public feels confident in the work the commission is doing.
Cuomo formed the Moreland Commission after state lawmakers refused to respond to his calls to clean up Albany politics following a spate of corruption scandals earlier this year.
The commission was set to release its preliminary report on how to reform state government by Dec. 1, but sources told the Gazette not to expect the report to be filed on time because of the Thanksgiving weekend.