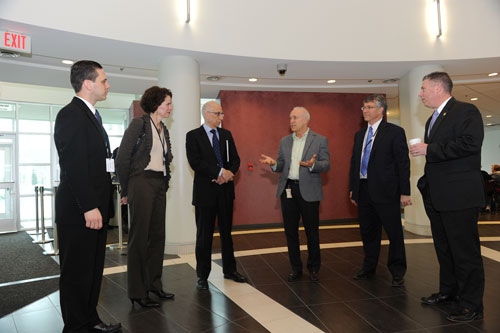 Mayor-elect Bill de Blasio's pick for city budget director was once referred to as the "right arm" of state Assembly Speaker Sheldon Silver by the longtime power broker himself.
While the selection of Dean Fuleihan is interesting for a number of reasons, it is likely that one of the main draws for bringing him into the new city administration is his long experience in Albany. After all, key initiatives that de Blasio proposed on the campaign trail — such as universal pre-kindergarten — will require the assent of state lawmakers as well as a deft hand with the city budget.
Fulehain, who left the Assembly in 2011 after 33 years and is now the an executive vice president for SUNY's College of Nanoscale Science and Engineering, has both the experience in finances and rough-and-tumble state politics for the job.
He has also been embraced by both the business sector as well as liberal Democrats.
Kathy Wylde, president and CEO of the Partnership for New York City, told the Albany Times-Union that Fulehain will be "a great asset to the city and mayor-elect." Meanwhile, Democrat state Sen. Liz Krueger and state Attorney General Eric Schneiderman — both heavywheight liberals in the state — also praised the pick.
"Dean is a consummate professional who understands budget, policy, and politics. He will be an invaluable addition to the mayor's team here at home and in Albany," Krueger said in an emailed statement. "Most importantly it shows that de Blasio is well aware that he needs people in his administration with ties to Albany to help get his progressive vision for the city passed."
Of course, Silver was equally effusive about the pick. "I can say from first-hand experience that, having worked with him for more than 20 years, Dean will be an indispensable member of the de Blasio administration and his advice and counsel will be invaluable," he said in a statement posted on the Assembly website.
Fulehain succeeds Mark Page at the Office of Management and Budget, which has overseen a balanced budget for the past 12 years of Mayor Michael Bloomberg's administration. Some advocates and lawmakers have criticized the Bloomberg administration's balancing of the city's books on one-shots, and by neglecting to deal with retroactive pay raises for municipal union workers.
Some budget analysts also see the city's financials as the most significant hurdle for de Blasio's "progressive" agenda.
Biography
Who: Dan Fuleihan
Position: Budget Director
Current: Executive vice president for strategic partnerships, SUNY College of Nanoscale Science and Engineering
Previous: A series of jobs with state government going back to at least 1978 — most significantly as both secretary to the Assembly Ways and Means Committee between 1997 and 2011; and as secretary to the speaker for program and policy from 1992 to 2011.
Education: Graduate studies at the Maxwell School of Citizenship and Public Affairs at Syracuse University; B.A. in economics from Alfred University in Alfred, N.Y.