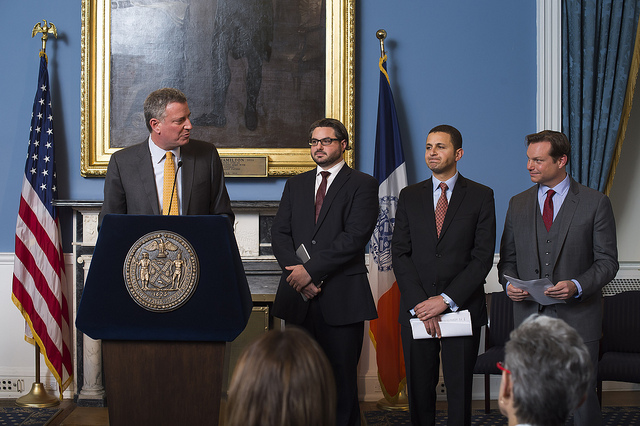 NEW YORK — Mayor Bill de Blasio celebrated the six newest members of his administration on Monday, including those responsible for promoting his administration's policy agenda in Albany and Washington D.C.
Flanked by his newest staffers at City Hall, de Blasio announced he was naming the six additions as the latest to join his "effective, progressive and diverse" administration. The new mayor emphasized the need to work with both federal and state authorities to come through with his campaign promises on a number of issues, including education, housing and transportation.
"Everyone knows in this room," de Blasio said," so much of what we're trying to achieve involves Albany."
De Blasio will turn to Sherif Soliman as his new state legislative affairs director to help do that. Most recently employed by the New York City Employees' Retirement System pension fund, Soliman also worked with former Mayor Michael Bloomberg's legislative affairs office as an assistant legislative representative.
Hours after de Blasio recommitted to his campaign's plan to push for universal pre-kindergarten paid for by a tax hike on the city's wealthiest, Soliman repeated the plan as one of his own top priorities.
Soliman also promised to look into the issue of home rule, which allows municipalities some self-governance of policy in areas typically handled by the state.
"Whether it's the impact of the state budget on city services or legislation affecting vital programs, the state's imprint is felt across the city," Soliman said, adding that the relationship between the city and state should be strong but also allow New York City to make its decisions on issues such as rent laws and speed cameras.
While Soliman tackles Albany, de Blasio picked former Congressional staffer Max Sevilla as his chief of federal legislative affairs. De Blasio joked that the only thing tougher than dealing with Albany is dealing with D.C., which he said was caught in an "extremely complicated" situation.
"The federal government should be supporting our city and many others," de Blasio said, calling cities the economic engines for the nation. "We need help when it comes to mass transit. We need help when it comes to education. We need help when it comes to public housing and affordable housing, and we've gotten used to our plea for help being ignored."
Taking a page from his predecessor, de Blasio also said that he would continue Bloomberg's work on Superstorm Sandy recovery and gun control with Sevilla playing a key role on the issues.
De Blasio also appointed longtime ally Peter Ragone as a senior adviser. Ragone, like the mayor, previously worked at the Department of Housing and Urban Development under then-Secretary Andrew Cuomo; he most recently served as press secretary to San Francisco Mayor Gavin Newsom.
Bill Chong, formerly the deputy commissioner of the Department for the Aging under Bloomberg, will be in charge of the de Blasio administration's Department of Youth and Community Development, where he has also worked as deputy commissioner in the last administration.
De Blasio towered over Mindy Tarlow, who he named as director of operations and will oversee the mayor's day-to-day performance of the city's various agencies. Tarlow comes to the administration after heading up the Center for Employment Opportunities.
The administration's Community Affairs Unit will be headed up by Marco Carrión. A former staffer under Gov. David Paterson and aide to state Sen. Gustavo Rivera, Carrión also served as political director for the Central Labor Council.