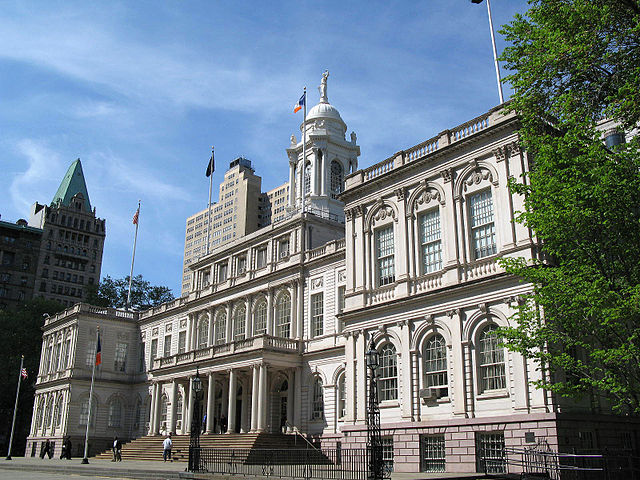 New York City Hall
---
What to look for this week, via the City and Albany:
The week began with the Memorial Day holiday and its annual rememberances and parades.
On Tuesday, Mayor Bill de Blasio Mayor de Blasio will tour a pre-K classroom and then deliver remarks at the Brooklyn Chinese American Association.
Also on Tuesday, the City Council resumes its executive budget hearings, entering their third week. The Council will also meet for a Stated meeting on Thursday afternoon. Watchers are eager to see if the mayor's executive budget will shift to include aspects of the Council's wish list, like funding for additional police officers. The state comptroller will be in Brooklyn on Tuesday for the release of a report on the borough's economy.
As always, there are important and interesting one-off events to look for this week, including Deputy Mayor Richard Buery appearing at a Crain's New York breakfast forum. Also keep an eye out for the City DOE's release of the proposed discipline code for next school year, expected this week and kicking off the public input period.
Meanwhile, with the Republican and Democratic state party nominating conventions now over, Albany's focus looks to be even more rapt by the election season upon us than the legislative session with only a couple more weeks left. There is still much to look for this week in terms of both policy negotiations in the capital and election-related news.
Here's the run of the week in more detail:
New York City
Tuesday
Along with the mayor's Tuesday pre-k visit on Tuesday, according to his public schedule he will meet with Condé Nast executives in the afternoon and then, in the evening, the mayor will speak at the Agudath Israel of America 92nd Annual Dinner.
The City Council's executive budget hearings resume on Tuesday with the committees on health and mental health - in conjunction with the finance committee, as are all executive budget hearings.
New York State Comptroller Thomas DiNapoli will tour Brooklyn Brewery on Tuesday and then "release a report on Brooklyn's economy, highlighting the growth in Kings County's jobs and businesses." according to his public schedule.
Wednesday
First thing Wednesday morning, Deputy Mayor for Strategic Policy Initiatives Richard Buery speaks at a Crain's New York breakfast forum. Buery is expected to deliver remarks and then field questions from moderators Erik Engquist and Brian Lehrer. The subject matter will center around Buery's portfolio, which is heavy on universal pre-k and community schools.
City council budget hearings on Wednesday include the committees on education, parks and recreation, and environmental protection. The parks committee, chaired by Council Member Mark Levine, is expected to continue its push for additional funding toward improving "park equity." The Council's Committee on State and Federal Legislation will also meet on Wednesday, though not to discuss the city budget, but a related matter: tax rates.
At 5 p.m. on Wednesday, WNYC's Schoolbook division sponsors what it is billing as "the city's first student-led press conference." Student journalists will fire questions at a panel of education officials including Deputy Chancellor Dorita Gibson and City Council member Daniel Dromm, who is chair of the education committee, as well as other "experienced educators."
Thursday
The city council finance committee will meet Thursday morning prior to the entire Council meeting at 1:30 for its last Stated meeting of the month (the next one will be June 11).
Friday
Council budget hearings on Friday consist of the Committee on Governmental Operations and the Committee on Fire and Criminal Justice Services. Meanwhile, the technology, public safety, and fire and criminal justice committees will meet for a second oversight hearing related to the city's 911 emergency system. The committees will look at FDNY and EMS emergency response protocols, which have come under question after delays in responses to recent fires.
And, Albany:
Following last week's Democratic convention and the Memorial Day holiday, the Legislature has a staggered return to Albany. The Assembly returns on Tuesday and has session through Thursday, while the Senate returns Wednesday and also leaves town Thursday. There are only thirteen scheduled session days left this year. Most legislators are focused on returning to their districts for election year campaigning.
Gov. Andrew Cuomo appears to be in full campaign mode. The fate of robust campaign finance reform is in question. Good government groups were scheduled to meet with Cuomo last week to discuss the matter, but it appears those meetings were cancelled to allow the administration to concentrate on the Democratic Convention. The Working Families Party convention starts on Saturday, May 31 and Cuomo wants to deliver something to keep the WFP from backing its own gubernatorial candidate.
***
by Kristen Meriwether and Ben Max in New York City and David King in Albany
@GothamGazette