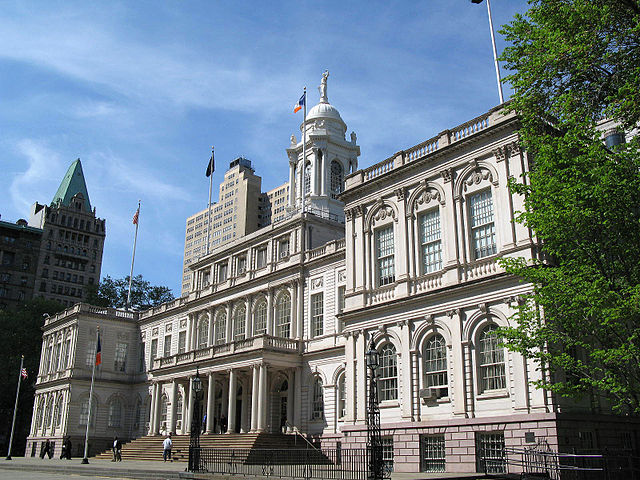 New York City Hall
---
What to look for this week, via the City and Albany:
And from Brazil, of course. On the heels of the United States Men's National Team's advancement into the knockout round of the 2014 World Cup - which saw Gov. Andrew Cuomo grant state employees an extra hour of lunchtime on Thursday for the U.S.-Germany match - the U.S. is back at it again on Tuesday at 4 p.m. EST versus Belgium. We already weren't expecting a lot to happen politically this week - it's a holiday week with July 4th on Friday and so much has been wrapped up over the last two weeks with the city budget deal, the end of session in Albany, the NY13 Democratic primary, and more.
Still, though, a few things to look for this week and beyond...
Many will be looking this week for further indication of what is afoot in terms of Albany politics and the changing landscape of control of the New York State Senate, including what role Gov. Cuomo will play in ensuring that Democrarts control the body, and therefore, both houses of the Legislature. New York Republicans are promising to take control of the Senate despite the announcement that the Independent Democratic Conference is breaking it's coalition with Senate Republicans to form one with Senate Democrats. Stay tuned - and tune into the state races of 2014: we have you covered, primary day is just over two months away (Sept. 9), election day in about four (Nov. 4). This week includes several relevant events - see below for details.
This week kicks off with an interesting transportation committee hearing at the City Council, an appearance by the Speaker on the Brian Lehrer Show, and more. Mayor Bill de Blasio starts his week delivering "remarks at the NYPD Graduation Ceremony in Manhattan" and attending "the retirement ceremony for Detective Bromm at the 78th Precinct in Brooklyn," according to his public schedule.
More on Monday's activity and the rest of the week below.
(And here's your link to the World Cup schedule, because we know it's pretty important to many of you for the week ahead)
A mostly non-fútbol run of the week in more detail:
New York City
On Monday
At the City Council on Monday morning at 10 a.m., the Committee on Transportation will consider a bill that would change rules regarding alternate side parking regulations, disallowing tickets for drivers who are sitting in their cars waiting for street sweeping and move them, and allowing drivers to park as soon as a street has been swept. It's the only hearing on the Council's schedule for the week.
Also at 10 a.m. on Monday morning, City Council Speaker Melissa Mark-Viverito will appear on the Brian Lehrer Show. Host and guest will surely touch on several topics, certain to include the Council's recent passage of a bill to create a municipal identification card program in New York.
At 11 a.m. on Monday, Manhattan Borough President Gale Brewer will hold a press conference on the steps of City Hall to unveil her office's report on arts education in the borough and to announce related grants and other measures Brewer's office has decided upon to address inequities or limitations in arts ed.
Tuesday
Tuesday afternoon New Yorkers will again pause all other activity to tune in for a United States World Cup match: 4 p.m. vs. Belgium. Win or go home.
On Tuesday evening, Congressman Joe Crowley, Queens Borough President Melinda Katz, State Senator Mike Gianaris and others host a fund-raising reception in support of Leroy Comrie, current Deputy Queens BP and state Senate candidate. Comrie is challening indicted Sen. Malcolm Smith. The event will be in Long Island City.
Also on Tuesday evening, another Queens state Senate candidate has a fundraising event: former Comptroller John Liu (who is challenging IDC member Sen. Tony Avella in the Democratic primary) will have his second fund-raiser of his campaign, and according to the Liu camp, "this time hosted by legislators and John's soon-to-be colleagues who share his senatorial district in Northeast Queens."
Wednesday
According to previous reports, on Wednesday evening Mayor de Blasio is expected to headline a fundraising event of the New York State Democratic Senate Campaign Committee. The event promises to have an especially lively tone after last week's news of plans for the IDC to realign with mainline Senate Democrats.
Thursday
Nothing for you yet - and there's a good chance that doesn't change as people get an early start on the long weekend.
Friday
Friday is July 4, 2014. It is the 238th birthday of the United States and in New York City, the date that will see the return of fireworks celebrations to the East River, per the new mayor, who happens to be a Brooklynite and made this call back in April.
Enjoy the holiday and holiday weekend! And look for our next report on the week ahead in New York politics on July 6th. Send us anything you'd like to see included (email This email address is being protected from spambots. You need JavaScript enabled to view it.)!
***Sneak peak for the week ahead of this week ahead: on Tuesday, July 8th, our Ben Max is moderating an event focused on homelessness and homelessnes policy being put on by Greater NYC for Change and several partners. The event is called "After Dasani: Shining Light on the Invisible" and will include discussion featuring experts and advocates, as well as audience questions, of course. More info and RSVP here.***
***
Have events or topics for us to include in an upcoming Week Ahead in New York Politics? Email Gotham Gazette executive editor Ben Max any time: This email address is being protected from spambots. You need JavaScript enabled to view it. (use "For Week Ahead" as email subject if possible).
***
by Kristen Meriwether and Ben Max in New York City and David King in Albany
@GothamGazette