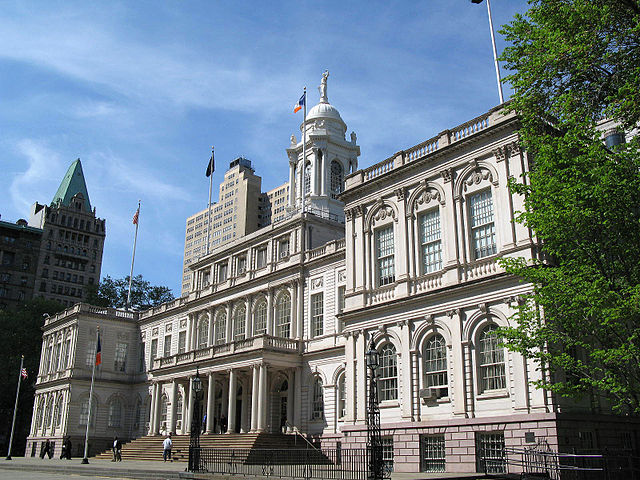 New York City Hall
---
Yes, the World Cup's over, but there's always politics.
In New York it is all about the elections as legislating has slowed or stopped in the City and Albany, respectively, and we shift into campaign mode for the summer leading up to the September 9th primary and Novemeber 5th general elections.
This week will feature news of which 2014 candidates for state-wide and state-level elected offices filed the requisite petition signatures to make the ballot and what candidates' campaign fundraising numbers look like (track those filings here). This data will show quite a bit as the primaries are less than two months away - and for New York City, as was the case with last year's city elections, much regarding state-level positions will be decided by the Democratic primaries in this decidely Democratic city. There are many competitive primaries to keep an eye on, both in the city for state Senate and Assembly seats, and elsewhere. There isn't much to watch primary-wise in the Attorney General or Comptroller races, but many are eyeing the Democratic primary for Governor as incumbent Gov. Andrew Cuomo faces a challenge from Professor Zephyr Teachout.
Even as we watch for and analyze petitioning results and those campaign finance numbers, this week features much more to keep an eye on:
The week starts with dueling rallies at New York City Hall as city council members and advocates rally to show that "New York Stands With Israel" and critics of this rally hold their own. More detail on both below.
The Council in general has no official committee or "Stated" whole-body meetings this week, but will be back into action next week (the week of July 21st) with a few committee meetings and the lone Stated meeting of the month on Thursday the 24th.
Mayor Bill de Blasio will spend some of his week packing and brushing up on his Italian - while he is in New York to start the week, he and his family leave for a trip to Italy on Friday, July 18. Stakes are high for the mayor as he takes a fairly early, extended international trip, so it is likely he will spend much of his focus this week ensuring things are in place for his absence, with First Deputy Mayor Tony Shorris set to run day-to-day operations of the city while de Blasio is abroad.
De Blasio begins his week with a very busy Monday: according to his public schedule, the mayor "will deliver remarks at the probationary firefighter swearing-in on Randall's Island...attend an interagency Coastal Storm Plan Exercise meeting hosted by the Office of Emergency Management on the city's response to potential coastal storms...visit middle school summer enrichment programs at I.S. 318 in Brooklyn...hold a press availability to speak about expanded summer enrichment and after-school programs at I.S. 318...[and] deliver remarks at a Communication Workers of America event in Brooklyn.
And, as always, there are several interesting one-off events and conferences this week to check out.
The run of the week in more detail:
On Monday
There will be a rally at City Hall Monday morning at 10 a.m. at which New York electeds will declare that "New York stands with Israel." According to the press release from the Council, "The Jewish Community Relations Council of New York, UJA-Federation of New York and the Jewish Caucus of the New York City Council rally with elected officials and a diverse coalition of organizations from around New York to stand in solidarity with Israel." Those elected officials will include Reps. Charles Rangel, Eliot Engel, Carolyn Maloney, and Jerrold Nadler; State Senator Brad Hoylman; Assembly Speaker Sheldon Silver and Assembly Members David Weprin, Michelle Schimel, Luis Sepulvida, Nily Rozic, and Helene Weinstein; Manhattan Borough President Gale Brewer; Queens Borough President Melinda Katz; City Council Members Mark Levine, David Greenfield, Margaret Chin, Rory Lancman, Mathieu Eugene, and Mark Treyger. Among others, NY-11 Democratic Congressional candidate Domenic Recchia is also due to be there.
And the protest against this rally, "Protest Against NY City Council's Press Conference "New York Stands With Israel"" is set to gather at 9:30 outside City Hall, according to the Facebook event page.
Also Monday, Crain's New York holds a half-day conference, "Rebuilding NY 2014," at "which some of the city's most important decision makers and thought leaders [will] discuss the future of New York's infrastructure." Slated to speak are Polly Trottenberg, Commissioner of the city's Department of Transportation and Maya Wiley, Counsel to the Mayor, among other experts. Topics will include road infrastructure, bridge-building, the MTA, and broadband.
Council Members continue to hold information sessions in their districts as the next cycle of participatory budgeting gets underway where council members have decided to run the program by which residents get to determine how roughly $1 million in capital funds is spent. Daneek Miller, a Queens council member, is holding his second info session on Monday afternoon.
And Monday evening, many prominent New York Democrats will gather in Harlem at The Apollo Theater for the second annual Demmy Awards. According to the event site, "All of Manhattan's elected officials are expected to be in attendance, as well as over 1,200 other democrats and New York City residents." It is advertised as "an exciting evening of entertainment where awards are given to stars of the Democratic Party for their outstanding public service and to those New Yorkers whose work on important causes have benefited New York and the nation."
Tuesday
On Tuesday, City & State NY hosts a conference on small businesses. The conference, slated to occur at NYU, will feature remarks by Small Business Services Commissioner Maria Torres-Springer and a panel on accessing capital featuring Council Member Robert Cornegy, chair of the Council's small business committee, Department of Consumer Affairs Commissioner Julie Menin, and Deputy Commissioner of Empire State Development Corp. Steve Cohen. There will also be a panel of small business owners.
Tuesday is the deadline for New York police departments to apply to Attorney General (AG) Eric Schneiderman for funds to purchase bulletproof vests as part of the AG's "inVEST Partnership." As of Wednesday, July 9th, the AG's office said it had gotten applications for funds from 112 depts in 49 New York counties.
In the evening on Tuesday, the CUNY Education Institute holds an event, "What is the Future of NYC's Charter Schools?" at The Roosevelt House in Manhattan.
Also on the education front, the city's Panel for Educational Policy (PEP) Contracts Committee meets Tuesday evening at Tweed Courthouse.
And, Council Member Ritchie Torres, chair of the Council's public housing committee, hosts a public forum at 5:30 p.m. at the 32BJ Auditorium in Manhattan, "Building a Model of Community Consensus at NYCHA," which will include advocates, elected and appointed officials, and residents.
Wednesday
On Wednesday, the city's Department of Consumer Affairs sponsors a "paid sick leave day of action." According to the DCA website, "On July 30, 2014, New Yorkers can start using earned leave under the city's new paid sick leave law. We want all workers to know about this important right..."
On Wednesday afternoon, NYU's School of Continuing and Professional Studies and Comptroller Scott Stringer co-host "Onramps of Opportunity: Building A Creative + Inclusive New York," which will feature remarks from Stringer. The conference will explore, "Is New York City losing its creative edge? How do we build a vibrant New York economy—one that is creative and inclusive?"
Wednesday evening, the PEP holds a "regular public meeting," at M.S 131 in Manhattan. "In accordance with City Council legislation, Panel meetings will now be live-streamed over the Internet. To access this service, please register here. Registration will remain open until the meeting's adjournment. A recording and transcript will be posted to the Panel website following the meeting." The meeting will begin with the Chancellor's Update and move into approval of contracts, with time for public comment on them, followed by general public comment.
Wednesday evening, Assembly District 76 candidate David Menegon is having an office opening party. It's a crowded race to replace outgoing Assembly Member Micah Kellner, who is not seeking re-election.
Also Wednesday evening is a "Corona and Jackson Heights Vision Zero Workshop," 7-8:30 p.m. at the Corona Public Library and sponsored by Council Member Julissa Ferreras.
And, Brooklyn Borough President Eric Adams is hosting an "Educational Dialogue on "Rightsizing" Policy of New York City's Department of Housing Preservation and Development" at Brooklyn Borough Hall on Wednesday at 6 p.m.
Thursday
On Thursday evening, there will be a young professionals fundraiser in Manhattan for Democratic state Senate candidate in the 22nd district James Kemmerer, who is running to unseat Republican Marty Golden.
Anything else happening on Thursday (or any other day) that we should know about? Let us know: @GothamGazette or This email address is being protected from spambots. You need JavaScript enabled to view it.
Friday and the Weekend
Mayor de Blasio and family leave for a little over a week in Italy on Friday. According to a press release from the mayor's office, "The family will depart on Friday, July 18 and return to New York City on Sunday, July 27. In addition to vacation time with the family, Mayor de Blasio will hold official events with Italian government representatives." More via Chirlane McCray's website.
On Saturday, The African Leadership Project hosts "Ready to Run & Prepared to Lead: Africans in the Diaspora." The event will help provide tools for running for office and seeking civic leadership; and it will feature several current and former African-American candidates for New York elected offices, including Michael Blake, who is seeking a Bronx Assembly seat.
And on Sunday, Queens Borough President Melinda Katz hosts another in a series of health and wellness fairs, with free services and activities including "health screenings, stress reduction, bone marrow registry, Ident-a-kid, yoga/zumba classes, senior services, fire safety training, emergency preparedness training, face painting, DJ."
***
Have events or topics for us to include in an upcoming Week Ahead in New York Politics? Email Gotham Gazette executive editor Ben Max any time: This email address is being protected from spambots. You need JavaScript enabled to view it. (use "For Week Ahead" as email subject if possible).
***
by Kristen Meriwether and Ben Max in New York City and David King in Albany
@GothamGazette