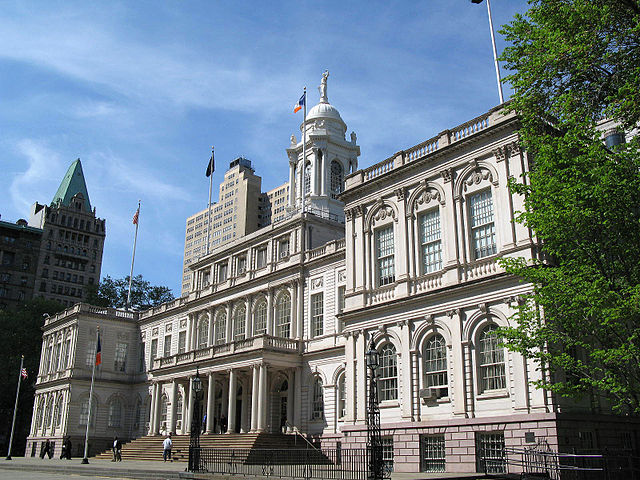 New York City Hall
---
What to watch for this week:
Mayor Bill de Blasio is in Italy this week, where he kicked off his family trip that will mix business and pleasure on Sunday in Rome. De Blasio met with Roman Mayor Ignazio Marino on Sunday and his Monday includes meetings with "the Vatican Secretary of State Cardinal Pietro Parolin...Italian Minister of Foreign Affairs Federica Mogherini at the Farnesina, the Ministry of Foreign Affairs" and "former Integration Minister Cécile Kyenge in Rome," according to his public schedule. New York City-based journalists in Italy reporting on the de Blasio family's trip include NY1's Grace Rauh and Juan Manual Benitez, The New York Times' Michael Grynbaum, The Daily News' Jennifer Fermino, and The Wall Street Journal's Michael Howard Saul.
De Blasio delayed his departure for Italy one day after the death of Eric Garner, a Staten Island resident, during an altercation with the NYPD. This week will surely include more fallout from Garner's death, which occurred after a chokehold was used on him - a practice which has been banned internally by the NYPD.
Also key this week is more on the electoral front, as attention on the upcoming elections will continue to mount as legislating has slowed or stopped in the City and Albany, respectively, and politicos nearly shift fully into campaign mode for the summer leading up to the September 9th primary and Novemeber 5th general elections.
Last week featured news of which 2014 candidates for state-wide and state-level elected offices filed the requisite petition signatures to make the ballot and what candidates' campaign fundraising numbers look like (investigate those filings here). This week, candidates continue to campaign and fund-raise, with the primary just seven weeks from Tuesday July 22nd.
On Monday, Siena will release a new poll on the statewide races for governor, attorney general, and comptroller; and several of the most important issues to voters, including fracking and common core.
There is governing happening, though: on Thursday, the New York City Council will meet for its lone full-body State meeting of the month. There are a few other council hearings this week. See below for details.
And, as always, there are several interesting one-off events and conferences this week to check out.
The run of the week in more detail:
Monday
The aforementioned Siena poll should be the talk of the town on Monday - along with further fallout from the death of Eric Garner and reports from the mayor's trip to Italy.
On Monday at the City Council, there are meetings of the Subcommittees on Zoning and Franchises; Landmarks, Public Siting, and Maritime Uses; and Planning, Dispositions, and Concessions.
Tuesday
On Tuesday, the City Council's government operations committee, chaired by Council Member Ben Kallos, will hold the second hearing for two bills: one on publishing the city record online and the other on the online publication of city laws. Counsel to the Mayor, Maya Wiley, testified at the last hearing on these bills, expressing mild opposition. It is unclear if she will be testifying again.
Other council committee meetings on Tuesday include the Committees on Rules, Priveleges, and Elections; Land Use; Mental Health, Developmenta Disability, Alcoholism, Substance Abuse and Disability Services; and Immigration.
The mental health committee, chaired by Council Member Corey Johnson, will be looking at "Increasing the maximum income level qualifying for exemption from rent increases granted to certain persons with disabilities."
The rules committee, chaired by Council Member Brad Lander, will meet to consider several recommended appointments by Mayor de Blasio to the City Planning Commission and one nominee to the Landmarks Preservation Committee.
And immigration, chaired by Council Member Carlos Menchaca, will meet regarding a "Resolution urging the President of the United States to include comprehensive immigration reform, and issues of importance to African immigrants and the African Diaspora, on the agenda for the 2014 U.S.-Africa Leaders Summit."
On Tuesday evening, Democratic Leadership for the 21 Century (DL21C) holds its summer bash: "Join us for drinks, dancing, and mingling with fellow politicos from across New York and the nation. You'll be joined by local, state and federal elected officials, as well as civic leaders and special guests. This is the best political party of the summer and you don't miss out."
Wednesday
Crain's New York hosts a conference, "The Business of Taxis: Innovating an Industry," on Wednesday morning at John Jay College of Criminal Justice: "The yellow taxi is a New York City institution. However, the NYC of today has opened its arms to other avenues of private transportation, but not without a fight. There are a myriad of upstarts, including the city-sanctioned green cabs, e-hail apps and other car services, and the taxi establishment is not happy about it. Are these disruptors simply stepping in where taxis have historically feared to tread? What are the issues these new technologies and increasingly powerful interest groups raise in the sharing economy? And the underlying questions looms large: how do you innovate a highly regulated industry that's often resistant to change?"
On Wednesday evening, the Stonewall Democratic Club will hold it's state elections endorsement meeting. There has been some discord within the LGBT community over Gov. Andrew Cuomo's agenda and inconsistent support for the governor's re-election from LGBT clubs that have endorsed thus far. Stonewall is the largest LGBT club in New York and its vote will surely say much about the governor's standing. Meanwhile, the club will also vote on other offices that will be on the ballot this fall.
Also on Wednesday evening, it's another round of New York's "Citizens Preparedness Training Program." This one's being held at Fordham University on West 60th Street and "Sponsored by Gov. Cuomo, Congress Member Jerrold Nadler, Borough President Gale Brewer, Senator Brad Holyman, Assembly Member Linda B. Rosenthal, Council Member Corey Johnson, and Community Board 7."
Thursday
The City Council holds its lone July full-body Stated meeting on Thursday. Stay tuned for meeting details.
Prior to the Stated, the finance committee will meet to consider changes in designation to certain organizations receiving funding in the recently-passed fiscal year 2015 city budget, among other business.
On Thursday evening, Manhattan Borough President Gale Brewer hosts an Iftar dinner at The Malcolm X and Dr. Betty Shabazz Memorial and Educational Center and "honoring Sheila Canby, Walter Edwards, and Dr. Rudina Odeh-Ramadan."
Friday and the weekend
It's the summer, so of course Friday and the weekend look light - but if you have intel on events to look for, please let us know!
***
Have events or topics for us to include in an upcoming Week Ahead in New York Politics? Email Gotham Gazette executive editor Ben Max any time: This email address is being protected from spambots. You need JavaScript enabled to view it. (please use "For Week Ahead" as email subject).
***
by Kristen Meriwether and Ben Max in New York City and David King in Albany
@GothamGazette