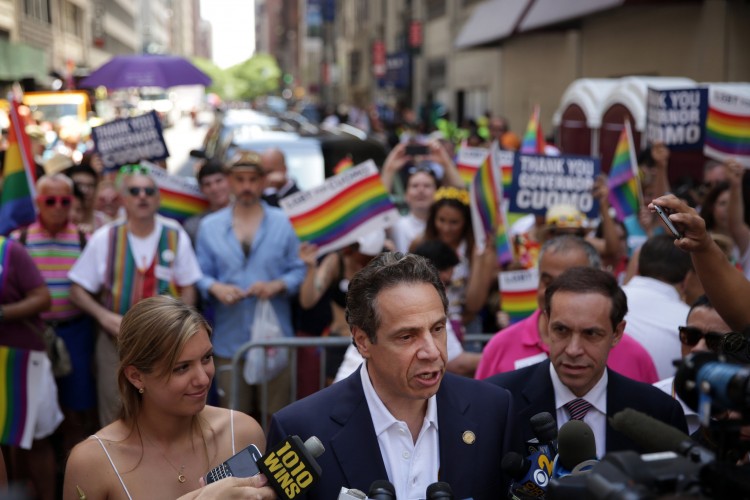 (glad.org)
---
Members of the city's largest LGBT political club, The Stonewall Democratic Club of New York City, will decide on major statewide endorsements on Wednesday night. Stonewall's endorsement in the governor's race will give deeper insight into the relationship between Gov. Andrew Cuomo and the progressive base.
The Jim Owles Democratic Club voted to endorse Cuomo's Democratic primary challenger Zephyr Teachout in June. LAMBDA Independent Democrats of Brooklyn had a contentious debate over choosing between Cuomo and Teachout - only narrowly endorsisng for the incumbent. Gay and Lesbian Independent Democrats (GLID) endorsed Cuomo unanimously.

Stonewall president Eunic Ortiz said she feels Cuomo has delivered major achievements for the LGBT community, but stopped short of saying her group's endorsement was in the bag for Cuomo. "It just depends who comes out that night to vote," said Ortiz. "If you have paid your dues you can vote. We could have 500 members voting, it's a possibility."
Ortiz stressed that her club allows members to vote on endorsements without the influence of the board and that all candidates are welcome to attend, or send surrogates to speak to the club about why they deserve its endorsement. Ortiz expects representatives from the Cuomo and Teachout campaigns to address members on Wednesday. Candidates vying for endorsements in legislative races are also expected to attend or send surrogates.
Political observers are struck that Cuomo, who managed to deliver the passage of marriage equality early in his term, has such a mixed relationship with the LGBT community. However, two major legislative priorities for LGBT advocates have been stalled in the state Senate for years and many see Cuomo as having given Republicans the power to control the Senate through redistricting and backroom deals - leading to limited action on a whole host of progressive legislation.
Cuomo's success on marriage equality makes the lack of a Senate vote on either the Gender Expression Non Discrimination Act or a bill to ban gay conversion therapy look to some like he is taking LGBT votes for granted.
GENDA would prohibit discrimination against a person because of their gender identity and expression. The bill has major support from civil rights groups and law enforcement heads from around the state. The Assembly has passed GENDA seven times but the Republican-controlled Senate has not allowed a vote on the bill.
The conversion therapy bill would make it illegal to try to change the sexuality of someone under the age of 18.
A number of members of GLID, LAMBDA, and Stonewall expressed concern that Cuomo has taken their support for granted and note that he has not met with the head of the state's largest LGBT advocacy group, The Empire State Pride Agenda.
Pride Agenda president Nathan Schaefer acknowledged that Cuomo has not met with him personally.
"We do desire a meeting with the governor but we have met with his associates," said Schaefer. "I have a hard time managing my own schedule, but like a lot of other groups around the state we would like to meet with him. We would like to talk to him about GENDA and our other legislative priorities," said Schaefer.
The Pride Agenda is expected to issue its own endorsement in the governor's race in the next few weeks. Schaefer said his group has been in communication with Cuomo's camp and that they are submitting a questionnaire for an endorsement. Meanwhile, the campaign of Republican candidate Rob Astorino has been in contact to say they will not be filling out a questionnaire.
Sen. Brad Hoylman of Manhattan who sponsors the conversion therapy bill said that clubs like Stonewall are a signifier for the community in that they represent the grassroots. "The grassroots are usually the most skeptical of legislative achievements - even achievements as great as marriage equality," Hoylman said. "They play the necessary role of agitator to push candidates on certain issues."
Hoylman says that the new Democratic majority in the Senate will allow Cuomo to move GENDA and other legislation important to the community. "The old coalition wasn't working for his legislative agenda," said Hoylman.
Ortiz says that the Stonewall Democrats have only grown in influence in the last decade. "The interest from candidates grows exponentially every year," she said. "The days when candidates would shun us or ask for our endorsement but hide it are long gone. Candidates want our endorsement and they want people to know about it."
Note: This article has been corrected to state that GLID endorsed Cuomo unanimously, it originally stated that GLID narrowly endorsed Cuomo.
***
by David King, Albany editor, Gotham Gazette
@DavidHowardKing