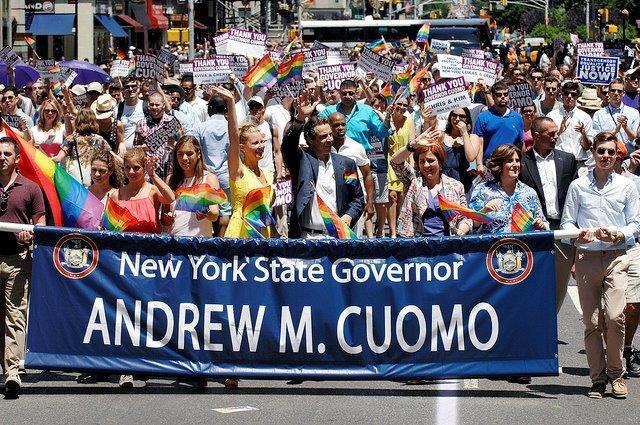 (photo: @NYGovCuomo)
---
On Wednesday night more than one hundred members of the Stonewall Democratic Club, the city's first and largest LGBT Democratic organization, gathered to endorse a slate of statewide candidates. The club delivered two clear messages: Gov. Andrew Cuomo has their support and members of the Independent Democratic Conference, or IDC, do not.
Cuomo's likely primary opponent, Fordham law professor Zephyr Teachout, showed up personally to ask the club for its endorsement and while she enjoyed some support in the room many members wondered why they would switch allegiances when Cuomo has delivered on a number of major LGBT issues.
The morning of the endorsement, the Cuomo administration announced the creation of a statewide taskforce to better collect data on sexual orientation and gender identity in an effort to improve services to LGBT New Yorkers. On June 29, Pride Day, the Cuomo administration announced its "Bending The Curve" three-point program to end AIDS in New York. Arguably Cuomo's biggest achievement thus far as governor was shepherding a same-sex marriage bill through the state Senate in 2011, where it had failed before, and into law.
These achievements and others were fresh on the minds of many a Stonewall member Wednesday night. Teachout looked to take advantage of fresh revelations reported by The New York Times on Cuomo's manipulation of the Moreland Commission on Public Corruption, but she faced questions about what she had done for the LGBT community. "In the next few days he has an obligation to the people of New York to explain what happened," Teachout said of Cuomo and Moreland. "To share the e-mails, to say what he knew and when he knew it. And he has a chance to come clean, and a chance to come clean at this moment even if he failed to clean up Albany."
Club members had other things on their minds. "We have a lot of straight allies who were advocating for marriage, I didn't hear your voice come up once," said one club member who detailed Cuomo's AIDS efforts and gender task force . "So why should we fire somebody with his LGBT record?"
Teachout responded by invoking Cuomo's alliance with Senate Republicans and his failure on ethics initiatives. "The core, root problem here is we have a governor who is serving presidential ambitions and serving his wealthy donors, and not serving the core traditional Democratic values that I share," Teachout said to some applause.
Both state Senator Daniel Squadron and Assembly Member Matthew Titone addressed the crowd on Cuomo's behalf and listed his liberal bona fides.
Eunic Ortiz, president of the Stonewall Democrats, said the following day by phone that there was a sense among members that Teachout wasn't connected on important LGBT issues. "People remember who was there on big issues and they remember if you weren't," said Ortiz.
Cuomo faced a stiffer challenge in securing endorsements from other city-based LGBT clubs earlier this year. The Jim Owles club, which touts itself as a citywide club, endorsed Teachout quickly after she began her campaign. The LAMBDA Independent Democrats of Brooklyn had an intense debate where members were called from their homes because the vote was so close. Stonewall does not disclose vote totals, it is unclear by what margin Cuomo took the endorsement.
For some members of LGBT Democratic clubs, what Cuomo hasn't done on their issues combined with his right-leaning fiscal policy is enough for them to support someone else. For years the Gender Expression Non Discrimination Act (GENDA) has passed in the Assembly and been buried in the Senate. LGBT advocates would have liked seeing Cuomo push the Senate Republicans he partnered with to bring the issue to a vote. The fact that he succeeded where others failed on marriage equality indicates to them that he simply wasn't committed to the issue.
Allen Roskoff, president of the Jim Owles club, has said it would be "condescending and demeaning" to base support on the issue of same-sex marriage alone.
"The governor has expressed support for both bills and he remains committed to supporting both bills through passage in the legislature," Cuomo campaign spokesman Peter Kauffman told Gotham Gazette when asked about Cuomo's backing of GENDA and a bill to ban gay conversion therapy for people 18-years-old and under.
The board of the Gay and Lesbian Independent Democrats (GLID) voted unanimously earlier this year to back Cuomo. Club president Julian Kline said the club is still energized by Cuomo's success on marriage equality and looks forward to his future accomplishments. "Since our endorsement, our members' views of the governor have definitely been validated, with his announcement during Gay Pride for an unprecedented and ambitious plan to greatly reduce the AIDS epidemic in New York State," said Kline. "Also since our endorsement, Governor Cuomo has committed to seeing the Senate IDC and Democrats work together for a more productive majority - a move that will clearly help advance the legislative process for GENDA and conversion therapy."
When it comes to the IDC, Stonewall showed its disappointment with the breakaway Democrats by endorsing two primary challengers to IDC members. Stonewall delivered an endorsement to insurgent candidate John Liu, former New York City comptroller and mayoral candidate, who is challenging IDC Sen. Tony Avella for his Queens seat. Avella abruptly left the Senate Democratic conference earlier this year to caucus with the Independent Democrats. The two groups have since decided to work together after elections in the fall, but Liu has maintained his challenge to Avella and has outraised Avella by a significant margin, while also collecting many union, club, and other endorsements. Many Democrats say that Liu's campaign is sending a clear message to Avella. One Senate Democrat said, "We are sending a message that you don't just walk away from the conference without even a courtesy call to the leader."
Liu addressed Stonewall after thunderous applause to his introduction. "I'm running for the state Senate in Northeast Queens against somebody who was elected as a Democrat but has voted for the Republican leadership, thus, stymying some very progressive legislation that if the Democrats had control would have passed a long time ago," Liu said before expressing his support for GENDA. Liu said he almost wished that marriage equality had not been passed so that, "I could vote for it once I get there."
Avella was not in attendance.
Stonewall also endorsed former city council member Oliver Koppell in his challenge to IDC head Sen. Jeff Klein. Klein, who was in attendance on Wednesday night, faced hostile questioning from the Stonewall crowd, with one member asking, "Although you're running as a Democrat, you're caucusing with Republicans, you're the reason Dean Skelos and not a Democrat is running the conference in the Senate. Because of you GENDA won't come up for a vote. Why the [expletive] should a Democratic club endorse someone like you who is keeping the Republicans in power in the Senate?"
"You are forgetting your history, sir," Klein shot back, insisting that the IDC had helped bring stability back to the Senate.
The exchange got testy and when Klein faced a question on GENDA from former Stonewall president Melissa Sklarz, Klein blamed the Democrats for not having enough votes.
And, Stonewall endorsed in the race between incumbent Bronx Democratic Sen. Gustavo Rivera and City Council Member Fernando Cabrera. The race is particularly important to LGBT clubs because Cabrera has supported anti-gay groups, has strong conservative ties, and appears to have had major fundraising help from Klein, although Klein has distanced himself from Cabrera.
Rivera has donated $250 from his campaign funds to Stonewall Democrats and $500 to the Jim Owles club.
Roskoff said that his Jim Owles club formed because it has different priorities than Stonewall and declined to comment on their endorsements.
One major difference between Stonewall and Jim Owles is that the Owles Club makes independent expenditures on behalf of candidates - mailing their endorsements to residents across the city. Roskoff told Gotham Gazette that the club will likely mail on behalf of Liu and Rivera this year. The club has not met to decide exactly which races they will mail in or how much they will spend.
Stonewall's endorsement doesn't come without perks, as members routinely get involved in races that are important to them. Ortiz said that the group has not yet decided which races they will target. However, it is expected the group will be active in the race between Rivera and Cabrera as well as the Klein-Koppell race.
"I think it is telling that our members chose to endorse against IDC members who they perceive as responsible for blocking progress on the issues that are important to us, like GENDA," said Ortiz. "They backed a candidate in the governor who they felt had tried to move those issues and who will move forward on them in the future."
[More on the race for New York Governor]
***
by David King & Karina Shakarian, Gotham Gazette
@DavidHowardKing
@KatShakarian
@GothamGazette
***
{ga=dking}