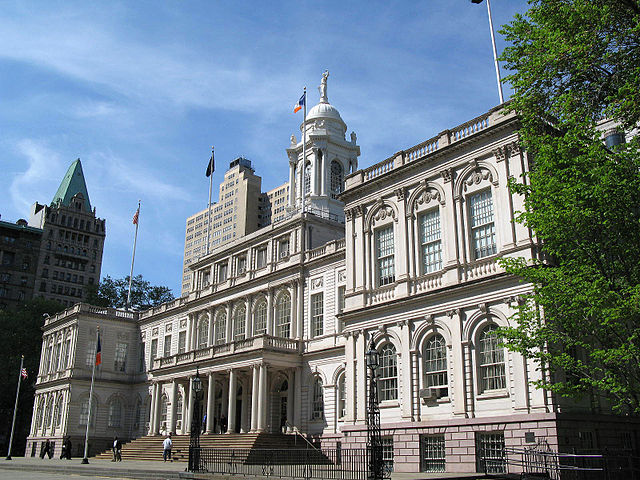 New York City Hall
---
WHERE IN THE WORLD ARE YOUR ELECTED OFFICIALS?
"The de Blasio family will return to New York City this afternoon, and will spend their first night at Gracie Mansion," emailed a top aide to Mayor Bill de Blasio on Sunday afternoon. So, Mayor de Blasio's back from Italy and sleeping at Gracie Mansion, we know that. And, we know that City Council Speaker Melissa Mark-Viverito and a council delegation are en route to Taiwan, landing there in the wee hours of Monday morning, local time.
But, we don't really know where Governor Andrew Cuomo is.
That's not exactly true, of course, but the governor's whereabouts have been a source of speculation as he has not made a public appearance since The New York Times published revelations of his office's interference in the Moreland Commission on Public Corruption this past Wednesday. According to reports, the governor will be in Buffalo on Monday talking job creation.
This week we're looking to see not just where the governor is, but what, if anything, he has to say about Moreland. It seems the governor's strategy thus far has been to stay out of public, let the 13-page response that the governor's office sent to The Times speak for itself, and send out a whole bunch of press releases about non-Moreland topics (a whopping 22 releases from Wednesday to Friday of last week). Also keep an eye out for Moreland-related news not from the governor, but from other investigators and commentators - of the journalist, legislator, candidate, and prosecutor varieties. The governor's opponents remain active - see below for more detail.
We're also watching for word from Mayor de Blasio about what his next, post-trip moves are - including his latest thoughts on the death of Eric Garner, which occurred in police custody just before de Blasio left for Italy, leading the mayor to delay his departure a day. One New York City Council Member has made clear his intentions to propose relevant legislation. And, word from the office of Public Advocate Tish James is that this week she will extend her push for videorecording of all police encounters.
And, campaign season is in full gear as more and more endorsements are made (the Amsterdam News and the Stonewall Democratic Club recently endorsed in several races, to name two major organizations), so we're watching campaign news this week - Tuesday is six weeks from primary day! On the campaign front, aside from campaigning, candidates are spending time, energy, and money this week fighting challenges to their petition signatures or residency statuses to ensure that they are actually on the ballot come September 9th - notable among these challenges are those against the residency qualifications of Democratic gubernatorial candidate Zephyr Teachout and against 79th Assembly District candidate Michael Blake.
Another thing to keep in mind: New Yorkers have until the end of the month (Thursday) to give feedback to the City's Vision Zero initiative on dangerous intersections and other hotspots of traffic danger via an interactive map.
With the City Council's speaker and delegation in Taiwan, there are no official council committee or full-body meetings this week. Many council members will, of course, be active in their districts. No council committee meetings are scheduled until August 18th as of now - and the August full-body Stated Meeting is set for Thursday, August 21st.
The run of the week in more detail:
Monday
Speaker Mark-Viverito and the council delegation land in Taiwan early Monday morning and have two public events scheduled Monday afternoon, according to the speaker's public schedule: they will meet with Taipei Rapid Transit Corporation and then tour Beitou Taipei Public Library. The council delegation includes members Mark-Viverito, Peter Koo, Robert Cornegy, Julissa Ferreras, Vinny Gentile, and Vanessa Gibson, along with staff member Erica Gonzalez and a security detail. The council members will be abroad until Saturday and are there to meet with leaders in high tech industries, learn from Taiwain's renowned sanitation systems, discuss civic engagement through technology, and consider ways to strengthen ties between New York City and Taiwan.
Mayor de Blasio has no public events scheduled for Monday.
But, union allies of the mayor will be taking notice on Monday, as families organized by Campbell Brown's education-related advocacy group will file a lawsuit in Albany court aimed at taking down teacher tenure in New York. Per The Daily News, "seven families will charge that their children are underserved in schools due to incompetent teachers — who only kept their jobs because of tenure rules that violate the kids' constitutional right to a sound education. The suit is backed by the politically connected journalist-turned-education advocate Campbell Brown."
According to Stephen Miller of StreetsBlogNYC, Council Member Stephen Levin and Transportation Alternatives will be holding an event on Monday morning to discuss the G train shutdown, which just began and is slated to last five weeks.
Per City & State NY, elected officials including Rep. Hakeem Jeffries, Rep. Grace Meng and Rep. Elliot Engel will hold a press conference on Monday at 12:30 p.m. with Jewish leaders "to show support for Israel's right to defend itself, Dag Hammarskjold Plaza, Manhattan." New York City Comptroller Scott Stringer will be speaking.
On Monday, the Samuel Field Y will host a Women's Economic Summit. The event, which will feature Congressional Reps. Steve Israel and Grace Meng, Queens Borough President Melinda Katz and Assembly Member Nily Rozic, will include input and questions from Brooklyn Queens NOW, Center for the Women of New York, Sanctuary for Families, and the Korean American Family Service Center. The Summit will include discussions concerning a range of financial topics.
On Monday at 5:30 p.m., the Contracts Committee of the Panel for Educational Policy, which consists of 13 appointed members and the Chancellor, will hold its second meeting of the month at the Tweed Courthouse building, main headquarters of the Department of Education.
And on Monday evening, Brooklyn Borough President Eric Adams hosts a Martin Luther King, Jr. Concert Series night at Wingate Park, and at which Comptroller Stringer will give remarks.
Tuesday
It's six weeks until primary day! Get up to speed on the 2014 New York State elections through our Gotham Gazette Elections Center.
Council Member Corey Johnson will hold a participatory budgeting (PB) information session for his council district on Tuesday. The session, which is Johnson's second PB informational event, will provide residents of the district with information concerning the new process and its allowing them to decide how to spend roughly $1 million in discretionary funds. Read more about the City Council's expanded PB.
On Tuesday night, City & State NY will host its State of Brooklyn Reception at the Brooklyn Historical Society. The event "will play host to Brooklyn lawmakers, leaders in public policy, business and the media" and include interviews with Brooklyn Borough President Adams, Brooklyn District Attorney Ken Thompson, and others.
Wednesday
On Wednesday, there will be a public meeting of the Panel for Educational Policy, which consists of 13 appointed members and the Chancellor.
Marsha Michael, a candidate running to replace disgraced former assembly member Eric Stevenson in the 79th Assembly District, will host a campaign fundraiser on Wednesday evening.
Also on Wednesday evening, The St. John's Office of Community Relations will be sponsoring the 16th Annual Great Lawn Summer Concert in Queens on Wednesday night. The event will feature Willie Martinez, La Familia Sextet, and members of the Queens Symphony Orchestra, as well as a performance from Queens Borough President Melinda Katz.
On Wednesday evening, Republican gubernatorial candidate Rob Astorino will be in Suffolk County at the Loyal Order of Moose Lodge in Lindenhurst from 6:30 to 8:30 p.m.
Thursday
Council Member Helen Rosenthal and Community Board 7 will host a "Public Meeting for the West End Corridor" on Thursday night. The meeting will include a presentation from the New York City Department of Transportation to the Transportation Committee of Community Board 7 for the redesign of 35-block portion of West End Avenue. The new design is a response to the traffic pattern problems that surfaced after two pedestrian deaths in the neighborhood in recent months.
Green Party candidate Howie Hawkins will hold a campaign organizing conference call on Thursday. Additionaly, Hawkins tells Gotham Gazette that he is planning a significant campaign schedule in New York City for the week of August 3rd.
On Thursday evening, the Police Reform Organizing Project (PROP) will host a public forum to discuss policing in New York City. The event, Broken Windows Policing: A True Tale of Two Cities, will be moderated by Jeffrion Aubry, Speaker Pro Tempore of the State Assembly. It will include a panel discussion of the changing NYPD practices under Mayor de Blasio and Commissioner Bratton, and "will focus on this Administration's 'broken windows' policing." Panelists will include Robert Gangi, president of PROP, Linda Sarsour of Arab American Association of NY, Professor Alex Vitale of Brooklyn College, among others.
Also on Thursday, Astorino will be in Suffolk County at East by Northeast in Montauk from 6 to 8 p.m.
Friday and the weekend
It's the summer - and Friday is August 1st(!) - so of course Friday and the weekend are sparse - but if you have intel on events, please let us know!
Here's one: On Saturday, the Port Authority of New York and New Jersey will open a multi-media exhibit: Bringing the World to the Fair: The Port Authority's Role — Trade, Travel and Tourism in Queens, the Region and the World. The exhibit, which will be at the Queens Botanical Garden is part of a series of 2014 events celebrating the 1964 and 1939 World's Fairs.
***
Have events or topics for us to include in an upcoming Week Ahead in New York Politics? Email Gotham Gazette executive editor Ben Max any time: This email address is being protected from spambots. You need JavaScript enabled to view it. (please use "For Week Ahead" as email subject).
***
by Kristen Meriwether and Ben Max in New York City and David King in Albany
@GothamGazette