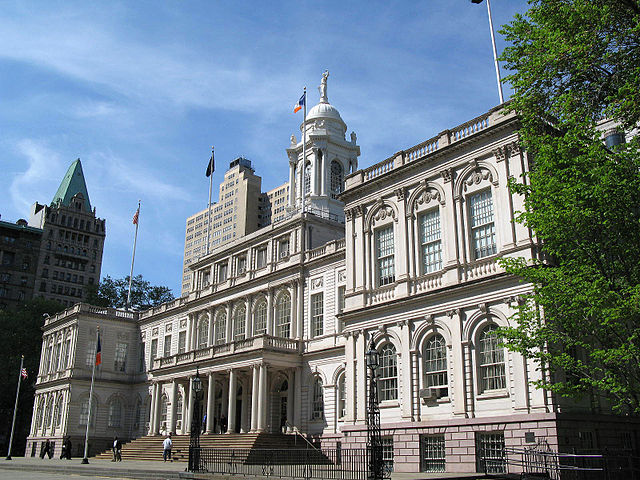 New York City Hall
---
The DNC comes to Brooklyn and the governor heads to Israel. Those headlines and much more in what to watch for this week in New York politics:
On Monday morning, New York City government and civic leaders will welcome Democratic National Convention CEO Amy Ducey and other representatives of the convention committee. The committee's visit to vet New York City, especially Brooklyn, as a possible site for the 2016 convention will kick off with a press event outside of Barclays Center. According to the office of Mayor Bill de Blasio, "de Blasio administration officials, citywide elected officials, Senator Schumer, and business leaders, along with an official from the DNC, will host a media availability to kick-off the DNC's visit to New York City. At the availability, City officials will make the case for why New York City is the best city for the 2016 Democratic National Convention and will take questions from the media on the City's bid." City Council Speaker Melissa Mark-Viverito starts her week at the event. More details below.
Mayor de Blasio will not be at the Barclays press event, though, as he is entertaining visitors from the U.S. Conference of Mayors - members of a task force on reducing inequality that de Blasio is chairing. De Blasio was hosting beginning Sunday night. According to the mayor's office, on Sunday evening the mayor hosted "a U.S. Conference of Mayors "Cities of Opportunity Task Force" reception in Manhattan...Following the reception, the Mayor will meet individually with Mayor of Chicago Rahm Emanuel, Mayor of Philadelphia Michael Nutter, and Mayor of Boston Marty Walsh."
And on Monday, "Mayor de Blasio will host a meeting of the U.S. Conference of Mayors "Cities of Opportunity Task Force" in Manhattan...Following the meeting, the Mayor will hold a media availability with members of the task force at Gracie Mansion." Monday evening, though, "the Mayor will attend a dinner for the Democratic National Convention Site Selection Committee Dinner at the Metropolitan Museum of Art. This invite-only dinner is closed press."
Cuomo, Skellos, Klein, Silver to Israel
And reports, confirmed by the office of Governor Andrew Cuomo, surfaced Sunday evening that the governor and other New York State leaders will be traveling to Israel this week. According to the governor's office, the trip is a "demonstration of solidarity with Israel" set for August 12-14th. Cuomo, Senate Majority Co-Leaders Dean Skelos and Jeff Klein, and Assembly Speaker Sheldon Silver are making "a unity visit reaffirming the State of New York's support in light of the continued threat of attacks by Hamas and other terrorist organizations...In Israel, they will meet with the Israeli leadership and visit Israelis affected by the fighting."
It is also being reported that Manhattan Borough President Gale Brewer and Brooklyn Borough President Eric Adams are on their way to Israel to show support.
Meanwhile
There are several other events and issues to keep an eye on this week, including the lead-up to A) the Reverand Al Sharpton-led march to protest police brutality inspired by Eric Garner's death and slated for August 23rd on Staten Island and B) the "gathering of senior religious leaders" later this month announced by Mayor de Blasio, set to be hosted by Cardinal Timothy Dolan and "focused on healing and deepening the relationship between police and community. The interfaith gathering will bring together faith leaders from across the five boroughs in the wake of the death of Eric Garner. The Mayor and Police Commissioner William Bratton will join in the important gathering." No date has been given for this meeting as of Sunday evening.
Tuesday marks four weeks until primary day in New York's 2014 state elections. Visit our Election Center for all of your election-related needs. And Friday is the deadline to REGISTER TO VOTE in those primaries.
Plenty more to track this week.
The run of the week in more detail:
Monday
According to the mayor's office, Monday's 11:45 a.m. Democratic National Convention-related press event will include Charles Schumer, U.S. Senator; Alicia Glen, Deputy Mayor for Housing and Economic Development; Bill Bratton, Police Commissioner; Polly Trottenberg, DOT Commissioner; Fred Dixon, President & CEO, NYC&Co.; Melissa Mark-Viverito, City Council Speaker; Laurie A. Cumbo, City Council Member; Eric Adams, Brooklyn Borough President; Bruce Ratner, Executive Chairman, Forest City Ratner Companies and Developer and Majority Owner of Barclays Center; and Amy Dacey, DNC CEO. New York City is battling competitors Birmingham, Ala.; Columbus, Ohio; Philadelphia; and Phoenix. The decision by the DNC is expected late this year or early next year.
According to her office, at 1 p.m. on Monday, Public Advocate Tish James "will join advocates to call on the implementation of a New York City Police Department (NYPD) pilot program that would outfit officers with body-worn cameras. Executed in other cities nationwide, such a measure would provide further accountability and help save New York City money on settlements related to false arrests and police misconduct...The Public Advocate will also release a report with further information on the proposed pilot, including recommendations for implementation."
On Monday we expect the outcome of Governor Cuomo's challenge to his potential primary opponent Zephyr Teachout's meeting of the residency requirements to be on the ballot. Watchers are also awaiting the ruling on 79th Assembly District candidate Michael Blake, whose own residency status has been challenged in court by those backing his Democratic primary oppoent Marsha Michael - though it is less clear when we should expect a ruling in Blake's case.
In another much-watched 2014 race, Democratic candidates for the 76th Assembly District, which represents the Upper East Side, will debate on Monday evening at 6:30. The debate, being co-sponored by Citizens Union, Our Town, and Lenox Hill Neighborhood House (which is hosting), will feature all four Democrats vying to face Republic David Garland in the general election and replace outgoing Assembly Member Micah Kellner, who is not seeking re-election. The debate will be moderated by Dick Dadey, Executive Director of Citizens Union and Kyle Pope, Editor in Chief of Our Town.
Also Monday, the NYS Elementary Classroom Teachers Association is hosting its annual conference, in Rye Brook.


Tuesday
As we mentioned, Tuesday marks four weeks until primary day! Get up to speed on the 2014 New York State elections through our Gotham Gazette Election Center. (Deadline to register to vote is Friday - spread the word about our resources and about the deadline!)
On Tuesday the City Council has some rare August action as its rules committee meets. The committee will take up business related to nominations by the mayor. Other than that, it's a quiet week for the Council in terms of committee meetings ahead of a few committee meetings and the lone full-body Stated meeting of August next week.
On Tuesday evening, the Queens County Young Democrats hosts its 8th Annual Summer Bash. The event will honor Assembly Member Francisco Moya and City Council Member Julissa Ferreras, as well as the organization's choices for Labor Leader of the Year, Sean Mackell, Program and Field Coordinator at the New York City Central Labor Council; Community Leader of the Year Jorge Fanjul; and Young Democrat of the Year Nick Roloson. The event listing adds expected "Special Guests" Rep. Joseph Crowley and Rep. Grace Meng; and host committee members including Deputy Queens Borough President and state Senate candidate Leroy Comrie, as well as City Council Members Daniel Dromm. Rory Lancman, Daneek Miller, and Mark Weprin, among others.
Also on Tuesday evening, Howard Dean's Democracy for America (DFNYC) will celebrate it's 10th anniversary in New York, where Dean will be joined by his former campaign aide and current New York gubernatorial candidate Zephyr Teachout, as well as her running mate Tim Wu.
Wednesday
On Wednesday night it is the Manhattan Young Democrats' turn to party. The club will host its sixth annual "Young Gets it Done" event, and the evening will honor several young New York State Democrats: Ithaca Mayor Svante Myrick, Sara Valenzuela and Monica F. Guerra of WIN NYC, District Leader Carlina Rivera, and Danny Corum of the United Federation of Teachers (UFT). Numerous elected officials and party leaders are expected, including former Governor David Paterson, Rep. Charie Rangel, Attorney General Eric Schneiderman, Comptroller Tom DiNapoli, Public Advocate Tish James, Borough President Gale Brewer, State Senators Andrea Stewart-Cousins, Brad Hoylman and Bill Perkins, Assembly Members Keith Wright, Richard Gottfried, and Dan Quart, and City Council Members Ben Kallos, Helen Rosenthal, and Inez Dickens. The event's co-chairs are labor unions UFT and 1199 SEIU.
Also on Wednesday evening, City Council Member Eric Ulrich is among those hosting a fund-raiser for congressional candidate and state Senator Lee Zeldin in Howard Beach.
Thursday
On Thursday, Transportation Alternatives will host a "Bicyclists' Ball (and Pedestrian Prom)". The party will celebrate alternative modes of transportation in New York City and individuals fighting for new networks of bike lanes and safer streets across the city.
Also on Thursday, Educators 4 Excellence is hosting the "Unique Student Populations Listening Session Dinner." The dinner will examine the implications that educational policies, like Common Core, have for special needs students.
Friday and the weekend
As we mentioned, Friday is the deadline to register to vote in the September New York State primaries!
And it's the summer so of course Friday and the weekend are sparse - but if you have intel on events, please let us know!
Here's one: on Saturday, supporters of State Senator Gustavo Rivera are heading to the Bronx to door-knock for the incumbent as he faces a primary challenge from City Council Member Fernando Cabrera.
***
Have events or topics for us to include in an upcoming Week Ahead in New York Politics? Email Gotham Gazette executive editor Ben Max any time: This email address is being protected from spambots. You need JavaScript enabled to view it. (please use "For Week Ahead" as email subject).
***
by Kristen Meriwether and Ben Max in New York City and David King in Albany
@GothamGazette