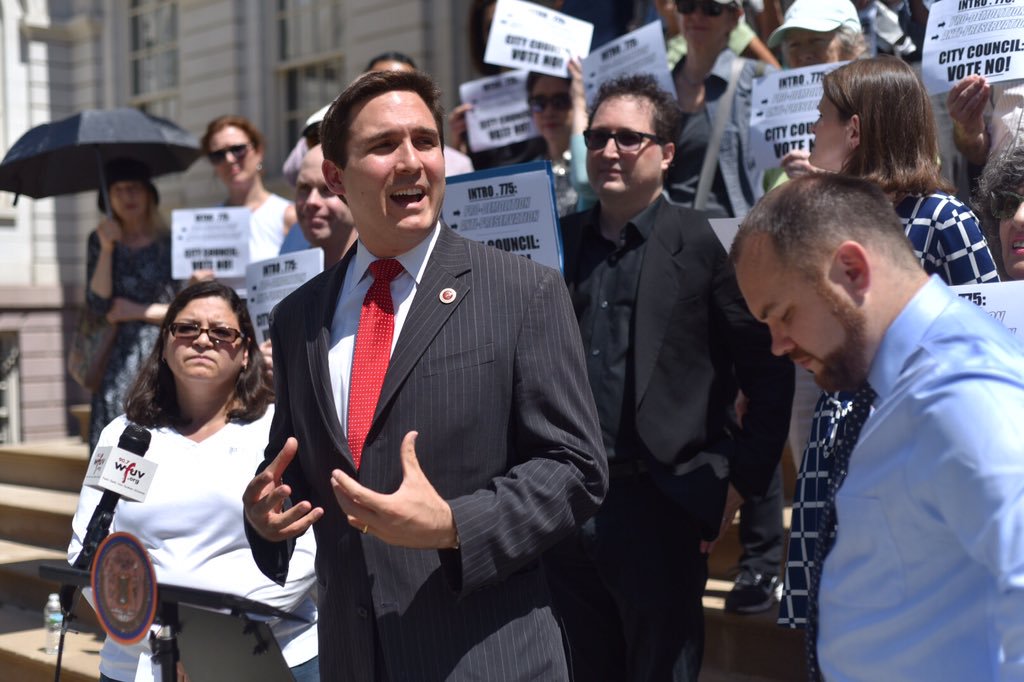 Council Member Ben Kallos (photo: William Alatriste)
---
If you happen to visit New York City Council Member Ben Kallos' website on Wednesday you may notice a loading icon at the top of the page. No, he's not having website troubles and you are not experiencing internet problems. Kallos, who is also a software developer and chair of the council's government operations committee, is participating in the worldwide "Internet Slowdown" protest.
Kallos is joining the likes of reddit, Vimeo, and Wordpress (to name just a few of the many) who are protesting rules currently being proposed by the Federal Communications Commission (FCC) that would create tiered internet speeds. If passed, companies or citizens willing and able to pay more could use "fast lanes" whereas companies or citizens with more modest financial means would be relegated to using "slow lanes."
"Under possible new rules to be determined by the FCC, the sites that most New Yorkers enjoy would likely be slowed down," Kallos said in a statement. "Instead of a divided Internet, New York City and this country want one Internet that works."
None of the participating companies' websites will be affected in any way during the protest, however there will be a call to action button which will allow visitors to send emails to their elected officials.
The proposed rules go against the principle of net neutrality, a term coined in 2003 by former Democratic candidate for lieutenant governor Tim Wu. Net neutrality is the belief that governments and internet service providers (like Time Warner or Verizon, for example) should treat all data the same. It shouldn't matter what platform, type of service, location, or even delivery method, cost and access should be the same for everyone.
Wu and his 2014 running mate Zephyr Teachout, who challenged Gov. Andrew Cuomo in the gubernatorial primary, made internet access and data transparency cornerstones of their campaign. Kallos, along with Teachout and Wu, submitted written testimony to the FCC during the summer in favor of net neutrality.
Mayor Bill de Blasio also supports net neutrality. He submitted comments to the FCC in July in a letter co-penned by Charlie Hales, the mayor of Portland, and Edwin Lee, the mayor of San Francisco.
The next comment deadline for the FCC proposal is Sept 15.
[For an expanded, humorous, and opinionated take on net neutrality, this John Oliver Last Week Tonight segment offers a thorough take. Warning: graphic language]
***
by Kristen Meriwether, Gotham Gazette
@MeriwetherK