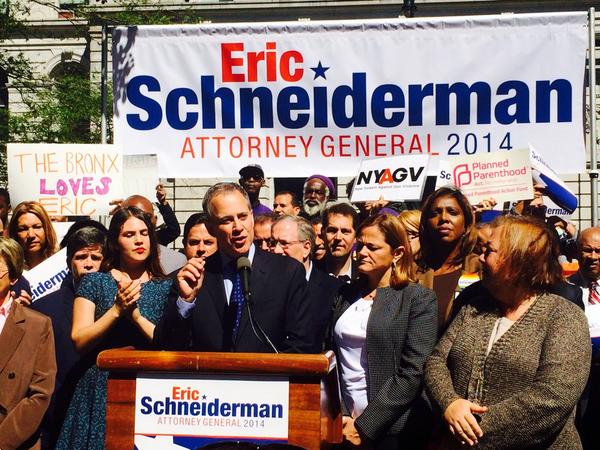 Eric Schneiderman at a campaign rally (photo: @PPNYCAction)
---
If the New York State Legislature passes the 10-point Women's Equality Agenda next year, among other things, the right to an abortion will become codified into state law. This right would be unalterable by anything but legislative action or judicial review at the highest level. And it would be the responsibility of the Attorney General, whether he is a Democrat or Republican, to uphold the letter of that law.
With the first and only face-to-face debate in this year's attorney general race just over the horizon, protection of women's rights has become a particular sticking point in the election battle between incumbent Democrat Eric Schneiderman and his Republican opponent, John Cahill. Both candidates are attempting to woo women voters, with Schneiderman consistently touting his record and Cahill picking holes in it.
Schneiderman, an ardent supporter of women's reproductive rights, has attacked Cahill on his pro-life stance. Cahill, at one time an advisor and chief of staff to former New York Governor George Pataki, opposes the 10th point of the Women's Equality Act, which will codify the essence of the Supreme Court's Roe v. Wade decision in New York law. (The other nine planks of the plan, a creation of Governor Andrew Cuomo, include items such as establishing equal pay and strengthening human trafficking laws).
Two weeks ago, at a Planned Parenthood NYC event, Schneiderman criticized the "other side" for blocking pieces of progressive legislation that protect women's reproductive rights. Stressing the need for New York to become a model state in the country, he told a young crowd of ardent supporters, "Understand this, if we can't pass a pro-choice bill in New York, the message to the rest of the country is horrendous."
Schneiderman also spoke about the measures he took to protect women's interests in the aftermath of the Supreme Court's decisions in the Massachusetts buffer zone and Hobby Lobby cases. The first decision struck down a Massachusetts law that imposed buffer zones against protestors at abortion clinics. Schneiderman, in response, asserted to all New York law enforcement that buffer zones would still be enforced in the state.
After the Hobby Lobby ruling, where the Supreme Court recognized a corporation's religious beliefs as reasons to deny contraceptive care to female employees, Schneiderman announced a proposal which would diminish the law's consequences and mandate a 90-day notification period for New York businesses which wanted to change insurance coverage. This week, citing these measures, U.S. Senator Kirsten Gillibrand endorsed Schneiderman for re-election.
But these were measures taken in reaction to outside events. When Gotham Gazette posed the question to the attorney general about the degree of discretion he can exercise in proactively pushing for women's issues, he said, "The office of Attorney General is tremendously important to protecting women's rights. First of all, I do have the ability to work on a legislative agenda. I pick my fights."
Schneiderman stressed that his voice was crucial in cleaning up the proposed law and rejecting arguments made by Republican opponents that "theres no need in New York to legislatively do anything because this is established law."
"The Attorney General of New York State should be a national leader on this. There's a need to protect the people in the state and there's a need to serve as a model for the rest of the country," he added.
Unfortunately for Schneiderman, his opponent has pounced on chinks in his armor.
Cahill's campaign has brought up what it sees as Schneiderman's three key failings toward women: Schneiderman's handling, or mishandling, of the sexual harassment scandals in the State Assembly in the last few years; the parole of a convicted rapist on the recommendation of the Attorney General's office; and the weak prosecution of a negligent plastic surgeon whose subsequent actions allegedly led to the deaths of four women. Additionally, Cahill has vowed that should he come to power, he will create an independently operating Division of Domestic Violence, Sexual Assault and Harassment.
"Notwithstanding his personal opinions as a Catholic, John Cahill will work to uphold the laws of the state," said David Catalfamo, communications director for Cahill's campaign. "If you think there's a constant assault on reproductive rights in New York, I challenge you to point to even one," he said, pointing out that most Republicans in the state are pro-choice.
All aboard the Women's Equality Express, except Schneiderman
Despite his presence on the newly created, Governor Andrew Cuomo-led Women's Equality Party ballot line, Schneiderman has been a step removed from Cuomo and former City Council Speaker Christine Quinn's new project. Schneiderman and Cuomo are known to not be on great terms.
As the Women's Equality Express rolls through the state, including a stop in New York City where Schneiderman spends most of his time, the attorney general has not been aboard. "Occasionally they have a rally or something that I show up at, but really I'm running my campaign," Schneiderman said when asked why he has not had a presence in the endeavor. "And actually my day job is still keeping me very busy," he added, wryly.
Schneiderman also said he hasn't been asked to sign the Women's Equality pledge put out by Gov. Cuomo and his running mate, Kathy Hochul, which seeks candidates to commit their support to the full Women's Equality Agenda (which Schneiderman is behind).
Differences
Schneiderman believes that what matters between him and his opponent is not what Cahill would do if elected, it's what he wouldn't do, and that includes enforcing the buffer zones for abortion clinics.
"People don't realize, there are 22 counties in New York State that still have some form of buffer zone restrictions. I sent out a letter to all law enforcement agencies saying (these) were still in effect. My opponent would not do that," he said.
In response to Gotham Gazette's question of whether Cahill could derail the push for women's equality in the state, Schneiderman said, "He will be a voice against passing the Women's Equality Act, he will be the voice of the top lawyer in the state saying, 'You don't need to do this.' That's an important factor in the legislative debate, in mobilizing the public on this issue."
Cahill does have supporters. Maureen Koetz, a pro-choice Republican who is running for State Assembly in the 65th district, has been vocal about her support for Cahill despite his ideological position. She lambasted the current attorney general for promoting a culture of abuse and sexual harassment in the state. "Sheldon Silver [Koetz' opponent] walked away with multiple violations. When the attorney general sits on the sidelines and lets that happen, it makes him complicit in that abuse."
Koetz, a veteran of the armed forces, is also a supporter of the 10-point agenda, albeit with some caveats. She said, "I think [the 10th point] could be re-written in a way that it could get bipartisan support."
In supporting him, Koetz says Cahill's personal beliefs won't stand in the way of him effectively carrying out his duties. "No one is disqualified because of a sense of mutual exclusivity or a difference in opinion."
She says Cahill's plan for handling domestic violence and sexual harassment is vital, and one that Schneiderman has failed to address. "The culture of abuse towards women in Albany is appalling and no legislative provision is going to change that. You have to vote it out," she said.
Women's rights groups have come out in force in support of Schneiderman. "It is incredibly important to ensure that the top enforcer of laws in the state actually believes in those laws. An Attorney General can have a huge impact on women's access to their reproductive healthcare," said Sonia Ossorio, president of the National Organization for Women (NOW) NYC.
A recent, end-of-September poll shows Schneiderman leading Cahill 50-34 percent overall, 52-33 among women polled.
NARAL Pro-Choice New York President Andrea Miller said, "Eric Schneiderman has been a lifelong supporter of women's rights, especially reproductive freedom, and his advocacy for and commitment to enforcing the existing buffer zones around reproductive health clinics will ensure the safety of New York women, doctors and health workers."
Ideology matters
Considering that the role of the Attorney General is to uphold and implement state law, the question of ideology becomes tenuous. A Democrat would have the same powers and influence as a Republican, in so far as their official capacity. Beyond that, it is hard to tell whether voters will be choosing the top lawyer of New York State based on personal choices, party affiliation, or professional responsibilities. In a largely liberal bastion where Republicanism is often demonized and equated with the most conservative of national counterparts, the choice may be a simple one for most.
It is abundantly clear, of course, that there is discretion involved in interpretation and enforcement of any law. And, there's room for the Attorney General to influence legislative and legal processes in a variety of ways. As they approach the October 30 debate and November 4 election, the two men vying for the post will continue making appeals to each and every voter - women and men - that they can.
***
by Samar Khurshid, Gotham Gazette
@samarkhurshid