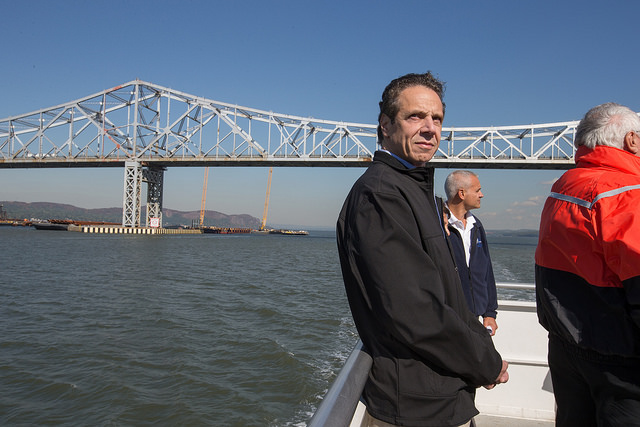 Governor Cuomo (photo: governor's office via flickr)
---
The following is part of our series, The Cuomo Record, examining incumbent Democratic Governor Andrew Cuomo's first term as he seeks re-election heading to Election Day, November 4
Governor Cuomo has attracted attention throughout his tenure for delaying action on hot button environmental issues. Nowhere is this more glaring, of course, than the question of whether to permit high-volume hydraulic fracturing, or fracking, which has been a looming issue his entire term.
Cuomo's inconsistent and unclear response to issues such as fracking, or whether to allow an Albany facility to begin heating crude oil arriving from the Canadian tar sands, is the tip of the very complicated iceberg that is the incumbent Democratic governor's record on the environment.
If re-elected, Cuomo faces profound environmental challenges, such as the mounting impacts of climate change and the state's deteriorating water infrastructure. Cuomo's policy choices will have a tremendous impact on a range of issues, from brownfields clean-up to air quality.
Depending on who you ask, the Governor's first term shows a real path forward as the state seeks to develop a 21st century energy supply and delivery system, and adapt to a changing climate. Alternatively, he is seen as fundamentally unsupportive of environmental protection in the sense of consistent and aggressive enforcement of the state's environmental regulations.
In its endorsement of Governor Cuomo this week, the New York League of Conservation Voters cited "the Governor's record on clean energy and climate resiliency -- two of the most complex yet critical sustainability challenges facing our state." Cuomo has made substantial progress on these issues, they said, "even at a time of fiscal restraint."
The governor does not shy away from strong environmental action. His administration is quietly, but effectively working to close the Indian Point nuclear power facility. The State has also asserted its right to control large water withdrawals - by companies and municipalities - from the Great Lakes and local rivers, lakes, streams and groundwater.
But Cuomo is also open about the fact that his lead environmental agency, the Department of Environmental Conservation (DEC), serves two masters: protecting the ecological and public health of the country's third most populous state; and promoting economic development.
The governor's ongoing strategy to balance the two objectives - environmental protection and economic development - raises important questions. State support for a new solar photovoltaic manufacturing facility in Buffalo, for example, shows the great potential of linking environmental and economic goals.
But what happens when one goal conflicts with the other? Laura Haight, Senior Environmental Associate with the New York Public Interest Research Group (NYPIRG) responded flatly, "clearly the environment is not a priority for this governor."
A Red Flag
The governor's recent attempt to utilize or "raid" $500 million from the Clean Water State Revolving Loan Fund for the construction of the Tappan Zee Bridge raised an enormous red flag for many environmental groups. Those funds were earmarked for water quality improvement projects, they point out.
"What is it ideologically that this administration thought it was OK to take a half-billion dollars that was dedicated to reducing water pollution and instead redirect that to a bridge," asked Peter Iwanowicz, the Executive Director of Environmental Advocates, an Albany-based watchdog group.
Iwanowicz served in the Spitzer/Paterson administration as deputy secretary for the environment, and then as acting commissioner of the state DEC.
"[The loan attempt] really strikes me as a clear indication of the ideology of this administration, having other priorities than a strong environment," Iwanowicz argued. He added that he sees a "lack of deep commitment that existed in previous administrations to ensure strong environmental protections."
Iwanowicz said the difference in approach to environmental protection between Andrew Cuomo and the governors that directly preceded him is like "night and day."
In response to such criticisms, Emily DeSantis, the state's chief public information officer for the environment, wrote, "Governor Cuomo has a strong record of advancing policies to protect New York's land, air, and water while increasing the state's reliance on clean energy. Any claims otherwise are simply wrong on the facts."
She added: "Over the past four years, Governor Cuomo has committed more than $17 billion in funding for transformational environmental and clean energy programs, which is more than Governor Pataki did over 12 years."
"At the Forefront"
Cuomo's comments about the long-term implications of Superstorm Sandy, and its connection to climate change, were said to have shifted the national dialogue about global warming. In September, the governor signed the Climate Risk and Resiliency Act, which requires state agencies to "consider future physical climate risks caused by storm surges, sea level rise or flooding in certain permitting, funding and regulatory decisions."
The legislation is the first of its kind in the U.S., said Jessica Otney, Director of Government Relations at the Nature Conservancy. "[Cuomo] has put New York at the forefront of this issue."
Yet while the Cuomo administration advocates for clean energy and a comprehensive approach to climate change; it also altered and then delayed the release of a federal study on environmental and health risks associated with fracking, natural gas pipelines, and storage, according to Capital New York. The study was finally released in December, 2013.
"This is a tale of two administrations," asserts Paul Gallay, president of Hudson Riverkeeper. "There's reason for hope and concern."
Gallay highlighted what Riverkeeper views as some of the most recent environmental success stories of the Cuomo administration: for instance, its "excellent enforcement results" in compelling the City of Albany to make major infrastructure investments that will reduce stormwater pollution, with the objective of making local waterways "swimmable and boatable."
The administration has facilitated the ongoing clean-up of polluted New York State waterways, such as Newtown Creek. And the Environmental Facilities Corporation, which made the incredibly controversial decision to approve the administration's Tappan Zee loan request, secured $340 million in federal Sandy relief money to help make New York City's sewage treatment plants and drinking water systems more resilient to climate change.
The Cuomo administration has also shown a "strong willingness," Gallay said, to engage in "serious dialogue" about spill prevention and emergency response planning related to the "explosive growth" in rail shipments of crude oil along the Hudson River.
But even in its approach to crude oil shipments, the administration has had a contradictory approach.
The administration issued a "Negative Declaration" in the case of Global Partners, a Massachusetts-based company which seeks to expand and upgrade its Albany facility so that tar sands oil can be moved by rail through New York.
That "Negative Declaration" means that no environmental impact review would be required for the expanded facility. After an outcry from environmental and community groups, the Cuomo administration is now saying its decision "is subject to a final future determination."
Delays in decision making on this, and other politically-sensitive environmental issues, have led to ongoing questions about the Governor's actual environmental standards.
The question of whether to allow tar sands crude to move through New York State is a "make or break issue for the environment and for the administration," said Gallay.
Safeguarding the Health of the Environment
Lost in the discussion of hot-button environmental topics is the question of whether the State is meeting fundamental imperatives, such as "protecting public health, improving air quality, or ensuring pure water," says Peter Iwanowicz.
Environmental Advocates, and several other organizations Gotham Gazette spoke with, maintain that the state's lead environmental agency continues to struggle to properly enforce state and federal regulations designed to protect public health.
While staffing at the DEC has essentially remained static since Governor Cuomo took office in 2011, the agency has lost approximately 800 employees since 2008. Many state agencies were downsized in the aftermath of the Great Recession, Laura Haight said, but the cuts at the DEC were "disproportionately" large.
The state's Environmental Protection Fund, which is supported by a real estate transfer fee, has similarly not been brought back to pre-recession levels. The Governor has the ability to increase state support for the DEC and the Fund, many environmental groups argue, especially now that the state's fiscal outlook is improving.
Jessica Otney at the Nature Conservancy maintained, however, that even though the Fund is smaller, it is now managed more efficiently and more of it actually finds its way to environmental capital projects.
The DEC has taken a variety of steps to enforce regulations with less manpower. This includes the establishment of a program allowing environmental offenders to avoid penalties - under specific conditions - if they "self-report" violations.
An analysis of state data released last September by Environmental Advocates found that New York's "formal enforcement" of provisions related to the federal Clean Air, Clean Water and Resource Conservation and Recovery Acts had "decreased by nearly 25 percent between 2009 and 2012." The study also found that inspections of polluting facilities overall dropped by 35 percent during the same period.
For example, DEC-conducted "stack tests", which verify whether data reported by potential air polluters is accurate, declined by almost 50% between 2009 and 2012, Environmental Advocates found. The State is still in compliance with federal Clean Air inspection guidelines, Iwanowicz noted, but enforcement has become far less robust.
The DEC sharply refuted the findings of the Environmental Advocates study after its release.
Over the past three years air emissions have actually declined by 20 percent, the agency pointed out. "Overall, facility compliance rates have continued to increase over the past decade," added the DEC, "which has resulted in fewer violations and, therefore, less need for enforcement actions."
"We have worked to reduce or eliminate many antiquated and cumbersome paper-based requirements, allowing us to redirect staff at vital projects," the DEC stated.
The Role of Inspections
Supporters of the self-audit policy, like the state's Business Council, say that the numbers of inspections and enforcement actions are one metric, of many, that inform New Yorkers about our overall environmental health.
The state tracks air quality through a system of monitors, the Business Council's Government Affairs Director, Darren Suarez, noted. These monitors would indicate if egregious air quality violations were taking place. "Whistleblower" employees and competitors in the marketplace would also put pressure on a polluter to reign in their actions, he said.
The challenge of finding and stopping polluters is evident in a location such as New York City.
According to the DEC website, the state has 14 air monitors within the five boroughs. The City has added at least 70 more, purposely installing them closer to ground level. Even with those added efforts, it is difficult to differentiate between sources of pollution - such as a power plant versus a waste transfer station - in densely populated neighborhoods.
"I was a [DEC] enforcement official in the first Cuomo administration," said Paul Gallay, referring to Andrew's father Mario. "In order to deter pollution you have to not just take the company's words for it, but you have to be out there on the street, you have to inspect, you have to do it un-announced...you've got to be aggressive," he stated.
Gallay observed that today, 24 years after his time at the DEC, the state has "more people, more permits, more sensitive activities, and 35 percent less staff."
A View from Inside the State's Environmental Enforcement Agency
A veteran DEC technical employee, who would only speak on the condition of anonymity, cautioned against drawing sweeping conclusions about the agency. "It's a highly complex situation," the employee said, referring to the impact of diminished staff. Every department within the agency has been affected in different ways because of the nature of their work, and various state and federal funding streams, the employee said.
Nonetheless, the employee, who has almost 30 years of experience at the DEC, said that agency staff are very conscious of a need to "do more with less." They are also highly aware of their role, as DEC staff, in supporting business development.
Diminished staffing levels forces everyone to prioritize, said the employee. Issuing permits for new and existing businesses, for example, now takes precedent in this employee's unit over digging into and pursuing possible environmental violations. Why? The employee noted that processing such permits is required by state law, no matter what DEC's staffing levels are.
The employee also said that agency cost-saving measures, such as using subcontractors to carry out environmental inspections, or switching to a more streamlined form of registering potential polluters, has met with mixed success in terms of maintaining agency oversight.
Water Infrastructure Crisis
The state is in agreement with environmental groups that New York is facing a water infrastructure "crisis," both in terms of wastewater and drinking water. This makes the governor's attempt to use Clean Water funds for the Tappan Zee all the more bewildering.
The state's Environmental Facilities Corporation (EFC) provided $2 billion in financing and grants to municipal drinking water projects and wastewater treatment facilities in 2013-14, a "record-breaking year," said the governor's office.
The state also assisted Nassau County in securing $810 million in federal assistance for repairs to the Bay Park wastewater treatment facility, which was was flooded during Sandy.
According to the American Society of Civil Engineers, New York has reported $27 billion in drinking water infrastructure needs over the next 20 years; along with $29.7 billion in costs related to upgrading wastewater treatment infrastructure.
"One-quarter of the 610 [sewage and wastewater treatment] facilities in New York are operating beyond their useful life expectancy," notes the DEC, "and many others are using outmoded, inadequate technology, increasing their likelihood of tainting our waters."
Who pays for such pressing - and fundamental - projects? Local, state and federal governments are all supposed to share the burden.
A key problem is the fact that individual municipalities, especially smaller ones, do not necessarily have the resources to borrow large sums from the Clean Water State Revolving Loan Fund, which is administered by the EFC. This is compounded by the state's two percent cap on local property taxes (instituted by Gov. Cuomo), which essentially ties the hands of local governments.
Current levels of local investment in water infrastructure projects are a fraction of where they need to be, says a report released in September by State Comptroller Tom DiNapoli. For instance, municipalities are spending one-fifth to one-sixth of what the Department of Health believes is necessary to adequately upgrade drinking water systems across the state.
Gov. Cuomo can help to address this problem, environmental groups say.
"The environmental response to this situation would be...[asking] 'what are the impediments to local governments for accessing this money [the Clean Water Revolving Fund]'?," said Laura Haight. "There's nothing constraining the EFC from using this money for outright grants," she maintained.
Enormous Promise - and some Contradictions - on Climate Change
No other environmental issue poses such a long-term, and not fully-understood, challenge to New York State as does climate change. The governor's approach is enormously promising, say environmental and public policy groups, but major gaps remain.
On the one hand, the Cuomo administration has been much more open to the idea of permanently evacuating neighborhoods threatened by sea level rise, such as those on the east shore of Staten Island, than the Bloomberg and de Blasio administrations have been.
At the same time, advocates for New York City's mass transit system, which plays a significant role in reducing the city's carbon emissions, say that the governor is starving its capital budget. This threatens the system's long-term viability, they argue.
The administration has just updated a highly-detailed examination of how climate change will impact every aspect of life in New York State, from local ecosystems to public health. The Cuomo team has also put forward a detailed strategy - with public input - that they say will "transform" infrastructure, transportation networks, energy supply, coastal protection, and other elements in preparation for climate change.
Every group that Gotham Gazette spoke with about the Cuomo administration's approach to climate change brought up the administration's efforts to expand the use and generation of clean energy. All were supportive, yet several argued that the state's path toward a full-scale switch to renewables was still not clearly defined.
"Very Ambitious"
The state's efforts on solar, however, set it apart, says Jackson Morris, the Natural Resources Defense Council's Eastern Energy Director. The Cuomo administration has committed $1 billion - over a ten year period - to expanding the use of solar energy.
Morris said that New York's "NY-Sun" initiative will "scale up" solar installations and drive down their cost. The program "really puts New York on the map nationally as one of the leaders on solar," said Morris. "[It's] a huge victory for clean energy and climate change, and a reduction of emissions."
"New York State has one the most ambitious clean energy agendas in the country," stated Emily DeSantis of the governor's office.
One particularly interesting example of New York's focus on clean energy is the Regional Greenhouse Gas Initiative (RGGI), a nine-state carbon trading initiative designed to cap and reduce power sector CO2 emissions.
RGGI, which also includes Connecticut, Delaware, Maine, Maryland, Massachusetts, New Hampshire, Rhode Island, and Vermont, has implemented a new cap of 91 million short tons. DeSantis cited Cuomo's "leadership" in lowering the cap, which will then decline 2.5 percent each year from 2015 to 2020.
Cuomo has also established the New York Green Bank, the nation's "largest" of its kind, said DeSantis. The bank will support clean energy projects unable to access sufficient private capital. In one of several announcements about environmental initiatives in the weeks leading up to the election, the governor said the bank's first transactions would result in clean energy investments of more than $800 million.
And the Cuomo administration is moving to fundamentally change how utilities are regulated, which they say will "dramatically accelerate clean energy deployment." The way utilities - and ratepayers - contribute to the State's funding pot for clean energy is being re-thought as well.
While many of the hard details of the State's plans are not yet available, Jackson Morris described them as "very ambitious," arguing that they "will reshape the entire utility business model and how we operate the grid in New York State."
"At the heart of it," Morris said, "we want to have a business model for utilities in New York that drives them to invest in resources like energy efficiency, clean distributed [power] generation, and renewables both large and small." The goal, he said, is to make the grid "more responsive and nimble, and resilient...and, ultimately, cleaner."
All of these initiatives will help to achieve an 80 percent reduction in greenhouse gases by 2050, said DeSantis.
"We're going to hold him to that," said Laura Haight, referring to Cuomo's 80 by 2050 goal. "We want to see [ongoing emissions] targets, we want to see commitments, we want to see safeguards...to insure that we get there."
NRDC believes achieving 50 percent dependence on renewable energy by 2025 is a feasible goal for New York. Renewable sources like hydro, solar, and wind are currently about 23 to 24 percent of the state's total energy supply, Morris said.
"We do need more clarity on targets over the long-term for renewables and energy efficiency," agreed Morris. "What we don't have [in the initial proposals] on the utility side, is an overarching, driving target. What is our objective?...It's kind of this tension between moving towards a more market-based system, but we also need guardrails to ensure the state's energy mix continues moving in a cleaner direction."
It is not totally clear, Laura Haight added, whether the Cuomo administration is equating "clean" energy with "renewable" energy. The governor's draft energy plan (a separate document) envisions an ongoing role for natural gas, a fossil fuel. New gas pipelines, and related infrastructure, continue to be planned and built throughout the state, including New York City.
"One thing that's become clear is that if we want to make it to this 80 by [20]50 goal, we have to move away from natural gas," argued Haight. "We can't be investing more...that's a 30-year commitment...once we go down that road we're stuck on it."
What Do Voters Think?
In all likelihood, New York State will continue down the path on which voters find it now: a path which offers very significant promise in terms of moving the state toward clean energy and energy efficiency; a path in which New York's response to climate change is pro-active but not always consistent; and a path in which the regulatory structure that protects New York air, water, and general environmental health continues to be re-configured with economic goals in mind.
"The number one thing New Yorkers care about is jobs," observed Darren Suarez, from the New York State Business Council. Suarez was not arguing that New Yorkers are disinterested in environmental protection or preparing for climate change, but that so-called 'pocketbook issues' almost always trump others.
Suarez' point – and an operating principle of the Cuomo administration - is that environmental protection objectives have to be balanced with promoting business development and job creation. The mainstream environmental response to this argument is that enhanced environmental conditions are actually supportive of economic development. The two work hand in hand.
The new photovoltaic "gigafactory" to be built by Solar City in Buffalo could create as many as 5,000 jobs across the state. The Cuomo administration has committed $750 million to the project.
It does appear, in certain instances at least, that New Yorkers are prepared to place protecting air and water quality ahead of economic development.
A Siena Research Institute poll on fracking, released July 30, found that a majority of voters from the Catskill/Hudson Valley and Southern Tier/Fingerlakes regions agree that fracking would be an economic benefit to local communities, and that it would generate "much needed jobs for New Yorkers."
Nonetheless, over half of those polled still opposed allowing the practice in New York State. Sixty percent of the voters surveyed said that fracking posed an "unacceptable risk" in terms of contaminating ground water. And small majorities agreed "that fracking is too dangerous" because of the potential migration of both methane gas and fracking related chemicals to the surface.
The only general election candidate for Governor who openly supports a ban on fracking, and the restaffing of the state DEC, is Howie Hawkins from the Green Party. Cuomo has acknowledged that voters opposed to fracking played a role in Zephyr Teachout's surprisingly strong performance in the democratic primary and notes that he sees anti-fracking protesters at virtually all of his public events.
Cuomo said during the lone gubernatorial debate that he was leaving the decision about fracking in New York to scientists who are studying it - and that he expects the results of the study by the end of the year.
"While our statewide polling has consistently shown New Yorkers to be closely divided on fracking, here in the areas close to the proposed drilling a majority now says 'no,'" said Don Levy, the Siena Research Institute's director.
"Despite the allure of needed jobs and economic development, more voters in these areas are tipping their internal scale due to environmental concerns," Levy added.
***
This article is part of The Cuomo Record, Gotham Gazette's series looking at the governor's first term. Find the other articles in the series here.

***
by Sarah Crean for Gotham Gazette
@GothamGazette