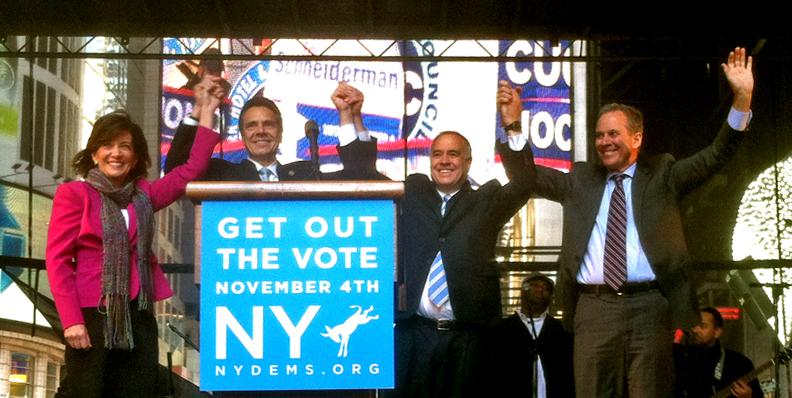 The four Democratic candidates for state-wide office (photo: @SchneidermanNY)
---
Election Day is upon us! Eight questions we're eagerly awaiting answers to:
1. Is Governor Cuomo's investment in Buffalo paying off?
After losing Western New York badly to Tea Party favorite Carl Paladino in 2010, Cuomo has turned himself into Mr. Buffalo. The incumbent Democrat has been in Buffalo more than he has been in Albany, the seat of government, this summer and fall. Cuomo talks up The Buffalo Bills even when in Jets and Giants territory, has committed a billion dollars in state funds to revitalize the city and even named Kathy Hochul, a former Congresswoman from Western New York, as his lieutenant governor running mate. Big numbers in Western New York would almost surely mean a large win for Cuomo over his Republican opponent Rob Astorino, who desperately needs those votes to compete.
2. How many New Yorkers will vote for Cuomo on the Working Families Party Line?
During an appearance on WNYC's The Brian Lehrer Show last week, Cuomo called the WFP a "fringe party" while simultaneously claiming he wasn't trying to undermine it. Cuomo appears poised to deliver a serious injury to the most organized progressive opposition he faces - opposition that also gave him its ballot line.
Cuomo has knifed the WFP in the back with the creation of the Women's Equality Party and comments about public schools that seem almost designed to alienate WFP voters. Even though the WFP has been putting on a full-court press to rally its troops, telling them to vote Cuomo despite how they might feel about him, it could be an uphill battle to get to the 50,000 votes needed to ensure the party's status on the next gubernatorial ballot.
3. Is the left angry enough to go Green?
Howie Hawkins managed to repeat his debate performance of 2010 and come off looking like the adult in the room again in this year's - not to mention one who can articulate a forward-looking policy agenda. Sure, some of his ideas appear to be pie-in-the-sky, but for liberals disenfranchised by Cuomo's chameleon-like pandering when he wants their votes but stalling on their issues while he governs, Hawkins could prove to be the only palatable alternative. Could Hawkins rack up significant numbers that hurt Cuomo? It seems unlikely, though any percentage approaching ten could embarrass the governor and make the margin between Cuomo and Astorino strikingly thin.
4. How much will the midterms and anti-Obama sentiment boost Republican turnout?
The midterm Congressional elections on the ballot could prove crucial not only for Rob Astorino, but also for New York State Senate Republicans who appear to be getting a boost from national sentiment in key races. The upstate race between incumbent Republican Rep. Chris Gibson and his Democratic challenger Sean Eldridge impacts a number of key Senate races including the rematch between incumbent Democratic Sen. Cecelia Tkaczyk and Republican George Amedore, as well as incumbent Democratic Sen. Terry Gipson and Republican Sue Serino. Polling in the Congressional race indicates that the popular Gibson is set to defeat Eldridge overwhelmingly, which could prove a boost to the other Republicans on those ballots.
Control of the state Senate is at stake, and thus a whole slate of progressive policy that the governor has said he plans to back and would surely sail through the heavily Democratic Assembly.
5. Can a Republican win statewide office?
Many say that Attorney General candidate John Cahill, a longtime aide to former Gov. George Pataki, has the best chance of any Republican to win one of the three statewide races. Comptroller candidate Bob Antonacci's campaign never gained steam and incumbent Democrat Tom DiNapoli is expected to cruise to re-election. Polls also indicate Cuomo is quite safe and while they do show incumbent AG Eric Schneiderman with a sizeable lead, Cahill has picked up far more support from editorial boards than either Astorino or Antonacci. The Cahill-Schneiderman match-up could have the smallest margin of the three.
6. Which ballot measures will pass?
There are three ballot proposals on the back of ballots this year: redistricting reform; electronic bills; and a $2 billion bond permit. "Prop 1" on redistricting has proved to be the most controversial and its outcome is likely to have long-term consequences not only for how lines of state and federal district are drawn, but the level of political competition and who represents constituents in those districts.
Most seem to agree that shifting to electonic bills in the state Legislature makes sense and plan to vote "yes" on "Prop 2" if bothering to vote on it at all. However, "Prop 3," the Smart Schools Bond Act, is not a no-brainer according to most. Voting "yes" on Prop 3 would allow the State to sell up to $2 billion in bonds to supply school districts with funds for educational technology, school security systems, or to create school space.
7. How big will hot button issues like Common Core, fracking, and The Safe Act play?
During a campaign stop in Albany on Monday, in a fit of expectation management Cuomo told the press corps that the election will be decided by issue voters concerned with things like fracking and Common Core. What that actually means for Cuomo isn't exactly clear. Those opposed to Common Core could vote for Astorino on the Stop Common Core ballot line or for Hawkins. Fracking opponents could vote for Hawkins who wants to ban the process, or for Cuomo who remains committed to 'let the science decide.' Fracking supporters will likely go with Astorino who has come out in full support of the controversial process. Cuomo told the press on Monday that he believes there is more opposition to fracking in the state than support. Anti-SAFE Act voters will very likely go with Astorino, who has spoken out against Cuomo's signature gun law.
8. Can Cuomo get above 55 percent?
Despite losing to Cuomo 60 to 35 percent, Cuomo's Democratic primary opponent Zephyr Teachout actually won over 20 counties including most of Eastern New York. She handily defeated Cuomo in Albany, Dutchess, Greene, and Ulster counties. The Cuomo camp quickly spun the results as a backlash from union voters upset with Cuomo's tough contract negotiations, anti-fracking activists, conservative Democrats upset with The SAFE Act, and people angered by Cuomo's support for casinos. If you take those assertions at face value there are still questions about what kind of support Cuomo can expect in the Hudson Valley and whether Democrats who voted for Teachout in the primary will bother to show up at all.
Much of a second Cuomo term will be dictated by the balance of power in the state Senate, though it's even unclear what Cuomo really wants that to look like. Regardless, the margin of Cuomo's (assumed) victory will indicate at least to some degree how much power he returns to office with. Does a decisive Cuomo win mean he has a popular mandate to continue governing as he has? Or would it signify that voters expect the governor to move back toward the left as he has at times indicated he plans to do if he has a state Legislature ready to work with him on a liberal agenda?
Still preparing to vote: Use our Guide for the Last-Minute Voter; it includes our Gotham Gazette-WNYC Election Guide that allows you to enter your address to see who will be on your ballot. It also includes our seven-part series, The Cuomo Record & links to a lot of our other election coverage.

***
by David King and Ben Max, Gotham Gazette
@GothamGazette