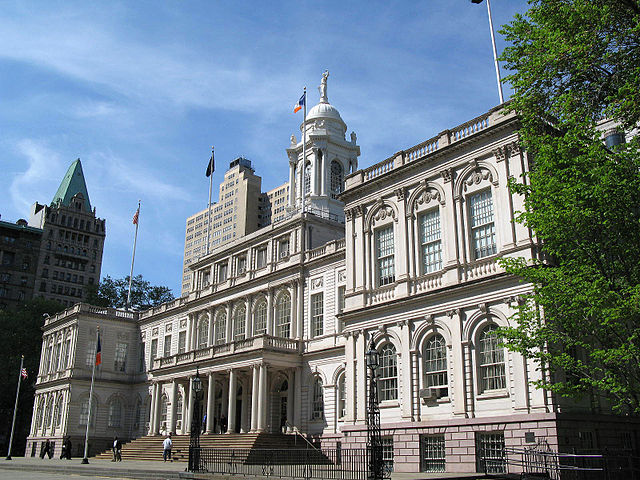 New York City Hall
---
What to watch for this week in New York politics:
We're continuing to watch this week for whether or not New York legislators will be called to Albany for a special session aimed at passing pay increases for lawmakers and, perhaps, passing other bills in conjunction. There is a slate of State Assembly committee hearings this week.
This week attention will stay on the fallout from the Staten Island grand jury decision not to indict Police Officer Daniel Pantaleo in the death of Eric Garner. Protests continued throughout the weekend after two very busy nights of action on Wednesday and Thursday, the first two nights after the decision was announced. More action took place (in New York City and around the country and world) on Sunday evening and there is a protest set to take place on Monday evening at the Barclays Center in Brooklyn, which could prove very interesting and impactful as the royal couple William and Kate are in New York and heading to a basketball game at Barclays on Monday night.
Mayor Bill de Blasio continues to walk a difficult line, expressing somewhat vague disappointment with the grand jury decision, supporting those who wish to protest the decision, and speaking highly of Police Commissioner Bill Bratton and the NYPD in general. De Blasio will continue to face tough questions. Meanwhile, police officers in a few precincts are beginning a pilot program of wearing body cameras to record interactions with civilians and the NYPD continues to move forward on the much-touted retraining of officers that de Blasio, Bratton, and others detailed at two different events this past week.
De Blasio continued to walk the aforementioned line during a nationally-televised appearance on ABC Sunday morning. The mayor's Sunday also included "meetings with Seattle Mayor Ed Murray and San Francisco Mayor Ed Lee" and "the Immigration Summit Welcome Reception," according to his public schedule. The reception was set to take place at City Hall Sunday evening, with the summit itself on Monday at Gracie Mansion. De Blasio and 20 Democratic mayors from around the country will be discussing how to best adjust to President Obama's recent executive action around undocumented immigrants and to discuss ways to coalesce and push Congress for immigration reform. More details below.
Meanwhile, Brooklyn District Attorney Ken Thompson announced he will convene a grand jury to examine the death of Akai Gurley, an unarmed black man shot and killed by a police officer in the stairwell of a Brooklyn public housing building.
Monday is also set to see the introduction to the City Council of two bills related to chokeholds being sponsored by Council Member Rory Lancman.
The City Council is also set to see the introduction of Council Member Danny Dromm's bill to ban horse-drawn carriages in New York City, legislation being pushed by Mayor de Blasio, as you've undoubtedly heard.
Comptroller Scott Stringer starts his week with a Google Hangout on FlexTime (details below) and a 7:15 p.m. appearance on Al Jazeera America's Real Money with Ali Velshi. Public Advocate Letitia James will attend a press conference with Attorney General Eric Schneiderman on Monday afternoon and then take her usual place presiding over the City Council's Stated Meeting.
And, as mentioned, the Duke and Duchess of Cambridge (William and Kate) are in the U.S., with much of their trip centered in New York, where they will spend parts of several days and participate in a variety of events, including visits to youth organizations and a number of celebrations, announcements, and learning opportunities, according to this royal press release. More details below.
As usual, there's a great deal happening at the City Council, starting with Monday's full-body Stated Meeting, and much more to be aware of as the week gets going...
The run of the week in more detail:
Monday
Monday will feature the aforementioned immigration policy summit of Democratic mayors host by Mayor de Blasio at Gracie Mansion. There will also be other relevant meetings among staff members of some of those mayors on Monday. According to the mayor's public schedule, "On Monday, Mayor Bill de Blasio will host the Mayors Immigration Implementation Summit at Gracie Mansion. With Mayors and senior representatives from over a dozen cities attending, this summit is a part of a wider effort by the Coalition United for Immigration Action to coordinate implementation of President Obama's Executive Actions on immigration and strategize on how cities can effectively push for comprehensive immigration reform."
And, "in the evening, the Mayor will attend The Nation's Institute Gala Dinner Reception in Manhattan."
Monday at 1 p.m., a Google Hangout via the Comptroller's office: "Join Working Mother magazine's Carol Evans (@CarolEvansWM) and Jennifer Owens (@working_mother) and NYC Comptroller Scott Stringer (@scottmstringer) as they talk about Right to Request Flex laws and the role that public policy can play in supporting flexible work."
"With Record Homelessness, Councilmembers and Advocates to Call for Urgent Action on NY-NY IV Supportive Housing Agreement," according to a press release. "City Council Resolution Will Call on Governor and Mayor to Reach Urgently Needed Deal to Create Housing for Thousands Living with Disabilities and Mental Illness." There will be a rally at noon at City Hall on Monday featuring "Councilmember Stephen Levin, Chair of the General Welfare Committee, Other Councilmembers, Advocates from the Campaign 4 NY/NY Housing..in support of a resolution calling for a fourth NY-NY Agreement to create permanent supportive housing as record homelessness continues to grow."
Monday's City Council schedule will include: a meeting of the Committee on Housing and Buildings to examine a new bill on "Conforming the NYC energy conservation code to the NYS energy code with amendments unique to construction in the city and repealing section 28-1001.2 in relation thereto"; a meeting of the Committee on Finance on a new bill relating to "Authorizing an increase in the amount to be expended annually in ten business improvement districts" and to review proposed land use applications; the typical pre-Stated press conference led by Speaker Mark-Viverito and then the City Council Stated Meeting at 1:30 p.m.
Police Reform Organizing Project - PROP - will hold a meeting to "discuss and plan...collective next steps to move forward a sweeping police reform agenda" on Monday evening.
Monday evening will also see the fifth annual Preston Robert Tisch Award In Civic Leadership, honoring Congressman John Lewis for his lifelong dedication "to protecting human rights, securing civil liberties, and building what he calls "The Beloved Community.""
Council Member Corey Johnson hosts a forum on Bike Safety at 1199 SEIU on Monday evening.
New Yorkers Against Gun Violence (NYAGV) will host "Guns and Domestic Violence: A Lethal Combination" on Monday. Featured speakers to include: New York State Assemblywoman Amy Paulin; Manhattan Borough president Gale Brewer; Commissioner, Mayor's Office to Combat Domestic Violence, Rose Pierre-Louis, and others.
On Monday, "The Duchess of Cambridge will carry out two engagements in New York while The Duke visits Washington. Her Royal Highness will be accompanied by The First Lady of New York City, Chirlane McCray, on a visit to a local child development centre. They will learn about how this organisation fosters the healthy development of children and families by providing high-quality mental health and educational services, which is an issue strongly supported by The First Lady. Her Royal Highness will also attend a lunch, hosted by the British Consul General in New York, to celebrate the achievements of a successful British community in New York from the culture, arts, hospitality and business sectors.
"On Monday evening, Their Royal Highnesses will attend an NBA Basketball game to help launch a new collaboration between the Royal Foundation, United for Wildlife and the NBA."
Tuesday
Tuesday morning, ABNY will host Police Commissioner Bratton for a breakfast event addressing the commissioner's "efforts to improve public safety in New York."
On Tuesday morning, "New York City Public Advocate Letitia James will be the keynote speaker for the fourth edition of the Brooklyn Chamber of Commerce's popular Newsmakers series. This will be Public Advocate James' first significant address to Brooklyn's business community since taking office last January," according to a release from James' office.
Also on Tuesday morning at The New School's Center for NYC Affairs, historian Robert Snyder will deliver remarks, "Crossing Broadway: How community activists rescued their neighborhood from crime," explaining how one area of New York City emerged "from the crime and decay of the crack years" through community activists "who crossed racial and ethnic lines." This will be followed by a panel discussion moderated by Michael Powell of the New York Times with Snyder as well as Led Black, writer-blogger, Uptown Collective; Dave Crenshaw, president, Uptown Dreamers Alumni Association; and Victoria Neznansky, chief program officer, YM/YWHA of Washington Heights and Inwood.
Tuesday is "Civics Day" put on by Generation Citizen, a youth action civics organization that does programming in New York City public schools and elsewhere. Both Council Member Jumaane Williams and Deputy Brooklyn Borough President Diana Reyna will be addressing the crowd.
The "NY Casino selection panel needs another meeting before it announces decision," a Daily News report from last week reads. "The committee mulling where to place casinos in New York has decided to hold another meeting before it announces a final decision later this month. Gaming Facility Location Board members will meet in Manhattan on Tuesday morning to further discuss the 16 proposals that have been submitted developers to operate casino resorts in New York, officials announced Friday."
Tuesday's City Council schedule includes a meeting of the Committee on Recovery and Resiliency on a new bill regarding "Creation of a Hurricane Sandy community groups and houses of worship recovery task force"; the Committee on Aging will hold an oversight hearing on "Providing Support to New York City's Caregivers"; the Committee on Sanitation and Solid Waste Management will hold an oversight hearing regarding "NYC's E-Waste Policy: How the City is Ramping Up its Efforts in Light of the 2015 Disposal Ban"; a meeting of the Committee on Housing and Buildings around three new bills: "Online publication of information relating to stop work orders issued by the department of buildings"; "Reporting multiple dwellings with numerous code violations"; and "Requiring multiple dwelling owners to provide notice to their tenants prior to temporarily or permanently making building amenities unavailable."
"On Tuesday 9th December The Duke and Duchess will visit a youth organisation to see the work they carry out in partnership with an inner city youth development foundation. Both organisations focus on programmes and projects that promote positive youth development and social learning. During the visit, The Duke and Duchess will learn about the wide-ranging support services on offer to young people to help them reach their potential, particularly through an arts-in-education model that supports the artistic and intellectual development of the participants.
"The Duke and Duchess will then attend an event celebrating the wealth of British talent in the creative industries based in New York. The reception will be in association with the UK Government's GREAT campaign. The Duke will also attend a technology themed event, hosted by a New York-headquartered technology company, which will bring together entrepreneurs from both the UK and the US.
"The final engagement of the visit will be the University of St. Andrews 600th Anniversary Dinner at the Metropolitan Museum of Art. The evening event will support scholarships and bursaries for students from under-privileged communities, new student sports facilities in St Andrews, investment in the university's medical and science faculties and a lectureship in American Literature at St. Andrews."
Wednesday
Wednesday's City Council schedule will include the Committee on Governmental Operations holding a joint oversight hearing with the Committee on Oversight and Investigations, to evaluate: "the structure and content of the Mayor's Management Report"; a joint hearing of the Committee on Contracts, Fire and Criminal Justice Services and the Committee on Women's Issues to examine "Ways to Increase the Number of FDNY Female Firefighters"; the Committee on Cultural Affairs, Libraries and International Intergroup Relations will meet jointly with the Subcommittee on Libraries to discuss oversight of capital needs and planning for the NYC public library systems; a meeting of the Committee on Higher Education for an oversight hearing on "SEEK and College Discovery Programs at CUNY."
On Wednesday in Albany, both the annual Regional Economic Development Council awards and a State Senate Republican fundraiser. No word yet if a special session could also coincide.
On Wednesday morning, the New York League for Conservation Voters Education Fund will host their "Dig Deep for a Greener New York" policy forum addressing "the infrastructure needed to expand organic waste recycling and composting," beginning at 8 a.m. at NYU.
State Senator Adriano Espaillat will hold a public hearing on response times and overall emergency room conditions at New York-Presbyterian Hospital on Wednesday from 10 a.m. to 5 p.m. at the Malcolm X and Dr. Betty Shabazz Center.
Wednesday at noon, Director of the New York City Department of City Planning and Chairman of the New York City Planning Commission Carl Weisbrod will attend a lunch event to speak on "Planning Opportunities to Reduce Inequality." The event is sponsored by B'nai B'rith Real Estate.
United Nations NGO Committee on Freedom of Religion or Belief in New York will host a panel discussion, "The Economic & Business Case for Freedom of Religion or Belief" on Wednesday afternoon.
Wednesday evening will see the premiere of "Vision to Victory: An Education Roadmap for a New Mayor." The film "tells the story of how New York City parents, youth, teachers and community members joined together to make the 2013 mayoral race an education election, pushing all the mayoral candidates to make the community's education priorities their own." The screening will be followed by a panel discussion with youth leaders, educators, parents and advocates. 6:00 p.m. at NYU Cantor Film Center and presented by NYC Coalition of Educational Justice (CEJ). Panelists will include Ashley Payano, youth leader, Urban Youth Collaborative; Natasha Capers, coordinator, Coalition for Educational Justice; Councilmember Daniel Dromm, chair of City Council Education Committee; Ben Chapman, education correspondent, New York Daily News' with moderator Dr. Pedro Noguera, professor of education, New York University.
Thursday
Thursday morning will feature a CBC Breakfast with City Planning Chairman Carl Weisbrod "to discuss ground-up comprehensive planning for neighborhoods and the department's renewed role in the City's ten year capital strategy."
The New York City Campaign Finance Board will hold a public meeting on Thursday morning at 10 a.m.
Public Advocate Letitia James is hosting a "hearing on the economic impact of the potential Comcast/Time Warner Cable Merger" from 11 a.m. to 1 p.m. at CUNY School of Journalism.
The City Council schedule for Thursday will include the Committee on Education meeting for an oversight hearing on "Diversity in New York City Schools," as well as on a new bill relating to "Requiring the department of education report annually on progress and efforts toward increasing diversity within schools, including but not limited to, data within charter schools and special programs," and to consider resolutions regarding "Change the admissions criteria for NYC's Specialized High Schools," and "DOE to officially recognize the importance and benefits of school diversity."
More on the education legislation, from Council Member Brad Lander's office: "A March 2014 study from the UCLA Civil Rights Project showed that New York State has the most non-diverse public schools in the country. A considerable body of research indicates that racial and economic diversity of schools is one of the few education reforms that is proven to improve the educational achievement and life opportunities of minority and low-income children systemically, and is linked to enhanced benefits for all students.
"This hearing will examine the causes of lack of diversity in City public schools and DOE's efforts to address this problem, as well as successful efforts in some schools and districts to achieve greater student diversity. The issue will be examined at the elementary, middle school and high school levels."
The City Council schedule will also include the Committee on Finance meeting jointly with the Committee on Small Business for an oversight hearing regarding "The Department of Small Business Services' Neighborhood Development Programs"; the Committee on Community Development will convene jointly with the Committee on Economic Development for an oversight hearing on "Mayor's Office of Workforce Development: Structural Reforms of the City's Workforce Development Systems."
Mayor de Blasio, First Lady Chirlane McCray, and many others will celebrate the "25th Reunion Reception in honor of the 90th Birthday of the 105th Mayor of the City of New York, Ed Koch," at Gracie Mansion on Thursday.
Thursday evening, Teach for America and ROADS Charter High School will co-host "Unlocking Potential," a panel discussion centered on young people of color and the NYPD, and looking at "the complicated relationships that exist between the NYPD and low-income communities of color...Launch Event Panel Discussion with: Geraldine Moriba (VP of Diversity and Inclusion at CNN Worldwide), Robert Gangi (Director, Police Reform Organizing Project - PROP), Professor Babe Howell, JD (CUNY School of Law), ROADS Charter High School students, Guest NYPD Officer.
Also Thursday evening, State Senator-Elect Jesse Hamilton is co-hosting a workforce development event: "Join the 20th Senate District and Brooklyn Workforce1 for Survival of the Fittest: Career Development Workshop on Thursday, December 11th. Participants will receive personalized career guidance and training from local HR professionals. The workshop will be held at St. Francis de Sales School for the Deaf starting at 6:30pm."
Friday and the weekend
On Saturday, Rev. Al Sharpton is organizing a march in Washington, D.C. around criminal justice issues in response to recent events such as those in Ferguson, MO, and Staten Island.
On Sunday, George W. Bush will headline the Yeshiva University Hanukkah gala: "The closed-press dinner, which marks the Jewish Festival of Lights, will be held at the Waldorf-Astoria and marks the 43rd President's first appearance at a Yeshiva event. As many as 800 guests are expected to attend," according to the Daily News.
***
Have events or topics for us to include in an upcoming Week Ahead in New York Politics? Email Gotham Gazette executive editor Ben Max any time: This email address is being protected from spambots. You need JavaScript enabled to view it. (please use "For Week Ahead" as email subject).
***
by Rati Mukhuradze, David King, and Ben Max
@GothamGazette