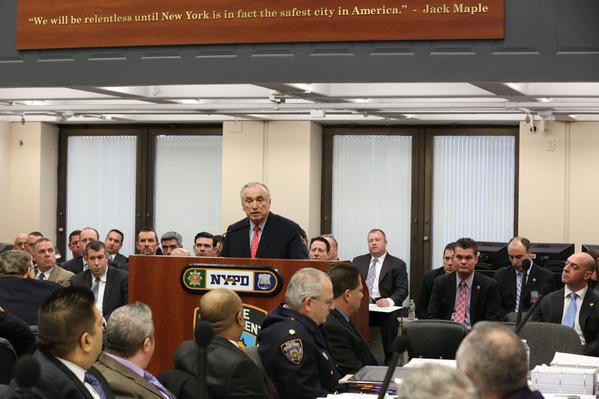 PC Bratton addresses a CompStat meeting (photo: @CommissBratton)
---
Heading into the second full week of the new year and remembrances of the best-known civil rights leader in American history, whispers and footsteps are beginning to be heard again.
As the Martin Luther King, Jr. holiday approaches, many are looking to turn the heat back up on conversation around criminal justice reform in New York City. This includes legislators and activists, most of whom have muted their calls for action during the holiday weeks following the Dec. 20 murders of two NYPD officers.
NYPD reform groups are planning a Martin Luther King Day march for justice, advertising on social media that the event is inspired by both a larger vision of fairness and their specific agenda, which includes the firing of the police officer whose chokehold led to Eric Garner's death and the outlawing of such a maneuver during arrests. The lead sponsor of a New York City Council bill to do just that, outlaw the use of chokeholds during arrests, is also saying it is about time to resume the conversation.
"I think the time is right to move forward," Council Member Rory Lancman told Gotham Gazette. "Certainly the period after the officers were murdered and the funerals were being conducted, it was appropriate to put everything else aside and deal with that trauma - for the officers' families, for the city. But that period has to give way at some point to resuming the legislative conversation of how we're going to reform policing in this city."
For Lancman, that means a city council hearing on his bill, which currently has 29 sponsors. The bill is five sponsors short of the supermajority trigger that would require at least a vote on whether a hearing should be held (the Council includes 51 members). The bill would be heard in the Public Safety Committee, chaired by Council Member Vanessa Gibson, who has not signed on as a sponsor and whose office did not return a request for comment.
On Wednesday, Gibson told reporters that she is talking with Council Speaker Melissa Mark-Viverito, additional council members, NYPD precinct commanders, and others about moving forward with conversations around policing. "I'm very optimistic that we will have the necessary conversations, the hearings, the oversight...and we will come to a point when we can find a necessary and delicate balance that is necessary for this city," she said. Gibson also expressed grave concern about the NYPD slowdown that has appeared to be happening over recent weeks and acknowledged that morale in the department is quite low.
With tensions high between Mayor Bill de Blasio and the police unions, it is clear that many, including the mayor, would like to see a cooling off period continue - one that does not include large-scale demonstrations in the streets or public hearings around reform bills. The Council must not only decide whether Lancman's bill will be heard in committee, but also several other NYPD-related bills such as the Right to Know Act, made up of two bills aimed at requiring more communication from police officers to suspects.
Council Member Brad Lander told Gotham Gazette that the next step must be productive conversation. "We need to find a way to have a real dialogue across a complex set of issues," Lander said. "I'm confident that the City Council and New Yorkers in general are capable of that, but it takes time to get it right."
There is question among council members as to whether formal hearings on NYPD reform bills are the right near-term venue for those conversations. The city council calendar lists a Public Safety Committee hearing for Jan. 26, but there is no agenda provided as of yet. A spokesperson for Mark-Viverito indicated that she is reviewing the legislation and confirmed that no hearing on the chokehold bill is scheduled at this time.
Some council members and the mayor say that enough reform is actually already in place and that what is needed now is both healing and patience. De Blasio has said he does not support the chokehold legislation (he believes that NYPD policy banning chokeholds is sufficient) and has expressed doubts about the Right to Know Act. The mayor points to the retraining of NYPD officers that has begun, a continued reduction in the use of stop-and-frisk, as well as new policies and directives that have been issued.
Lancman expects a hearing on his bill. He said he has no indication that Mark-Viverito or Gibson is slow-playing the scheduling, but that the legislative process is just beginning again. "If we're still having this conversation in March, I might have a different view, but I don't expect that will be the case," Lancman said. "I don't feel that there are any either official or unofficial procedural roadblocks that have been thrown up. It's just a matter of resuming the conversation, which was paused to deal with the trauma of the murder of the officers."
Conversation around race and criminal justice will take center stage around New York City and the country as Dr. King is paid tribute over the coming weeks and into February, which is Black History Month. Even if the City Council does not hold public hearings, panels, marches, and other events will occur. There's also no indication of the mayor and police union heads reaching resolution any time soon.
Linda Sarsour, executive director of the Arab American Association of New York and leading voice in the police reform movement, told Gotham Gazette that the movement lost some steam after the murders of Officers Rafael Ramos and Wenjian Liu, which she called a tragedy. "There was some momentum lost with the murder of the two officers," Sarsour said on Friday. "But it's a just movement, since the murder there has been no grand demonstration. The movement is still here, though, and all the demands still stand, they didn't disappear because of those horrific acts."
"Our demands haven't changed," Sarsour continued. "We're using Martin Luther King Day to say this movement is back."
And none of this is to mention the spike in activity and outcry that could occur if Staten Island District Attorney Daniel Donovan is officially named the Republican candidate to pursue Michael Grimm's vacated congressional seat in a soon-to-be-called special election. Donovan is, of course, the DA who presented the grand jury case against Police Officer Daniel Pantaleo in the death of Eric Garner, which resulted in no indictment. The announcement of that decision and Mayor de Blasio's reaction to it spurred massive protests and ill-will from the NYPD toward the mayor, respectively. On Friday, Donovan officially declared his intention to pursue the nomination.
Of a potential Donovan candidacy, Sarsour said, "Dan Donovan is the definition of divisiveness. That is what he represents for us right now, he represents the divisiveness that we're trying to heal in this city."
A Donovan candidacy would be provocative, she added: "It will activate folks on the Island - it could be in the form of protest, it could be in the form of voter registration and turnout. I'm expecting political and civic engagement from Staten Island communities in this race, even though it's a special election. They're not going to let Donovan take this seat without a fight."
***
by Ben Max, editor, Gotham Gazette
@TweetBenMax
Note: this article has been updated with comment from Linda Sarsour.