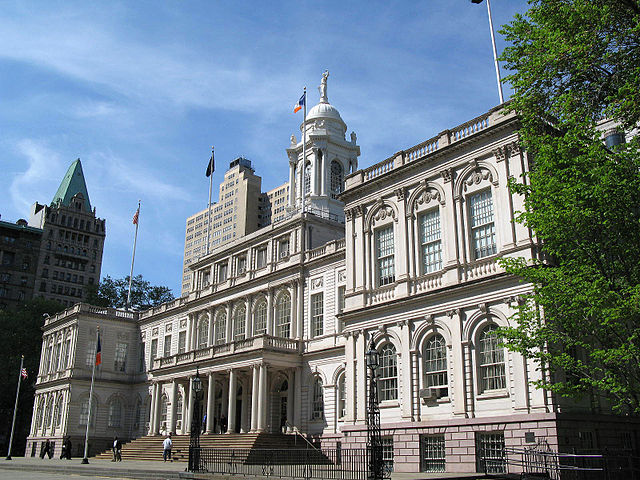 New York City Hall
---
What to watch for this week in New York politics - we're taking you through next Monday, the Martin Luther King Day holiday (we'll publish our next Week Ahead Monday night (the 19th) instead of Sunday):
This week is likely to be dominated by the following three storylines, perhaps among others that will spring up:
The 2015 legislative session in Albany, with legislators formally in session on Monday and Tuesday. Lawmakers are awaiting Governor Andrew Cuomo's State of the State speech, which was pushed back to Jan. 21 after the death of the governor's father. The Cuomo administration announced a slate of new appointments, promotions, and departures on Sunday as the governor's second term gets going.
The Mayor and the NYPD: tensions remain high between Mayor Bill de Blasio and police union leadership (and some rank-and-file, to be sure). There has been a bit of a cooling off period of late, but the conversation is sure to heat up again this week - starting with the Monday release of a report on NYPD chokeholds by the office of the new NYPD Inspector General, Philip Eure (it's the office's first report). There will surely be more focus on the NYPD slowdown that has been happening over the past several weeks.
The special election in New York's 11th Congressional District: Staten Island District Attorney Dan Donovan will be the Republican candidate in the race to replace Michael Grimm (a date for the special election has yet to be set by the governor) and the Democratic nominee should be determined soon. Donovan's candidacy is certain to keep tensions high around the Eric Garner case - Donovan presented the grand jury case against Policer Officer Daniel Pantaleo, whose chokehold led to Garner's death.
Bringing these last two items together, watchers are still awaiting word from the NYPD investigation into the conduct of Pantaleo and his fellow officers in the Garner incident. We're also awaiting news from the federal investigation into the case. But, there's no indication news on either of these investigations is coming this week.
Also this week, the city's municipal identification card program is set to officially launch, we'll be watching to see enrollment numbers and what kind of a push the de Blasio administration and partners are making to boost membership, especially of New Yorkers other than the undocumented. Mayor de Blasio starts the week holding a Monday press conference to announce the launch, at which City Council Speaker Melissa Mark-Viverito will also speak. The event will be held at the Queens Public Library.
And, there's a New York City Campaign Finance Board (CFB) filing deadline this week for 2017 candidates for city offices. Always interesting to watch as those filings occur.
For those community groups seeking funding, the City Council's application for discretionary funds in the next fiscal year is up. And, it's a somewhat busy week of hearings at the City Council too, details below.
***Do you have events or topics for us to include in an upcoming Week Ahead in New York Politics? E-mail Gotham Gazette editor Ben Max: This email address is being protected from spambots. You need JavaScript enabled to view it.***
The run of the week in detail:
Monday
Monday is set to see an education-related rally in Albany organized by Alliance for Quality Education (AQE). AQE has been a frequent critic of Gov. Cuomo's education agenda and is putting together Monday's gathering to influence the discussion as legislators begin to consider education bills in the new session. The group says it is pushing for fairness in funding in education and says thousands are expected at Monday's mid-day rally.
On Monday morning, DOI Commissioner Mark Peters and NYPD IG Philip Eure will be on WNYC's Brian Lehrer Show discussing the IG office's first-ever report, which deals with chokehold use and punishment in the NYPD.
City Comptroller Scott Stringer begins his week with one public event, according to his public schedule: he'll attend and give remarks at "We Remember Haiti" Monday evening at 1199-SEIU headquarters in Manhattan.
Mayor de Blasio and Speaker Mark-Viverito, among others, will be launching the city's municipal ID card program on Monday at the Queens Library. Later on Monday, Mark-Viverito will appear on WABC radio at 5:20 p.m., according to her public schedule.
As we mentioned, the State Legislature is in session Monday and Tuesday this week.
Monday's City Council schedule includes a meeting of the Committee on Transportation to discuss bills relating to "removing the off-street parking requirement for base station licenses;" "prohibiting for hire vehicles from charging excessive rates;" "agreements between livery base stations;" and "allowing the taxi and limousine commission to consider improved trouble lights for use in licensed vehicles."
There'll also be a meeting of the Subcommittee on Senior Centers for an oversight hearing regarding "Examining DFTA's Senior Center RFP Process and Criteria for Subcontracted Senior Center Services."
The City Department of Consumer Affairs is holding a "Public Hearing and Opportunity to Comment on Proposed Rules for Pregnancy Services Center Disclosures" on Monday morning.
On Monday at 5:30 p.m. Manhattan Borough President Gale Brewer "testifies at Hudson River Park Trust hearing on proposed Pier 54 redevelopment project" at NYU, according to her office.
Also at 5:30 Monday, it's the Queens Borough Board Meeting, led by Queens Borough President Melinda Katz: "The Borough Board is chaired by the Borough President under the New York City Charter and comprised of the borough's City Council members and the chairperson of each Community Board in the borough."
Monday evening will see "Re-envisioning Branch Libraries Design Study Presentations" at the New School. "The School of Media Studies will be hosting Re-envisioning Branch Libraries Design Study Presentations with co-sponosor, Center for an Urban Future and in partnership with Parsons School of Constructed Environments. New York City's 207 branch libraries are serving more New Yorkers in more ways than ever before."
Also Monday evening: "NYC Open Data's Python Machine Learning Class Demo Day...Learn with our NYC Data Science Program (We offered corporate and individual training for more than 40 firms in NYC alone). We offer 12 week immersive program, weekend and weekday night Data Science training."
Tuesday
New York's casino siting panel meets again on Tuesday, perhaps to take up the governor's request to site a fourth casino in the Southern Tier.
Tuesday morning is "Crain's Business Breakfast Forum: Manhattan District Attorney Cyrus R. Vance, Jr.," who will discuss "transformative criminal justice investments he's making"; "New strategies and tools to combat cybercrime"; "How public-private partnerships can fight financial crime and human trafficking" and more.
The New York State Legislature Public Hearing Calendar for Tuesday includes the Assembly Committee on Health's public hearing on "The New York Health bill to create state single payer health coverage."
Tuesday's City Council schedule includes a meeting of the Subcommittee on Zoning and Franchises to review proposed land use applications; a meeting of the Subcommittee on Landmarks, Public Siting and Maritime Uses to review land use applications; a meeting of the Subcommittee on Planning, Dispositions and Concessions to review the land use calendar for the week; and a meeting of the Committee on Environmental Protection to discuss legislation on the "use of biodiesel fuel in the city ferry fleet" and the "use of biodiesel fuel in marine craft owned or operated by the department of environmental protection."
Tuesday morning is the Queens Borough Cabinet Meeting led by Queens BP Katz. "The Borough Cabinet is chaired by the Borough President under the New York City Charter and comprised of the District Managers of each Community Board in the Borough and representatives from city agencies. It focuses on city service delivery and agency responsiveness across the borough and hears presentations on these issues from City officials and others."
On Tuesday evening, "Danielle Allen – "Our Declaration: A Reading of the Declaration of Independence in Defense of Equality...Join us at Roosevelt House for a special evening exploring the argument — and contemporary meaning — of The Declaration of Independence, the foundational statement of America's commitment to equality.Danielle Allen, author of Our Declaration: A Reading of the Declaration of Independence in Defense of Equality, discusses her acclaimed book in conversation with Nadine Strossen, former president of the American Civil Liberties Union, and professor of law at New York Law School."
From New York Tech Meet-Up: "NYTM + Silicon Harlem Demo Night @ Rainbow PUSH Wall Street Project Summit" on Tuesday. "Join us along with Silicon Harlem at the 18th Annual Rainbow PUSH Wall Street Project Economic Summit."
Wednesday
In big education happenings, according to a WNYC report: "Teacher Tenure: oral arguments on whether or not a lawsuit challenging the state's teacher tenure laws can proceed are scheduled for Jan. 14, before a state judge on Staten Island. The case was brought by families who believe their children's right to a sound basic education is being violated by tenure. The teachers unions claim tenure is a guarantee of due process. The suit is modeled after a similar one in California."
Wednesday's City Council schedule includes the Committee on General Welfare holding an oversight hearing on "EarlyLearn NYC" programming.
Including one on Wednesday morning, "The Department of Consumer Affairs (DCA) is hosting a series of trainings to help employers understand their responsibilities under the Paid Sick Leave
Law."
On Wednesday, BetaNYC Civic Hacknight in Manhattan: "What is a civic hacknight? This is a weekly project night is for technologists, designers, developers, data scientists, map makers, and activists who are working on "civic technology" projects. Consider this to be a study hall or office hours to improve the city."
Thursday
Thursday morning is the Manhattan Borough Board Meeting, led by Manhattan BP Gale Brewer.
Also Thursday morning: Brooklyn Newsmakers with Commissioner Bratton and Borough President Eric L. Adams: "Brooklyn Chamber of Commerce, in collaboration with Hon. Eric L. Adams, Brooklyn Borough President invite you to attend: Breakfast with Police Commissioner of City of New York, William J. Bratton."
Thursday's City Council schedule includes a meeting of the Committee on Finance to review a bill related to "interest rate and discount rate recommendations provided by the NYC Banking Commission" and a meeting of the Committee on Land Use to review "all items reported out of the Subcommittees and such other business as may be necessary."
Thursday is a NYC CFB 2017 filing day deadline; via Twitter: "Attention candidates! Next #NYC2017 #FilingDay deadline is Thursday, 1/15. You can start filing Monday, 1/12."
On Thursday, "the Federal Reserve Banks of New York, Atlanta, Cleveland and Philadelphia will release findings from a joint regional survey on small business credit conditions. The Small Business Credit Survey captures information on the financing decisions and credit experiences of smaller firms in the Northeast. This year, the survey has been expanded to include insights from small businesses – on both the aggregate and state levels – from selected parts of the Southeast and Midwest. The survey was conducted during the fall of 2014."
City Council Member Andy King will host an Open House For 12th District Constituents on Thursday, 11 a.m. to 2 p.m.: "Joining Council Member King will be his staff and representatives from city agencies, who will be available to answer community questions. The open house also celebrates the observance of the birthday of the slain civil rights leader Rev. Dr. Martin Luther King Jr."
Thursday evening, "Affordable Housing Crisis - A Community Discussion with City & State Officials and Housing Advocates" including featured speakers "NYS Senators: Velmanette Montgomery & Jesse Hamilton; NYS Assembly Members: James Brennan; Karim Camara; Joseph Lentol; Walter Mosley; Felix Ortiz; Annette Robinson; Jo Anne Simon; Latrice Walker; NYC Council Members: Carlos Menchaca; Robert Cornegy, Jr.; Laurie Cumbo; and Stephen Levin."
From Brooklyn BP Eric Adams, "On Thursday, January 15th, from 6:00 PM until 8:30 PM at the Lafayette Avenue Presbyterian Church, located at 85 South Oxford Street, I am joining many of my city and state elected colleagues in hosting a community discussion about our affordable housing crisis. Among the speakers in attendance will be representatives from the New York State Department of Homes and Community Renewal and the New York City Department of Housing Preservation and Development, as well as housing advocates. Topics to be discussed include stabilizing our affordable housing supply, addressing our state's expiring rent laws and organizing for action."
Friday and the (long, Martin Luther King Day) weekend
More things are sure to pop up for the end of the week, but so far on our Friday radar, a roundtable on veteran-owned businesses: "New York City is home to thousands of veterans who have selflessly volunteered to serve and protect our fellow Americans from harm, and the city is dedicated to ensuring that they receive the resources they need to succeed. The city recently released a report on veteran entrepreneurship and created several recommendations on how we can better meet the needs of veteran business owners by improving training, outreach, networking, and identification. Please join Mayor's Office for Veterans' Affairs Commissioner Loree Sutton and the Department of Small Business Services Commissioner Maria Torres-Springer for roundtable discussions...to learn more about city's veterans report and give feedback on the report recommendations."
On Sunday, "Presented as part of the Apollo Theater's Uptown Hall series, WNYC brings its annual Martin Luther King Jr. celebration uptown. This year's event will explore the 50 years since the passage of the Voting Rights Act of 1965. WNYC's Brian Lehrer and MSNBC's Melissa Harris-Perry will guide us through the past half-century and explore the significant moments leading to today's democratic landscape in America. This year's event will also honor the legacies of the great civil rights leaders who we lost last year: Maya Angelou, Ruby Dee, and Yuri Kochiyama."
And on Monday, a "march for justice" being organized by criminal justice reform groups. See our report for more details.
***
Have events or topics for us to include in an upcoming Week Ahead in New York Politics? E-mail Gotham Gazette executive editor Ben Max any time: This email address is being protected from spambots. You need JavaScript enabled to view it. (please use "For Week Ahead" as email subject).
***
by Rati Mukhuradze and Ben Max
@GothamGazette