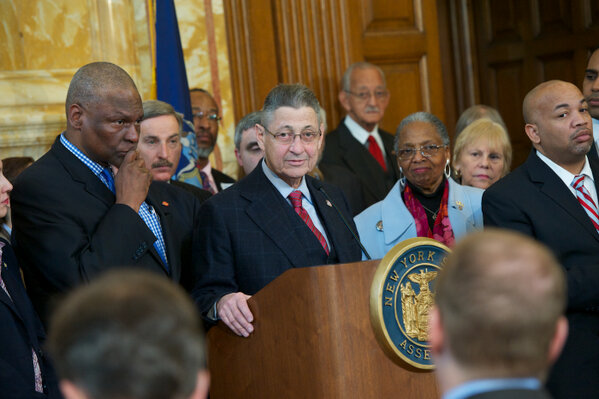 Assembly Speaker Sheldon Silver (photo: @NYSA_Majority)
---
In Albany, that old saying that absolute power corrupts absolutely appears to be holding true as yet another high-profile legislative leader is facing federal corruption charges.
Assembly Speaker Sheldon Silver, a Democrat, has been at the table for agreement on just about all the major legislation that has become New York State law since 1994 and his name is inextricably linked with the state capital. On Thursday, he was arrested after turning himself in to federal authorities in Manhattan after being charged with five counts including corruption, conspiracy, and fraud, and for using his public office in a scheme to receive $4 million in bribes and kickbacks. He faces up to 20 years in prison for each charge.
Silver is innocent until proven guilty, of course, and has declared that he "will be vindicated," but it appears to many New Yorkers, yet again, that the fox has been running the hen house.
"Politicians are supposed to be on the people's payroll, not on secret retainer to wealthy special interests they do favors for," U.S. Attorney Preet Bharara said Thursday while announcing the charges against Silver.
"These charges, in our view, go to the very core of what ails Albany: the lack of transparency, lack of accountability, and lack of principle joined with an overabundance of greed, cronyism and self-dealing," Bharara continued.
The problems Bharara refers to have, for some, no greater manifestation than the way in which virtually all major decisions in Albany are made: with three men in a room.
For decades, Silver has been one of those three men. And for decades, the three men, including whomever Silver has been accompanied by, have dragged their feet on ethics reforms - even while legislator after legislator has been indicted.
Despite the fact that New Yorkers across the state elect 63 Senators and and 150 Assembly Members, all major policy that is decided in Albany gets filtered through and approved by what is usually three men in a room. Lately the formula changed as the Independent Democrats' Jeff Klein has also had a seat at the table. But normally there are three men: the governor and the speaker of each house of the Legislature. Silver has been the Assembly's representative since he was elected speaker in 1994 and he has grown immensely powerful in that position, leading what continues to be a heavily Democratic body.
It is this traditional Albany power structure and Silver's ability to control his members that have presided over minimal changes to the state's good government laws. There have been some updates to those laws, though.
"Its ironic, Silver supported the 2011 ethics law that required for the first time public disclosure of outside income and led to his trip up today," said Dick Dadey, executive director of Citizens Union, a good government group.
Although, Silver's outside income as an attorney has been a hot topic for years, no law required he disclose it until 2011 when Gov. Andrew Cuomo reached an ethics reform deal with legislators. The deal required major electeds and state officials to file outside income disclosures that gave the source and range of their incomes but did not require lawyers to disclose the names of their clients. Flags were raised earlier this year when The New York Times reported that Silver had failed to disclose income from a private practice and another law firm.
"For many years, New Yorkers have asked the question: How could Speaker Silver, one of the most powerful men in all of New York, earn millions of dollars in outside income without deeply compromising his ability to honestly serve his constituents?" U.S. Attorney Bharara said on Thursday. "Today we provided the answer. He didn't."
Silver is accused of pressuring real estate firms with business in front of the State to hire one of two law firms that would then give him a kickback. He is also accused of steering $500,000 in state funds to a doctor who referred patients with asbestos to a Silver-affiliated law firm.
Make no mistake, Silver isn't the only powerful New York State legislative leader to be indicted in recent years. No, five former or current leaders have been indicted since 2000. They include former Republican Majority Leader Joseph Bruno, former Democratic Conference Leader John Sampson, Former Majority Leader Pedro Espada, and Former Democratic Majority Leader Malcolm Smith.
While Silver's immense power is undeniable, Blair Horner of the New York Public Interest Research Group (NYPIRG) says it would be unfair to blame Silver for the watered down ethics reforms Albany has seen over the years or the failure to pass major reform of the campaign finance system. Why? Because there are two other similarly powerful men at the negotiating table.
"It is a political game of Clue," said Horner. "Was it Silver and Colonel Mustard in the dining room with the candlestick?"
Horner said blaming Silver for Albany's ethics morass ignores the obvious flaws in the system.
"The three men in a room, powerful leadership model in New York is a real issue. The governor is extremely powerful in New York so it isn't surprising the Legislature has given itself a strong leader," said Horner. "But the three-men formula makes it extremely hard to see what is really going on in policy negotiations. That secrecy combined with the nonexistent state enforcement and reform efforts that are designed to fail are what is driving the problem."
Both houses of the Legislature sued Gov. Cuomo's Moreland Commission on Public Corruption to stop subpoenas seeking information on the outside income of legislators who make more than $20,000 a year. Cuomo had very clearly stated that he would empanel the commission if the Legislature failed to agree to a number of his ethics reform proposals that he issued after it was revealed one legislator had worn a wire for the FBI, taping her colleagues in an attempt to avoid jail time for a corruption charge.
In a letter to his conference, Silver explained why he was taking legal action: "One or more of the Commissioners have said publicly that the purpose of the Commission is to 'investigate the Legislature.' As well, numerous statements have been made that the reason for the investigation is because the Legislature did not enact proposed 'reform' legislation," he wrote. "One thing is certain: it is an improper and illegal use of Executive authority for appointees of that branch of government to 'investigate the Legislature' merely because the Commissioners would like to compel passage of proposed legislation."
Silver wasn't the only leader making more than $20,000 in outside income--both Republican Leader Dean Skelos and Klein of the IDC also work at law firms and have reported significant outside income.
Dadey of Citizens Union said that federal charges being brought against Silver "shows why Moreland was succeeding at its job."
Bharara is reportedly looking into the Cuomo administration's interference with that commission, as members of Moreland contend that Cuomo staffers tried to kill subpoenas that targeted groups close to Cuomo, such as those tied to the real estate industry. Advocates have questioned whether Cuomo really wants major reform as he is the chief beneficiary of the current campaign finance system and his policy decisions appear to benefit a number of his largest donors.
Bharara made reference to Moreland on Thursday. "But a deal was cut that cut off the commission's work, to the great relief of Sheldon Silver, who furiously fought its subpoenas and urged the commission's early shutdown," he said. "Moreland was made to close its doors after only nine months, its work barely begun, and while litigation over those subpoenas about Sheldon Silver's outside income was still pending before a state judge."
Before wrapping up his presentation, Bharara told reporters to "stay tuned" as his investigations continue.
Meanwhile, Horner said he isn't surprised that Assembly Democrats have yet to condemn Silver. "They are just learning about the charges and he is innocent until proven guilty," he said.
Lobbyists and other insiders point out that Silver has gone out of his way as leader to protect his members from scandal. Silver was roundly criticized for quietly paying a settlement to interns who accused former Assembly Member Vito Lopez of sexual harassment. But one legislator told Gotham Gazette, "They see that as him going to bat for their conference. They see that as him taking the burden on his shoulders to protect them."
Leaders of the legislative houses in Albany are granted immense power by their chambers. On Thursday, as word of Silver's arrest spread through Albany, Assembly Democrats either declined to speak to the press or said they supported Silver.
After cancelling Thursday's scheduled legislative session and conferencing, Democratic members said they voted to support Silver without even reading the charges against him. For decades Silver has fought behind the scenes to protect members while bringing home cash to individual members' districts, fighting for their pet projects and deciding whether their bills live or die. Silver is the end-all for Assembly Democrats--he is all just about any of them have ever known as a leader.
The phrase "he knows where the bodies are buried" became strikingly commonplace at the Capitol on Thursday as some wondered whether Silver might be interested in sharing some of his secrets in an effort to make a more palatable deal for himself.
Complicating matters immensely and bringing it back to the significance of the three men in a room model, Silver is also the counterweight to the Senate Republicans and to Cuomo's fiscal policies. The assembly speaker is a champion to teachers unions and has pushed The DREAM Act, public financing of campaigns, and other progressive measures. All are among the reasons why his Democratic members, with the lone exception of Charles Barron, continue to support him and why Democrats in New York City, such as Mayor Bill de Blasio, were also non-critical in response to his arrest.
In other words, as long as he is not forced to resign due to a guilty plea or conviction, Silver is the Democrats' best hope for favorable policies coming out of that room.
Horner said he hopes the recent scandal will lead to a push for reform. "This isn't outside good government groups calling for change, or a scandal involving a backbencher," said Horner. "This is the guy at the center of everything and there is no ignoring it. Of course muscle memory will be for them to continue along as though they aren't the center of controversy. Maybe it will take more indictments from Bharara to change that."
Dadey said that there couldn't be a bigger impetus for action. "What better example could there be of the need for better disclosure, better ethics laws, and campaign finance reform? If not now, when?" he said.
Cuomo dedicated only a few brief words to reform in his State of the State speech on Wednesday. The governor called for campaign finance reform and a pay raise commission that would offer one level of pay to full-time legislators and another to those with outside income. He also suggested capping lawmakers outside pay. Legislators balked at the idea. Silver was expected to lead the charge against it.
***
by David King, Albany editor, Gotham Gazette
@DavidHowardKing
Note: Gotham Gazette is an independent publication of Citizens Union Foundation, sister organization of Citizens Union.