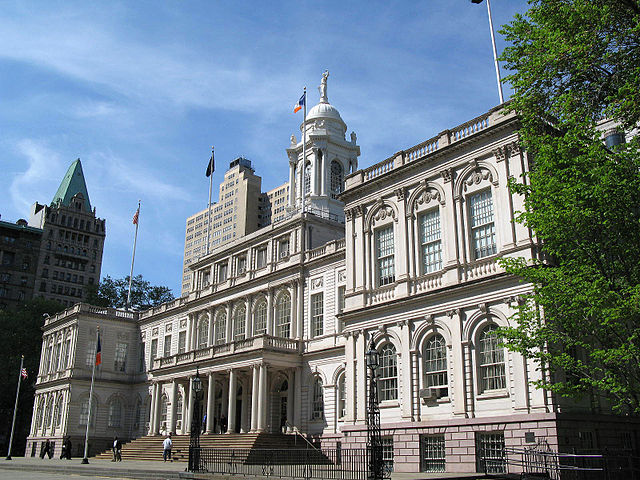 New York City Hall
---
What to watch for this week in New York politics:
As this week begins, we're watching the following storylines, with others sure to emerge (oh, and if you haven't heard, there's some snow coming - please keep in mind that any events listed below are subject to cancellation!):
The latest in the Sheldon Silver saga, which will cast a cloud over this year's Albany legislative session. Silver announced on Sunday evening that he is (temporarily) ceding power to a quintet of Democratic Assembly members. The Assembly is back in session on Monday (Silver is expected to be there) and joint budget hearings begin this week (and last about a month) as lawmakers analyze Gov. Andrew Cuomo's FY2016 proposals, which he outlined this past Wednesday.
Mayor Bill de Blasio is expected to head to Albany to testify and outline what he is looking for from the State in the coming fiscal year. De Blasio told reporters after Cuomo's State of the State/budget presentation that he would be back in Albany this coming week.
De Blasio starts his week dealing with the impending snow storm - expect updates from the mayor (and from Governor Cuomo throughout the first couple of days of the week - and also expect plenty of scrutiny of how the de Blasio administration handles the storm).
Comptroller Scott Stringer begins his week with an appearance at ABNY in the morning (details below) and then on NY1's Inside City Hall and Al Jazeera's "Real Money with Ali Veshi."
In the meantime, we're also watching to see if there's movement in the relationship between de Blasio and the police unions - things seem to be thawing a bit in this cold war. And, will there be further criminal justice reform protest?
Who will the Democrats field in the race to replace Michael Grimm as the rep from New York's 11th Congressional District? Will Gov. Cuomo set a date for a special election? The Republicans have already chosen to field Staten Island District Attorney Dan Donovan as their candidate. Arguments in the case pursuing more info from the Pantaleo grand jury will begin in court on Thursday of this week.
More to be aware of:
Deadlines for applying to community boards are looming in the next week or two - consult your borough president's office for details.
The City Council application process for discretionary funding from council members in the next fiscal year is ongoing. Consult the City Council or your local council member for more info.
As always, there's a great deal happening at the City Council and all over the city, with many events to be aware of. The week ahead in more detail below...
***Do you have events or topics for us to include in an upcoming Week Ahead in New York Politics?
E-mail Gotham Gazette editor Ben Max: This email address is being protected from spambots. You need JavaScript enabled to view it.***
Monday - please note that Monday evening and Tuesday events are very much subject to cancellation due to the snowstorm
Monday morning, the Association for a Better New York (ABNY) will host New York City Comptroller Scott Stringer for a breakfast discussion of his "first year in office," and his "vision for building a city of shared prosperity and economic growth." [Read our report on Stringer's first year as Comptroller, including an interview with Stringer and other experts, such as former Comptroller John Liu]
As we mentioned, the Assembly is back in session on Monday (and Tuesday). So is the State Senate.
Monday's City Council schedule consists of the Committee on Courts and Legal Services meeting jointly with the Committee on Public Safety for an oversight hearing to examine "how the City Evaluates the Effectiveness of the Provision of Indigent Defense."
Monday afternoon, Council Member Ben Kallos, in association with the City's Department of Health, will host "Safer Sex Seminar for Seniors" at the Stanley Isaacs Neighborhood Center.
*There have already been a variety of Monday evening events cancelled - be on the watch for Tuesday cancellations as well!
(Side note: Monday's a week from Groundhog Day, so watch out for lots of talk about the passing of the groundhog Mayor de Blasio mishandled last year)
Tuesday - be aware it is likely that all Tuesday events below are cancelled/postponed due to the weather!

On Tuesday, the City Council's schedule *was* set to include a meeting of the Committee on Education for an oversight hearing regarding "overcrowding in NYC Public Schools"; a meeting of the Committee on Recovery and Resiliency jointly with the Committee on Fire and Criminal Justice Services for oversight "Examining the City's Enhanced Emergency Response Plans post Superstorm Sandy"; a meeting of the Committee on Higher Education regarding a bill relating to "Information and city services to reduce college sexual assault"; and a meeting of the Committee on Economic Development for an oversight hearing regarding "economic development in Sunset Park." [Read our preview of this hearing and its controversial backstory]
Joint Legislative Budget hearings commence on Tuesday, Jan 27 in Albany. Tuesday's hearing will concern "Local Government Officials/General Government."
Tuesday morning, the Assembly Standing Committee on Tourism, Parks, Arts and Sports Development, will convene for an oversight hearing in Albany "to review the implementation of the State Budget and its impact on the programs under the purview of the Committee on Tourism, Parks, Arts and Sports Development."
The New School's Milano School of International Affairs, Management, and Urban Policy, will host an all-day conference, "Disaster Recovery & Resilience: The Tips, Techniques and Best Practices for Public and Private Organizations" - "a full-day program drawing upon the lessons learned from the World Trade Center, Hurricane Sandy and other occurrences."
NYCEDC Nonprofit Capacity Building Workshop: "This will be a full-day training made up of four modules, each approximately one hour."
On Tuesday evening, Brooklyn Independent Media will present a live broadcast of their next community town hall event: "Brooklyn for Sale: The Price of Gentrification." Comptroller Stringer is set to deliver opening remarks and the event will feature Council Member Robert Cornegy, among other panelists moderated by BRIC's Brian Vines; 7:00 p.m. BRIC House Ballroom.
Wednesday
Wednesday's City Council schedule will include a meeting of the Committee on Sanitation and Solid Waste Management regarding a bill aimed at "Reducing permitted capacity at putrescible and non-putrescible solid waste transfer stations in overburdened districts"; the Committee on Transportation will meet jointly with the Committee on Aging and the Committee on Mental Health, Developmental Disability, Alcoholism, Substance Abuse and Disability Services, for an oversight hearing on "How Access-A-Ride Serves the City's Seniors and People with Disabilities"; a meeting of the Committee on Consumer Affairs to oversee "Education and Outreach on Financial Literacy for Young Adults," and to discuss a bill aimed at targeting "young adults with outreach and education regarding consumer protection issues."
State Senate public safety hearings commence: The Senate Standing Committee on Crime Victims, Crime and Correction will meet jointly with the Senate Standing Committee on Civil Service and Pensions, the Senate Standing Committee on Investigations and Government Operations, and the Senate Standing Committee on Codes; to examine "police safety and public protection in New York City."
There will be a Wednesday Joint Legislative Budget Hearing in Albany on Environmental Conservation.
On Wednesday, Manhattan BP Gale Brewer will attend the groundbreaking ceremony for the first academic building of phase 1 of the Cornell Tech Roosevelt Island Campus.
"Prospects for Election Reform in the Digital Age: One Year after the Presidential Commission on Election Administration," Wednesday evening at New York Law School: "Robert Bauer, Partner, Perkins Coie LLP, former Co-Chair of the Presidential Commission on Election Administration and former White House Counsel, Michael Ryan '95, Executive Director, New York City Board of Elections, and David Becker, Director, Election Initiatives, The Pew Charitable Trusts discuss the impact of technology on the voting process. Anthony W. Crowell, Dean and President of New York Law School, moderates the discussion."
Wednesday evening is also the "Riders Alliance Citywide Membership Meeting" - "We'll meet together with other Riders Alliance members and friends, eat dumplings, and strategize for a year of progress toward better public transit for all New Yorkers."
Thursday
Thursday's City Council schedule will include a meeting of the Committee on Housing and Buildings for an oversight hearing on "A Review of the 421-a Tax Benefit Program"; a meeting of the Committee on Parks and Recreation to review "the Annual report on non-governmental funding for NYC parks"; and a meeting of the Committee on Cultural Affairs, Libraries, and International Intergroup Relations regarding a bill in relation to "cultural liaisons."
Thursday's Joint Legislative Hearing in Albany will focus on transportation.
Thursday evening will see a "Public Meeting of the Contracts Committee of the Panel for Educational Policy" at Tweed.
City Council Member Costa Constantinides will give his State of the District address on Thursday evening in Woodside, Queens: "All are invited to join me as I give my State of the District address and discuss our upcoming priorities. I'll examine the successes of our neighborhood and my vision for our community."
According to Public Advocate Letitia James, "New York State Supreme Court Justice William Garnett will hear oral arguments in the Garner case on January 29th. The Public Advocate will continue to work to bring police and communities together and increase transparency and accountability in our justice system."
Friday and the weekend
Friday's City Council schedule is a meeting of the Committee on Juvenile Justice for an oversight hearing, "overview of the Division of Youth and Family Justice's services and programs for remanded youth."
Manhattan Community Board application deadline is January 30th (Friday); Brooklyn's is the 31st (Saturday).
The City's Department of Consumer Affairs is organizing "Earned Income Tax Credit (EITC) Awareness Day Phonathon" for Saturday, with several events throughout the city.
***
Have events or topics for us to include in an upcoming Week Ahead in New York Politics? E-mail Gotham Gazette executive editor Ben Max any time: This email address is being protected from spambots. You need JavaScript enabled to view it. (please use "For Week Ahead" as email subject).
***
by Rati Mukhuradze and Ben Max
@GothamGazette