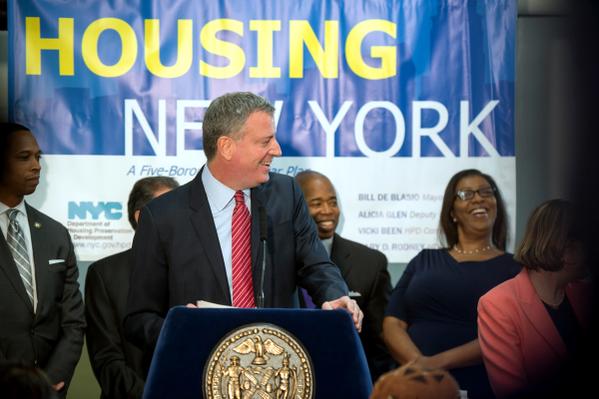 Mayor de Blasio at a housing press conference (photo: @BilldeBlasio)
---
Unsurprisingly, Bill de Blasio began the meat of his first State of the City speech, given Feb. 10, 2014, by saying, "the truth is, the state of our city, as we find it today, is a Tale of Two Cities - with an inequality gap that fundamentally threatens our future."
As de Blasio readies to give his second State of the City address, now 13 months into his mayoralty, he'll surely focus on ways in which his young administration has worked to shrink that gap and make one city from two. There is a lot to say: de Blasio has spent the first year-plus of his tenure rolling out many policies and signing several new laws aimed at lifting up low-income New Yorkers, city residents living in the margins or the shadows, and putting into place a type of progressive governing paradigm the city has not seen in decades. A symbol: de Blasio had each of his commissioners include narrative about how they are working toward greater equity in New York City in their contributions to the annual Mayor's Management Report (MMR).
Despite a homelessness count that continues to rise, persistent unemployment in certain neighborhoods, too many failing schools, and a significant racial divide in how New Yorkers see both the police and the mayor, de Blasio does indeed preside over a flourishing, safer-than-ever city that he is taking in a starkly more progressive direction.
On Tuesday morning at Baruch College in Manhattan, de Blasio will give his 2015 assessment of the state of New York City. In his speech, he'll take New Yorkers through his administration's early accomplishments, he'll explain how he's making a more fair city by paying greater attention to those struggling to get by, and he'll lay out at least a few new initiatives. "I want to portray the achievements of 2014," de Blasio has said in planning his speech, "and how they will grow in 2015."
"The State of the City address is really important," said Dr. Christina Greer, a professor of political science at Fordham University. "Any time the executive addresses the public" is significant, she said, "it's not just about recalling the work of the last year, but to talk about what the mayor plans to do in the coming year." Greer said that de Blasio will have to give indication of his 2015 policy priorities, as evident in his budget, the presentation of which is just over the horizon.
Budget experts, though, don't necessarily see the mayor as able to announce new, bold, pricey plans. "Constrained is a good word," Nicole Gelinas of the Manhattan Institute said of how to describe the fiscal state of the city. According to Gelinas, the municipal labor contracts that de Blasio's team negotiated, led by the deal with the teachers union, "harm our ability to do big, new things, whether transit projects or an expansion of pre-K to even younger years."
Gelinas was certainly willing to give de Blasio credit for his pre-K rollout to date, and for the fact that 2014 saw record lows in murders and traffic fatalities. "He has a right to take credit on those things because if they were up he would be blamed," she said. But, Gelinas wants to see major transportation infrastructure projects, and the dedicated funding to go with them - only a portion of which would need to come from city coffers.
But before he gets to the path ahead, de Blasio will surely take pains to recount his successes and the policies put into motion that he's betting his mayoralty and the city's future on. The administration has been promoting a blog it launched to track its accomplishments and releasing preview videos. The administration has told the Daily News that de Blasio will unveil a plan to end homelessness among the city's military veterans and de Blasio is calling affordable housing the number one priority of the year ahead.
"If I was one of his advisors, I would advise him to begin by saying the state of the city is strong," said Ken Sherrill, professor emeritus of political science at Hunter College. "After long periods of budgetary troubles, the city's in a good financial state. The economy is strong and the people are, by most measures, healthier, safer, better educated and, in some ways, wealthier than they've been in the past."
Sherrill, and other experts Gotham Gazette spoke with about the state of New York City ahead of de Blasio's speech, also expressed concerns, though. The city's education system is still functioning too poorly and inconsistently for many; the city is experiencing a stark racial divide; and affordability continues to hamper New Yorkers' quality of life.
"One of the major improvements has been that poor people finally have someone to listen to them," Greer said. De Blasio is not off to a perfect start, she said, "but if you ask any working class New Yorker, they'll tell you there's a marked change from the Bloomberg Era." De Blasio will almost certainly explain what he's done to improve the conditions of low- and middle-income New Yorkers. He'll likely explain that supporting and creating more opportunity for those living at the margins will continue to be his main focus.
Meanwhile, though, business is still booming in de Blasio's New York City, and the mayor may choose to highlight this fact. "The city economy is doing very well," said Kathy Wylde, President and CEO of Partnership for New York City. "There are more private sector jobs, lower unemployment, and general economic activity is high. We broke all records on tourism last year."
Wylde adds that the de Blasio administration has been responsive to business leaders' concerns and that she and other leaders in the business community are pleased to see de Blasio's recently begun push for a city business tax system that aligns with the State's. They want to see it pass as part of Gov. Andrew Cuomo's budget, and they are hopeful, she said. "The nature of these reforms makes New York attractive as the headquarter city for business."
Wylde also said that de Blasio has been strong on continued real estate development and that she has seen crucial work done by the administration in getting the City Council to adjust bills that could have an undue negative effect on business.
Several experts who spoke with Gotham Gazette pointed to the city's reliance on Albany and that de Blasio's speech may give some indication of what he is prioritizing in his 2015 dealings with the governor and state Legislature. De Blasio will testify in Albany on Feb. 25, but his State of the City could lay out his top priorities for state affairs: "housing, rent control and stabilization, education funding" were among the items mentioned by Gerald Benjamin of SUNY New Paltz. Gelinas mentioned transportation funding, and City Comptroller Scott Stringer has recently been addressing the need for the city to get it's fair share of funding from the capital.
On the state of the city, Stringer told Gotham Gazette that "Our economy has more private sector jobs than ever before; significant expansions of our transit network are coming online; and crime continues to reach all-time lows thanks to the efforts of the women and men of the NYPD. However, for all the good that is happening in the five boroughs, there are still far too many New Yorkers trapped in an affordability crunch as rents rise and wages fall."
"The challenge of this moment in New York's history," Stringer added, "is to commit to building an economy of shared prosperity for all." This is the message that the city's top elected officials - de Blasio, Stringer, Public Advocate Letitia James, and others - were elected on and have made a focus in their first year-plus in office.
On the economic opportunity front, de Blasio may in his speech recount policies around workforce development, support for small businesses, and, of course, universal pre-kindergarten. As Stringer notes, housing and wages are key elements of affordability, and de Blasio may reiterate a call for an even higher city minimum wage than Gov. Andrew Cuomo has recently called for (the governor's calling for an $11.50 per hour minimum in New York City by 2018). De Blasio will certainly discuss his administration's work on affordable housing, it is unclear how much he might touch upon the rent laws that must be addressed in Albany. Cuomo did not mention those laws in his State of the State speech on Jan. 21.
Meanwhile, there's no doubt the mayor will speak about crime rates and laud the NYPD. He'll talk in some way about bringing police and community closer together and most likely list some of the specific steps NYPD Commissioner Bill Bratton is taking, such as a retraining program focused on officer-civilian interactions. De Blasio has already asserted that the conversation on these issues has had a bit of a reset as he's waited out the storm of anger from police union leaders and members of the NYPD that followed a series of events including the killing of two officers on Dec. 20.
"He'll have to address unity and reiterate that he's the mayor for all of New York," Greer said. She added that de Blasio will need to make it clear "that he's still working for the community that elected him, while giving a nod to members of the police department that he's there to work with them and for them."
***
by Ben Max, editor, Gotham Gazette. Samar Khurshid contributed reporting.
@tweetBenMax
Note: this article has been updated.