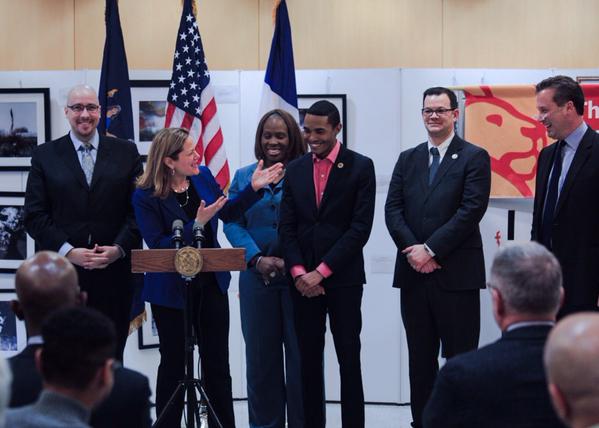 Speaker Mark-Viverito at a recent IDNYC event (photo: William Alatriste)
---
Council Speaker Readies to Give First State of the City Address After A Year Focused on Supporting City's Immigrants, Working Class
In her first year leading the New York City Council, Speaker Melissa Mark-Viverito took bold steps to protect and empower local immigrant communities. Key aspects of her agenda have dealt with law enforcement and immigrant services, creating a friendlier environment for the nearly 3 million foreign-born residents of New York.
Set to give her first State of the City speech on Wednesday at the Johnson Community Center in East Harlem, within her council district, Mark-Viverito has defined her early tenure as speaker with a focus on supporting and protecting the city's immigrants. Mark-Viverito herself came to New York City from Puerto Rico as a young adult.
Since taking the mantle, Mark-Viverito has teamed with her progressive council colleagues and close ally Mayor Bill de Blasio to enact immigrant-friendly policies. Some, like an expansion of paid sick leave legislation and the city's new municipal identification card program are aimed at a larger pool of New Yorkers, but are especially helpful to immigrants.
When Mark-Viverito gives her address, she is likely to highlight work the City has done to protect immigrants from deportation, provide New Yorkers with a new form of photo identification regardless of citizenship status, and enact a variety of other measures that are beneficial to immigrant and working class communities. In a clear indication of her priorities, Mark-Viverito has titled her speech "Lifting Every Voice."
In the first city budget of Mark-Viverito's tenure as speaker, the New York Immigrant Family Unity Project (NYIFUP), a pilot program launched in 2013 with $500,000 in funding, received nearly $5 million in 2014. The NYIFUP is a first-of-its-kind public defender system that offers legal representation to immigrants under the threat of deportation.
"The Speaker has been a tremendous champion for immigrant rights over the last year," said Steven Choi, executive director of the New York Immigration Coalition, citing her creation in September of a $1.9 million fund for legal defense, social and health services for unaccompanied minors. The Council partnered with the Robin Hood Foundation and the New York Community Trust, which pitched in half the fund, to help with cases that were being fast-tracked through the New York Immigration Court under a federal mandate.
The Council's local efforts were largely made in the face of federal policies adversely affecting local immigrant communities. In attempting to further assert home rule and insulate immigrant New Yorkers from federal action, Mark-Viverito moved two pieces of legislation through the Council which significantly reduced cooperation between local law enforcement and the Immigration and Customs Enforcement (ICE). Mark-Viverito expressed pride about these two bills in an interview with Gotham Gazette the November night they were signed into law.
The ICE bills effectively directed the NYPD and the Department of Corrections to no longer honor detainer requests that can lead to unnecessary deportation of immigrants unless the requests were backed by warrants issued by a federal judge.
"She's been a real leader especially in the fight to stand up to unjust federal policies," said Alisa Wellek, co-executive director of the Immigrant Defense Project. "Thousands of New Yorkers were being funnelled into detention and deportation through city jails. She took a stand years ago [against ICE] and has been able to follow through on the vision. She helped the mayor enact a much broader and protective policy."
Wellek says, though, that with evolving immigration enforcement policies, the City has to remain vigilant. "Historically, Immigration Enforcement has been good at rebranding their programs in cities that have pushed back across the country," she said. Recently, the Department of Homeland Security changed its Secure Communities program (which relies on biometric data collected through local and state cooperation) into the Priority Enforcement program.
"Our hope is that the Speaker and the Council will continue to push back against that," Wellek added. A more specific measure Wellek hopes the City will enact is removing immigration orders from criminal databases - orders which routinely show up during arrests for minor crimes as part of so-called broken windows policing and lead to deportations of immigrants.
Mark-Viverito has looked to set trends in New York City that can be modeled elsewhere, perhaps even federally. Days ahead of President Obama's November executive order on immigration, which aims to ease the deportation burden, Mark-Viverito sent an open letter to the president calling on him to take "broad Executive Action to provide desperately needed relief" for immigrants.
She called for broad expansion of the Deferred Action for Childhood Arrivals (DACA) program, reform of ICE procedures, and relief for parents of U.S. citizens and those who have lived in the U.S. for 10 years. She stated, in her letter, "It is apparent that Congress will not act on comprehensive immigration reform. This failure has had tragic consequences across the nation and particularly in New York City. Families, the very fabric of our community, have been needlessly torn apart, children are suffering, and we've lost our moral compass."
In November, Mark-Viverito told Gotham Gazette that she is focused on "mak[ing] New York City a model of how government can work on behalf of those we represent." In Tuesday's speech, expect Mark-Viverito to follow a typical 'state of' script, touting recent accomplishments and outlining ongoing and upcoming initiatives. With the mayor having just presented his preliminary budget for the next fiscal year, expect Mark-Viverito to highlight aspects of the Council budget that she is proud of and plans to enhance. While Mark-Viverito's office declined to comment on the speech ahead of time, the speaker did tweet a word cloud preview in which words like "justice," "rights," and "NYCHA" are highlighted.
NYIC's Choi hopes that the City will provide support to organizations that help immigrants once the president's administrative relief orders kick in over the next few months. Mayor de Blasio has already dedicated funds and is working with city leaders on making sure that the City is indeed ready to handle the effects of the new mandates. Outreach and access to healthcare for immigrants are key priorities, Choi said.
Choi also spoke highly of efforts Mark-Viverito has been instrumental in to engage immigrants with their local government. He is hopeful that with more immigrants feeling secure to come out of the shadows, this will only increase. "There's also a real chance to break down barriers to civic engagement. Through participatory budgeting immigrants can have a voice in how the Council's money is spent," he added.
***
by Samar Khurshid, Gotham Gazette
@samarkhurshid