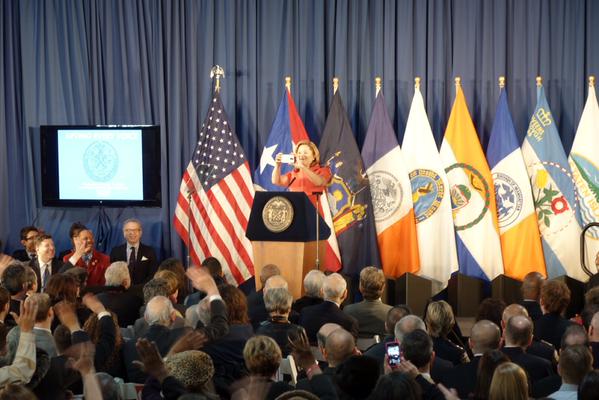 Speaker Mark-Viverito snaps a phot of the crowd (photo: John Kenny via Twitter)
---
In her first State of the City address, City Council Speaker Melissa Mark-Viverito aggressively doubled down on the progressive agenda she set in her first year in the role. Speaking from an East Harlem NYCHA development in her council district, Mark-Viverito called for greater attention to those living in public housing, announced plans to increase funding to help tenants facing eviction and New Yorkers who are arrested and cannot afford bail, and promised greater "citizen empowerment" through expansion of participatory budgeting.
The speaker outlined plans to create an Office of the Civil Justice Coordinator, charged with ensuring that all New Yorkers who need legal representation get it, and an Office of Labor to coordinate efforts around protecting workers from wage theft, instituting paid family leave, and proper enforcement of labor laws generally. She promised a renaissance for the city's mostly-defunct Human Rights Commission, with an infusion of cash to help it fill its mandate to enforce the Human Rights Law that protects against discrimination.
Jumping back and forth between English and Spanish, the bilingual Mark-Viverito, a native of Puerto Rico, appeared confident and mostly at ease, reading from teleprompters in the first major televised speech of her tenure as speaker. Her address was entitled "Lifting Every Voice" and its content showed her dedication to supporting and empowering the most disadvantaged New Yorkers. She expressed particular pride over measures that the Council took in 2014 to protect immigrants from deportation and set a program in motion to provide all New Yorkers access to a city photo identification.
The speaker called for a "higher head count" for the NYPD in order to "carry out more community policing," saying that the Council is again fighting for an additional 1,000 police officers to be funded through the budget. This sets the stage for a second straight year of negotiations with the mayor, who again did not include the funding in his recently presented fiscal year 2016 preliminary budget. Additionally, Mark-Viverito said criminal justice reforms must be made: "we cannot continue to lock up those accused of low level, non-violent offenses without recognizing the dire, long-term consequences to them and to our city," she said. Her proposal is to expand the use of summonses and desk appearance tickets as opposed to arrests, and to "look for areas where it makes more sense to impose a civil penalty, rather than a criminal one."
Not a condemnation of so-called broken windows policing, Mark-Viverito instead recommended to alter the consequences of some law breaking. Shifting some offenses from criminal to civil penalties is something that many criminal justice reformers have called for and Mark-Viverito's statement was immediately lauded by advocates.
It was a wide-ranging speech, very different from Mayor Bill de Blasio's State of the City address given last week, during which he focused almost exclusively on his housing agenda. Mark-Viverito dove into education initiatives, drawing wows with an announcement that Microsoft had agreed to provide free Office software to students and their families, as well as to teachers, who will also receive professional development training from the company. Perhaps more connected to much of the rest of her speech, she also called for key changes to the city's school discipline code, including to "B21," which has made 'disobeying authority' result in suspensions for many students, especially black and Hispanic boys. Removal of B21 has been something advocates have long called for, with high hopes that the new mayor and schools chancellor would act, but they have not yet released a new code.
To be sure, there is much, like the school discipline code and Mark-Viverito's call for minimum wage home rule, that the speaker dealt with but is not under her or her council's control. But, she outlined several proposals that largely are, and with a friendly mayor plenty of what she is calling for on the city level is likely to move through the Council and across the mayor's desk as needed.
***
by Ben Max, editor, Gotham Gazette
@tweetBenMax
Note: this article has been updated.