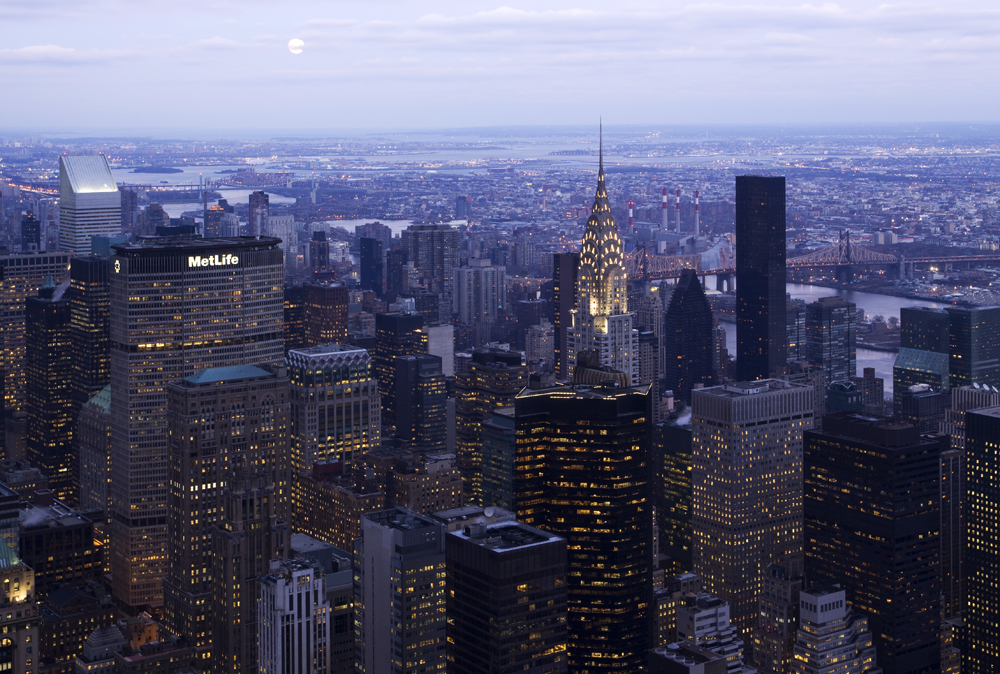 Manhattan (photo: wiki commons)
---
After the Bloomberg administration's plans were rejected in late 2013, the next phase of planning for the redevelopment of East Midtown has focused on the public benefits, especially infrastructure, that are integral to complementing the large-scale commercial growth at the heart of the project.
An ambitious plan to rezone and upgrade 73 blocks around Grand Central Terminal in Manhattan, a version of which died in the waning months of Mayor Michael Bloomberg's 12-year tenure, has been back in the works since September and, in a new iteration, is expected to be approved by spring.
East Midtown rezoning has been a contentious issue ever since it was fast-tracked by the Bloomberg administration only to be publicly rejected by the City Council, led by then-Speaker Christine Quinn and Council Member Dan Garodnick, a Democrat whose district includes much of the East Side. Bloomberg was forced to withdraw the land use application, which would have failed to pass in the Council without Garodnick's seal of approval.
In a March editorial for this publication, Garodnick outlined his demands. "The proposal should be for a vibrant 21st Century business district, and not an isolated set of new skyscrapers, disconnected to the world around them," he wrote. He also insisted that any future development should improve pedestrian and transit circulation, open space, and "be mindful of the historic fabric of midtown and consider which important buildings should be preserved."
With Mayor Bill de Blasio in office, rezoning negotiations were revived in a two-phase approach: the first phase will rezone Vanderbilt Avenue between 42nd and 47th Streets, allowing developers to apply for permits to build beyond existing zoning rules and to purchase air rights. The second phase is being led by the East Midtown Steering Committee, co-chaired by Garodnick and Manhattan Borough President Gale Brewer, which is looking at how the rezoning of the greater East Midtown area should proceed.
The Steering Committee, which meets every two weeks, includes around ten different stakeholders representing the City, the East Midtown community, the real estate industry, labor unions, and local businesses that stand to benefit from the proposed rezoning. Negotiations are being led by John Shapiro, chair of Pratt Institute's Graduate Center for Planning and the Environment, along with a team of facilitators. The committee is set to meet again on Tuesday, Feb. 24, and the elected officials at the helm told Gotham Gazette that a reimagined process is showing progress.
In a sign of the more aligned approach that has marked the relationship between the de Blasio administration and the City Council, de Blasio's Chair of City Planning Carl Weisbrod, stated in May that the steering committee "exemplifies our approach to ground-up community planning that coordinates new development with appropriate infrastructure and city services."
Gotham Gazette sought comment from Shapiro and local Community Board representatives but requests were directed to the offices of Garodnick and Brewer.
Garodnick, seen as the key decision-maker in the process because the area falls within his district, is more confident of the new, more collaborative approach. It has proved itself already with regard to One Vanderbilt, a megatower proposed by SL Green Realty to be built across from Grand Central Terminal.
"The Vanderbilt rezoning provides more security to the public than the past proposal did because there is no as-of-right development," Garodnick told Gotham Gazette in an email. "The public will have a chance to review and approve or disapprove all development projects in the corridor," he explained.
The intended economic benefits to the area are far-reaching. Most buildings in the largely commercial district date back to World War II, with antiquated infrastructure in and around them. New rules will establish standards to bring the buildings up to date, with higher environmental efficiency requirements. New, modern office space will be created. The plan will aim to create thousands of middle class jobs, broaden the city's tax base, and also include upgrades to the transit system with improved access to Grand Central Terminal and enhancement of public space.
In all, according to City estimates, nearly 10 million square feet of commercial space would be revamped and 4.5 million square feet would be added.
One of the key stipulations, which Garodnick stressed in testimony before the City Planning Commission earlier this month, is ensuring that public works are completed before new buildings are occupied - making it clear that community and public interests are paramount. The Commission was hearing testimony on the Vanderbilt Corridor rezoning and the proposed One Vanderbilt tower, which has become a sticking point between SL Green Realty and Andrew Penson, the owner of Grand Central.
Although buildings in the East Midtown area in question are mostly commercial, residential development has also not been left off the table. With the mayor's focus on affordable housing, evidenced by his making it the theme of his recent State of the City speech, it is likely that certain portions of new living space could be set aside as affordable. Garodnick acknowledged that the Steering Committee could consider allowing development of mixed-use buildings, with both commercial space and residential units.
Borough President Brewer, who co-chairs the committee with Garodnick, said, "It's still to be decided whether it'll be commercial or residential. I'm sure there will be a push for residential development."
Brewer has already given her conditional approval to an application for zoning text amendments regarding One Vanderbilt after she negotiated a slew of added community benefits with SL Green. As part of the agreement, announced on January 29, SL Green will invest funds in the public plaza on Vanderbilt Avenue, contribute to its maintenance, and ensure that it is more public-friendly, with benches and bathrooms. They also agreed to pull back retail space at the planned 42nd Street/Vanderbilt corner, making the subway entrance more prominent.
Planning Commissioner Carl Weisbrod believes the development of East Midtown is essential to the continued economic growth of New York City. Addressing members of the Real Estate Board of New York at their annual Commercial Holiday Luncheon in January, he said, "It is the engine of our economy, and the office stock is too old to support that," he said, according to Real Estate Weekly.
At the heart of the plan is the long-term view of creating a world-class commercial district. Announcing his intention to move forward with the rezoning plan in May, 2014, Mayor de Blasio said, "We are going to keep New York City competitive, and do it through strategic investments and ground-up planning. These are the kind of policies that won't just pay off today, but will lay the groundwork to keep districts like east midtown thriving and attracting new business for decades to come."
As the Steering Committee continues to hammer out the details, the final recommendations will be decided by consensus and then presented to the Department of City Planning, which has been supporting the committee throughout. The plan, once approved, will head to the City Council where it will likely pass, considering Garodnick's role in its formulation. A hearing could very well be on the docket come spring, bringing a process that has been in the works for more than three years closer to resolution. As Weisbrod stated in May, "We believe the result will truly be a Greater East Midtown."
***
by Samar Khurshid, Gotham Gazette
@samarkhurshid
Note: this article has been updated to remove mention of a District Improvement Fund, which is not part of the current planning, but had been part of prior negotiations, and to expand the time frame during which a City Council hearing is estimated to occur.