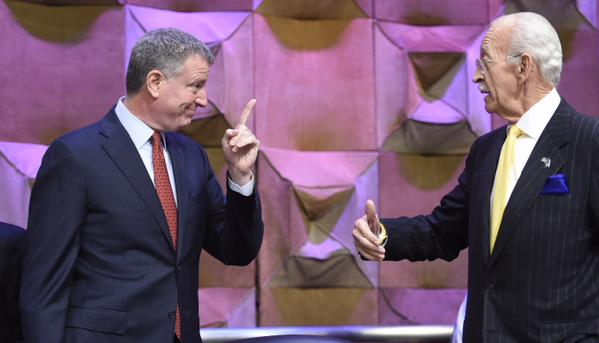 Mayor de Blasio in Albany on Wednesday, with AM Herman Farrell (photo: @SKIPSCAM)
---
Speaking to state lawmakers "against the backdrop of a crisis," New York City Mayor Bill de Blasio gave his response to Gov. Andrew Cuomo's fiscal year 2016 budget proposal in Albany on Wednesday.
During a three-and-a-half hour testimony, de Blasio critiqued the governor's proposals and identified what he sees as the three main areas in which New York City most needs the State's funding help: education, affordable housing and homelessness, and infrastructure.
Like his mayoralty in general, de Blasio's testimony to the joint fiscal committees of the state Legislature was framed in terms of a fight against inequality, the defining crisis of our time, as the mayor says.
"We need to address this crisis and create a state and a city with opportunity for all," de Blasio said in delivering remarks, which were followed by a question-and-answer period with legislators.
In essence, de Blasio was in Albany to do two things: one, give his take on Cuomo's proposals to state legislators who will be lobbying their leadership as budget negotiations with the governor heat up; and two, explain what he sees as New York City's major financial needs. Last year, the mayor largely focused on securing money from the State for his pre-kindergarten program. This year, he cast a wider net.
De Blasio also took a harsher tone than last year, which was his first as mayor. On Cuomo's budget, which outlines an ambitious 2015 policy agenda, the mayor gave mixed reviews, though when he directly referenced the governor he was largely full of praise. All told, de Blasio directly spoke of the governor 18 times when giving his prepared statement and on 12 of those occasions he thanked Cuomo or gave his policies outright compliments. Examples of this include around Cuomo's push to 'raise the age' of criminal responsibility in New York from 16 to 18 years old and the governor's support of mayoral control of schools.
Twice de Blasio gave the governor some credit, but said that he was not going far enough - one example being de Blasio's statement that he is pleased the governor is including renters in his property tax relief proposal, but that the "level of benefit it provides to residents of New York City should be raised."
And on four occasions de Blasio gave clear criticism of the governor's plans. His harshest words came around a Cuomo proposal to cut aid for homelessness prevention. De Blasio said legislators "should reject an ill-considered proposal in the governor's budget for homeless programs: a 10% New York City-only cut for Emergency Assistance for Families, which would effectively mean a $22.5 million cut to our homeless prevention programs. That money would provide shelter for 500 families for a year."
De Blasio also directly opposed or criticized Cuomo's call for increasing the weight of standardized testing in teacher evaluations, his push to allow state takeover of the most struggling schools, and for including far too little MTA funding in his budget.
As de Blasio outlined his own priorities around fighting inequality and areas in which he says the City needs the most funding attention from the State, other implicit differences with the governor were clear. For example, de Blasio is pushing Cuomo and other state lawmakers to significantly increase education aid to the city.
De Blasio repeatedly implored members of the state Senate and Assembly to push for fair funding for New York City and to treat favorably key pieces of policy essential to the mayor's agenda. To underscore his points, the mayor referred to a jarring statistic: in New York City, 46 percent of the population is at or near the poverty level.
To reduce sky-high poverty and homelessness and to improve opportunities available to all New Yorkers, de Blasio says that the City - with help from the State - must improve its education system and ensure the availability of affordable housing.
To accomplish these major feats, de Blasio said that the State must come through with $2.6 billion in additional education funding that the City is owed from the Campaign for Fiscal Equity ruling and an end to the policy of vacancy decontrol of rent stabilized apartments. He also called for $32 million in increased state aid for subsidized housing for the formerly homeless or those highly at risk of not being able to afford their home - this request is separate from de Blasio's warning that the $22 million cut to homelessness prevention must not be made.
The mayor also pushed more state aid for the city's public housing, saying, "We are asking the State come up with $300 million for health and safety in NYCHA developments – which the City would match."
Citing several ways in which his administration has moved to improve the education system in New York City, de Blasio asked state officials to make mayoral control of city schools "permanent," rather than subject to renewal authorization every few years. Cuomo has called for a three-year extension of mayoral control - the current policy expires this year.
As de Blasio spoke to members of the Legislature, he was, of course, also addressing the governor (who, for much of de Blasio's testimony was holding his own public event, a cabinet meeting). While Cuomo was not present for or tuned in to de Blasio's remarks, he is sure to learn of the mayor's statements. The two were said to be meeting on Wednesday, but it was unclear exactly when and where that was happening.
When discussing education, de Blasio sought to appeal to Cuomo and other reform-minded officials in explaining how the City has moved to push incompetent teachers out of the profession and turn around failing schools. But, de Blasio expressed a difference of opinion with the governor's education proposals by saying that increasing the importance of standardized tests is counterproductive and in rebuffing the governor's call for the State to take over the city's most troubled schools. On the former, de Blasio said that "standardized tests should not be the largest part of a full evaluation of a student or a teacher;" on the latter, he declared that mayoral control makes very clear who is accountable for those schools and that in 2017, city voters will give their assessment of his work at the ballot box.
Notably, City Comptroller Scott Stringer, who testified immediately after de Blasio, told legislators that he favors mayoral control of schools, but that he also wants to see a tweak to the law in which the city's Department of Education (DOE) would be held to the same contract procurement standards as other city agencies, thus allowing his office greater oversight. "For too long, the DOE has answered to no one when it comes to procurement," Stringer said. "With billions of dollars at stake, cutting corners on procurement is bad for taxpayers and bad for our children."
Stringer also had harsh words for the governor's tying an increase in school aid for districts around the state to his education reform policies, calling it "bad budgeting."
De Blasio and Stringer both praised Cuomo for including the DREAM Act in his budget - both have championed the policy that would allow students in the country illegally to access college tuition aid. The governor has tied the act to another policy, a tax credit for education-related donations, which is meant to make the package appeal to Democrats who want to see the DREAM Act passed and Republicans who favor the tax credit.
Both the mayor and the comptroller are calling for a larger increase to the minimum wage than the governor outlined in his budget, even though Cuomo has proposed increasing it at a faster rate than the current law dictates. De Blasio called for a "formal indexing model" and local control, and Stringer echoed the call for New York City to set it's own wage and said that that wage should soon be $15 per hour.
De Blasio told legislators, "The current minimum wage simply does not do enough for workers in New York City. That is why, with your help, we must raise New York City's wage to more than $13 per hour in 2016. And index it to inflation, which would bring us to a projected $15 per hour by 2019." He did not reference Cuomo's less ambitious model.
In closing, de Blasio asked his Albany colleagues to join him on his crusade. "Through the choices you make about spending on education, housing, and infrastructure," he said, "you can reduce inequality and increase opportunity."
***
by Ben Max, editor, Gotham Gazette
@tweetBenMax