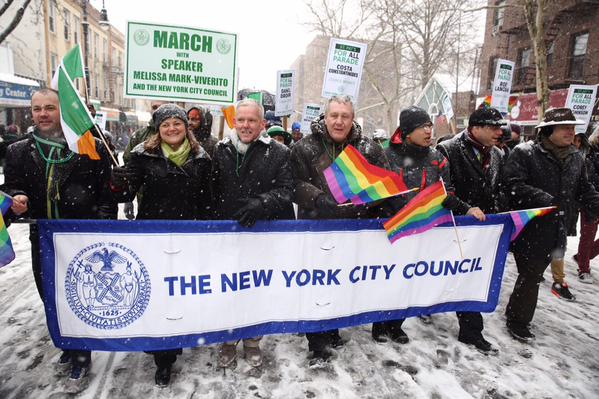 Speaker Mark-Viverito & council colleagues march (photo: William Alatriste)
---
For years New York City has led the country with one of the most robust human rights laws on record. New Yorkers are protected against discrimination in employment, housing, and public services based on race, creed, age, citizenship status, gender, marital status, and sexual orientation, among other qualities.
As with any law, enforcement is the key though. For the city's Human Rights Law, that task falls on the Human Rights Commission, an agency on the front lines in the battle against discrimination in New York City. New Yorkers can file complaints to the commission if they feel they are being discriminated against. The agency has the power to levy fines and file criminal proceedings against those who discriminate. Even without a specific complaint, the commission also has the power to proactively root out discrimination through its own investigations.
For low-income New Yorkers and those who cannot afford an attorney, the Human Rights Commission is often the only avenue to seek justice against those who break the Human Rights Law. But what was once a vigorous agency has been whittled to a shell of its former self by two decades of budget cuts. The Human Rights Law continues to be strengthened through numerous pieces of City Council legislation, but funding and staffing of the Commission has not followed suit.
In fiscal year 1991 the Human Rights Commission had a staff of 241 and a budget of $9.5 million, $7.2 million of which came from the City, according to budget documents. The adopted budget for the current fiscal year (2015) funds a staff of just 66 with a budget of $4.5 million. The majority of that funding comes from the federal government, with the City putting in just $1.1 million.
"[The Council] hadn't really realized that the Commission has sat there and lost 90 percent of its funding since the Dinkins administration," Amy Taylor of Legal Services NYC said in a recent phone interview. "Here they are strengthening the law, but there is no way to enforce it."
The City Council is once again eyeing changes to the Human Rights Law, but this time, funding and staffing appear to be coming with it. In her State of the City address on Feb. 11, Council Speaker Melissa Mark-Viverito vowed to add $5 million in funding and double the number of attorneys and human rights specialists at the Commission.
"We're going to put teeth in a Commission that has been ineffective for too long," Mark-Viverito said in her speech. "We will make the Commission accountable for prosecuting cases, going after the worst offenders through proactive investigations and spot testing in areas such as employment and housing discrimination."
The speaker plans to add funding for 65 positions: 40 attorneys and 25 human rights specialists. Whether that money will come from the Council's portion or the general City budget will be decided during budget negotiations. A final fiscal 2016 budget is due by the end of June. On Tuesday, the City Council will hold an oversight hearing to examine the Human Rights Commission and discuss several related bills.
"It is incredibly important that if we are going to have this robust Human Rights Law we have an agency that enforces it and makes it a reality for people," Taylor said. "We are thrilled with the new funding announcement. It really shows a commitment on the part of the speaker to turn the agency around."
Donna Lieberman, executive director of the New York Civil Liberties Union (NYCLU), agrees. "The Human Rights Commission has enormous potential, but it has been underfunded and sabotaged for decades," she said in a recent interview. "The speaker's commitment to get this agency funded is a big deal."
With the new funding for staffing, advocates hope to resuscitate an agency that has not taken much action in recent years. In 2013, the Commission received 4,763 inquiries, resolved 591 filed cases, and resolved 199 allegations through "pre-complaint intervention."
It should be noted that the resolved cases were not likely filed in the same year. The average age of the cases in 2013 was 320 days, an average that has fallen each year for the past 12 years, according to council testimony by former Human Rights Commission Commissioner Patricia Gatling in February, 2014.
Out of 602 cases in fiscal year 2014, only 48, or eight percent, resulted in a probable cause determination. "Given how strong the New York City Human Rights Law anti-discrimination protections are, it is striking how many cases are dismissed and how few individuals actually have their cases prosecuted by the Commission," the New York City Human Rights Law Working Group wrote in its March 2014 white paper, having noted a similarly low percentage in 2013.
Taylor, whose organization is a part of the working group, and other advocates who spoke with Gotham Gazette point out the Commission's focus has been on outreach, not investigations.
"As a practice we, and our colleagues in the legal services world, never refer people there because we don't feel confident their case will be appropriately investigated and handled," Taylor said.
The community based technical assistance performance measures, which are used to grade the Human Rights Commission, jumped from 17,297 in fiscal year 2012 to 53,426 in fiscal year 2014, according to the most recent Mayor's Management Report.
Overall community engagement jumped from 18,915 in fiscal year 2012 to 54,986 in fiscal year 2014. Cases filed went from 335 to 497 during the same time period. The Commission added two staff attorneys in 2013 and its cases closed went from 440 to 602 between fiscal years 2012 and 2014.
The new funding for the Commission will be accompanied by strong new leadership. On Nov. 24 Mayor Bill de Blasio appointed Carmelyn Malalis as the new chair of the Human Rights Commission. He also named eight new commissioners. For the previous decade Malalis worked as a partner at Outten and Golden LLP and served as the co-chair of the firm's LGBT Workplace Rights and Disability and Family Responsibilities Discrimination practice groups. She is an accomplished civil rights litigator and is expected to bring her commitment to the civil rights statute with her.
Malalis is expected to lead the Commission in much more proactive enforcement than her predecessors.
"CCHR plays a critical role in protecting our essential civil rights and improving community relations among New Yorkers across the five boroughs," Malalis said in an emailed statement. "Our Commission is firmly on its way toward becoming an even more robust enforcer of our Human Rights Law, and I look forward to working with partners and advocates to safeguard the rights and dignity of every New Yorker."
***
by Kristen Meriwether, Gotham Gazette
@MeriwetherK