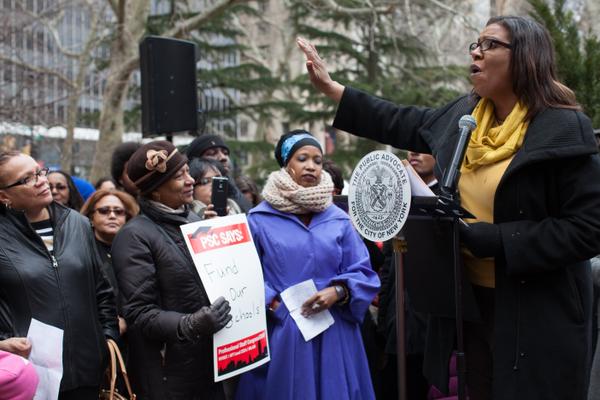 Public Advocate James at a recent rally (photo: @PA_Outreach)
---
During Women's History Month, the New York City YWCA holds weekly discussion and networking events, leading to a celebration honoring a "YW Woman of the Year." This year's theme is Leadership and Generosity: A Call to Action and the honoree, to be recognized at the celebration Tuesday night in Manhttan, is Public Advocate Letitia James. According to a YWCA spokesperson, James is being honored for "her hard work towards gender and racial equity" and because she "is a shining example with her tireless efforts to advance the agency of women and girls in New York City."
No individual better epitomizes the progress made by women of color in New York City than Letitia "Tish" James. The first woman of color elected to city-wide office, James is a force. She is a powerful public speaker with a commanding physical presence, including a big, broad smile that she flashes judiciously. A labor-friendly attorney, James is also a proud Brooklynite and former City Council member whose 2013 election to the office of public advocate was met with widespread celebration due to its historic nature.
Since becoming one of New York City's three publicly-elected city-wide officials in January of 2014, she has shifted the focus of the office toward her legal background and identified new causes to champion in fulfilling the role's mandate - for example, she filed suit to unseal documents in the Eric Garner grand jury case and she has taken on the issue of sexual assault on college campuses. Her advocacy has at times brought her into direct conflict with her allies, including Mayor Bill de Blasio, though some say James has not been critical enough of her friend and fellow Brooklynite, the mayor. James has tended toward taking on the administration in court over calling out the mayor individually, a different tack that that taken by past public advocates. Among other areas of disagreement, the public advocate has sued the de Blasio administration over school co-locations and in an effort to open up school leadership meetings to the public.
As February rolled into March and Women's History Month follows Black History Month, the city has been celebrating the legacies of black leaders and women leaders. Like no other public figure in New York City, James is a symbol of this history, as well as the present, and the triumphs and struggles of specific constituencies and demographics.
But James hopes, and strives, she says, to be more than just a symbol. "Obviously its an honor and a privilege that New York elected me," she said in a recent phone interview with Gotham Gazette. "There's a historical sentiment to that victory. However, that means nothing. It won't be more than a historical footnote if I don't do anything as Public Advocate."
Since her election, which she won after a tough Democratic primary culminating in a run-off, James has worked to redefine the office of Public Advocate - held prior to her, for one term, by de Blasio. She's also been able to expand the staff of the office due to additional funds allocated by the mayor in his first budget.
Coming from limited resources herself, James' political path has been especially challenging, and she has called for campaign finance reform as a means to level a political playing field dominated by men with access to deep pockets. "For me, the challenge was raising funds, and that continues," she said. "That's unique to women. They are mostly involved in pink collar industries, not white collar ones that pay more. I would not be in this position but for campaign finance reform and the support of working class people." Even then, James says she was outspent three to one in the primary. "But it kept me in the game," she says of the City's system of public matching funds and spending caps.
An active proponent of the "Why She Ran" campaign launched last year by the Working Families Party (WFP) to provide a push to women considering running for public office, James seeks to contribute to a pipeline of those who decide to do so. The WFP has organized a host of events again this year and James will be joining forces with electeds, advocates, and activists to encourage more women to participate in the political arena. James was first elected to the City Council on the WFP ballot line and is a fixture at its rallies and other events - and it at hers, such as at a recent rally at City Hall calling for fair school funding from the State and decrying Governor Andrew Cuomo's education reform proposals, which are vehemently opposed by teachers unions.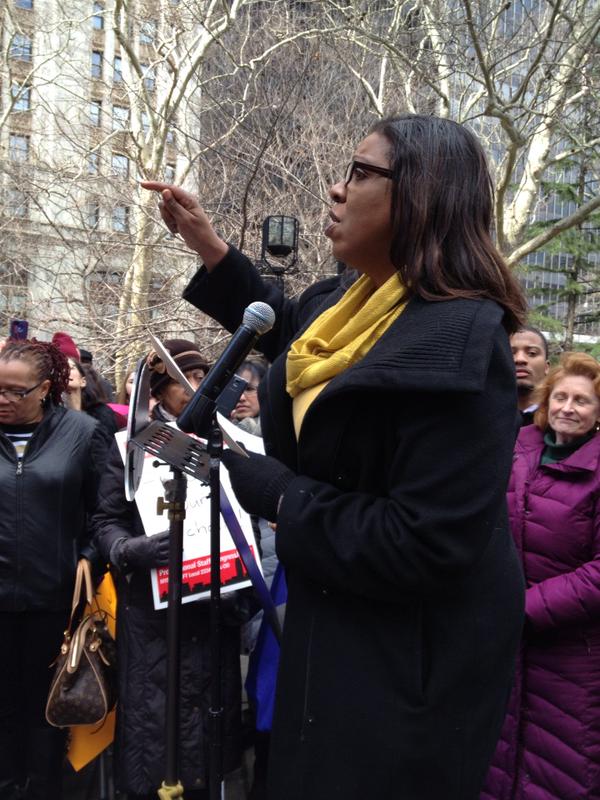 James at Sunday's rally (photo: @leoniehaimson)
Even while she's receiving awards, as she will Tuesday evening, James' attention in the next weeks and months, she said, will be on broad, sweeping issues that affect all New Yorkers and particularly women. "We're going to keep our heads down and raise issues on the ground," she said. In forums across the city, James has promised to discuss issues of pay equity, child care, student debt, sexual assault on college campuses, criminal justice reform, jobs, education, and the "feminization of poverty in New York. There are more women living in poverty now than ever," she said.
"I'll be going around college campuses and meeting young people so they can recognize that politics is the way to effect change in the system," James said. "As more women see elected officials who happen to be women, they'll be inspired by the advocacy of this office to join political office."
James has just finished a five-borough series of "Mayoral Control Forums," in which she's led community discussions about how New Yorkers want to see the power over the school system allocated. While that will ultimately be a decision made at the state level, James is doing what she often does, pushing a conversation forward - the community recommendations that her office aggregates will be presented to lawmakers.
Her tenacity and focus on her constituents has won her respect in many quarters. "I think it's great every time that we break a glass ceiling and somebody makes history," said new State Assembly Speaker Carl Heastie when asked, given his own history-making, to discuss James'. Heastie is the first African-American to hold the post of Assembly Speaker, which he attained in early February. "But as I've said," Heastie continued, echoing James, "just making history is not the most important thing, it's what you do once you get elevated to that position."
Praising James for "doing a wonderful job," Heastie said he hopes that one day "people say the same thing about me."
Other elected officials see James as a role model. Bronx City Council Member Vanessa Gibson, a woman of color herself, looks up to James' example. "[She made] history, but for us it's just an affirmation that women are changing the game and we are stepping up to leadership roles that were never planned nor designed for us," Gibson told Gotham Gazette. "When I look at Tish James and all that she stands for - fairness and equity, always fighting against inequities and fighting against the stigmas, the statistics that are used to define New Yorkers and Bronx residents - it's really an honor to work with her, to call her a friend, to call her my big sister."
James with young constituents (photo: @PA_Outreach)
James has emphasized that she is a representative for all New Yorkers, not just one or two demographic groups that she may fall into or certain neighborhoods. Council Member Julissa Ferreras believes that approach is requisite for the city's progress.
Ferreras is the first woman and person of color to chair the Council's powerful Finance Committee. "Having Tish James in city-wide office shows that we are making our way towards a more inclusive city government," Ferreras emailed. "I have also been welcomed into communities that previously were not open to women and people of color. Still, there is room for improvement and the most practical way I see of improving is by paying careful attention to hiring practices. Government officials appoint hundreds of individuals in their offices — making sure those individuals accurately represent their constituents is a first step."
It is here that James hopes she will leave her mark, in encouraging political participation not only of women and people of color, but all New Yorkers, as artificial ceilings eventually become remnants of the past. "I would hope that we get to the point in history that there are no longer any barriers to break, and qualifying an election as being 'the first' is no more," she said. "It's important that individuals, whether they are people of color or not, recognize their position to effect change. The power lies in their hands, to be the change that so many people are protesting for."
New York Representation, by the Numbers
It is an unfortunate fact that women and people of color are underrepresented in elected office in New York, which is but a microcosm of the representational imbalance in American politics.
At the state level, there are only 51 women legislators out of 213 members of the State Senate and State Assembly. New York's 23.9 percent representation of women falls marginally below the national average of 24.1 percent, according to the National Conference of State Legislatures. Although that is an increase in the state over 2014, when the number stood at 45, it is the same as five years ago.
The New York State Black, Puerto Rican, Hispanic and Asian Legislative Caucus has 53 members, of which 18 are women (meaning 8.4 percent of the Legislature is women of color).
More locally, the New York City Council has 15 women members, making up 29.4 percent of the 51-member body. The Council's Black, Latino and Asian Caucus makes up more than half the body, 26 of 51 members; and of course Melissa Mark-Viverito is the first woman of color to be elected Speaker - she is Puerto Rican.
City-wide History-makers
Tish James may be the first woman of color to hold the post of public advocate, but she is not the first person of color or the first woman to hold city-wide office. In all, there have only been four politicians of color to hold one of the three current city-wide elected offices in New York, and only four women - James holds each distinction.
Betsy Gotbaum was Public Advocate between 2002 and 2009, serving two terms. Before her, Carol Bellamy held the post when it was still termed President of the City Council, from 1978 to 1985. Besides them, Elizabeth Holtzman was Comptroller between 1990 and 1993, the only woman to ever hold that position.
David Dinkins is the only person of color to ever be elected Mayor - he is African-American. The only other politicians of color elected city-wide are Comptrollers William Thompson (2002-2009) and John Liu (2010-2013).
Could Letitia James become the first woman and first woman of color to be Mayor? Stay tuned.
***
by Samar Khurshid, Gotham Gazette
@samarkhurshid