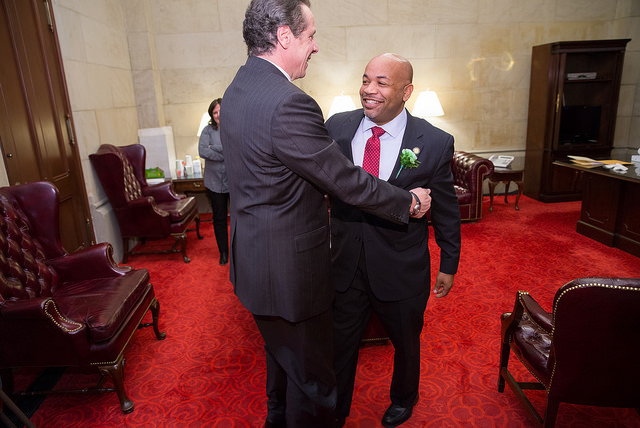 Cuomo and Heastie embrace over ethics deal (photo: Governor's Office via flickr)
---
The Cuomo administration and the state Legislature are doing battle on a variety of fronts, perhaps none more intense than that over ethics reform. Last week, the administration launched a two-pronged attack in response to criticism of its 90-day email deletion policy and over a push for increased financial disclosure by administration employees and their significant others.
The pushback came during Sunshine Week, when state government is supposed to be focused on transparency and accountability. And while there were several announcements related to efforts to let more sunshine into government, the week was dominated by bickering. Cuomo's office was often focused on deflecting attention back onto the Legislature with surprisingly ugly attacks, even by Albany standards, rather than promoting transparency.
"Instead of sunshine we have an eclipse," said Blair Horner of the New York Public Interest Research Group (NYPIRG). "This is a Sunshine Week where the major players aren't even acknowledging the week with major initiatives. Instead we are fighting about whether the governor should automatically delete email after 90 days and disclosure for girlfriends."
Past Sunshine Weeks have seen the announcement of major open-data portals and other transparency initiatives. To be sure, the governor is pushing his ethics reform package, and even announced a two-way deal with the state Assembly on measures to require lawmakers disclose their outside income, verify their presence in the capital to collect per diems, and more. But, controversy over the email purge and the limited nature of the ethics reform plans have often kept the governor and other legislators on the defensive.
Cuomo responded to criticism of his email policy and new bills to require longer retention of government emails by insisting the Legislature must agree to be subject to FOIL for him to consider making changes. When pushed by Attorney General Eric Schneiderman, Cuomo did declare that he is ready to revisit the policy and said he will be convening a summit around email retention.
In response to the push for more financial disclosure from his administration and, specifically, his wealthy live-in girlfriend Sandra Lee - who Capital New York reported has business with a company that has business before the State - Cuomo spokesperson Rich Azzopardi tweeted, "The administration is glad to negotiate disclosure of all girlfriends," in a thinly-veiled insinuation that legislators have extra-marital relationships.
"This is not anything that is personal," Republican Senate Majority Leader Dean Skelos told reporters of his push for Lee to disclose her income. He went on to declare interest in more disclosure from Cuomo's "minions," of which Azzopardi clearly qualifies. "You can find out where any of our council staff people went, how much they paid for lodging, their gas expenses, whatever they chit," Skelos said. "The governor, his staff, when they move their minions for a press conference, other than for security purposes, they don't have to disclose."
"It is getting really nasty," Horner said of the debate over increased disclosure from legislators and the administration. "It is sort of embarrassing."
Bills have been introduced that would do away with the executive's controversial policy that sees all state emails deleted after 90 days unless they are specifically saved. Advocates say the policy interferes with transparency and the freedom of information law, and state employees say it complicates their work.
A bill introduced by State Senator Liz Krueger and Assembly Member Daniel O'Donnell would both drastically reform the email retention policy and make the Legislature subject to FOIL. Attorney General Eric Schneiderman ended his office's 90-day email deletion policy and said it would be formulating a new one, provoking Cuomo to act.
On March 12 Cuomo called for a state government summit on email and transparency, but a date has not yet been set. "We believe the policy should honor transparency while maintaining efficiency," Cuomo's head spokesperson Melissa DeRosa said in a statement. "To that end, as the Attorney General and the legislature appear open to revising their policies, the governor's office will convene a meeting with representatives from the Legislature, the attorney general and the comptroller to come up with one uniform email retention and [Freedom of Information Law] policy that applies to all state officials and agencies."
With no sign of a conference in sight Krueger and O'Donnell issued a statement on the 18th calling on Cuomo to end his policy regardless of a conference. "We don't need to hold a summit before we halt the current indefensible email deletion policy," said O'Donnell. "An immediate suspension and then a summit as soon as possible will enable us to have the intelligent conversation we need regarding a unified state policy." Krueger noted that Schneiderman did not wait for a summit to end his policy.
John Kaehny of good government group Reinvent Albany said that it is "unfortunate" that Sunshine Week was dominated by the email deletion policy, and calls the policy a "big step backwards" that could be adjusted quickly, thereby ending the public outcry against it.
Last Tuesday, perhaps looking to break up a newscycle dominated by his email policy, Cuomo made an impromptu announcement of an ethics package that he had agreed to with Assembly Speaker Carl Heastie but not Skelos, who heads the Senate. The agreement would require tighter disclosure of legislators' outside income, take pensions away from officials convicted of corruption offenses, force lawmakers to check in with a swipe card to collect per diem reimbursements, and tighten rules pertaining to the personal use of campaign funds.
Skelos rejected the package for not holding the Executive to the same disclosure standards as the Legislature and good government groups criticized it for not going far enough, especially considering the indictment of Assembly Speaker Sheldon Silver.
The announcement also came on the heels of Schneiderman's unveiling of a drastic reform package that would create a full-time Legislature, among other sweeping reforms. Schneiderman explicitly stated that he was pushing the conversation further than the governor and that incremental steps at ethics reform would no longer suffice. His proposals are likely to go nowhere any time soon.
Sunshine Week did have its moments in the advancement of government transparency. Schneiderman's office announced that it will release an application programming interface, or API, that will allow app developers to use data from the Attorney General's NYopengovernment.com database. Kaehny and Schneiderman's office believe the API will make it easier for programmers to provide real-time data analysis of things like campaign finance, lobbying, and state contracts. "Giving the public direct access to this data will help shine a much-needed light on our state government," Schneiderman said in a statement.
The Senate passed a bill that would codify its practice of livecasting its proceedings and posting votes to the internet - the catch is that the Assembly would also have to pass the same bill. The Senate has passed the bill for years while the Assembly has refused to consider it.
The Assembly, meanwhile, passed a slew of one-house bills that work at strengthening response to freedom of information requests.
"This Sunshine Week was all about passing the buck," said Horner.
***
by David King, Albany editor, Gotham Gazette
@DavidHowardKing