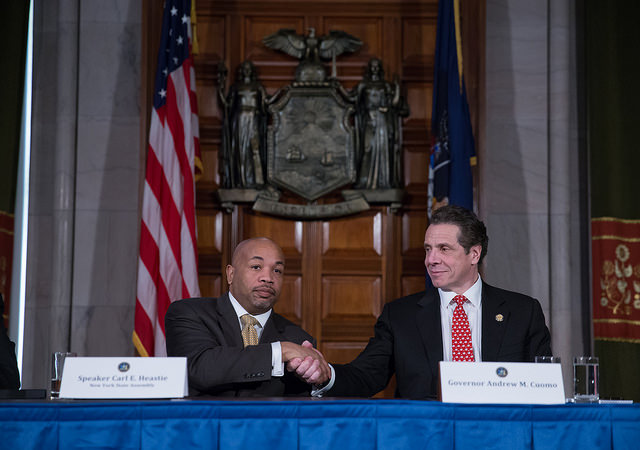 Gov. Cuomo & Speaker Heastie shake on an ethics deal (photo: Governor's Office via flickr)
---
The New York State Board of Elections opened up a floodgate in 1996, allowing cash to flow virtually unabated to political candidates. The BOE issued a ruling that allowed limited liability corporations, or LLCs, to be treated as individual donors and individuals to donate unlimited funds to candidates for state-level offices by creating multiple LLCs. Efforts to change the law in the Legislature have failed miserably and now a coalition of progressive and good government groups are asking the BOE to correct what they say is a major mistake that has damaged New York democracy. On Thursday, the BOE will take up what has come to be known as the "LLC Loophole," and interested parties on both sides of the debate will be watching.
Meanwhile, State Senator Daniel Squadron, a Democrat from New York City, is expected to use a parliamentary measure to force the Republican-controlled Senate to consider a bill to fix the loophole when the Legislature returns to session next week. Coming out of a budget season where ethics reforms were passed, but the LLC loophole was largely ignored, there appears to be spring life to the issue.
"The loophole is based on a ruling that hasn't been relevant since the last century," Squadron told Gotham Gazette. "I would hope the board would act to remedy that." He said he will push for a vote on his bill, but added, "I hope that won't be necessary."
The BOE is a political entity made up of Republican and Democratic appointees. Its members have tight connections to their party bosses and the BOE has shown a major reluctance to pursue and punish officials who violate election laws and campaign finance limits. But advocates remain hopeful that some in power might want to see things change. "We've seen this continual finger pointing between the Board of Elections and the Legislature, [each] saying 'they could do it if they wanted to,'" said Rachael Fauss, director of public policy for good government group Citizens Union. "The Legislature failed to act, now we are saying to the Board 'it is your turn.' We are going to actually put people on the record."
The BOE added discussion of the LLC loophole to its agenda for Thursday, as Capital New York reported, but no formal action on its status is expected. Fauss and her good government colleagues plan to be there, though.
A coalition of reform groups including the Brennan Center, the League of Women Voters, Reinvent Albany, Common Cause, the New York Public Interest Research Group, and Citizens Union wrote Governor Andrew Cuomo this week urging him to ask the BOE to close the loophole. The letter to Cuomo follows one from the Brennan Center and Emery Celli Brinkerhoff & Abady LLP to the BOE last week asking its members to do three things: rescind the 1996 opinion; treat LLCs as corporations or partnerships depending on the tax status they select (just as the Federal Elections Commission does); and clarify BOE rules to make it clear that no individual can upend donation limits by using LLCs.
In New York, corporations are limited to giving $5,000 to a political candidate, while LLCs fall under limits of individuals and can therefore give $150,000.
Governor Cuomo has a complicated relationship with the LLC loophole. He has taken in millions of dollars from single donors who use multiple LLCs to maximize their giving. According to NYPIRG, 20 percent of Cuomo's $35 million campaign chest he utilized last election cycle came through the LLC loophole.
The most striking example of this loophole largesse is via Leonard Litwin. Using LLCs and corporations, Litwin, a real estate mogul, gave Cuomo over $1 million during the last election cycle. And Litwin is the largest single donor statewide - he blankets state elections in cash - giving to candidates and committees regardless of party.
Cuomo has spoken out against the loophole and his budget included a proposal that would ensure LLCs were restricted to the $5,000 corporate donation limit, which he also proposed reducing to $1,000. But advocates note the proposal did not call for stopping individuals from donating through multiple LLCs. Even Cuomo's "half loaf" proposal was rejected by the Legislature during budget negotiations. It is unclear how hard the governor fought for LLC reform.
Dani Lever, a spokesperson for Cuomo, told Gotham Gazette, "Whether by legislation or action taken by the Board of Elections, the Governor believes the LLC loophole should be closed."
Advocates note that the BOE's 1996 decision was based on a federal ruling that has long since been changed. "In 1996, the Board of Elections decided to treat LLCs as human beings, rather than as corporations or partnerships, despite the fact that there was no indication the Legislature ever intended such treatment," the good government groups wrote to Cuomo. "The Board justified its decision by citing a single phrase in state law and stating that it sought to follow federal practice. But the short-lived federal rule it emulated was quickly changed, and the relevant state law in fact provides the Board with leeway to make a more common-sense decision. Federal rules now treat LLCs as corporations or partnerships, and in most contexts New York state law treats LLCs like other business entities, rather than as humans. There is no legal reason the Board should refuse to correct its error."
State Senator Michael Gianaris, a Queens Democrat whose conference has been stymied in its attempts to fix the issue legislatively, said he hopes the BOE acts. "We want to see it closed anyway possible," he said of the LLC loophole. "I believe it was created under a misguided ruling based on a federal rule that was quickly changed. They created it, so it would make sense for them to fix it."
Assembly Member Brian Kavanagh, who has two bills pending in the Legislature to address the loophole, said he favors BOE action on the matter. "I am confident I will be able to move something in the Assembly this year, but the cleanest way to do it would be for the Board of Elections to correct their misguided ruling."
Fauss said that it may take more public scrutiny of the loophole to finally force action and some groups have begun to try to engage their members and the public in what may seem like an obtuse and wonky issue.
Activist groups like Common Cause, Every Voice, and the Working Families Party have asked their members to contact the BOE to pressure them to rethink the loophole. "If we're ever going to end Albany's culture of corruption, we need to stop letting billionaires secretly dump millions into campaigns," said Karen Scharff, executive director of Citizen Action of New York. "The Board of Elections must rein in this flood of cash now as a first step toward returning New York state government to voters."
Jess Wisneski of Citizen Action said that the time is right because voters have become more keyed in to the influence of money in Albany. "They see the guys with the most money are just pouring an enormous amount of cash into the system and people are more aware of it than ever," said Wisneski. "Governor Cuomo says every year that he has reformed the system and it is functioning, but people can see that just isn't the case and this might be the single biggest way to change that."
***
by David King, Albany editor, Gotham Gazette
@DavidHowardKing
Note: Gotham Gazette is an independent publication of Citizens Union Foundation, sister organization of Citizens Union