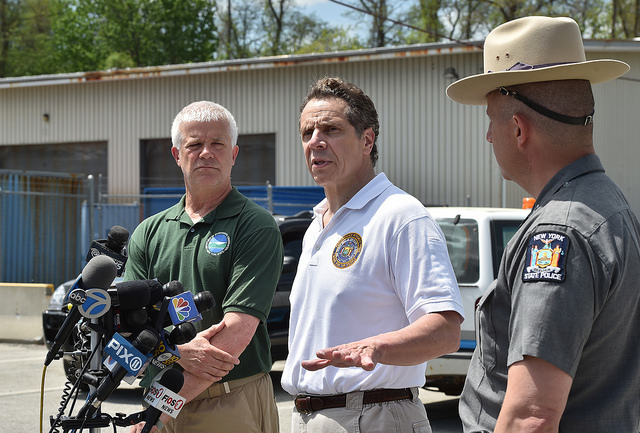 Gov. Cuomo (photo: Kevin P. Coughlin/Governor's Office)
---
On Friday - the Friday of Memorial Day weekend - Gov. Andrew Cuomo will host a summit on email retention policy. It is a much-anticipated meeting that a large number of key stakeholders don't see a need for, and it's unclear what attendance will look like in terms of representation from the major entities in state government being called together to agree on a uniform approach to keeping and deleting official emails.
Good government advocates and legislators say that outcry over Cuomo's 90-day email deletion policy was what birthed the meeting and it is in Cuomo's hands to silence the critics. They say that a grand summit is unnecessary. "This is misdirection, plain and simple," said Blair Horner of the New York Public Interest Research Group (NYPIRG).
As of late Monday the administration had yet to decide on whether the meeting would be held in Albany or New York City, whether it would be open to the press and public, and what exactly would be on the agenda.
"In terms of what can be accomplished at this summit - it just isn't clear," said John Kaehny of Reinvent Albany, a group that initially drew attention to the administration's implementation of the deletion policy. "This is 100 percent in his control," Kaehny said of Cuomo. "All that should happen is a meeting of the mind between his ears."
Horner, lamenting the information already lost and the lack of transparency, agrees: "The governor has successfully purged the state's email system. There is no going back. All we could hope for is the end to a bad policy to prevent future deletions."
The Cuomo administration did not return requests for comment.
Cuomo called the summit after mounting criticism over his policy that state workers say interrupts their workflow and costs them time, and that good government groups say allows the administration to operate in secret, especially troubling at a time when Albany is the target of ongoing investigations by US Attorney Preet Bharara's office. Seemingly in an attempt to deflect, the Cuomo administration reacted to critics by pointing out that the Legislature has not opened itself to the Freedom of Information Law. But while advocates certainly do want FOIL to apply to the Senate and Assembly, they reject the idea that there is any deal to be made on the subject. "There is no quid-pro-quo on this issue," said Kaehny.
The Cuomo administration has not invited any reform groups to the summit, or national experts on email retention and archiving. In fact, it is unclear if anyone of note will be in attendance.
Assembly Speaker Carl Heastie has said he will not attend or send a delegate; former Senate Majority Leader Dean Skelos had said the same, while Skelos' successor Sen. John Flanagan has not indicated what his plans are and his office did not return calls for comment. A spokesperson for Comptroller Thomas DiNapoli's office told Gotham Gazette that they plan on sending a representative, while Attorney General Eric Schneiderman's office declined a request for comment on their plans for the summit. Neither DiNapoli nor Schneiderman have 90-day deletion policies - Schneiderman suspended his office's in reaction to outcry over Cuomo's.
There is also no indication that Cuomo himself will be in attendance if the policy meeting does indeed take place on Friday.
Legislators in both houses have introduced bills that would end the policy. Sen. Liz Krueger, Democrat of Manhattan, has an overarching bill that would both end Cuomo's policy and make the Legislature subject of FOIL, but advocates think it is too unwieldy and offensive to legislative leaders to pass.
A spokesperson for Krueger said, "Regardless of whether or not the summit actually happens, [Sen. Krueger] urges the governor to sit down with experts from the State Archives and Bob Freeman from the Committee on Open Government to implement an email retention policy that ensures transparency and protects important state records."
Assembly Member Jeffrey Dinowitz, Democrat from the Bronx, has a bill that would amend the Public Officers Law to require all government agencies retain emails for seven years, bringing the state into parity with incoming federal regulations. Advocates tend to favor the bill because of its relative simplicity, but it currently lacks a Senate sponsor. According to a number of sources, potential sponsors have been pressured by Senate Majority leadership and the Cuomo administration not to sign on.
Dinowitz said he is "always hopeful" the bill will find a sponsor in the Republican Senate Majority."This is a timely topic, we have five weeks left of session and that is a lifetime in Albany," Dinowitz told Gotham Gazette about the bill's prospects this session. "This is a very focused bill so a lot of good government groups like the approach."
Dinowitz seems less hopeful for Cuomo's email policy summit. "The issue has been out there for months now," said Dinowitz. "A summit is fine, but I would like to see some real action taken. I'd like to do more than just talk about it."
Kaheny said the administration should be embarrassed by its lack of action on the issue and that the public should be outraged that the governor is continuing a policy of secrecy during a time when scandal hangs heavy in the air over Albany: "It is hard to understand why he is so adamant about this policy at the same time two leaders have been arrested during major corruption scandal that goes to the heart of power in Albany."
***
by David King, Albany editor, Gotham Gazette
@DavidHowardKing