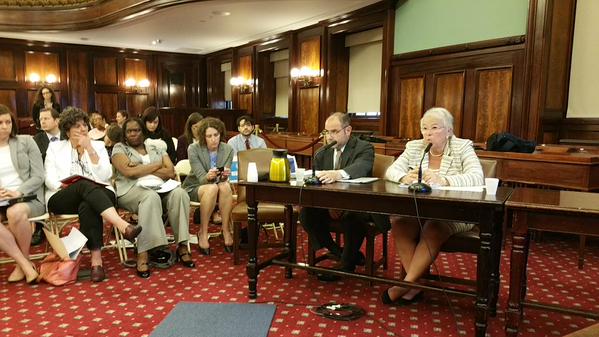 Chancellor Carmen Farina testifying Thursday (photo: @MarkLevineNYC)
---
With an eye on Albany, it was time Thursday morning for New York City schools Chancellor Carmen Fariña to again testify in front of the City Council about her agency's proposed fiscal year 2016 budget and key education issues facing the city. The heightened level of concern with events in the capital comes amid shakeups in state leadership, important legislation on the negotiating table with deadlines looming, and recently passed controversial state teacher evaluation laws.
In the context of the DOE's massive $27-plus billion budget, which makes up about one-third of the city's overall budget, Fariña discussed mayoral control of schools, expanding pre-kindergarten, school meals, teacher evaluations, and much more. She paid special attention to the 94 Renewal Schools that the city has identified as most in need of "a corse set of interventions" and which will be held "accountable for rapid improvement," she said.
Of the school renewal program, which is this administration's alternative to closing schools (the preferred model of the Bloomberg administration for the city's most struggling schools), Fariña added that the DOE has "dispatched teams of dedicated principals and assistant principals to strengthen leaderhip" and help the schools "change direction" to meet "concrete milestones" in their renewal plans. It is on the success of these schools that de Blasio and Fariña will largely be judged in coming years.
In friendly exchanges that were most tense around the issue of recently-defunded summer programs, council members pushed the chancellor on a variety of issues. These included the number of guidance counselors and committees on special education in schools; implementing a "breakfast after the bell" program and universal free school lunch; pre-K seat availability in certain districts; and general transparency in the budget appropriations themselves. As the chancellor entered a third hour of testimony, a large rally took place just outside City Hall where council members and others called on the de Blasio administration to replace summer program funding that had been reallocated to struggling schools in the executive budget. Finance committee Chair Julissa Ferreras spoke most assertively about the change in funding during the budget hearing, explaining council members' disappointment and upset. While he did praise the administration on a number of fronts, Council Member Daniel Dromm, who chairs the education committee, said that council members are "concerned about the 17,000 children who will be impacted by the loss of their after-school programs due to a funding shift that redirected money to the renewal school initiative."
During question-and-answer, council members invited Fariña to join them in questioning the state's teacher evaluation plans, which she did, noting that she feels the city's current system should be kept, that she does not want to increase the amount that standardized tests count in evaluations, and that well-trained principals must be empowered, not superceded by outside evaluators.
As Fariña expressed faith in mayoral control and frustration with both a lack of state funding for education and the new evaluation plans, those in attendance stared down the Albany elephant in the room.
It is a busy, crucial time in the capital as legislative session nears its scheduled June 17 finale. On Tuesday, a new State Education Commissioner was named. On Wednesday, Mayor Bill de Blasio went to Albany to lobby the governor and other lawmakers on extending mayoral control of city schools (among other items on the mayor's agenda). And on Thursday, Fariña sat in the council chambers at City Hall to outline a Department of Education fiscal year 2016 budget that includes $21.8 billion in operating funds and $5.8 billion in education-related pension and debt service funds.
Part of the picture in Albany is the ascension of State Senator John Flanagan, a Republican from Long Island, to the head of the Senate, where he had been serving as chair of the education committee. Flanagan has expressed concern over how Mayor de Blasio is leading the school system and introduced a bill Wednesday to extend mayoral control, due to sunset next month, for just one year. It appeared that Cuomo, de Blasio, and Assembly Democrats, who control that chamber, had compromised at a three-year extension of mayoral control, even though de Blasio has been pushing for the state to make it permanent.
Flanagan's bill, which likely has little chance of passing through the Assembly, also calls for raising the state cap on charter schools by 100 and eliminating any regional cap, similar to what Cuomo had proposed earlier this year. On Thursday, Fariña reiterated what she and Mayor de Blasio often say about charters, that they believe the cap is fine where it is. Some predict that an end-of-session deal will see both a raising of the charter cap and an extension of mayoral control for three years.
Flanagan's bill also requires far greater budget reporting by the de Blasio administration, including a provision that "Requires the mayor of New York City to submit an education budget plan to the Director of the budget, the temporary president of the Senate, and the speaker of the Assembly for approval." It is unclear if Assembly Democrats will agree to tweaks in the mayoral control bill, which allows the mayor to appoint a schools chancellor and much more.
The City Council is largely in lock-step with the de Blasio administration on education issues, though members often have district-specific issues to address with the mayor and/or chancellor. Generally, the Council appears to support continued mayoral control of schools and limiting the growth of the charter school sector.
There is increased scrutiny on the city schools system as Governor Andrew Cuomo continues to push a reform agenda that does not align with the vision de Blasio and Fariña have for the city's schools. Namely, they have starkly different views on teacher evaluations, the role of standardized tests, and charters.
And so Fariña, who praised incoming State Education Commissioner MaryEllen Elia upon her Tuesday election by the Board of Regents, sat in front of city lawmakers to discuss her leadership of the nation's largest school system, including what she sees as her major accomplishments and her budgetary plans. When outlining the DOE budget for the fiscal year set to begin July 1, Fariña said that of the roughly $28 billion budget, 56 percent comes from city tax dollars, 37 percent from the State and six percent from the federal government. She said that "since 2009, the State has not met its court-ordered obligations under the Campaign for Fiscal Equity lawsuit."
As she did during her preliminary budget testimony, Fariña highlighted changes she has implemented in her year-and-a-half running the city's schools system, which includes about 1.1 million students and 1,800 schools. She noted the expanson of pre-kindergarten; the community school model; the PROSE schools that allow for programming outside of the teachers union contract; greater parental outreach and involvement; and more.
At least three times during her nearly three-hour testimony, Fariña invited council members to join her at schools, concluding by saying, "If any of you want to do school visits with me, by all means."
***
by Ben Max, Gotham Gazette
@tweetBenMax
Note: this article has been updated