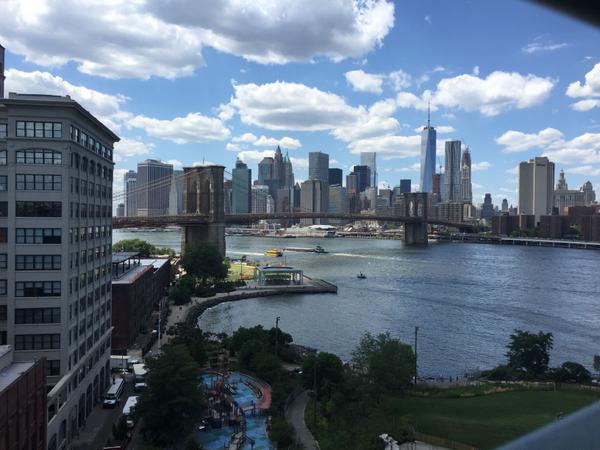 (images: NYC DOT/EDC)
---
Mayor Bill de Blasio's proposed expansion of the city's ferry system, announced in February, appears to be one of the least politically controversial initiatives of his term. Ahead of a City Council hearing on the topic scheduled for Monday, no Council member has publicly opposed the plan, while some have loudly praised it.
But this support comes despite concerns from transit advocates that ferries may not be the most cost-effective form of transportation for New Yorkers and that other investments in buses or bike lanes should not be overlooked. Meanwhile, others like Staten Island Borough President James Oddo want the system expanded further.
The five planned ferry routes, connecting 21 locations in the Bronx, Brooklyn, Manhattan, and Queens, will be rolled out in two phases in 2017 and 2018, according to the city's Economic Development Corporation (EDC). A sixth route to Staten Island is "proposed" but not part of the two phases or included in cost estimates. De Blasio said in February that rides would cost $2.75—the same as a subway or bus swipe, though MetroCards won't be accepted for payment—and that the system would bring residents of far-flung waterfront neighborhoods "closer to the opportunities they need."
"Beyond connecting residents to jobs in Manhattan, our new citywide ferry system will spur the development of new commercial corridors throughout the outer boroughs," de Blasio said during his State of the City speech.
One reason why the ferry plan is uncontroversial may be its relatively small size: its estimated 4.6 million riders per year by 2018 is less than the subway's average daily weekday ridership of nearly 5.6 million in 2014 (with 1.75 billion subway rides for the year). The boats' estimated $55 million price tag and $10 to $20 million annual operating subsidies are also a fraction of the city's $78.5 billion budget for the 2016 fiscal year.
"Because it's cheap, politicians can say they're pro-transit," Nicole Gelinas, a fellow at the Manhattan Institute think tank, said. "I think the bigger danger is neglecting other transit."
Few Concerns
Council members interviewed by Gotham Gazette were all supportive of the plan, which they say will provide a convenient mode of transportation in neighborhoods poorly served by subways.
"We are in a city with an existing transportation infrastructure that is at capacity...So we need additional alternatives," Council Member Jimmy Van Bramer of Queens said. His district includes Long Island City, which has seen tremendous residential development in recent years and will be served by one of the new stops.
At Monday's Council hearing, Van Bramer said he wants to "get a timeline on just when we can expect the landings to be sited, and when we can start service."
Council Member Ben Kallos of Manhattan's Upper East Side and Roosevelt Island said making sure the three stations planned for his district are moving forward is a "high priority."
The few concerns expressed about the current plan are oriented around the locations of landings. Residents at a recent community meeting in Long Island City were divided over where the neighborhood's stop should be: at Center Boulevard, close to waterfront high-rises, or at 44th Drive, less pedestrian-friendly but also less disruptive for a nearby boathouse.
Council Member Carlos Menchaca of Brooklyn said EDC should try to offer solutions to siting concerns as it implements the project. Menchaca represents the busy waterway neighborhood of Red Hook.
Ydanis Rodriguez, Council member for Washington Heights and Inwood and chair of the City Council transportation committee, said that he is looking forward to hearing more details about the plan from EDC—as well as promoting his own proposal for a ferry route along the west side of Manhattan.
"I believe ferries play an important role when it comes to identifying different modes of transportation," Rodriguez said in an interview with the Gotham Gazette. "I hope that in the near future, all the areas not included in the present plan will be included." Rodriguez will co-chair Monday's Council oversight hearing, dubbed "Evaluating the Plan for a Citywide Ferry System" on the Council website.
Staten Island Borough President James Oddo is also aboard the ferry plan, even though the first two phases of the plan will not reach his island and a sixth route has only been proposed for Stapleton, near the Staten Island Ferry's St. George terminal. Oddo said he's working to see if some sort of public or private service can one day reach other parts of the island.
"To me, it [ferries] doesn't take a great deal of capital investment in our borough," he said. "It's the quickest avenue Staten Islanders have to getting some help to their commutes."
Traffic engineer and former traffic commissioner "Gridlock" Sam Schwartz said that some of the issues he wants discussed at the Council include more details on expected ferry ridership, operating costs and fares, and integration with other forms of transit.
"I think it would be a mistake not to have as robust a ferry system as possible...as well as improving transit, bus, and rail," Schwartz told Gotham Gazette.
Cost and Control
Gelinas, of the Manhattan Institute, says an important question Council members should ask is how heavily the city should subsidize the ferry routes—especially if Mayor de Blasio sticks to his promise that each ride will cost the same as a MetroCard swipe.
"It really has to come down to a cost-benefit analysis of how many New Yorkers will benefit at what cost," Paul Steely White, executive director of Transportation Alternatives, said. "Ferries are a great option, but it's an option that should only be considered after rail and bus options have become untenable." White's group advocates for expanding bike lanes and mass transit projects like Select Bus Service, or express bus lines.
A 2011 EDC study showed a subsidy-per-trip of $5.95 for the fare-free Staten Island Ferry and $21.22 for a pilot Rockaway ferry service launched in 2008.
"Some subsidy is reasonable," Gelinas said. "It will also depend on how much development we get [along the waterfront]...The more people you have, the lower the subsidy."
Manhattan Council Member Dan Garodnick, who will also co-chair Monday's meeting, said that officials from EDC will have to answer questions about the status of the project, costs, community input, and integration with the rest of the city's transit system. He said he wants riders to be able to use MetroCards for boat fares—something EDC has ruled out, saying the 23-year-old card will be soon phased out.
"Many of us are extremely enthusiastic about growing our ferry system," Garodnick said. "At the same time, we want to understand its cost and long-term viability."
Other Council members were more optimistic about ferry finances.
"This is another piece to the puzzle," Kallos said. "Despite initially low projected ridership, when you are speaking about the infrastructure we're building, and the cost of it...This is providing a lot more service to four or five boroughs, and it's improving people's commutes."
EDC representatives are expected to testify Monday and say that the plans for the ferry system are on track. The agency is currently reviewing responses to a request for proposals for a ferry operator and plans to integrate the East River Ferry operator into the new larger ferry system. Officials point to the successes of the East River Ferry as they imagine expansion of ferry service.
Rodriguez said that ferries are also particularly effective when natural disasters hit—a route between Manhattan and the Rockaways was established within days after Hurricane Sandy knocked out subway service to the neighborhood in 2012. He and Kallos also pointed that the ferry system would be completely under the city's control—unlike the MTA, which is state-run.
"Investing in our waterfronts and our ferry system is a way for our city to have strong accountability and control over our infrastructure," Kallos said.
Gelinas and White said that there are ways for the city to invest in transit without relying on the state. The 7 train's new 34th Street-Hudson Yards station, for example, was funded primarily by city tax bonds.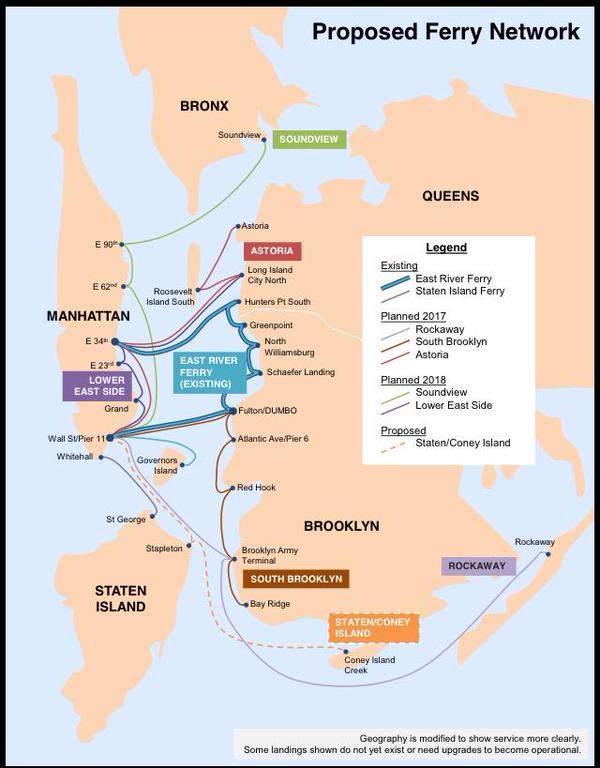 Waves Ahead?
Schwartz said political opposition to ferries may emerge as waterfront dwellers start to complain about the noise and pollution boats generate. Residents of Battery Park City have long complained about ferry horns in the early morning hours—required by Coast Guard regulations.
Noise was one of several concerns expressed by Long Island City residents at a recent community meeting on the ferry plan. But even there, most speakers said they want even more ferries to more destinations, not fewer.
With the current plan, "you're only serving part of the community," resident Rebecca Olinger said. "I think it's foolish to put something in that serves such a small part of the neighborhood."
***
by Christian Zhang, Gotham Gazette
@ChristiZhang