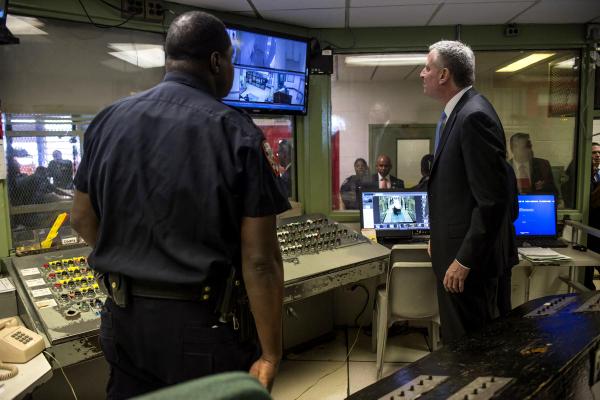 Mayor de Blasio at Rikers Island (photo: Mayor's Office)
---
The New York City Council passed eight bills last week in an effort to mandate greater transparency into and oversight of the Department of Correction and to reduce violence within the city's jails. All are expected to soon be signed into law by Mayor Bill de Blasio, with the package part of ongoing reforms aimed at changing the culture at Rikers Island and other jail facilities run by the city.
One of the bills (Intro 784-A) creates an inmate Bill of Rights and Code of Conduct and mandates rules for ensuring that it is presented to prisoners.
The bill would require the DOC to inform all incoming inmates of their rights and responsibilities under the DOC rules of conduct in plain and simple language. The bill also requires inmates' rights and code of conduct to be communicated orally to the inmates in their primary language. Currently, upon intake all inmates are given a rulebook, which explains the regulations they are expected to adhere to.
Yet, with so many regulations listed in the dense rulebook, many inmates have failed to understand just what rules they are expected to follow behind bars, and many remain unaware of their rights as prisoners, especially since a significant number of inmates on Rikers are illiterate. There are also often language barriers if inmates primarily speak a language other than English.
The bill aims to "clear the lines of communication between inmates and staff," Council Member Elizabeth Crowley, the bill's prime sponsor, said last week at the meeting of the Committee on Fire and Criminal Justice Services that saw the bills passed before they were then moved through the full Council.
The inmate bill of rights will "communicate their rights to services, such as visitation and medical care," Crowley said at City Hall on Thursday. "It is critical that all individuals are aware of these rights."
"Carlos Mercado died while in our city jails because of a diabetes-related complication, and because of simple neglect," Crowley continued, referring to the recent death of a Rikers Island inmate whose repeated pleas for medical assistance were ignored by correction officers over a 14-hour period. The new rules appear meant not only to make sure that inmates know their rights and expected conduct, but also to remind correction officers of what they must provide inmates.
Seymour James, Jr., the Attorney-in-Charge of the Criminal Practice of The Legal Aid Society, worked closely with the City Council to develop the legislation. James Jr. said that he believes the eight bills passed last week "will go a long way to address some of the problems," but added, "Aside from these bills, there needs to be greater oversight and discipline of the correctional officers. There's a pending lawsuit which is awaiting approval for the court which will attempt to address some of the problems."
On the other hand, the president of the Correction Officers' Benevolent Association, Norman Seabrook, called the move for greater transparency a "welcome development," but added, "this package of legislation completely ignores the needs of our heroic correction officers."
Though 784-A does not alter the rules that have already been established for prisoners, the change in the methods of communicating those rules (and rights) to inmates seeks to curb violence and mistreatment within Rikers by ensuring that all inmates (and guards) are well-informed.
The bill mandates that prisoners are given information about their rights "under federal, state, and local laws, and the board of correction minimum standards" on topics such as "personal hygiene, recreation, religion, access to legal services, visitation, telephone calls and other correspondence, media access, due process in any disciplinary proceedings, medical care, safety from violence, and the grievance system."
The plain-language document provided inmates will also have to include "a description of educational, vocational development, drug and alcohol treatment, counseling and other related services available to inmates." DOC will be required to post the documentation "on the department's website." The bill also mandates that each inmate receives a copy of "Connections," the resource-filled guide to reentry.
Other bills passed last week are specifically intended to increase Department of Correction transparency by mandating that the city makes far more information publically available, including: demographic breakdowns of inmates; the rules regarding the use of force by staff on inmates; the number of inmates on a waiting list for a segregated housing unit; the bail amounts set for inmates; how long inmates are incarcerated pretrial; the number of visits inmates in city jails receive; and the number of grievances filed by inmates, the status of grievances, and the resolution or dismissal of grievances.
"There has been a lack of transparency and that goes back a long time," City Council Speaker Melissa Mark-Viverito said at a press conference last Thursday. "The majority of inmates in our jails, in fact, have not been convicted of any crime and are still awaiting their day in court."
"It is our moral obligation to ensure people in our jails are treated decently and humanely," Mark-Viverito continued. "These bills will mandate greater transparency regarding conditions in our city jails so the nature and extent of problems can be more readily assessed and addressed."
Transparency alone will not necessarily reduce violence or protect inmates rights' within the city's jails, Alex Vitale, associate professor of sociology at Brooklyn College and senior policy adviser to the Police Reform Organizing Project, points out. Vitale told Gotham Gazette that "rights are only as good as the enforcement mechanisms in place to ensure them."
"So it seems to me that it's not likely to be a very fruitful strategy for reducing abuses. The existing Board of Correction already has the authority to guarantee these rights, and to enforce them, but almost never does so," Vitale elaborated. "So, in my mind, if you want to really improve the situation at Rikers you need to do two things: reduce the population and get the BOC to be a robust oversight agency."
The move to mandate greater transparency is still a "positive development," Vitale said, since the bills "hold out the possibility of giving advocates additional tools to push for meaningful reforms."
Martin Horn, executive director of the New York State Sentencing Commission, expressed a similar point of view, "I'm a big believer in transparency. Increased transparency is always a good thing. The test will come when we see what they do with the data."
Although Crowley maintained that the "grouping of bills emphasizes the Council's desire to curb violence on Rikers Island by addressing inmates' as well as staff's needs," the head of the correction officers' union does not share the same view.
"We need to do much more to achieve real reform for inmates as well as the hard-working correction officers who are still treated like second-class citizens by a Department of Correction that doesn't seem to care about them," Seabrook said in a statement.
The new package of Council bills comes as Mayor de Blasio and DOC Commissioner Joe Ponte continue to make changes at Rikers, including to limit the use of solitary confinement. There are also new proposed rules around visitation to Rikers inmates that have drawn criticism from advocates and family members of incarcerated individuals.
Greater transparency about the conditions on Rikers Island and increased protection of inmates' rights are desperately needed, as U.S. Attorney Preet Bharara's 2014 investigation into the conditions on Rikers Island found there to be "rampant use of unnecessary and excessive force by New York City Department of Correction staff," and that the "inadequate reporting by staff of the use of force, including false reporting" contributed to the "excessive and unnecessary use of force by DOC staff."
At City Hall on Thursday, Council Member Dan Garodnick, who sponsored three of the eight bills that were passed, called attention to the fact that "conditions have deteriorated to the point where the United States government is now suing the New York City Department of Correction in order to enforce change. It should never have come to that."
Garodnick and other Council members have noted that it is the Council's responsibility to perform oversight of city agencies and in doing so, they must have more data at their fingertips. Ideally, the increased availability of information will make the situation in New York City jails much clearer, ultimately making it easier for advocates and policymakers to enact meaningful reform to alleviate some of the problems that plague the jails system - including violence that hurts both inmates and officers.
"We believe that if they have to report on the problems that are in existence, then there will be pressure on them to reduce the problems and limit them," James Jr. of Legal Aid Society told Gotham Gazette. "If in fact there are long waits for people to get into housing, if there are problems with visitation, if they have to report on it, it's an incentive for them to correct the problem."
***
by Meg O'Connor, Gotham Gazette
@megoconnor13