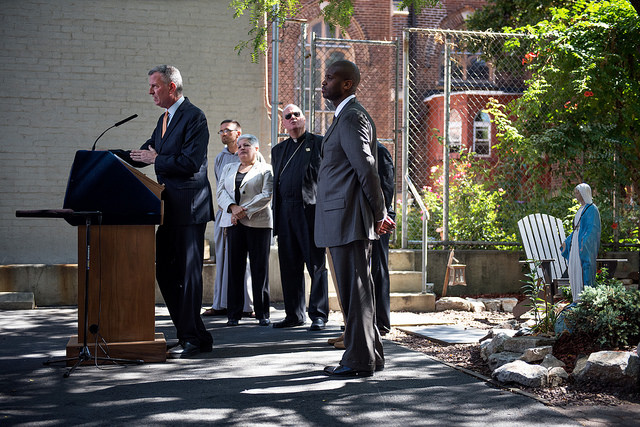 De Blasio speaks, with DHS' Taylor foreground (photo: Demetrius Freeman/Mayor's Office)
---
This summer saw the city's street homeless population become a tabloid sensation, with Mayor de Blasio seemingly forced into addressing the increase in homeless people on New York sidewalks. With shelters overflowing despite the city opening dozens of new ones, and a typical warm-weather increase in those who prefer the street to the often dangerous conditions of those shelters, the mayor announced several emergency measures and appears to be at least slightly stemming the tide.
Yet, the dawn of a new school year brings into stark relief perhaps the most tragic aspect of the city's homelessness crisis: some 84,000 children in the public school system are homeless or in temporary housing, and many of them are struggling in school.
A new Independent Budget Office report shows a 63 percent rise in student homelessness over the four school years ending with 2013-2014, posing a major challenge for a mayor who says that "education determines a child's destiny." While de Blasio and his commissioners open new shelters and new community schools, enroll more homeless youth in school, increase funding for eviction protection, and up outreach to families facing loss of housing, the deck continues to be stacked against homeless students.
Transient Scholars, Homeless Youth
The troubling number of 84,000 homeless students stems from a recent report on the 2013-2014 school year by the Institute for Children, Poverty, and Homelessness (ICPH). Written in conjunction with the city Department of Education and its Students in Temporary Housing Unit, the study outlines the regional severity of the problem in order to magnify its educational consequences.
In the worst cases, 40 percent of a school's student body can be homeless - which here is defined as being in a shelter or doubled up with another family. For the eight most affected school districts the rate hovers between 13 and 17.6 percent. In more affluent areas the problem is largely muted, but no city school district has a homeless rate of less than two percent.
Regardless of where they live and go to school, the ICPH report makes clear that homeless children face constant barriers to academic achievement. Homeless children often struggle to maintain consistency, cannot read at grade level, and are behind their housed peers on virtually all measures of educational aptitude.
"Graduation rates, attendance, statewide assessments, grade promotion, you name it," Jennifer Pringle, project director at Advocates for Children of New York, told Gotham Gazette. "On any measure that you look at, kids in temporary housing underperformed not only in comparison to permanently-housed kids, but also compared to kids from low income backgrounds."
These gaps are not by small margins either. Homeless children are three times more likely than their housed peers to be placed in special education programs, four times more likely to drop out of school, eight to nine times more likely to repeat grades - approximately one in ten are held back each year - and twice as likely to score poorly on standardized tests in math and reading.
Learning gaps between homeless and securely housed students only grow larger with age.
Much of the gap results from poor attendance. In the 2013-2014 school year, 38 percent of homeless students were chronically absent, meaning that they missed more than 20 days of school - approximately one month of school.
In a recent interview with BronxTalk, Abelardo Fernandez, co-director of South Bronx Rising Together (SBRT), a community coalition targeting disadvantaged youth, pointed out the absurdity of expecting kids to do well under such conditions. "We can't really talk about third grade reading or eighth grade math...unless we can make sure that kids are coming to school every single day," Fernandez said.
A large part of homeless absenteeism is simply that kids cannot get to school. In another ICPH study (this one focusing on the 2011-12 school year) 43 percent of homeless respondents listed transportation as a major obstacle to school attendance.
This problem should already be accounted for. The McKinney-Vento Act, the foremost piece of federal legislation concerning homeless children, is supposed to "ensure that homeless children and youth have transportation to and from their school of origin." Yet federal funding is limited - $1.5 million annually to New York City for the DOE's Students in Temporary Housing Unit - and across the city it is clear that this need is not being met.
While the Department of Education technically fulfills its legal obligation by giving each homeless child or parent of a young homeless child a Metrocard, the truth is that in many cases this is simply not sufficient.
"Parents of young kids are often unable to accompany their kids on public transportation," explains Pringle, of Advocates for Children, "because they need to find a job, they need to find permanent housing."
For the 28,000 children in the homeless shelter system, commuting to school can be especially challenging, Pringle adds, as most families entering the system are placed a significant distance from their school of origin. "Say you're from East New York and now you are placed in a shelter in the South Bronx...the commute is just too long."
The result: homeless students transfer schools at a rate far beyond that of housed students: three times as often. Homelessness can lead to multiple school changes: one-fifth of homeless students transfer schools twice or three times in a year.
Continually ripped away from their communities, homeless children face nearly insurmountable educational and psychological setbacks. A report from the U.S. Department of Education estimates that each school transfer is equivalent to six lost months of school.
Social ramifications are often felt even harder by the child than academic ones. Transferring schools doesn't just mean readjusting to new teachers and curriculum, it also means losing entire support networks - friends, coaches, mentors. The psychological weight of ongoing insecurity is crippling: 47 percent of homeless children experience intense levels of anxiety, depression, or symptoms of social withdrawal, according to the National Center on Family Homelessness.
The educational environments into which homeless students are thrust often prove equally unhelpful. Pringle points out that "The default for so many years has been to transfer to the local school. Well guess which schools have open seats mid-year? It's the low-performing schools."
A continuously incoming and outgoing population of homeless students does not help the schools themselves. Often located in high-poverty neighborhoods and already stretched thin in terms of guidance counselors and other key resources, schools struggle to adjust to the tide of perpetually behind new students. "The issue of churn," Pringle says, "is a tremendous challenge."
Teachers will work with students who come to them mid-year, but this slows down a classroom in which students are frequently already struggling to read or do math at grade level. Challenges are compounded: homeless students struggle because they are uprooted from their educational home and thrown into struggling schools, which are struggling because they serve high percentages of high-needs students. These schools often tend to have the highest rates of teacher turnover.
Mayor de Blasio has tried to alleviate some of the weight on the shelter system and is having some success, albeit small. His eviction-prevention programs have helped thousands of families keep their homes and through his Living in Communities (LINC) program the administration moved 1,553 families out of homeless shelters over an initial eight-month period ending in May.
Yet the shelter vacancies left by these few departures are often quickly filled: 49,000 children and their families loom just outside the shelter system, "doubled-up" in close quarters staying with sympathetic family or friends. In trouble and often just barely able to secure a place to sleep because of the children's school needs, these families teeter on the edge of family shelter life, which is often a worse alternative to an overcrowded apartment.
"You go and you stay with some family for a while, you stay with another family for a while, and the probability of eventually ending up in a shelter is very high," said Ralph da Costa Nunez, President and CEO of ICPH, in an interview with CUNY-TV. In an overcrowded apartment, he points out, all it takes is an argument among residents or a suspicious landlord "checking in" on his tenants, and everyone can be out on the street.
"That's why we never see [shelter numbers] go down," explains Nunez. "[Doubled-up families] are just waiting to come."
With such a vast population in need of immediate assistance the question for de Blasio, his schools chancellor, and his homeless services aides is not one of how to eradicate homelessness. As Nunez puts it, "it's not a crisis…it is a fact of life."
Instead the mayor and his team must search for a way to give homeless students a fighting chance.
De Blasio and Fariña Efforts Thus Far
Schools Chancellor Carmen Farina is at the front lines of having to figure out how to help homeless students. The academic fate of homeless students is part of her responsibility as the leader of a school system with 1.1 million students in 1,800 schools.
This work is taking place at many of the city's "Renewal Schools," which have emerged as both a social and political battleground.
On one flank, de Blasio, Fariña, and their staffs are fighting dismal attendance and homelessness rates; fifty-one of the 94 Renewal Schools are located in the seven districts with the highest concentration of homeless students.
On the other, they eye Governor Andrew Cuomo and Senate Majority Leader John Flanagan, who will formally re-evaluate de Blasio's mayoral control of city schools again in 2016, after giving him just a one-year extension. The assessment of de Blasio as an education mayor will in large part be based on Renewal School performance.
It is a control that de Blasio is desperate to maintain. "I can tell you that none of the big changes we have made in our schools, and none of the changes we are going to make, would be possible without mayoral control," he argued in his recent "Equity and Excellence" education speech.
Knowing that they must address student homelessness and the educational attainment of homeless students in their turnaround plans, Fariña and de Blasio have launched a slew of programs.
Among the most prominent of these efforts are the massive expansion toward universal pre-kindergarten and middle school after-school programs, and the Community Schools Initiative, which brings additional resources, including medical services, into school buildings to support children and families. Most of the renewal schools are part of the community school program.
In addition to increasing academic performance in early years, multiple studies have shown pre-K to aid children's behavioral and social-emotional development, areas in which homeless students typically lag behind. In de Blasio's words, early education "is the critical moment where success begins."
After-school programs give homeless students a space away from crowded, chaotic shelter environments to do homework and participate in enrichment programs, and they supply parents with extra time to search for employment and housing.
The Community School Initiative focuses on removing many non-academic barriers to educational success (though not transportation). At P.S. 15 in the Bronx, for instance, the school has installed laundry machines to help ensure kids do not have to come to school wearing dirty clothes. It is also a way to get parents into the school building.
"Some schools might have a food pantry so hunger doesn't distract from learning," de Blasio said, while others, he says, have established mental and physical health services to deal with their disproportionately sick and undertreated populations. And, the city announced a public-private partnership with Warby Parker whereby students at community schools are able to access eye exams and free glasses.
When asked about the DOE's efforts to support homeless children, Deputy Press Secretary Jason Fink cited the "additional services" provided by the community schools as critical in supporting high-needs populations. In a written statement, Fink also reiterated the importance of addressing absenteeism, a problem Fariña says is "the only thing Renewal Schools have in common."
In his recent education address, de Blasio said, "attendance—a leading indicator of academic improvements— has gone up at 72 of the 94 schools."
Fariña has been busy fostering a partnership with Department of Homeless Services Commissioner Gilbert Taylor. In an interview with Gotham Gazette, DHS representative Jaslee Carayol laid out the details of the interdepartmental collaboration.
In March, Chancellor Fariña launched a pilot literacy program putting libraries in family homeless shelters across the city. So far 20 of roughly 150 shelters have received books, but the chancellor insists that this "only the beginning," saying children without books is "something that we as a city should not let go by."
In June, Fariña and Taylor continued their efforts, launching a joint task force to target and deliver aid to students and their families at risk of going into shelters. (Just this past month, de Blasio followed suit announcing the creation of a Public Engagement Unit that will have roughly the same task.)
And in August, the two departments—along with NYS-TEACHS—held "2015 Back to School Education Summit," a conference aimed at facilitating a higher level of correspondence and knowledge between DHS shelter providers and the DOE staff assigned to work in shelters.
All these efforts are encouraging to homeless advocates. "They're listening," Nunez replied when asked what the de Blasio administration is doing differently from its predecessor.
Still, there are major obstacles to stopping more young people from becoming homeless and to ensuring that homeless students are able to learn.
De Blasio is frustrated by skyrocketing housing costs and persistent homelessness rates. He's stymied by a lack of state and federal aid and though he has an ambitious affordable housing plan, it is just getting rolled out.
"The market dynamics here are forcing people out faster than all of our tools can compensate," the mayor said in a recent interview with the Daily News editorial board.
Housing, Shelters, and Collaboration: Plans Moving Forward
If there is some hope in the student homelessness crisis, it is that the population is disproportionately young. "A little more than half of all children in the shelter system are under six…That's your opportunity!" says Nunez, of the Institute for Children, Poverty, and Homelessness.
The heavy proportion of young students applies to the public school system as well: 43 percent of unhoused students are in third grade or below. If the city is able to implement worthwhile changes and move quickly enough, its actions could have an especially potent effect.
Four general points of improvement emerge as goals:
Increased Affordable Housing
Nothing new here. Homelessness will not decrease if there are not enough affordable homes.
Student homelessness, the affordability crisis, and their effects on student learning are so staggering Chancellor Fariña suggested using public high schools as student dormitories back in 2013. "We need to turn some of our large high schools into dormitory schools," she said at a conference, before she was named chancellor by de Blasio.
Highly unlikely, a much more plausible solution would be to ensure the development of low-cost residencies, which is at the heart of de Blasio's housing plan. Some, though, point out that even "affordable" units are too expensive for many New Yorkers living in poverty, some of whom work full-time.
Although the mayor has pledged to create or preserve 200,000 units of affordable housing over ten years, the problem, as Brooklyn College sociologist Alex Vitale put it in a recent Gotham Gazette column, is that almost none of them will be affordable to homeless people.
One key to housing, though, that many point to is simply a continued boom in residential building, as more units on the market may let some air out of the supply-demand problem leading to ballooning prices. This is part of de Blasio's push to rezone a variety of neighborhoods across the city to allow for greater density. Part of the rezonings will be a commitment from developers for "affordable" units. The question will continue to be if they are affordable enough for the types of families facing homelessness.
Still, Alyssa Aguilera, political director of VOCAL-NY, a grassroots community organization, wrote recently, also at this publication, that Mayor de Blasio must simply "demand more dedicated housing for the homeless from developers reaping massive profits through tax subsidies and land deals." She, like many others, also sees Governor Cuomo as having an essential role, calling on him to fully fund tens of thousands of units of supportive housing, under a NY/NY IV agreement.
Shelters as Community Resource Centers
Dr. Ralph da Costa Nunez sees better shelters, not more affordable housing as the most effective route to properly supporting homeless children.
He advocates for the idea that shelters need to be turned into community resource centers with a residential component.
"We still, after thirty years, see shelters as temporary emergency facilities," he says. When families are staying longer than ever in homeless shelters, this no longer makes sense, he argues. "How can we get ahead of the curve?" Nunez asks, "Change the nature of what a shelter is. Stop opening shelters in communities that people hate."
"Why aren't we building, instead, 'community residential resource centers' that have a residential component for the homeless family, but also have a community piece," Nunez continues. "You have the daycare here for not only the homeless families, but the community; the after-school programs for not only the homeless families, but the community; the employment program for the homeless families and the community. Now you have a community resource. Now you have something that people welcome."
Better DOE-DHS Coordination
Even though the Department of Education and the Department of Homeless Services have teamed up several times recently, there's room for the two departments to be more coordinated.
For one, the two departments count homeless people in different ways. While DOE includes doubled-up families and unsheltered people in their tally, says Nunez, DHS only counts the people registered within its shelter system.
The figure of 84,000 students without stable housing is not one that DHS recognizes, instead it puts forth the number of children sleeping in homeless shelters, which is around 28,000.
Jennifer Pringle, of Advocates for Children of New York, says that DHS should also consider other data points, while also improving shelter placement. She says that if the city wants to stabilize its homeless students, "One thing I would love to see is making sure that the DOE was integrated into the shelter intake process."
This would involve several things, including "a much more deliberate attempt to place families in shelters located close to the communities of origin." If there are not any local shelter spots—which is often the case—Pringle suggests flagging families with children as first for any spots that do open up.
She also suggests that families in cluster units—apartments in regular rental buildings used by DHS to house families—receive more direct educational counseling services. While a Students in Temporary Housing liaison from the DOE is stationed in every shelter, these liaisons are often difficult to access for families put in cluster housing.
Community Collaboration
"Homelessness is a structural problem," de Blasio said when talking with the Daily News editorial board.
Elizabeth Clay Roy and Abelardo Fernandez, co-directors of South Bronx Rising Together--a coalition of government, business, and community leaders--have this concept as central to their approach.
"We are really focused on making sure this is a cross-sector initiative," Ms. Clay Roy told Gotham Gazette of the community-based work the organization is doing in some of the most impoverished territory in the country.
In an attempt at systemic change, SBRT employs a method known as "Collective Impact...in which local institutions, community-based organizations, higher education, business, philanthropy, the government, and the public join together around a common vision and hold themselves accountable for achieving shared outcomes." In Clay Roy's and Fernandez's case this means addressing the civic and social challenges of Bronx Community District 3.
SBRT's Leadership Council is a key example of the Collective Impact design. Including professors from surrounding colleges, representatives from the DOE, NYCHA, Jobsfirst NYC; Bronx Borough President Ruben Diaz Jr.; the city's Community Schools Director Chris Caruso; and a host of nonprofit leaders, the panel of experts works to provide "strategic direction" to come up with solutions for the issues SBRT cares about most: child health, early education enrollment, success in school, positive community engagement, graduation rates from high school and college, and post-collegiate employment.
The ideas that come from this body, Clay Roy explained to Gotham Gazette, are then implemented through partnering community organizations and businesses. To help with their recently announced school attendance initiative, for instance, SBRT has enlisted Kinvolved, a tech company that works to increase communication between family and schools.
The SBRT dream is for its collaborative network to develop the community's young residents into powerful, educated community leaders.
Yet as part of the poorest Congressional district in the nation--63.1 percent of children in SBRT's target area are born into poverty--South Bronx Rising Together faces steep challenges.
One demographic central in this challenge is homeless students. Spanning school districts eight, nine, and twelve--respectively ranked tenth, first, and second in concentration of homeless students--the 1.6-square-mile area SBRT covers includes seven of the city's 94 Renewal Schools.
If SBRT can help break through in Community District 3, the model is likely to be successful elsewhere.
Although the coalition has yet to release any concrete results, its "Collective Impact" strategy does have a history of success. The national organization StriveTogether has implemented the model to favorable results in multiple locations across the country. One of these places happens to be Cincinnati, the city whose "community learning centers" inspired Mayor de Blasio's Community School Initiative.
***
by Colin O'Connor, Gotham Gazette
@GothamGazette