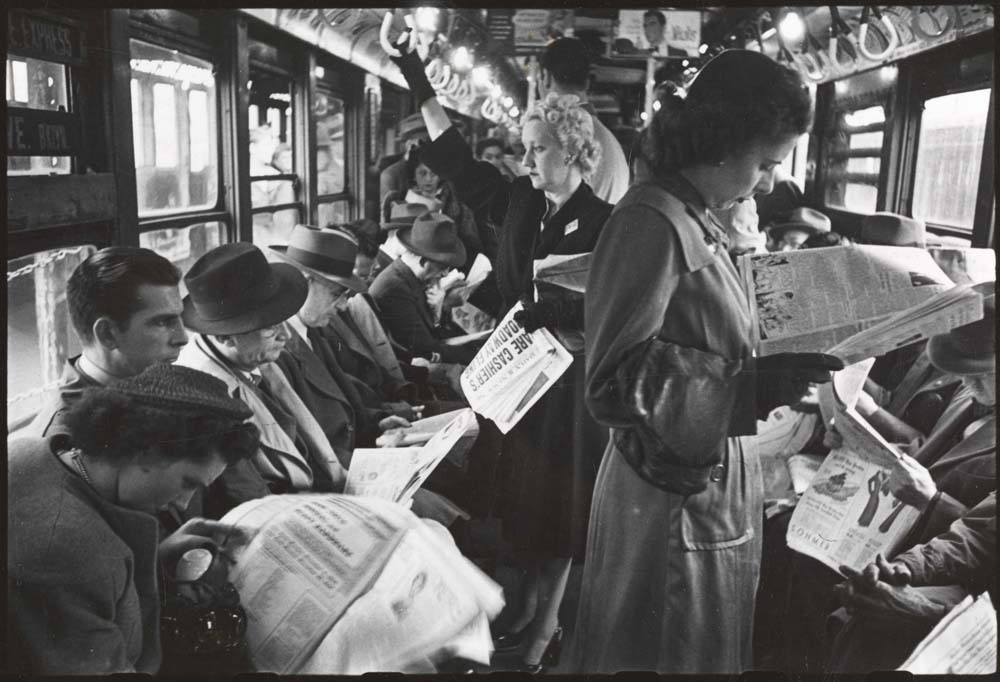 photo: Stanley Kubrick via Museum of the City of New York
---
Gotham Gazette's Week in Review, Friday October 23
PHOTOS OF THE WEEK: Mayor de Blasio and other officials announce sale of Stuyvesant Town & Peter Cooper Village, via Ed Reed/Mayoral Photography Office; Governor Cuomo receives an award and announces planned protections for transgender New Yorkers at the Empire State Pride Agenda gala, via Kevin P. Coughlin/Governor's Office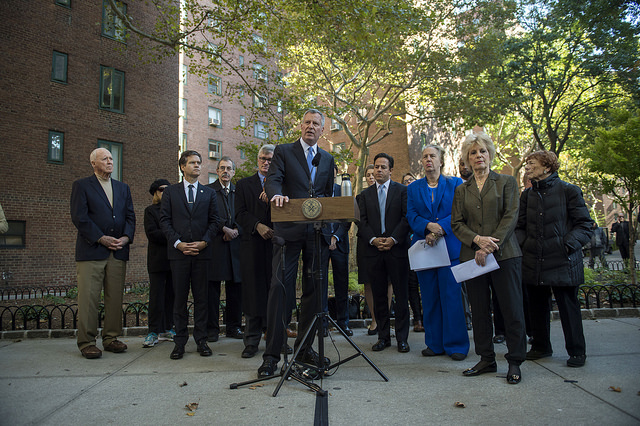 TOP FIVE STORIES OF THE WEEK:
1. Cuomo To Extend Protection For Transgender New Yorkers: At the Empire State Pride Agenda gala on Thursday, Governor Andrew Cuomo announced that he will take executive action to extend legal protections for transgender New Yorkers.
2. City & State Make New Moves In K2 Fight (Separately): Governor Cuomo announced on Tuesday that New York is expanding its public awareness campaign against synthetic drug abuse with ads and a 33-foot-tall billboard in the Bronx that reads "Synthetic marijuana can kill!" On the same day, Mayor de Blasio signed three measures into law that criminalize the manufacture and distribution of synthetic marijuana, commonly known as K2, intensifying the city's ongoing crackdown.
3. Federal Court Upholds SAFE Act: The U.S. Court of Appeals for the Second Circuit upheld the New York SAFE Act on Monday, keeping in place signature Cuomo gun regulations which were passed in the wake of the December 2012 mass shooting at Sandy Hook Elementary School in Newtown, Connecticut.
4. Stuyvesant Town Sold: This week, the Blackstone Group, a Wall Street investment firm, reached a deal to buy Stuyvesant Town-Peter Cooper Village, a 11,232-apartment complex near the East Village. As part of the deal, 5,000 units will be preserved for middle-class families. The deal was negotiated with the de Blasio administration, City Council Member Dan Garodnick (who wrote this Gotham Gazette op-ed with his thoughts on the deal), and other key stakeholders.
5. De Blasio Moves On Bail: In the aftermath of the killing of Police Officer Randolph Holder on Tuesday evening, Mayor de Blasio and others are scrutinizing the processes by which the alleged killer was still on the streets given a long criminal record and recent arrests. De Blasio is calling on the state to change its bail laws: as he and allies such as City Council Speaker Melissa Mark-Viverito ask for elimination of bail for low-level nonviolent offenders, they also want to see judges allowed to consider the dangerousness of someone facing charges when setting bail.
THIS WEEK'S NUMBERS:
THE GLORY AND THE GOAT:
It was a good week for Governor Cuomo and gun control advocates as a federal appeals court upheld key components of New York's SAFE Act.
It was a bad week for former Assembly Speaker Sheldon Silver and former Senate Majority Leader Dean Skelos, each of whom saw legal setbacks as they approach their separate corruption trials, set to begin early next month.
THE FLASH:
Around this time last year, on October 23, 2014, Dr. Craig Spencer, who had just returned from treating Ebola patients in Africa, became the first person in the city to test positive for the Ebola virus, sparking fear and urgent efforts to contain the spread of the deadly disease.
Around this time 7 years ago, on October 23, 2008, the New York City Council voted 29-22 in favor of extending the term limit on the offices of Mayor and others to three consecutive four-year terms, allowing then-mayor Michael Bloomberg to run for office a third time (and win) in the 2009 mayoral election.
Around this time 20 years ago, on October 19, 1995, the Metropolitan Transit Authority approved a fare hike of 25 cents, bringing the single-ride fare to $1.50.
Around this time 51 years ago, on October 22, 1964, New York City Mayor Robert Wagner and the City Council reached agreement on a plan to raise the city's minimum wage to $1.50 an hour - the highest in the nation - though it was struck down later that year, on the grounds that state law prevented cities from increasing the wage on their own.
GOTHAM GAZETTE HIGHLIGHTS OF THE WEEK:
Spurred by Buffalo Billion, Reformers Look to Fix State Business Subsidies, by David Howard King
In Effort to Ensure Sound Education, City Battles Student Homelessness, by Colin O'Connor
As Healthcare Landscape Changes, City Hospital Authority Charts New Path, by Christian Zhang
One 'Raise the Age' Story at Center of Push for Legislative Action, by David Howard King
Participatory Budgeting Grows in NYC - Why Isn't Every Council Member Doing It?, by Colin O'Connor
The Future of Stuyvesant Town & Peter Cooper Village, by Council Member Dan Garodnick (opinion)
There is Nothing Innovative About Displacement, by Tarry Hum (opinion)
MORE FOR THE WEEKEND:
WNYC's Robert Lewis and Data News Team put together an in-depth series on "The Hard Truth About Cops Who Lie."
***
NOTE TO READERS: we hope you enjoy this new Gotham Gazette weekly feature - please share it if you do; on Twitter, use our handle @GothamGazette.
If you have feedback on this feature for us, you can email editor Ben Max: This email address is being protected from spambots. You need JavaScript enabled to view it.
Watch Sunday evening for our latest Week Ahead in New York Politics, which gives you a preview of key issues and events to be aware of for the week about to start. In the meantime, catch up on the latest original reporting from Gotham Gazette here. And have a great weekend!
***
by Meg O'Connor and Ben Max