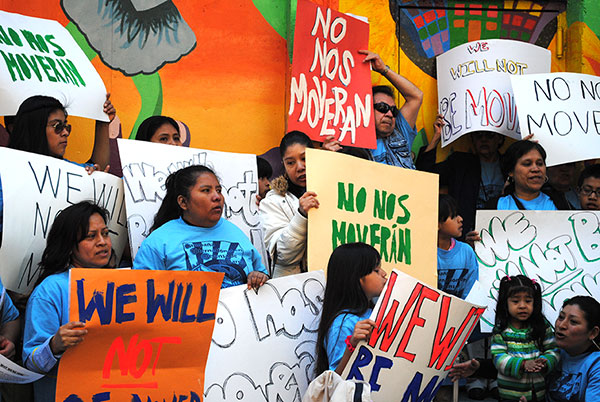 A Movement for Justice in El Barrio rally
---
An East Harlem tenants group is gearing up to battle Mayor Bill de Blasio over his housing plan, saying that the plan will see local mom-and-pop stores bought out by chains, further incentivize landlords to push tenants out, and destroy the culture of Spanish Harlem.
The group, Movement for Justice in El Barrio, is countering the de Blasio rezoning proposal that they call a "luxury housing plan" with a 10-point agenda of its own designed to preserve current housing stock and protect the community from gentrification. It hopes to push the local community board to vote against the mayor's two rezoning proposals and wants a face-to-face meeting with de Blasio to discuss concerns.
Movement for Justice, an immigrant-led community organization formed in 2004, plans to make its opposition and proposals public at a Friday afternoon press conference at the corner of East 103rd Street and Lexington Avenue.
The tenants' decision to oppose de Blasio's sweeping affordable housing plan didn't come easily or quickly, they say. "We spent a lot of time analyzing the plan, yet we understand lots of people in the city haven't opened their eyes. We are very hopeful we can make our case to the public and convince them we are on the moral high ground," said Josefina Salazar, a founding member of the group and 20-year resident of East Harlem.
Movement for Justice in El Barrio held a series of community meetings and workshops starting this past spring that its members say involved thousands of Harlem residents. Only after formulating their position, creating a plan of their own, and reaching out to the mayor's office did they decide to take their position public.
Tenants' biggest concerns, which mirror those being seen in other neighborhoods around the city where de Blasio is first looking to rezone to create more density, are led by the administration's plan calling for all new residential development to set aside 25-30 percent for "affordable" housing units, but with affordability rates they say are too high.
"Affordable" as defined in the de Blasio plan is incomes between $46,620 and $62,150 for a family of three. According to census data the current average median family income for an East Harlem family of four is $33,600, according to 2010-2012 estimates from the U.S. Census Bureau.
Remaining units in new construction would rent at the real estate developer's discretion, also known as market-rate housing. Developers must agree to the administration's terms in order to build in areas being rezoned by the city.
In order to meet de Blasio's ambitious affordable housing goals, maintaining or building 200,000 affordable units over ten years, the administration argues that it must increase density in underdeveloped neighborhoods. The administration is starting with places like East New York, Flushing, and East Harlem. El Barrio is particularly interesting because it is represented in the City Council by Speaker Melissa Mark-Viverito, largely an ally of the mayor.
Supporters of the plan note that the affordable housing would be mandatory for developers to include in their projects and it would be permanent. But the group fears that their current apartments and those of their neighbors will not be protected and as the neighborhood gentrifies landlords will be motivated to push them out to rent to higher-income tenants.
Community boards across the city have to decide whether to approve the mayor's Mandatory Inclusionary Housing and Zoning for Quality and Affordability plans. City Limits recently reported that while most of the boards have yet to vote on the proposals, the majority of the ones that did rejected them and that there are widespread concerns about the plans as tenants and small business owners worry about being squeezed our of their neighborhoods.
Movement for Justice in El Barrio plans a series of protests and continued community education to push back against the zoning plans before they comes to a vote at Community Board 11 on November 17. The Community Board is scheduled to hold a hearing on the matter on Nov. 9.
"When we watch TV we see de Blasio promotes this plan as an affordable housing plan," said Salazar. "But this is pure propaganda. We did the math and we realized after reading the report on housing and his ten-year plan that this is not truly an affordable housing plan. It favors the creation of luxury housing that we don't consider affordable."
The group has put together its own ten-point plan members want to see adopted to preserve existing affordable housing in their neighborhood.
The plan calls for independent oversight of the city's Housing Preservation Department; establishing a public education campaign to inform tenants about HPD's role; empowering a new body or building inspectors to collect fines against landlords; having HPD make repairs not completed by the landlord in the specified amount of time and then billing the landlord; making inspectors carry citations in multiple languages and send out reports in multiple languages; forcing landlords to make repairs within 24 hours of emergency violations; establishing an East Harlem HPD oversight team as a pilot for other areas with at-risk low-income housing; providing inspections 24-hours-a-day, 7-days-a-week; and improving HPD's follow-up on violations.
Zorayda Aguirre, a member of Movement for Justice who has lived in East Harlem with her husband and three young children for 16 years, said she fears for the community she has grown to love. "This plan will destroy our culture and change the face of East Harlem," she said of the mayor's proposals. "Not only that but the landlords will become more aggressive and try to drive us out. We will see our small businesses replaced by large ones that cater to the rich and it will become very expensive to live here."
Manhattan Borough President Gale Brewer shares some of the group's concerns."The history of New York City is one of constant change, but that change can't leave current residents behind – it needs to benefit and complement existing communities," Brewer told Gotham Gazette. "I will be working hard throughout this process to ensure the existing community is at the heart of the discussion. Any rezoning in East Harlem needs to address the full range of neighborhood issues like housing preservation, schools, and community-based small business."
In response to de Blasio's plan, Brewer called for an inclusion of even more affordable housing, a reduction of luxury housing included in deals with developers, increased vigilance by HPD to make sure existing affordable housing units are not lost, that there are tenant education clinics (with no income restrictions) in areas where upzoning is proposed. Brewer has also focused on helping mom and pop shops stay in business as major chains move in.
"We will never have enough affordable housing if we are not able to help tenants remain in existing affordable units. HPD must help prevent evictions by coordinating with the State Division of Housing and Community Renewal (DHCR) to ensure rents are legal and to enforce housing codes," Brewer wrote in a Febraury response to de Blasio unveiling his housing plan.
Amy Varghese, spokesperson for Council Speaker Mark-Viverito, said that the speaker encourages the community to get involved in the discussion of the city's housing plan.
"The East Harlem rezoning is an opportunity for all residents and stakeholders to engage in a community-driven, neighborhood-based planning process that addresses real local needs and concerns," Varghese said in a statement. "We need to have diverse voices at the table having meaningful conversations around these issues, from housing to transportation to open space and more. True to her grassroots leadership, Speaker is committed to facilitating these discussions in an empowered, productive environment and strongly encourages all residents to get involved, participate and harness this opportunity to make a difference in the neighborhood we are so proud to call home."
Members of Movement for Justice in El Barrio say they will do just that, making their voices heard in the coming weeks as community boards across the city consider the plan.
"This is a David versus Goliath type of battle," said Salazar. "The mayor is very powerful and has a propaganda machine. We really want a face-to-face meeting with the mayor. I think we can change his heart," said Salazar. "We want to tell him that we don't think his plan will preserve the simple, humble people of El Barrio."
The mayor's office did not return request for comment.
***
by David King, Albany editor, Gotham Gazette
@DavidHowardKing