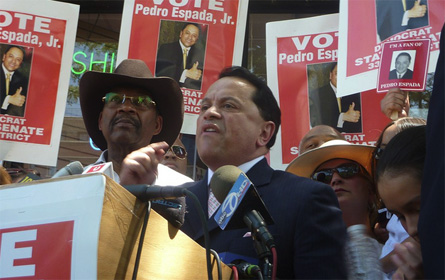 The New York state legislature has 48 new faces this session. This marks the largest turnover New York has seen in recent years -- possibly the most since the historic Watergate elections in the 1970s -- with 22 percent of all Asssembly and Senate seats changing hands between January 2009 and January 2010.
New York City, however, saw far fewer legislators leave their offices than the state as a whole, according to a study released by Citizens Union (the sister organization of Citizens Union Foundation, which publishes Gotham Gazette) last month, highlighting the many reasons legislators leave office.
Most legislators -- especially in New York City -- did not leave because of defeat at the polls. Some were forced to resign from office due to a felony conviction or ethics scandal, and others simply retired.
In New York City races are less competitive than in the rest of the state. Creating a climate of competitiveness, however, is not a simple fix in a City where Democratic enrollment dwarfs Republican enrollment.
Overall, 17 legislators left office under a cloud of ethical misconduct or criminal issues from 1999 to 2010 -- one out of every 11 legislators who left office. A shocking 12 of these legislators were from New York City.
In 2009 and 2010, 12 legislators retired in the state, and only 3 were from New York City -- Assemblymembers Michael Benjamin and Ann Margaret Carrozza (who may not have lived in her district as well as Sen. George Onorato.
Electoral Defeat
In the 2010 elections, 15 incumbent legislators out of 187 up for re-election statewide lost their seats, with only 3 of the losses occurring in New York City. The losses represent an incumbent re-election rate of 92 percent for the state. Over the last 10 years, the rate has averaged 96 percent.
New York City's incumbent re-election rate for its state legislators last fall was a staggering 96 percent in a year that was generally viewed as a tough one for incumbents. This is much higher than the rate of re-election for sitting City Council members, which was 88 percent in 2009.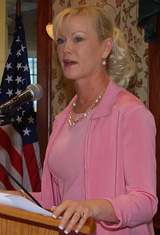 Photo by Thomas Good / NLN
Only one Assemblymember from the five boroughs lost a seat: Janele Hyer-Spencer, a Democrat from Staten Island and Bay Ridge, who was defeated by Republican challenger Nicole Malliotakis. In the Senate, just two losses occurred -- Pedro Espada falling to Gustavo Rivera in the Democratic primary for Senate District 33 in the Bronx, and Republican Frank Padavan to Democrat Tony Avella in Senate District 11 in Queens. Espada's loss was clearly related to the charges of ethical misconduct regarding his Soundview Health Clinic. Padavan had been in office since 1973, and anti-Albany sentiment may have played a role as well.
Leaving for Other Public Office
The most common reason state legislators leave is to seek other political office, elected or appointed. Seventeen legislators left to pursue other jobs in 2009 and 2010, eight of them from New York City. One sought federal office -- Adam Clayton Powell IV, who lost the 2010 primary election to long-time incumbent Democrat Charles Rangel.
Many legislators ran for higher state office last year, including former Sen. Eric Schneiderman who successfully ran for attorney general, and Assemblymembers Michael Gianaris, Jose Peralta and Adriano Espaillat who all won seats in the State Senate.
Some legislators -- perhaps having had enough of traveling to Albany and back -- instead ran for City office, including Mark Weprin who won a City Council seat in 2009 and then saw his brother, David Weprin, who once held the council seat, take his place in the Assembly. Ruben Diaz, Jr. left the Assembly after winning the Bronx borough president race, also in 2009. He subsequently appointed his Assembly colleague, Aurelia Greene deputy Bronx Borough president, making her the only state legislator appointed to office during 2009 or 2010.
Several of the races were interconnected, essentially creating a giant "domino effect" where one vacancy triggered another down the line and so on. With Andrew Cuomo, then former attorney general, running for governor, Schneiderman's bid for that office left his Senate seat open. Espaillat won that, leaving his Assembly seat open. , f Guillermo Linares captured that seat, ending the chain, as he was not then an elected official. (Linares, however, was a City Council member from 1992 to 2001.)
Legislators who leave for another office often do so mid-term, in some cases because local elections are on a different cycle. New York City's elections, for example, occur in odd-numbered years while state and federal elections take place in even years.
Other legislators leave for appointments mid-term. Vacancies for appointed offices tend to spike when a new administration takes office, as governors often tap legislators to serve as commissioners or political advisors. Perhaps the most politically expedient of these appointments occurred when former Gov. Eliot Spitzer appointed Republican Sen. Michael Balboni as his deputy secretary of public safety in 2007, which created a vacancy that resulted in a special election. Democrat Craig Johnson ultimately won the seat in that election, aiding the Democrats in eventually taking control of the Senate in the 2008 general election. (Johnson was one of the few incumbent senators who lost his re-election bid in 2010.)
Recently, Cuomo named Assemblymember Darryl Towns< of Brooklyn commissioner of the Department of Housing and Community Renewal, and Assemblymember RoAnn Destito of Rome commissioner of the Office of General Services. Other vacancies may occur for the seats of Assemblymembers Audrey Pheffer, who is in the running for appointment as Queens County Clerk, and Jane Corwin of Erie County, who is the endorsed Republican in the special election for the 26th Congressional District seat recently vacated by Chris Lee.
With vacancies in these four seats pending, the governor will likely call one or more special elections in the coming months. This means that the voters are likely to have little choice in who will fill these seats. In special elections, the major parties select their candidates in a closed process, not through a primary election. While a candidate may also petition to get on the ballot as an independent, this can be a difficult battle. In districts where party registration is very lopsided -- such as Towns' overwhelmingly Democratic district -- the candidate selected by the major party gets almost a free ride. Citizens Union Foundation in 2007 found that nearly a third of sitting legislators were first elected in a special election and went on to be re-elected after having the advantages of incumbency.
Encouraging Competitive Elections
No single silver bullet can create more competitive elections in New York City. Democratic enrollment outnumbers Republican enrollment in the five boroughs by a ratio of 6 to 1. Statewide, the numbers are closer, with Democrats having an enrollment advantage of 2 to 1. Even in the city, though, there are seats that have a more even split between the major parties, such as those recently won by Malliotakis and Avella. Assembly Speaker Sheldon Silver of Manhattan thinks that for his district, in contrast, Lassie could win on the Democratic line.
Advocates for more competitive elections point to the creation of a public financing system, such as the one in place for municipal elections in New York City, to more create opportunities for challengers who may not have the backing of the parties or moneyed interests. Under the city system, private contributions are matched with public dollars for candidates who agree to certain limits on how much money they can accept and who they can take it from.
Avella describes the state's campaign finance laws in contrast as the "wild wild west," noting that he was shocked by the lax rules at the state level, having run in the city for council and mayor. "You can raise money from anyone -- including those prohibited by the city system. Big money has a big influence in state races," he said.
Avella sees public financing as a means to level the playing field, and supports going beyond the city's matching system to a full or total public financing system. This, he said, will ultimately improve how government operates and will be worth the cost.
Getting on the ballot also poses a challenge for newcomers or those without backing from party organizations. The process is extraordinarily complicated with challenges so common that candidates generally believe they need to collect up to three times the number of signatures required.
Avella's proposal for full funding of elections would allow candidates to automatically qualify for placement on the ballot if they collect enough small donations. Other suggestions include decreasing the number of signatures to get on the ballot by half, similar to what the voters approved for New York City Election via a 2010 charter revision commission proposition.
The drawing of district lines also presents a way to encourage competition -- or more accurately not discourage it. Citizens Union supports legislation that would prohibit lines that favor or oppose any political party, incumbent or candidate.
"Making sure that lines can't be drawn with this type of political manipulation will inherently make elections more fair and competitive," said Alex Camarda, the group's director of public policy and advocacy.
The current system allows those creating the district boundaries -- the state legislators themselves -- to draw lines to suit their political interests. Cuomo recently introduced the Redistricting Reform Act of 2011, which would create an independent commission and provide guidelines for the drawing of lines that aim to take the politics out of the process.
Competitive Special Elections
To open up special elections, Assemblymember Linda Rosenthal, who first came to office in a special election, has proposed legislation that would create a primary election for the special election, allowing voters to pick the party nominee.
Alternatively, the city holds nonpartisan special elections to fill any mid-term vacancies on the City Council. This opens the race to all candidates who can collect enough signatures, and has the potential to increase turnout. Citizens Union released a report on turnout for non-partisan City Council special elections as opposed to the state legislature's partisan special elections, which found that council elections had an average turnout of 10.3 percent since 2000, as opposed to 6.6 percent for state elections. This indicates that, if the state had genuine competitive contests in its special elections, more voters might come to the polls.
Rachael Fauss is research and policy manager for Citizens Union Foundation, which publishes Gotham Gazette.