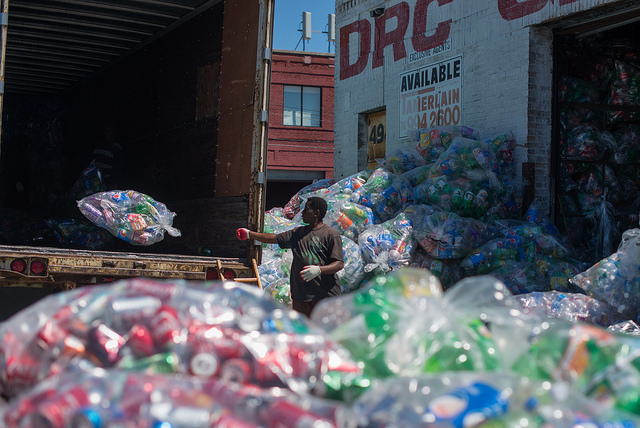 A recycling center in the Bronx (photo: Sofie Hecht for Gotham Gazette)
---
For months, residents and elected officials from Wakefield in the Bronx protested a de Blasio administration proposal to site a homeless shelter in the neighborhood. They were concerned that the community would be overburdened by yet another shelter within a four-block radius, decreasing public safety and hurting "quality of life." On August 15, the administration dropped its proposal, giving residents occasion to rejoice, while sending the City back to the drawing board.
A similar situation played out more recently in Maspeth, Queens, but with a community where even one shelter is seen as too many, and residents aggressively pushed back on a city plan to fully convert into a shelter a hotel that has been used to house homeless people. After several contentious weeks, the city announced that the plan would not move forward.
Wakefield and Maspeth are microcosms of issues facing the entire city. Some neighborhoods, particularly low-income communities of color, are overburdened by facilities like homeless shelters and underserved by others, like hospitals; while some neighborhoods want to ensure that no challenging facilities, like waste transfer stations, come into their communities at all. There are local fights over how homeless people are housed, where garbage is trucked, and how to provide adequate health care -- and thus, old and new conversations around whether the city's "Fair Share" criteria, designed to equitably distribute facilities like shelters throughout the five boroughs, is effective enough and has been modernized to ensure justice and equity in providing essential city services to New Yorkers and not overburdening communities.
Not only are there always local fair share issues flaring up, at times prompting larger conversations -- which happened around the Maspeth fight -- but city leaders have indicated that it is time to reevaluate the fair share criteria. Both Mayor Bill de Blasio and City Council Speaker Melissa Mark-Viverito have indicated an interest in modernizing the guidelines, first adopted in 1990 by the City Planning Commission.
The Fair Share guidelines state as purpose: "to foster neighborhood stability and revitalization by furthering the fair distribution among communities of city facilities." Eight goals fall under that purpose, according to the criteria, which include equitable siting that balances needs for services, efficiency and effectiveness, and "social, economic, and environmental impacts of city facilities upon surrounding areas."
In her February 2016 State of the City speech, Mark-Viverito announced her intention to seek updates to the Fair Share criteria, something she reiterated in an August interview with Gotham Gazette, pointing to problems with the overburdening of some communities and the lack of willingness in others to accept certain responsibilities.
In her State of the City, titled "More Justice," Mark-Viverito discussed Fair Share as a weak spot in the quest for more justice in community planning, land use, and services.
"Our Fair Share guidelines are vague and difficult to enforce," Mark-Viverito said in her address. "They haven't been updated in 25 years and there is limited information available to the public to inform these critical decisions. Too often, less desirable facilities are concentrated in just a few communities - like this one, in the South Bronx," she said, from the Samuel Gompers school.
The Fair Share criteria is meant to be a two-edged sword, insisting on shared responsibility and protecting communities, especially those that have historically had less political clout -- but that sword has long been blunt on both sides. Now, 27 years after the inception of the criteria, elected officials appear to be looking at giving new life to a once-promising idea.
"I believe the Fair Share reality needs to be really looked at," Mark-Viverito told Gotham Gazette in August. "I think there needs to be more equity in the way that services are distributed. There are literally some districts that have no shelters in them. You look at one like mine, that we have probably over 2,000, 3,000 beds," the speaker said of her home district, which is mostly East Harlem. "So the issue of equity comes into the siting of services as well. And that's a real challenge."
Along with homeless shelters, when discussing fair share Mark-Viverito references the desegregation of city schools and her goal of closing the Rikers Island jail complex, which would require additional small, localized jails.
"We've been doing some thinking internally, we've been analyzing this and...we've got to figure out what are the things we can do as a city, and we have the authority to do, to create some more equity," she said. "So we think that there's some things - hopefully, we'll be rolling something out soon, with some ideas, or a policy paper or something."
According to a Council spokesperson, that discussion is ongoing. Mark-Viverito is about to enter her final year in the Council, she is term-limited out of office at the end of 2017, and will deliver her last State of the City as speaker in February.
For his part, Mayor de Blasio has been frustrated by the type of pushback seen by residents and officials from Maspeth. Speaking on WNYC's The Brian Lehrer Show in mid-September, de Blasio admonished those who were protesting against a shelter in their Queens neighborhood and said that the city was moving ahead with its plan (which was dropped when the hotel owner backed away, according to the city). Maspeth residents even took buses to protest outside of a city commissioner's home in Brooklyn, which de Blasio took particular issue with.
Criticizing the "not in my backyard" response, de Blasio said the "NIMBY mindset has grown over decades in New York City," but that it is important to "tell people the truth that every community needs to bear its fair share, that this is how we turn around homelessness and get people off the streets once and for all."
The mayor went on to say that the city is siting facilities in all types of neighborhoods, including more affluent ones, and that he aims to modify the siting process. "I want our shelter system to evolve from what is a very cumbersome citywide approach to, first, a borough-based approach, and then even more localized," de Blasio told Lehrer.
Following the Wakefield announcement, Congressional Rep. Eliot Engel, a Bronx Democrat, said in a public statement, "Everyone agrees that the City must do more for homeless populations. However, it is unreasonable to expect one community to maintain this effort on its own. The people of Wakefield and the surrounding neighborhoods have done more than their fair share."
Referring to the city's Department of Homeless Services, Engel said, "It appears that DHS has come to realize that one more shelter within an area that already has been saturated with similar facilities just didn't make sense."
Engel's argument is one that goes back decades and is hot today as the city grapples not only with homelessness, but also with waste transfer facilities, jails, health clinics, drug treatment centers, and more. Fair share has also been scrutinized on the flip side: ensuring more equitable distribution of open green space and other public community amenities.
During her 2015 State of the City speech, Mark-Viverito, a Democrat, was not far from the Hunt's Point neighborhood, which -- like much of the South Bronx -- contains far more burdensome facilities than some of its higher-income neighbors. The area is home to a wastewater treatment facility, power plants, a floating jail barge, and the largest food distribution center of its kind in the world, which, while it creates jobs, also creates traffic and related community health and safety concerns.
Not surprisingly, the South Bronx shares the distinction of shouldering comparatively high numbers of undesirable facilities with other low-income neighborhoods of color: East Harlem; Central Harlem; Jamaica, Queens; and Bedford-Stuyvesant; among others. DNAinfo reported in August 2015 that just 10 New York City community board districts contain more homeless shelters than the remaining 49 districts combined.
Clearly, the problem that the Fair Share criteria was crafted to address - the unequal allotment of burdens and benefits among New York City boroughs, neighborhoods, and communities - remains unsolved today.
The issue perpetually arises in policy discussions, whether around homeless shelters or waste transfer stations, or even new Citi Bike docking sites. As the city recently went through the process of changing its zoning codes and land use rules to promote affordable housing and neighborhood development, the issue of fair share was omnipresent. One condition of the recently passed rezoning of part of East New York was the closure of three homeless shelters.
The failure of the Fair Share criteria and of political leadership to more evenly distribute facilities throughout the city is complex, and raises questions of what equitable land use really looks like: by-the-numbers equality of city sites across boroughs, community boards, and neighborhoods? More shelters located in neighborhoods where the need is greatest, or more of those facilities built in areas that aren't already saturated? What is fair, and to whom?
The angry cousin of Fair Share is, of course, the NIMBYism that de Blasio recently railed against -- people do not want burdensome facilities in their neighborhoods. Wealthy communities are often more able to fight off such sitings.
The issue of fair share is perhaps the most central flashpoint in the ongoing debate over the closing of Rikers Island jails. In her same State of the City speech, Mark-Viverito called for moving toward closing Rikers. To make good on her proposal to close the island's nine active jails, the city would need to relocate several thousand prisoners held there -- as of October 20, the Rikers census was about 7,500, but Mark-Viverito has said that the goal is first to reduce that population, which has been dropping over many years, through criminal justice reforms. She announced the formation of a commission to study additional reforms and closing Rikers and expects to have new things to announce by her next State of the City.
As the New York Times noted, closing a jail riddled with neglect and violence and moving prisoners to safe, clean, and humane community-based facilities is a nice idea - until any one neighborhood finds itself the potential site of a new jail facility. The reaction from various communities, regardless of demography, against receiving detainees from Rikers Island was swift and defiant.
Among the most vocal were officials from Staten Island, where worries that the city would open a jail on the South Shore resulted in an oppositional back-and-forth between Staten Island City Council Member Joseph Borelli and Mark-Viverito. City Council Member Steven Matteo, a Republican from Staten Island like Borelli, said outright that the possibility of a new prison anywhere on Staten Island is a "non-starter" in his opinion.
Mayor de Blasio has expressed skepticism about the notion of closing Rikers jails, but his language around it has warmed somewhat over the course of the year.
While Mark-Viverito's commission explores the possibility of and path toward closing Rikers and critics continue to label the plan intractable and unrealistic, any Fair Share criteria update proposed by the speaker could also become a complicating factor should the time come to site new, smaller community jails or expand existing detention centers where about 2,200 detainees are currently held on any given day (the total Department of Correction headcount was 9,764 on October 20).
But separate from the closure of Rikers, the city's fair share rules may be up for modernization.
As is, it seems clear that Fair Share is not particularly successful at preventing an uneven distribution of undesirable facilities. It is less clear why such well-intentioned city policy has not been effective -- other than, perhaps, that the criteria are too vague and that the political will to more strongly enforce the spirit of fair share has not been present.
Reasons for the criteria's opacity and lack of efficacy may lie in its origins, as well as the complexity of how to use city-owned land in the most populous urban center in North America.
"The current fair share system was a noble idea," City Council Member Brad Lander, a city planning expert, told Gotham Gazette in an interview. "Creating the criteria was the first time these issues were addressed in municipal public policy. But as years have gone by, the criteria have not proven to be an effective system."
Fair Share Origins
The Fair Share Criteria emerged during a period of intense political transition and structural transformation in New York City government. In 1989, sustained protest from low-income communities and wealthy neighborhoods alike prompted the passage of the criteria.
The criteria lay down considerations the city must keep in mind when looking to site a new local or citywide facility, or expand, close or reduce an existing facility. According to the guidelines, the city must explore whether a new or expanded facility is compatible with existing ones, city-owned and private, in the immediate vicinity; whether the facility would have an adverse impact on the neighborhood; whether a site is suitable to deliver cost-effective services; and whether the facility is compatible with the facility proposals in the annual Statement of Needs compiled by the Mayor under Section 204 of the City Charter. In closing or reducing the capacity of a facility, the city must consider whether it would create an imbalance in service delivery by doing so.
The same 1989 revision of the city charter that required that the City Planning Commission adopt the Fair Share Criteria was also called "the most thorough overhaul of the municipal government since the Greater City of New York was created in 1898" by the New York Times just after November elections in 1989.
The charter revision, which passed with a fairly slim margin of 55% of the vote, dissolved the Board of Estimate, which was comprised by the mayor, comptroller, president of the City Council, and the five borough presidents, and had been "at the heart of city affairs for almost 100 years," wrote the Times. The change was proposed after the U.S. Supreme Court declared the Board of Estimate to be unconstitutional on the grounds that Brooklyn, despite being the most populous borough, had no more representation than Staten Island, the least populous.
The revision shifted powers over land use, the city budget, and city contracts, among others, to the mayor and the City Council, and expanded the Council from 35 to 51 members.
The change also restructured the City Planning Commission, growing it from seven mayor-appointed members to 13 members, with seven appointed by the mayor, one chosen by each of the borough presidents, and one by the then-City Council President. The 13th commissioner is now appointed by the Public Advocate.
The mandates included in the 1989 charter revision essentially constructed the form of New York City governance that remains to this day, and revolutionized the way that land use, zoning, and city planning would be executed in the future.
So it was the newly-expanded City Planning Commission that formally adopted the Criteria for the Location of City Facilities, or the Fair Share Criteria, in 1990.
That same year, the Office of the Mayor passed from Ed Koch to David Dinkins, and a group of borough presidents who'd pushed for liberal reforms to Koch's housing and environmental policies took office. With a new administration, revised charter, and a restructured and significantly larger city government, Ruth Messinger, inaugurated as Manhattan Borough President that year, called the shift a "generational change" for city government.
The Fair Share Criteria became effective in July of 1991, at which time the commission called on the Department of City Planning to "monitor and evaluate the effects of these new and untested guidelines and periodically report its findings."
The DCP issued its one and only assessment in 1995, when it published "Fair Share: An Assessment of New York City's Facility Siting Process," which "outlined a range of issues and shortcomings" based on community board comments, past litigation, testimony from public officials and citizens, and various other feedback sources, but did not affect any significant change to the way the criteria are structured or implemented.
In 1998, Planning Commissioner Joseph Rose, under Mayor Rudolph Giuliani, published "The Fair Share Criteria: A Guide for City Agencies." The lengthy document, after acknowledging that "developing a consistent approach to the criteria was especially challenging during the early years of new regulation," provides detailed clarifications of the criteria, followed by descriptions of how and in what spirit the criteria should be applied as agencies attempt to open, close, or alter sites for city facilities.
The last substantive change was made to the criteria in 2010, when Mayor Michael Bloomberg appointed a Charter Revision Commission to recommend changes to the City Charter for voter approval. The New York City Environmental Justice Alliance successfully advocated that the Charter Commission propose an amendment to include all public and private waste and transportation infrastructure facilities on the atlas that formerly only included city-owned or leased facilities.
The Criteria, Explained
The Criteria for the Location of City Facilities, or Fair Share Criteria, found in section 203 of the City Charter, are a set of processes meant "to further the fair distribution of burdens and benefits associated with city facilities." According to the 1998 city assessment of fair share, the criteria were created in response to the "widespread perception -- and sometimes the reality -- that some communities were becoming dumping grounds for unwanted city facilities" by way of "poorly planned and often secretive siting decisions driven by expediency." Residents of the city's lower-income neighborhoods, the report says, believed that they were being saturated with facilities like shelters because most city-owned property is located in those neighborhoods, and because residents lacked the resources to adequately protest new sitings in their communities.
For the purposes of the criteria, a "City facility" is defined as "a facility providing City services whose location, expansion, closing, or reduction in size is subject to control and supervision by a City agency, operated by the City on property owned or leased by the City which is greater than 750 square feet in total floor area; or, used primarily for a program or programs operated pursuant to a written agreement on behalf of the City and derives at least 50 percent and at least $50,000 of its annual funding from the City."
According to the 1998 assessment, the Fair Share Criteria are guided by a number of core goals: balancing considerations of community need for services and the cost and impact of facilities; long-term planning for land use, budget and service delivery; soliciting public input and creating consensus in the planning process; ensuring fair distribution according to local needs and reducing disparities in level of responsibility; preserving neighborhood character; and accountability in mitigating negative effects and monitoring impact after sites are built.
The document goes on to say that the criteria should be applied "whenever the City sites a new facility by purchase, condemnation, new lease, or new contract, expands or reduces size of a facility by 25% or more, substantially changes the use of an existing facility, relocates a facility, or closes a facility and does not replace it at new location."
The criteria do not apply to the siting of facilities by private entities, state or federal agencies - an important exclusion that critics of the Fair Share Criteria say prevents communities from gaining a full understanding of the burdensome facilities in their neighborhoods.
The city ostensibly checks to see if the criteria have been applied when a city agency submits a land use (ULURP) application. The criteria guide says that agencies must prove that all criteria have been considered before a ULURP application is certified, and must account for any inconsistencies or conflicts.
This means that if the Department of Sanitation wishes to site a new waste transfer facility, it conducts its own fair share analysis, submits the application and analysis to City Planning, which then chooses whether to certify the agency's ULURP application, in part based on whether the Sanitation adequately considered the Fair Share Criteria when choosing the new site.
Though the actual, original criteria are housed in a 14-page technical manual, they are not meant to be viewed as a silver bullet for equitable planning, according to Sarah Goldwyn, director of planning coordination at the Department of City Planning.
"Rather than being a strict set of rules or regulations used for enforcement, the criteria are intended to serve as a set of considerations to support an early and informed public dialogue and assist decision-makers in the process for siting city facilities," Goldwyn told Gotham Gazette.
The criteria attempt to achieve this both by providing guidelines for agencies to consider when choosing sites for city facilities, and by creating a public review process once those sites have been identified.
The guidelines span a great deal of potential siting scenarios, but some of the most salient areas concern logistical feasibility ("Site should be optimally located, other sites being more cost-prohibitive because of location or positioning"), and clustering of burdensome facilities ("Agency must consider presence of other sites within a half mile with similar environmental impact").
To ensure public review of all new city sites, Section 204 makes necessary the Citywide Statement of Needs, in which the city must publish annually all facilities that the city "plans to site, close or substantially change in size over the next two years." This document, City Planning says, allows community boards, City Council members, and borough presidents to review facilities that will appear or be removed from their jurisdiction so that they may offer statements or propose new facilities. The Citywide Statement of Needs is published each fall by the mayor.
According to the criteria, the statement of needs must be accompanied by a list and map of city-owned and leased properties, called the Gazetteer and Atlas of City Property. Today, the "gazetteer" is an online database of City Owned and Leased Properties (COLP), and the sites formerly found in the atlas are now available as "Uses on City Owned and Leased Properties" on ZoLa, the city's zoning and land use website.
COLP and ZoLa include only properties owned or leased by New York City - not private facilities, and not facilities owned or leased by state and federal agencies. Private facilities, which can include waste transfer stations and recycling facilities, are stored in a separate database.
The database, which includes geographic data, type of use and agency will be updated again in mid-November of this year along with the map of city-owned properties. The properties fall in general categories according to use, including cultural and recreation, education, health and social services, public safety and criminal justice, and residential, among others.
While the Fair Share Criteria are outlined in considerable detail, their real-world application is less clear. The 1998 revision of the criteria state that, although an agency's consideration of the criteria is not publicly reviewed until the ULURP or contract procurement process is underway, "project planners should begin to keep the criteria in mind well before that time - when they evaluate service needs and consider new facilities or chances in facilities."
While City Planning emphasizes that the Fair Share Criteria were never meant to be hard-and-fast rules for how the city sites facilities, some hold that the criteria should have - and could have - been a more helpful tool in building a more equitable New York.
This is part one of a two-part series on Fair Share. READ PART TWO >>> FAIR SHARE: DESIGN FLAWS, FLASHPOINTS & POSSIBLE UPDATES
***
by Maggie Calmes & Samar Khurshid
@GothamGazette